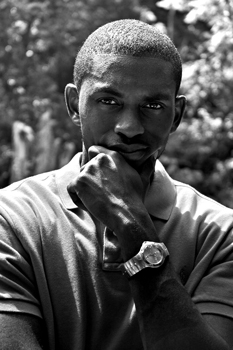 Why did you and James Harrell start the Writers Foundation, LLC?
Creating Writers Foundation was all about inspiration. I've been writing poetry for years and I decided that I wanted to do more. Learn more. We wanted to bring people to together with the intention on educating, uplifting and inspiring them. We all have a voice and we decided to give people a chance for their voice to be heard. There is a quote by Ryunosuke Satoro that says "individually we are one drop. Together we are an ocean." Writers Foundation LLC is that ocean, that place to come to read, relax, and share what's on your mind.
Writers Foundation was created this past spring of 2009. We have started as a poetry company but expanding efforts in our local communities of Baltimore, Washington DC, and Virginia. We want to reach the youth by opening their doors to creativity.
I read that you are from Baltimore. A good friend of mine is from there. I also am publishing a writer from there who has a wonderful poetry voice, very raw but with so much to say. What has been your experience with the Baltimore writing scene?
The Baltimore writing scene is amazingly diverse. Writers in Baltimore write with so much history and passion. At times you are on the edge of your seat waiting for the next line or verse to sway your chain of thought. We have very raw artists that a have a story you may have heard, but not in the manner they have presented it.
Talk about the importance of youth expression.
Youth expression is necessary to promote self growth. Technology has introduced us to social sites and messaging that continually strips the human out of us. Expression is lost because communication is becoming a lost art. If there is no communication, there is no expression, no emotion. We want to challenge youth to express themselves. We want them to communicate to us, with us. Finding an area of interest is the beginning.
You are concentrating on youth in Baltimore, Washington DC, and Virginia; I think it is important to give youth an outlet for their creative expression. Please talk about this.
Creative expression is an art within itself. The youth, as the artist needs a pen or paint brush to create. Giving youth a place to express themselves challenges their skills. Giving them the opportunity to meet others with the same aspirations or dreams builds their faith and confidence.
Do you feel that schools today are out of touch with youth expression in writing?
I believe schools can take youth expression in writing a step further. Breaking the barriers to the interest of students will make a huge difference in today's world. Once the atmosphere has been set and students become excited with utilizing their expressions, then sky's the limit.
How does music fit in with what you are seeing being sent in? Are you told that the words are lyrics to music at times?
Music often sets the tone and is successful in creating a desired mood. Words are often lyrics that will send multiple messages while quenching a thirst within. Some of the poetry sent in to Writers Foundation can be great lyrics to songs.
I have read some wonderful writings from youth from many different cultures. Your website is a place where the younger generation can check out what others are writing, share their own work and grow as a writer. It is an outlet to write about what they want to. I'm sure many can identify with what someone else is writing about. Talk about the response you get from youth to the work they read on your site.
I wrote a poem called "I Did it for Me." This poem talks about an individual who has made several mistakes in life. This person trusted the wrong people and seemed never to know where to go at the fork in the road. In the end, the person decided that they wanted more for themselves; they no longer wanted to be like the rest. I have received numerous responses that say "thank you" or "I know what I must do." You see, certain pieces may touch an individual because they relate to what they read. And youth as well as anyone are looking for something to get them to break the norm and run from a situation that has them trapped.
Talk about your own writing. Who are your influences? Do you have a favorite poem?
I touch only vast variety of topic as well as different forms of poetry. I tend to focus on motivational and emotional writing. My family is my influence as I learn from them to witness and inspire those around me. My father always reminds to do the best in whatever project I embark on and to stand tall because someone is always watching and looking for guidance.
Phenomenal Woman by Maya Angelou has to be one of my favorite poems. She tells a story that is sometimes forgotten in today's culture. Or lost in translation thanks to the media and greed of corporate giants.
What are some future goals you have for the Writers Foundation?
We'd like to one day expand to a publishing company. We would like the opportunity to help people publish their dreams. Any company can publish books but we want to provide education so that people can make well thought out decisions before taking certain steps.
We are looking to have yearly festivals in the future where people can come out and read great books. The youth can come out and meet their favorite poets or authors.

---