WORKSHOPS
ČERVENÁ BARVA PRESS hosts workshops all year long. These workshops cover a wide variety of topics such as: writer's block, poetry workshops, how to submit to magazines, presses and what editors look for. For many of these workshops, there will be guest instructors.
---
ČERVENÁ BARVA PRESS WORKSHOPS
Sonnet Workshop
Instructor: George Held
SEATS STILL AVAILABLE, SIGN UP NOW!!!
Sonnet Workshop
Saturday, March 23rd
1:00-2:30PM
$20.00 Class is limited to 20
Červená Barva Press Studio
Basement Room B8
Center for the Arts at the Armory
191 Highland Avenue
Somerville, MA
To register and pay for this Workshop securely using your Paypal account
or a Credit Card, please click the button below...
The sonnet, though centuries old, continues to be a significant form because its compact size - 14 lines and 140 syllables - and various internal divisions make it appealing to both poet and reader as a container of substantially developed yet concise thought and emotion.
While often disparaged in America, where free verse has dominated since the heyday of William Carlos Williams, the sonnet is today undergoing a resurgence in popularity as poets read the feminist sonnets of Edna St. Vincent Millay or note that living poets like Kim Addonizio, who previously ignored forms, are now making sonnets themselves. In any case, a poet is well served to know the essentials of the sonnet, which can serve as a template for writing any other poem of about 14 lines, rhymed or not.
This workshop will review the most common kinds of sonnets, the Italian (Petrarchan) and the English (Shakespearean), and introduce contemporary variations on the form, with time devoted to writing a sonnet of one's own that can be developed later through email exchanges with the instructor.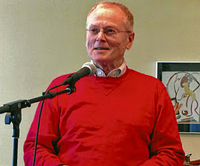 George Held has published 17 books and chapbooks of poems and well over 100 sonnets, 60 of which are collected in After Shakespeare: Selected Sonnets (Červená Barva Press, 2011). He has conducted sonnet workshops at Queens College-CUNY, Borough of Manhattan Community College-CUNY, Suffolk County Community College, and Dowling College, among other places. His poems, fiction, and book reviews have appeared widely, in such journals as Confrontation, Connecticut Review, Spring: The Journal of the E.E. Cummings Society, The Wallace Stevens Journal, Rattle, and 5 AM. Recipient of 7 Pushcart Prize nominations, he served 3 years as a Fulbright lecturer in Czechoslovakia, 18 years as co-editor of The Ledge, and since 1991 on the executive board of the South Fork (Long Island) Natural History Museum.
---
Directions & parking:
The Center for the Arts is located between Davis Square and Union Square. Parking is located behind the armory at the rear of the building. Arts at the Armory is approximately a 15 minute walk from Davis Square which is on the MTBA Red Line. You can also find us by using either the MBTA RT 88 and RT 90 bus that can be caught either at Lechmere (Green Line) or Davis Square (Red Line). Get off at the Highland Avenue and Lowell Street stop. You can also get to us from Sullivan Square (Orange Line) by using the MBTA RT 90 bus. Get off at the Highland Avenue and Benton Road stop.
Inside the Armory:
Go inside main doors and walk straight ahead about 30 feet, look for the door on the right to the stairs down to the basement. (There is an elevator just after the stairs.) Once in the basement walk through the basement lobby straight ahead about 20 feet, first door on the right is the Červená Barva Press Studio.
---
Other Services
Manuscript help by appointment
Poetry Critique by appointment
Short story or novel critique by appointment
---
Need help with your manuscript?
Not sure what order your manuscript should go in? I can help you with that for a reasonable rate. Manuscripts will not be critiqued but I will help you place your poems in the best order for your collection.
---
Index | Bookstore | Image Gallery | Submissions | Newsletter | Readings | Interviews | Book Reviews | Workshops | Fundraising | Contact | Links
---
Copyright © 2005-2012 ČERVENÁ BARVA PRESS - All Rights Reserved