INTERVIEW WITH ELAINE TERRANOVA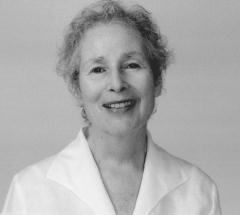 Bio
Elaine Terranova was named a Pew Fellow in the Arts in poetry for 2006. Her most recent book is NOT TO: New and Selected Poems. She won the Walt Whitman Award for her first book, The Cult of the Right Hand. Her other poetry collections are The Dog's Heart and Damages, and a chapbook, Toward Morning/Swimmers. Her translation of Euripides' Iphigenia at Aulis was published by the University of Pennsylvania Press. In 2003 it was produced at the University of Kansas where it was praised for "its powerful simplicity and directness." "The Choice," a poem from Damages, appeared on buses and subways in Philadelphia as part of the Poetry Society's Poetry in Motion project. Her poem "River Bathers" was honored by the Pennsylvania Center for the Book.
She received an NEA fellowship and two Pennsylvania Council on the Arts Fellowships for her poetry. She has been Banister Writer in Residence at Sweet Briar College, a Fellow at Bread Loaf, and a winner of the Judah Magnus Museum's Anna Davidson Rosenberg award. Her poems have been published in The New Yorker, Prairie Schooner, The American Poetry Review, The Virginia Quarterly Review, The Antioch Review and other magazines and appear in various anthologies including Sixty Years of American Poetry, The Gift of Tongues, Blood to Remember: American Poets Write About the Holocaust, Articulations: The Body in Illness and Disease, and Poets Against the War. She teaches at the Community College of Philadelphia and in the Rutgers, Camden M.F.A program in creative writing.
Where I write
I love to take trains so I can write. I write into poems or notes for poems conversations I hear around me. People on their cell phones. Strangers getting acquainted and even going deep into private lives because they are seatmates on a short journey. This may seem an accidental meeting but there must be something subliminal, some ESP that attracts someone to a particular person beside an empty seat. And then there's the world outside the window. I'm drawn to bridges, egrets, lights at night. A carnival that I have just passed, regretting I won't be able to take the rides.
Also, since my 20s I've spent some of my life in the country, even earlier if you count summer camp. I think I write better here, just surrounded by desolation, emptiness, things growing or not, as they see fit. I think the change of seasons makes you more aware of time passing.
Writers who have influenced me
The great literary Russians. The great literary French. Absurdist fiction writers like Barthelme, Leonard Michaels, Peter Handke, Walter Abish, a teacher I had, George Chambers. Of poets, early, in jr. high, Dorothy Parker, Edna St. Vincent Millay, Humbert Wolf, Frost, Amy Lowell, Keats, Shelley, Dickinson. Asian poetry later, and Rilke. And for tempo, Gershwin and John Coltrane. Cole Porter for rhyme, which I don't often do.
What I'm reading now
A Harlan Coben mystery, Palm of the Hand Stories by Kawabata, a novel on the life of Confucius, poems by Michael Burkhard, Afaa Michael Weaver, J.C. Todd, Lee Sharkey. I'm just finished Ryszard Kapuschinski's Travels with Herodotus. I'm always reading poetry and a mystery at the same time as other things, usually a literary novel and some non-fiction. Coben is especially interesting to me because I always think I've read his books before, even though they are brand new. I realize it is because he is recombining the same elements such as: a lawyer protagonist, a woman psychologist, a dead wife-mother-sister, an urban legend. Also, the covers are usually orange. It's as if he's dipping his hand into a bag of bingo numbers and laying them out. Like McDonald's, you (the reader) are always sure of what you get. Interesting technique for writing anything, it seems, though I haven't tried it yet.
My books
Not To: New and Selected Poems
There are five parts to the book. The titling of part pages happened because of the strange response I had when I told people the title of the collection, Not To. They replied with a question, spelling out what they thought they heard in the way they imagined it was written: "Oh, Knot To?" or "Not Two?" So I divided the work into groups. Not Two, I, is about the dissolution of a couple, by death or separation. Knot To, II, on the other hand, deals with getting together. Not To, section IV, I think of as the virginal section. Not Too, IV, is about loss, as if to say, "Not this, too."
Noto, part V, was my first idea for the title of the whole collection. It's the name of a place I have never been. It's in Sicily and is mentioned, perhaps shown, in Antonioni's movie l'Avventura. It's also the title of a poem in the collection. To me, it stands for a space, internal or external, foreign or domestic, a place that, if it doesn't exist, should. Some of the poems in this section are "In Italy," "The Pines," and "Saltmen of Tibet."
Among other things, The Dog's Heart and The Cult of the Right Hand relate childhood and formative experiences in poems such as "Merry-Go-Round," "Camp Hofnung," "Up the Block" and "In the New World." The subject of the title poem of The Cult of the Right Hand is an African sculpture, the totem of a cult venerating individual power over the supernatural.
Damages deals with other people, primarily, their lives and their reverses. It's based on history and observation and includes poems about Lady Hamilton, Juana la Loca, a Spanish queen, and the unknown woman who's the subject of a Vermeer painting.
Artists and funding
It's so important for funding to be available to artists. Other countries have writers' unions, sort of a membership card for serious writers, legitimizing the role of the writer in society. We have government agencies that offer grants and that funding seems always to be on the verge of evaporating, making the competition even more intense. So few writers here ever make a living from their work. Agencies such as the state arts councils, the NEA and the Pew Foundation, which gives fellowships to Philadelphia artists, make it possible for artists to take time from their jobs to make art and also validate the importance of artists in society and the self-worth of the recipients.

---