INTERVIEW WITH IFEANYI MENKITI
(Photo courtesy of Doug Holder)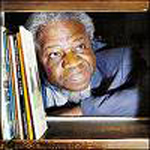 Spotlight on Ifeanyi Menkiti
Ifeanyi Menkiti grew up in Onitsha, Nigeria. He moved to the United States to attend college. He received a B.A. from Pamona College in California, a M.S. from Columbia University, a M.A. from New York University and a Ph.D. in Philosophy from Harvard University. Ifeanyi has been published in numerous literary journals including Ploughshares, New Letters, New Directions, The Massachusetts Review and others. He also published numerous articles on philosophical issues in many journals such as Philosophical Forum, The Journal of Value Inquiry, The Harvard Education Review, and the Journal of the American Academy of Religion. His work has been on NPR and he has received a Massachusetts Council of the Arts Fellowship in 1978 as well as a poetry award from the NEA
In April, of this year, Ifeanyi bought the Grolier Poetry Bookstore from Louisa Solano. Louisa owned and ran this bookstore for 32 years. When I moved out here from the mid-west in 1984, I couldn't wait to go into the store. (I heard about it while living in Iowa City). In Grolier, is where I got to meet and know Louisa. I have such admiration for all that she has done for the poetry world. She was so remarkable in how she kept up with all the new poetry books and poets. Many years ago, she was so kind to put my poetry chapbook, Doppelganger, in the window along with an issue of BLuR. It meant so much to me. I have a picture of it by my desk. It inspires me to keep writing. I am so grateful to Louisa for the many years of friendship. It was difficult I'm sure for Louisa to sell, but I know she is happy to see it continue. Keep the torch going so to speak. Ifeanyi bought the store because he wanted to see such a "cultural institution" survive. He remembers Gordon, the first owner of the store, and has good memories from that time. Ifeanyi felt it was important to take the risk. "Poetry is an important activity inspiring people." Ifeanyi and I spoke about the need for more foreign poetry/translations being available to readers in the US. He plans to bring in more world poetry into the store. His desire for the world to be together is strong. He feels world writing can help. "When a poet "cries," a sadness has to come from the heart. A poet can mourn and readers can pick up the spirituality. Poets see real things and can give access to the individual."
Daniel Wuenschel is the store manager of Grolier. Ifeanyi teaches Moral Theory and Social and Political Philosophy at Wellsley so it is good he has someone to run the store. For all those visiting or in the Cambridge area, be sure to help support the Grolier Poetry Bookstore. It is a great place to buy your books!
In 1971, Affirmations was published by Third World Press. The Jubilation of Falling Bodies soon followed. Ifeanyi's latest book, Altair, the Bright Light was published in 2005 by Earthwind Editions. What a powerful and remarkable book it is. Ifeanyi read sections of it for me during our interview. I could have listened to him read all day from this book. Ifeanyi loved the spoken word since he was a small boy living in Nigeria. He spent his time reading The Old Testament. His vision for wanting world peace stands out. "A world created which we want our children to live in." This can be seen by his poetry. He expresses "peace cannot happen by force. We must show the ideas to live by."
Ifeanyi has been involved with Revels for many years. He spoke so highly of John Langstaff who staged the first Revels in 1957 in NYC. Revels was brought to the Boston area in 1971. Revels entertains and brings generations together by its musical and educational programs, recordings and community celebrations. When I asked Ifeanyi what he was working on now, he told me he is currently working on poems in three sections, Getting to Know the World, Bearing Witness, and Before a Common Soil, to pay homage to the late John Langstaff. "Jack wove his shows around world culture/unity of world sound."
When the interview was over, I felt so hopeful for this world. Ifeanyi is a wonderful person with a beautiful soul. Talking to him was such a wonderful experience. I look so forward to knowing him better. It was truly an honor talking to him.
Thank you so much Ifeanyi for your time, your poetry, and your inspiration!

---