Interview with Joanna Kurowska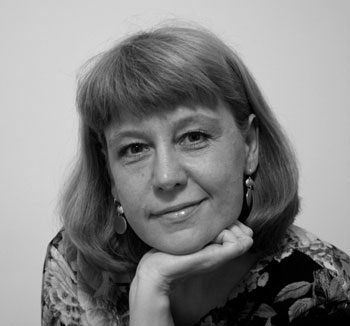 Joanna Kurowska immigrated to the U.S. in 1988. After publishing two books of poetry—Sciana (The Wall), 1997 and Obok (Near), 1999—in Poland, she began to write poetry in English. Many of her poems appeared in American and European journals. In 2012, she published, with eLectio Publishing, The Wall & Beyond—a collection of her Polish poems translated into English. Her two other books, Inclusions and The Butterfly's Choice, are under contract. A published scholar with expertise in Joseph Conrad, Joanna holds a Ph.D. from the University of Illinois at Chicago and is the recipient of the Bruce Harkness Young Conrad Scholar Award. She has taught at several American universities, including Indiana University, Bloomington, and University of Chicago. She lives in Evanston, Illinois, together with her partner John Brownell, son Pawel Mlynarczyk, and cat Rufus.
When did you leave Poland and immigrate to the USA?
I left in December 1988, about twenty-five years ago. Poland was still in the aftermath of marshal law, general Jaruzelski was in power. I used to describe to my American students what life was like in Poland during the 1980s. As a young mother, I would push a stroller—my baby son sleeping in it—from home to a grocery store, where I would stand in a queue for some forty minutes to get basic food supplies (whatever was available). Then, shopping bags in both hands, still pushing the stroller, I would go to buy meat. The lines for meat were long, the wait time could take more than two hours. People in the queue were irritable. Meat was rationed, everyone had a government coupon, divided into little squares, like post stamps. Each square represented the amount and kind of meat you were allowed to buy: beef 1 kg, pork w/bone 40 dkg, sausage ½ kg... When your turn finally came, the sales person, usually a woman in a white apron would tear off those little squares, until you exhausted your monthly allowance.
Then, off I'd go to get produce—more shopping bags to carry: potatoes, carrots, apples… The stroller—the only one I was lucky enough to get—did not have any bottom tray to put things on, so I carried everything in hands... Moreover, if I saw a line of people standing in front of a department store on my way home, I would join them in order to buy toilet tissue, which was always in short supply in the communist Poland. Toilet paper was sold ten rolls on a string; one string per person. Both my hands being amply occupied, the only choice I had was to hang the string with the toilet tissue on my neck, like a necklace. Then I would push the stroller back home, to cook dinner!
Such were the times—but we, the Poles, knew how to laugh at that Soviet-imported grotesque, even with all its menace against human rights (which my family, being repeatedly harassed by the secret police, knew all too well). People developed an amazing community-support system… No, not a "system." It was spontaneous. Empty stores and all, somehow we always had what we needed. This is how it worked, if you had an extra package of coffee, you would give it to someone else. The next thing you knew, just when you ran out of, say, laundry soap, a friend would stop by with a box of detergent, saying, "Have some extras; do you need it?" I recall those moments of human solidarity when our modern society is so horribly divided, atomized.
There's a little bit of irony in that I was invited to America just before the great political changes in Central Europe and the collapse of the Berlin Wall. Soon after I came to America, "America" came to Poland, so to speak. But especially my parents were full of hopes for me and my son, then seven-year old. They thought we would have better prospects in the USA. So off we went, Paul and I, with two suitcases, a backpack, a guitar, four hundred words in English (learned within a month before our departure), and forty dollars—to start our new life with.
When did you start writing? In English? What were the challenges you faced?
I published my first poem when I was seventeen. Then, already a university student in Poland, I would occasionally write a poem on some scrap of paper. I always wanted to write but had little faith in myself. However, if a topic fascinated me, I would pursue it. For example, I wrote an essay on Edith Stein, the German philosopher who became a Catholic nun. She was then murdered by the Nazis in Auschwitz. She was Jewish. In the mid 1980s, I faced a lot of challenges, but I said to myself, "I'll finish the paper, no matter what." The essay was published, first in Poland, then in France. It was a tiny victory, but the recollection of my perseverance over that paper sustained me in pursuing other goals, later in life, while facing other challenges. After I came to the US, the most immediate challenge was of course the lack of language. It was torture not to be able to talk with other people, engage in peer discussions, exchange ideas—all of which were extremely important aspects of my life back in Poland. Maybe that triggered my early attempts at translating my poems. As I was learning English, I transcribed my writing into the new language. Needless to say, those translations were awkward. But friends would offer me their advice. Eventually, I collected those poems in a book, The Wall & Beyond. Language-wise, it had taken over twenty years to get to that point. Working on my doctoral thesis triggered the language transition. My topic was Joseph Conrad, a Pole who became England's celebrated novelist, so I immersed myself deep in English, both literature and theory. My wonderful doctoral advisor, Dr. Donald Marshall was of great help in my development as a scholar and writer. But as I reflect on this, everything that I have experienced, including some challenging situations or negative people, has helped me get deeper into writing, so I'm grateful to all.
You live in the Chicago area. Is this where you first settled in the USA? Why Chicago?
Someone invited Paul and me to come to Chicago. Paul went to school, I soon followed his footsteps—of course, the American way, that is, studying and working three jobs at the same time. We did not have time or resources to consider other options. Recently, my partner and I have begun to consider where we would want to live. We contemplate Wisconsin, where we have spent our vacations for the last four years. Certain parts of Wisconsin remind me of my native Warmia and Mazury—the beautiful, hilly and wooded land of my childhood and youth in Poland. Another option may be some warmer climate... I really look forward to more opportunities to explore America's natural and cultural treasures. Time will show!
Talk about your first two books published in Poland, Obok and Sciana.
Sciana is Polish for "Wall." It's a poetry collection published in 1997, about nine years after I immigrated to the US. The poems tackle such themes as my childhood and youth in Poland, emigration, reflections on various aspects of life. A distinct theme is my wrestling with the Catholic Church, which I joined at the age of 24. I had met wonderful people in the Church, both clergy and lay. Some of them became my dearest, life-long friends. But the Church as the institution gradually became a problem, so a number of my poems reflect the tension between faith as an inward experience and religion as an outward "system." In the middle of the 1990s, I met in Chicago the Polish poet Adriana Szymanska, who read my poetry and very strongly encouraged me to publish it as a book. So I did. The title, Sciana, relates to the image or symbol that I frequently use. The other volume, Obok (Near) was published two years later. It continues some of the themes recurring in Sciana. I should mention that, in the 1990s, the prestigious Polish journal in Paris, Kultura, accepted some of my poems for publication. That was a great boost. Kultura's editor Jerzy Giedroyc and the Polish literary critic Leszek Szaruga had helped me in finding a home for Obok. Although both books were written in Polish and published in Poland, most of the poems came into being when I was already in America.
Discuss your new book, The Wall & Beyond.
Again, this volume is a selection of poems from either Sciana or Obok, translated by myself into English. After I finished Inclusions (in 2010), which Červená Barva Press will publish this year, I returned to my Polish poems and gradually collected them in the volume The Wall & Beyond. It was published by eLectio Publishing (Kindle edition 2012, paperback 2013). The poems are arranged chronologically, from my youth in Poland, through immigration; followed by, again, poems employing multiple meanings of the image of "the wall." The book received a number of favorable reviews, first on Amazon, then in journals, notably Katia Mitova's review in Sarmatian Review. To my knowledge, forthcoming are reviews in Penwood Review, Religion And The Arts, Slavic and East European Journal, and elsewhere. Readers have observed repeatedly that The Wall & Beyond reads like an original English-language work, not a translation. I believe it's because I discarded the old translations and simply re-wrote those poems in English. Friends, particularly my partner John Brownell, had helped me tremendously in searching for the best English idiom.
Inclusions is forthcoming this year by Červená Barva Press. Please say a few words about this book.
Interestingly, my readings in Polish literature in translation have triggered a number of the poems in Inclusions. Other poems reflect my experiences with America, my never-ending metaphysical quest, poetic commentary on the contemporary world. A few poems tackle the demise of my father four years ago. The volume has a very special significance to me because it is the first collection of my original English-language poems. I should also mention, in 2009 my Polish-language poetry became subject of critical inquiry by Andrzej Galowicz, a literary scholar in Poland, who published several essays on Sciana and Obok. This also triggered my return to poetry. A number of American literary journals opened their doors for my English-language poems. I am very grateful to all of them. Particularly, I would like to mention Penwood Review and International Poetry Review, the two excellent American journals that first accepted my work for publication. As a result, by the end of 2010, I was able to collect my English language poems in a book. This is how Inclusions came into being.
Congratulations on The Butterfly's Choice being accepted for publication by Broadstone Books. Talk about this book.
While Inclusions contains originally English language poems, and The Wall & Beyond translations from Polish, The Butterfly's Choice combines both; though most of the poems in the volume are originally English language works. I would like to say a few words about the book's title. One day, on a parking lot in a village in Wisconsin, my son Pawel spotted a butterfly caught between the lamp and its frame in a Harley motorcycle. The poor creature was still alive but of course unable to fly. Seeing its suffering triggered my thinking about the clash between nature and the human world. If caught in nature, by some bird for example, the butterfly would just have been eaten. But the "Harley" butterfly remained half-alive (part of its body was burned from the motorcycle's heat). So, in a poem, I bestowed on that insect the ability to reflect on its existential situation. There are other poems about butterflies, in the collection. Another important topic is language, particularly various relationships between idiom and place. The Butterfly's Choice is scheduled to appear in print in 2015, from Broadstone Books.
Where is your favorite place to write?
My recliner. Of course, there is a problem with writing at home, there are always distractions. So I guess I would welcome a writers' retreat. Also, I love cafés but can't write in the American ones because of the noisy music that is played in most of them. It's a distraction to me.
Who are some of your favorite writers and why?
There are many writers or books that I love but Joseph Conrad remains my all-time favorite. I have worked on his fiction as a scholar but want to use this opportunity to comment on him from my perspective as a poet. In the Preface to his short novel The Nigger of the "Narcissus," Conrad sees his artistic task as "to make you hear, to make you feel … before all, to make you see!" This statement has been subject to many critical interpretations, particularly in the context of Conrad's connections with impressionism. From my poet's perspective, this statement is mystical, made by a free-spirited, non-dogmatic person, who wonders at the world as it offers itself to his view. Elsewhere Conrad says that the aim of creation is "purely spectacular: a spectacle for awe, love, adoration, or hate, if you like…" I feel that is why I write—because I look at the world in awe and try depicting what I see. If I can make someone else wonder and ponder—in other words, if I can make anyone else see—then I'm happy! The other writers I love—William Blake, Cyprian Norwid, Boleslaw Lesmian, Marcel Proust, Charles Bukowski, Tennessee Williams, Anna Kamienska, Tymoteusz Karpowicz, to name only a few—they all make me see!
What are you working on now?
I'd like to mention two poetry collections. The first, just finished, is titled Columbus Comes To America. It focuses on the U.S., as seen by an immigrant. Today's America seems very different from the country I landed in twenty-five years ago. Of course, my perspective has changed as well. Columbus—the heroine of my collection—is not the 15th century Portuguese traveler, but a modern-day woman, who sometimes is "in," sometimes "out," other times in-and-out at the same time. I am currently looking for a potential publisher for this collection.
The other project, titled The Green Line, is a reflection on history based on the experiences of my family during the second world war. While my grandfather, an officer of Polish Home Army, was imprisoned in a Nazi Oflag (a POW camp), my grandmother, together with her two sons and her stepmother, became captive to Poland's other aggressor and the Nazi collaborator until 1941, the Soviets. Along with hundreds of thousands of other citizens of the pre-war Poland, they were put into cattle trains, and transported to Kazakhstan. My father was seven years old at that time. The impact of those experiences on his and other people's lives has been monumental. The Green Line is a poetic reflection on those events; and on the ripple effect they have had throughout generations.
Any last comments?
When Červená Barva Press accepted Inclusions for publication as a book, it was such an important validation of my poetic pursuits. I have enormous gratitude to you, Gloria Mindock, as Červená Barva's editor and publisher, for the enthusiasm, with which you responded to my submission. I also want to use this opportunity to thank very much my two other book publishers, Jesse Greever of eLectio Publishing and Larry W. Moore of Broadstone Books, and their associates—all of whom so generously invested their time and resources into publishing my work. And I remain most grateful to all my friends, who believed in me as a poet. Thank you all so much!

---