Interview with Rupert M. Loydell
by Daniel Y. Harris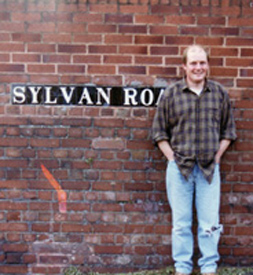 Rupert Loydell is Senior Lecturer in English with Creative Writing at Falmouth University, the editor of Stride and With magazines, and a contributing editor to International Times. He is the author of many collections of poetry, including The Return of the Man Who Has Everything, Wildlife and Ballads of the Alone, all published by Shearsman Books. An artist's book-in-a-box, The Tower of Babel, was published by Like This Press; and Encouraging Signs, a book of essays, articles and interviews by Shearsman. He edited Smartarse and Yesterday's Music Today for Knives Forks & Spoons Press, From Hepworth's Garden Out: poems about painters and St. Ives for Shearsman, and Troubles Swapped for Something Fresh, an anthology of manifestos and unmanifestos, for Salt. He lives in Cornwall with his family, a cat, and far too many CDs and books.
Rupert, you have been at the forefront of a renaissance in experimental British poetry for a generation. Please discuss Stride, its history, ethos and authors.
I think I've been at the forefront of a backwater, actually… I started Stride magazine at the end of 1981, as a way to get my own work and that of friends into print. My mum had a duplicator and we printed up 100 copies of a stapled chapbook as Issue 1. It kind of snowballed from there, until I got bored and shifted the magazine more out towards the arts, and then made it an online journal. Alongside the magazine there was a small press [200 or more books and booklets]; a cassette label'; some artist's books' and various associated micropresses such as Trombone Press, Apparitions Press and - more recently - Smallminded Books.
I have always been too eclectic for my own good. There wasn't enough of a manifesto or argument for people to know where Stride stood. It was shifty, undefinable and slippery. I regret very little of what I published, and was amazed Stride Books survived as long as it did. From the word go the mainstream and the avant-garde, the momentary and the long-term were in the mix. I paint, I write, I love music: the magazine and press tried to embrace that, and tangled with my inability to let things go and not follow through. Stride went on for probably longer than it should have. Well, the magazine is still going strong…
The authors are as eclectic as my taste. There were surprises, like A.C. Evans, along the way; and there were those, like Brian Louis Pearce, who were with me from the beginning - in fact Brian, who was a friend of my parents, introduced me to contemporary poetry and kickstarted my own writing. There were also authors who joined us for a moment and then disappeared, and others who weren't very comfortable with Stride's catholic taste. I think we did alright, when I look at my Stride shelves I'm pretty proud of what I published.
You have published eight collections of poetry and essays with Shearsman Books, including your most recent collection, The Return of the Man Who Has Everything. Please discuss the origins and evolution of your poetry style and craft.
I wrote teenage adolescent poetry, full of romantic cliché and emotional longing, then graduated to mainstream epiphanic and narrative work having read the likes of Brian Patten and Ted Hughes. My creative arts degree started to open me up towards a wider range of poetries, but the real breakthrough came on my MA, when my tutors Tony Lopez and Phil Terry introduced me to Oulipian and other experimental prose, and a wide range of contemporary experimental poetries.
That was a shock to my system, and I stopped writing for several months. But it also made me think hard about the egotistical nature of a lot of poetry, and about processes and forms. My Arc collection, The Museum of Light, is the book I regard as my real starting point in poetry. Since then I've worked really hard to either thematically arrange books as books, or to actually conceptualise books before I even start writing.
So, for instance, The Return of the Man Who Has Everything is actually a gathering of occasional poems, thematically arranged to fit my concept of 'post-confessional narrative' (an idea I started exploring when editing the Smartarse anthology). Here, overheard voices, personal events and ideas, and quotations and the overheard, are remixed into nonlinear narratives, stories made up of moments from a number of different sources. That's a contrast to the five formally structured sequences collected in Ballads of the Alone, which each respond to the work of one or two named photographers, and which rely on collage and rhythm to propel the reader into a kind of sensory overload. Other collections have been thematic, or carefully grouped gatherings of work.
I'm a great believer in process and form as a way to generate text, but also quite old-fashioned in believing that however a text is generated it has to be carefully revised and edited before it 'goes public'.
You have also edited multiple anthologies including How the Net Is Gripped: an anthology of contemporary American poetry (1992). Please discuss the range and scope of your anthologies.
Anthologies are a great way to conduct personal research, and work collaboratively with co-editors and authors. How the Net was David Miller's idea, and enabled us to present an eclectic mix of American authors to the British public. Other anthologies included two books of prose poems, which at the time seemed to be an ignored genre. Others, like the music anthology which is imminent from Knives, Forks & Spoons, have been thematic in content.
I've always preferred anthologies to contain groups of work by each poet, not a hundred single examples. That stems from editing Stride magazine for so long, when it seemed anyone could produce one good poem. What was harder was to produce a sustained body of work at a high level. That's why I always ask for 4 or 5 poems for Stride, something which seems to confuse a lot of would-be contributors!
Anyway, at various points in time, I've been interested in, and managed to get publishers interested in, anthologies of manifestos, responses to the visual arts, prose poetry, new writing, and other ideas. There's usually been some kind of market for these too, so, for instance, the anthology about Barbara Hepworth and St Ives artists has done well at Tate St Ives and in the South West of England, whilst the book of manifestos and unmanifestos, Troubles Swapped for Something Fresh, is used on several university courses.
I have difficult separating it all out really… Anthologies, my own writing, reviewing and collaborations are all facets of the same thing. Language is an amazing medium which can be used for so many different things! I like the way anthologies can produce different versions of the same story. Compare, for instance, Jerome Rothenberg's recent anthology (co-edited with John Bloomberg-Rissman), Barbaric, Vast & Wild, with the much earlier America, a Prophecy.
You are a great practitioner and advocate for collaborative writing. You've co-authored multiple collections with Sheila E. Murphy, Peter Gillies, Robert Sheppard, Luke Kennard, Nathan Thompson, Roselle Angwin, David Kennedy, Robert Garlitz, Peter Dent, A.C. Evans and me, Daniel Y. Harris. Please discuss the art of collaboration.
Trust, energy, and the idea of a new voice emerging as the result of two (or more) authors creating something new together. The texts that emerge could not happen alone. I co-taught a residential writing course with Sheila Murphy (I had already published several of her books at Stride) and she articulated collaborative work so well during that week, stating that one must trust the process and go with the flow; that something new and different will emerge if you let it.
I tend to encourage quick writing through an agreed process, be it a formal poetic structure, a system based on syllabics or word count, or an answering back, poem-by-poem, process, with some real editing work to follow. That's where it can get tightened up… but you have to go with the flow. It's actually quite contrary to my nature, which is ordered and uptight, but I love the freeflow tangents and diversions which collaboration produces, the mutual surprise and excitement. I find it most difficult when collaborations slow down too and the energy levels drop.
You are also a visual artist and musician. Please discuss your work in these areas.
I gave up making music a long time ago. For several years, I worked with a gifted and talented musician (and artist) called Russell Kirk, who was a classical and electric guitarist. We collaborated, using texture and noise (me, playing bass and synthesizers as well as singing) engaging with melody, musicianship and technique (him, mostly on guitars). We both played percussion, wrote the songs and music together, and generated mixes, treatments, effects and loops. We were great mates, both able to wing it as and when the moment required, and our band, Face in the Crowd, also used other musicians when we needed to. That is, we were a duo who were able to perform acoustic sets at poetry slams, cabarets and schools, but also worked with others to make punk or rock music, improvised music, or accompany contemporary dance and films. We released many tape albums in the 1980s, and appeared on lots of tape and vinyl compilations. We had a good time doing it, but the moment went, a long time ago now. (Though a live album of ours did get a CD re-release from an American label a few years back.)
I studied visual arts as well as creative writing for my Creative Arts degree. (There was also access to music studios at college, and due to lighting and design skills I was often involved in staging dance and theatre performances too.) Nowadays I paint small abstract works, on card or canvas, but if I am honest, struggle to exhibit and sell. Previously I was pretty successful in getting shows and selling work - I've had paintings exhibited at major art fairs, solo shows around the UK and in America, and toured themed exhibitions in Europe and America - but I don't seem to have found enough outlets since I moved to Cornwall 10 years ago. I have a studio in the garden and persist, nonetheless. I have had a small local solo show each summer for the past few years, and continue to exhibit work in group and themed exhibitions whenever possible. Recently, work has been shown in Germany, Canada, Scotland, Belgium, Australia, the USA and online.
Lastly, what are your current and future projects?
I have had a very busy summer, writing-wise. I've just completed final edits and orderings of two sequences of impressionistic, abstract poems, 'White Noise' and 'White Noise 2'; a prose poem manuscript, Love Songs for an Echo; and The Silence Inside, a sequence of poems about Doctor Doubt. Hesterglock Press are about to issue Reasons, a chapbook with two sequences in. One concerns depression, suicide and stress, the other grief and loss. Red Ceilings are publishing a collaborative text Nathan Thompson and I wrote a few years back.
I'm looking for a publisher for my new work, as chapbooks, as well as submitting individual poems to magazines, and also have my next full collection Dear Mary out for consideration with several mainstream publishers in the UK and USA. That book concerns ideas of colour and art in a general sense, but also Italian Renaissance art and the story of the Annunciation quite specifically, re-imagining Mary's encounter with the angel in several versions: as an alien abduction, a meeting through an online dating agency, as painted by Francis Bacon, from Joseph's point of view, etc.
As you know, we have the second Harris & Loydell collaboration tentatively accepted by a UK publisher, and the third and fourth out with major publishers in the USA. I continue to write reviews and articles, as well as conduct interviews, for various magazines and academic journals, including Punk & Post-Punk journal, international times, Third Way and Stride. I try to keep myself busy…

---