INTERVIEW WITH TARA L. MASIH
Interviewed by Gloria Mindock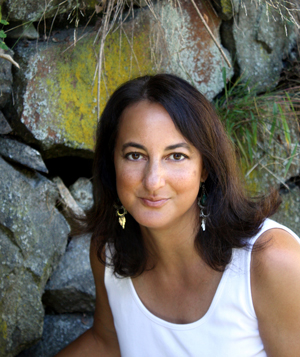 Tara L. Masih received an MA in Writing and Publishing from Emerson College. She has published fiction, poetry, and essays in numerous anthologies and literary magazines (such as Confrontation, Hayden's Ferry Review, Natural Bridge, New Millennium Writings, Red River Review, Night Train, and The Caribbean Writer), and her essays have been read on NPR. Awards for her work include first place in The Ledge Magazine's fiction contest, a finalist fiction grant from the Massachusetts Cultural Council, and Pushcart Prize, Best New American Voices, and Best of the Web nominations. She judges the intercultural essay prize for the annual Soul-Making Literary Contest, and is editor of The Rose Metal Press Field Guide to Writing Flash Fiction (2009). Her short story collection, Where the Dog Star Never Glows, is due out from Press 53 on February 15.
Her website is www.taramasih.com.
---
Do you write at home or do you have another favorite place to write? Describe your writing space.
On rare occasions I've written outside my home-on public transportation, or while waiting for my son to finish a lesson. But I'm not a writer who can write in a bustling café. For the most part I need solitude. When I was young I used to write on my bed (not in my bed, like Colette). It was the only place I could get privacy in my family home, and I found that the bed just opened my mind up and relaxed me and let the ideas flow. Now, I have my own little office with a pocket door that I can close. I now work upright in a chair, facing a wall of bookshelves with my favorite books for inspiration and reference works for editing. To my left is the computer, and a window I can look out of. I find it really important that I have a window, so I can see trees, wildlife, weather, nature.
Twenty-two years ago, I published you in the Boston Literary Review/BLuR. How do you feel your writing has changed since then?
In terms of topics, it hasn't really changed. I'm still drawn to the same stories, and the same characters, usually characters on the fringe or in an unusual situation. What has changed, I hope, is that the writing itself has become more seamless and less problematic. I look back at some of my stories before the BLuR days, and they are terrible. Not on the level they were being judged at the time, with fellow high school or college students, but terrible by my new standards. Being an editor helped my writing, not only because I learned grammar rules, but because I was exposed to some of our best writers, especially in college texts. My favorite books to edit are literary anthologies. I've read some classic stories countless times, stories that can't help but embed themselves somewhere deep in your writing mind.
In the Cervena Barva Press bookstore, The Lost Bookshelf, we have two of your flash fiction chapbooks for sale called, "Fragile Skins" and "Tall Grasses." These chapbooks have sold very well. Please talk about these chapbooks.
These chapbooks are the brainchildren of Joan and John Digby, two incredibly smart, talented people. They started the Feral Press, which has morphed into Prehensile Pencil Publications. They like to marry short prose and poetry with black-and-white images. John himself is a world-renowned collagist. These two chapbooks are made up of a few of my flash stories, with photos by Joan Digby. The press is resurrecting the tradition of chapbooks and broadsides that originated in Europe, where John is from.
In 2009, you edited a book called the Field Guide to Writing Flash Fiction: Tips from Editors, Teachers, and Writers in the Field. This book was published by Rose Metal Press. What was this experience like?
Hard to put into a small space what the experience was like. I won't have another one like it, I know that for sure. As an editor, it was a dream job, to be able to work with these amazing writers. And it was a satisfying experience to work as a team with Rose Metal, putting a quality book together in record time.
Yes, the essays in this book are very interesting and many are by well-known writers. Discuss a few of the essays and how this book can be a helpful resource for writers in Flash Fiction.
I'm proud to say that each one of the essays in the book has been called out in at least one positive review. I don't think there are many essay anthologies that can make that claim. Each essay has something to offer readers who are interested in the short story. I tell people that this book is not just for flash fiction writers. The elements of good writing are pretty similar in each genre, just more intense and precise in flash. The exercises and advice and outlook that each essayist promotes can help a prose writer make his or her work shine more, can improve writing habits, and inspire. That's what I love most about this book, that people are saying they are inspired by it-to write and to teach.
This month, a new book of yours, Where the Dog Star Never Glows, is coming out. This collection of short stories is absolutely wonderful. I have always loved your writing so it is so nice to see your stories in book form. I absolutely love how "Ghost Dance" starts out. Your stories have such a good voice to them. I was taken in right away with this impressive collection. Talk about these stories. How long did it take to write them? Mention your character development and what your motivation was behind the stories.
Thank you so much, Gloria, that means a lot to me. I try to make readers believe they are in the character's head or are right alongside the character if the story's in third person. That's the experience I want when I read. If they mistake the narrator for me, I know I've succeeded.
This collection wasn't written in a few years, as many are, with the intention of being published together. I simply wrote what I wanted to, when I wanted to, and then finally had enough that fit together so they could be gathered in one book. It represents two decades of writing. You can see some old references to regular phones (cell phones are only in one story) and music, but my stories are universal enough to be published in any decade, I think. I don't concentrate on character development, once I have the basics of a character-I write to find out who they are. They reveal themselves along the way.
My motivation? Gosh, I wish I knew. I love to draw, I love photography, I love tennis, but what made me pursue writing? I think to have a voice, and to find some little truth that I think needs to be outed, so to speak. Or further explored. Each of my characters is on some sort of journey, and my deepest hope is that the reader will go on that journey, and see something different, or finish the story thinking differently about someone or something.
Who influenced you as a writer?
Early on, I read mysteries. As a kid, I read Encyclopedia Brown, then Nancy Drew, then Agatha Christie. I enjoyed figuring out the ending. I no longer read mysteries, but I think I do invest my stories with subtle clues. I don't want to hit the reader over the head with something; I prefer them to figure it out on their own.
Later on I became an English Lit major, and loved the Romantic poets and their view of the natural world. So the more literary answer than the one above would be that I was influenced mainly by classic authors-Wordsworth, Keats, Dickens, Twain, Conrad (Heart of Darkness remains a favorite). Of the contemporary writers, Rick Bass remains a huge influence on my writing. I also admire Alice Munro, Stuart Dybek, Michael Martone. And I love what Alice McDermott accomplished in That Night, and envy the simplicity of Kaye Gibbons's A Virtuous Woman. Kind of an eclectic bunch, but I think that's also reflected in my writing, as I like to experiment a lot. There are others, including teachers, but this is the short answer.
This month, you are having a book launch at a bookstore in Brookline. Please give the information to us. I have many newsletter subscribers from the Boston area. I will also list it on my readings page.
It's Tuesday night, February 23rd at the Brookline Booksmith, 6:30 p.m. I'm really grateful to be having it there. There'll be refreshments, because it's more of a party, and we'll give out a prize for best question asked in the Q&A portion.
What are you working on now?
I'm looking forward to getting back to a novel I started a few years ago. One reason I published this collection was because it was hanging over my head, unpublished, while I wrote the novel. I kept telling myself I had to finish the novel so I could get the story collection accepted in a two-book deal, which is what I was being told repeatedly was the way I should go about it. This took the joy out of writing the novel for me, made it more of a task. So I decided to get the collection published with a small press, and was very happy that Kevin Watson, my publisher at Press 53, loved it and felt it was complete as is. Now, I feel free to concentrate on my little novel for the right reasons-for the challenge and joy in writing it.
Any last comments?
None. A thoughtful interview. Thank you, Gloria, for this opportunity, and for all you do for writers.

---