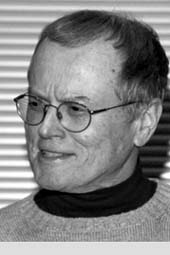 George Held Bio
I grew up poor in a wealthy community on the other side of the tracks from Scarsdale, NY. My father worked a variety of jobs, including building superintendent, assembly-line worker, and hairdresser, while my mother was a nurse before she had me, and she was the soloist in our church choir. Both of my parents abused alcohol, and so did I as a teenager, but after a miserable bout of alcohol poisoning at 16, I tapered off my drinking until I became a teetotaler about 20 years ago.
The most important influences on my becoming a writer include my parents' teaching me nursery rhymes and popular songs and singing to and with me. I played the lead in two Gilbert and Sullivan operettas in high school, permanently embedding in my memory their lyrics and rhythms. My high school English teachers, with one exception, encouraged me to love reading and writing; for one of them, in the seventh grade, I began writing short stories, for which she gave me much praise. The same teacher encouraged my sister to write poems, so she became the first poet in the family.
I was indifferent about going to college and didn't much enjoy my years there, though I continued to read a lot of fiction, and thanks to my lifelong friend the writer Thomas M. Livingston, I read the Beats in the '50s and even the first published poems of a young, unknown poet named Sylvia Plath. I still cherish her work.
Turning down lucrative job offers from major banks, insurers, and manufacturers, upon graduation from college in 1958 I took a teaching job at a boarding school in Honolulu for $2,500 a year, plus room for my wife and me in a dormitory. (Procter & Gamble had offered me $12,500 per year to help raise the bar graphs for sales of Ivory soap.)
Eventually I earned a Master's degree and then a doctorate in English and taught a lot of literature and writing for over 40 years till I retired in 2004. I wrote my first feeble poems in graduate school but put them aside to concentrate on writing scholarly articles for the next 25 years before I began to write poems in earnest while on a sabbatical leave in 1989.
As for where I write, that's a question I rarely read the answers to in interviews with writers. I have no superstitions about a particular location and have written, on trains, in subway cars, at restaurant tables-anywhere a line comes into my head. I always have with me a pen or pencil and something to write on, and when I travel I take a 7.5 x 5-inch lined spiral notebook with me. The page size is smaller than I like, but such a notebook tucks easily into my rucksack. I often write by hand, then revise on my computer. Sometimes I compose directly on the computer. The main thing is probably not where one writes but how well one revises whatever one has written. I revise standing at my bureau, where I often write by hand, or sitting at the desk in my bedroom, where my computer is.
You are an anti-war activist. Discuss some of the recent anti-war activities that you have taken part in.
This question makes me uneasy, because whatever protestors against the Iraq War have done has so far failed to change our government's policy.
Červená Barva Press has just published your chapbook, W Is for War. Please talk about this chapbook. How long did it take you to write and how has the response been to this book?
I wrote most of the poems in this collection in 2002-05, whenever I got angry about the immoral and illegal war in Iraq. I never thought of doing a book of such poems, but in the fall of 2005, I wanted to enter a couple of chapbook contests, and it occurred to me that I might have enough of these anti-war poems for a chapbook ms. The sponsor of one of the contests was Červená Barva Press, and though my entry was not picked, the publisher, Gloria Mindock, wrote me that she liked it enough to want to see it again in 2007 if no one else had published it. In the spring we corresponded again, and she said she thought it was important to publish W Is for War as soon as possible. We then worked together to bring it out in August 2006. Every poet should be so lucky.
In 2005, Toad Press published some of your translations of Martial's epigrams in a chapbook called Martial Artist. By translating his work, what are some of the things you learned from this writer? He is famous for his 1500 epigrams. How does his work influence today's writer? Give a short example of one of the epigrams you translated.
Unfortunately, because he wrote in Latin and wrote a lot of obscene verses, Martial's work is not widely known today. Like most other translators, I was drawn to him by affinity, because I, too, write epigrams and other kinds of satire. I knew some Latin from high school, I had previously translated a modern Hungarian poet-with help from someone who knows both that language and English-and I love reading bi-lingual poetry books, so a few years ago I embarked on a summer project translating Martial and have now done almost 160 of his epigrams, about 40 of which have been published. Here's a short favorite:
The boy's cock is sore, Neville, like your butt.
I'm not clairvoyant, but I know what's up.
To me Martial sounds quite contemporary, and I love what he called the "stingers" in his last lines. By reading him, one learns concision, precision, and slyness.
Also in 2005 Finishing Line Press published your chapbook Grounded. This is a beautifully done chapbook, and I love your poems in it. As you know, environmental issues are important to me. Please talk about this chapbook.
In 1995 I published my first chapbook, Winged (Birnham Wood). It contained nature poems, because I wrote more of those than any other kind of poem in the early nineties. I despair over the despoliation of the environment in the name of so-called "development," which is a sort of rape of the landscape, and my concern about this often leads to a poem. (I have served on the executive board of The South Fork Natural History Society, on Long Island, since 1991.) In 1997 I compiled another chapbook of nature poems, which I called Grounded, because most of its poems concerned earthbound fauna, whereas Winged had collected poems mostly about birds and insects. A publisher in New Mexico liked the new collection and agreed to publish it, but she went out of business before she could print it. That turned out to be a lucky break, because as I wrote better nature poems, I substituted them for weaker poems in the ms. Regardless, it continued failing to find a publisher. In 2004 the ms. was a finalist in a contest, and later that year I entered it in the Finishing Line Press contest, and as a finalist it was offered publication. I agree with you that it is beautifully produced, thanks to Leah Maines and her crew at the press. My latest chapbook addressing nature is a collection of moon poems called "Phased." It completes my trilogy of nature poems and is now entered in a few contests, but you know what a crapshoot that is. I hope eventually to publish a book of "new and selected" nature poems.
One other chapbook of yours I have to mention is Absolut Death and Others. The artwork by Roz Dimon is great. I loved the look of this book and the risks you took with the writing. How did this collaboration come about?
The artist and I are friends, who admire each other's work. About six years ago I attended a show of hers in the East Village, and as we admired her satiric drawings of brand-name products, we wondered if we might collaborate on a book of them. She soon gave me a set of copies of these drawings, and I wrote light verse on a dozen of them. I agree that her artwork is great, and it reproduced well in the expensive printing job we paid for. Despite favorable comments, including one from Madeline Albright, the book has not come close to meeting our publishing costs.
I would like you to talk about one more book of yours called, Beyond Renewal. (Cedar Hill, 2001)
This book went several years before finding a publisher. Luckily, a fine poet, Christopher Presfield, who was running a press in Arkansas while he was in prison in California, accepted the ms. for publication. The title reflects a gloomy view that had resulted from the deaths of my parents and many friends and neighbors in the nineties. For example, this book contains several poems about my father's suicide. He phoned me to say goodbye just before he shot himself, and I was the first person to find his blood-soaked body. But please note that I chose to end the collection with a hopeful poem that reflected the loving relationship between Cheryl Filsinger and me. We got married the same year Beyond Renewal was published. So there is renewal after loss-up to a point.
You have written so many reviews and articles for the Small Press Review and others. What has this experience been like for you? Have you ever dealt with anyone upset over what you wrote about their work? If so, how do you handle this?
I believe artists should give something back to their field in the form of writing criticism or reviews. Recently I was taken to task in the pages of SPR for conflating the two. My critic stated that book reviews must be favorable. If so, this would mean giving a pass to lots of inferior work. Actually, some magazine editors have written to me that they won't publish unfavorable reviews, either because they object to value judgments or because the books they want reviewed are written by friends. Making judgments is essential to validating any work of art; otherwise, Aunt Hattie's portrait by her daughter would be the equal of the "Mona Lisa." And, ethically, friends should not review the work of friends, or there will be no honest standards for poetry as an art. As W.S. Di Piero writes in Poetry, "Some shy away from putting prose out there because it's a giveaway. You can't fake it. It reveals quality of mind, for better or worse, in a culture where poems can be faked." As Ezra Pound wrote early in the 20th century, writing poetry should be as exacting as writing good prose. Actually, poems can't be faked if readers consist of the great audiences that Whitman said are required for great poetry. Great audiences must be widely read in poetry, past and present, and great poetry must be complemented by serious criticism and reviewing. Who has the time for or interest in these things today?
You taught at Queens College from 1967-2003. What are some of the things you tried to teach your students about writing? What was the biggest challenge for you?
The main thing I tried to teach my students was a love of language. That's why I loved teaching poetry and, especially, Shakespeare. Poets revel in language and understand that it is the medium of their art, to be used with great precision, whether with playful, satiric, or romantic intent. This loving and precise use of words is what separates the fake from the true poet or poem. How often, when reading a contemporary poem, do we start with astonishment over a word-choice or feel admiration for a word-placement? No matter how many times I read a great poet like Shakespeare or Dickinson or Robert Hayden, I am struck by the power of the language-the English language and their use of it. Writing translation, by the way, is a good instructor in the importance of precise language and syntax. My biggest challenge as a teacher was getting students to read and to write their own opinions. More and more the young are in love with electronic gadgets and fail to master the art of slow reading that literature, especially poetry, requires to intoxicate us for a moment yet make a lasting impression. And more and more the young are prone to plagiarize from Internet sources rather than try to think out their own responses to writing. Part of the fault lies with teachers who thoughtlessly set hackneyed assignments, but even when asked to compare, say, Whitman's hermit thrush and Hopkins' windhover or Prince Hal and G.W. Bush as ambitious leaders who are the sons of leaders, many students hijack Internet sources and try to pass off stolen goods as their own. And who has failed to notice the rise in plagiary among professors and scholars, like Doris Kearns Goodwin?
From 1973-1976, you were a Fulbright lecturer in Czechoslovakia. What was it like there for you? Since it was still under Communist rule, did this cause any problems for you? Discuss your experiences and the students.
Teaching under a totalitarian regime helped me to understand the value of the U.S. Constitution as a protector of citizens' rights against the intrusions of an authoritarian government. Actually, Czechoslovakia had a democratic constitution and government before they were dispatched after the Communists, with the aid of the Soviet Union, replaced them with totalitarianism. Similarly, today America is threatened by the BushCheneyRove fascists (those who combine corporatism and militarism with a rigid nationalism perceived as perpetually threatened by enemies at home and abroad) as much as by Islamic fundamentalists who want to establish theocracy wherever they can. One of the scariest elements of life under Soviet-style Communism was the feeling that one was constantly under surveillance-the cigarette butt in this non-smoker's toilet bowl or the diary left open in a drawer, calling cards of the Secret Police. In each of my classes at least one student was a "špion," or spy, for the Party. The students knew who she was and exercised caution in discussing controversial topics, that is, any idea contrary to Marxist-Leninist ideology. For instance, when we discussed Emerson's idea that "he who would be a man must be a nonconformist," the spy asserted that "in the interest of national unity one must conform to the norms of the Party." One clever fellow, who is now a professor at a university in Great Britain, gently admonished, "While that is true, in order to contribute new insight into the values of the Party, one might occasionally consider original thoughts." I hope that this sort of cat-and-mouse game has not already taken root in our classrooms, though I acknowledge that some professors can be autocrats-of the right or the left-regardless of any political situation existing outside the classroom. Needless to say, I had a much easier time in Czechoslovakia than the average citizen. I was paid in line with physicians-teachers are generally much more greatly respected in Europe than in America-and I had a limitd visa that allowed me one trip over the border and back every 90 days. In my second year there the U.S. Embassy got me an unlimited visa, allowing me easier access to Austria and West Germany, where I could buy products like gentle soap and soft toilet tissue and bring them back for my Czech and Slovak friends. Also, I could read at will the free press in the embassy library, and I listened to Radio Free Europe in my apartment.
From 1991-2003, you co-edited The Ledge. Discuss your experiences being an editor.
We received about 5,000 submissions a year, and I discovered how much bad poetry is being written and submitted for publication. Poor poems are easily weeded out for their clichéd ideas and words, their incompetence of line or form, but the hard part is choosing the best of the remaining 5% of submitted poems. I also found out how rampant are the prima donnas of po' biz-their inflated bio notes, their envelopes stuffed with up to 20 poems, their querulous letters about one perceived slight or another. On the other hand, Tim Monaghan, the editor in chief, and I delighted in discovering talented poets, such as Kurt Brown, Terry Brown-Davidson, and Sherry Fairchok, among others. We found it a pleasure to work with the really talented and professional writers who graced our pages. Though I no longer read submissions for The Ledge, I continue to line-edit each issue and the chapbook that emerges from our annual contest.
Who are some of your favorite writers?
Lately I have been reading with pleasure through the work of the South African novelist J.M. Coetzee and the American James Salter, a master of the short story and the travel essay. As you can tell from the writers I've already mentioned in this interview, I like many of the great canonical authors, and I am always on the lookout for a new favorite among our contemporaries. I still love to read.

---