Etkin Getir
Istanbul Literature Review, Turkey
Editor in Chief
http://www.ilrmagazine.net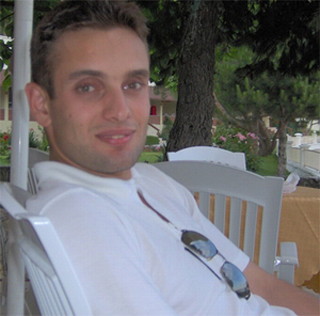 Write a bio about yourself.
I donít like to get lost in personal details, thus itís going to be a short one. Iíve been writing fiction and ocassionally poetry for years and I am a published author in Turkey. However, as you can see from my literary career, Iím more of an editor than an author. I was the editor of Storyteller Web Magazine for two years between 2000 and 2002. Then, in 2005 I launched Istanbul Literature Review project and since then Iím the editor of the magazine. Time to time, I also took over the editorial responsibility of some minor magazines here in Turkey, too.
When did you start publishing Istanbul Literature Review?
To give an exact year, the idea came to me in the early 2005. In fact, I was thinking about a new project since the end of Storyteller. As you may know, I had published Storyteller Web Magazine with a similar concept for two years, beginning in 2000. For some reasons, the project came to an end. So I was already an active player in the online literature scene, as well as a loyal reader.
When you take a look at the online and print literature publications, you come across Paris Review, Barcelona Review and so on. Istanbul is of a significant importance as it bridges Asia to Europe, and the past to the future. However, our city does not have a significant international literary publication. With this brand-new project, my aim was to fill in this gap. And I guess, so far I have succeeded to some extent.
Anyway, our debut issue came out in September 2005 and since then a growing number of readers enjoy Istanbul Literature Review every edition.
What type of work do you look for?
First of all, they must be innovative. So far, with the current selection of work, weíve reached a significant level in this respect. And second, diversity is important. When all the pieces come together to make up the contents of an edition, itís important to provide readers a variety of work they will enjoy. Authors from all over the world do succeed to contribute to this two factors and you can see pieces from United States to Nepal, from France to India in one single edition. Thatís what we call ďBridging the cultures.Ē So far, I believe Istanbul Literature Review helps people from all around the world appreciate the common heritage of mankind.
Finally; if it is to be successful, an international literary review mustnít be repetitive; this is of a vital importance.
You have others involved with your magazine. Please name them and tell how they became part of your magazine.
As for the editorial board, my acquaintance with my consultant editor Thomas Fortenberry goes back to Storyteller years, just like some of the Staff authors. He helps me with his experience as an editor and we sometimes discuss the future of our publication and exchange our experience. Needless to say, he helps me completely on a volunteer basis. The other one, Louise is a delightful English woman who helps me as a English Language Consultant. She also takes care of the translation of Kitchen column in Turkish Delight section as well.
When it comes to the staff authors, some of the authors come from Storyteller years; just to name a few: Scott Muschett, Jim Kohl and Patrick Julian Cassidy. Throughout our short one-year history, many talented authors joined our staff. We made a very good and sincere family along with the contributors from different places around the world.
As I always say, I owe at least 90% of the success of our publication to the talented authors who choose to join Istanbul Literature Review staff without any material expectation.
How do you balance your time being an editor?
Indeed, time management is an important factor for an editor. Thereís a growing flow of submissions every issue and managing them is really a hard thing. Besides, most of the magazines around the world choose to hire a webmaster; however web design is one of my favourite free-time activities, so I took over the webmastering and web design of Istanbul Literature Review. I spend time carefully evaluating all the submissions I receive, because they are invaluable signs of human creativity. If all the authors obey the deadlines in the submission guidelines, there occurs no problem.
Describe the writing scene in Istanbul
An author can find any inspiration he or she needs in such an interesting and splendid city as Istanbul. Along with its natural beauty like Bosphorus, rich historical heritage and interesting range of people, one can easily see Istanbul is a source of inspiration itself. Therefore, we have some very good and talented authors here, both in professional and amateur levels. We have a number of literary magazines which encourages youth to create and write. This is so for every kind of art, not just for literature. In my point of view, encouraging the youth and amateurs is the sole factor for the advance of national literature, which is being done quite well here. As for the online literature, we also have lots of literary portals here. They usually incline to make it not as periodicals but as portals which is updated frequently. These portals serve to getting people to write and develop their skills as once their work appears on the page, they are able to get the reaction and feedback immediately. However, as I mentioned before, Istanbul lacks of internationally published reviews.
Who are some of your favourite writers?
Letís begin with the famous ones, then. First, Jerzy Kosinski whose life and works are still a matter of great contreversy, is one of my all-time favourites. Not only do I like his fiction, but also his style has a great impact on my work. One should definitely read the Painted Bird by Kosinski. Cockpit and Being are the other must-reads by him. Stefan Zweig is another great narrator of the past century in my opinion, and both his memoirs and his fiction impresses me. Among the other authors I like; Panait Istrati, my childhood hero Jose Mauro de Vasconcelos, George Orwell, Giovanni Guareschi ( he is the man of humor) and Refik Halit Karay in Turkish literature.
You have written articles for the magazine. Do you write poetry and fiction too?
Yes, I do write. Mostly I write short stories in Turkish and also I made some attempts in the poetry scene. I call them Ďattemptsí because even though I like reading poems, writing poetry is not really my thing. Writing good poetry is an admirable skill which I am not familiar with. My stories and some of my poems were published on some online Turkish magazines and right now Iím working on my first novel.
Describe the room you work in when writing.
I divide my time mainly in two cities: Istanbul and Gelibolu, my holiday residence (Gallipoli, as you better know). In Istanbul, I mainly deal with the editorial job, and I work little on my stories. I usually write my stories in Gelibolu. Itís a fantastic place which offers a perfect tranquillity and the room I work in is overlooking to Dardanelles Strait through trees. This beautiful scene injects inspiration for my work. As far as poetry is concerned, in my point of view, writing poetry is an immediate thing and once you get the idea, you should put it on the paper, and then itís not that open to make any changes. Therefore, writing poetry, for me, is regardless of place and time.
Any last comments?
First of all, Iíd like to address to the readers and authors from all around the world. Being the editor of such a wonderful literary review is probably one of the most rewarding positions in the world. Getting to know all these beautiful people is sometihing really exciting. I owe these people a great deal of gratitude, since from the comments I receive, I see them appreciate all my efforts, which keeps me going. And then, thank you very much Gloria, for giving me the opportunity to appear on your beautiful newsletter. Besides, we are in touch with each other from the very beginnings of our organizations, and Iíd like to thank you very much for your support.

---