Interview with David McNamara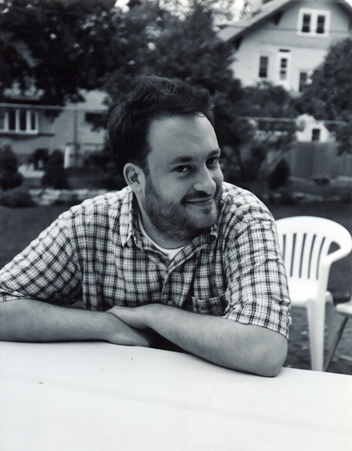 Write a bio about yourself.
I was born in Erie, Pennsylvania, and am a terribly, ridiculously lucky person, especially when one considers that I don't believe in luck. To wit, my parents love me more than I deserve and I'm living the sitcom paradox-the fat, dumb guy who somehow ends up with the smart, sexy woman.
You graduated from the publishing program at Emerson College. What was your experience like there?
Overall it was an excellent experience. I applied with the intention of learning more about the marketing and business aspects of publishing, to which extent the program definitely met my expectations. The director of the program, Dave Pallai, was a mentor in many respects. Sunnyoutside definitely wouldn't be where it currently is without the knowledge and guidance I received there.
When did you start as an independent press? How did you come up with the name sunnyoutside press?
I suppose, technically, I started as an independent press when I was in high school and my father, much to his credit, brought home a hand-held scanner that I had declared I wanted, despite not really knowing why. It's been a steady descent into the arts of publishing ever since.
I never referred to anything as an independent press until the reincarnation of sunnyoutside, even when I published )ism(. I say "reincarnation" because sunnyoutside originally started as an online journal. So I guess the answer to that first question is, consciously, sometime in 2005.
The history of the name is one of those stories that has been told so many different ways that I don't fully recall the events accurately any more myself. I believe it was proposed by Nat Clark, an Australian zinester living in London who did some writing for us, and I adopted it as a sort of tongue-in-cheek commentary on the internet-that is, a facetious challenge to the reader: "Why are you sitting at your computer reading this when you could be outside doing something more exciting?"
One of my favorite quotes has always been Brandeis's "Sunlight is said to be the best of disinfectants," so that, coupled with the following we'd garnered as an online journal, constituted the decision to keep the name when I founded the press.
Talk about your newly released titles called, Dream Big Work Harder by Rebecca Schumejda, Rumors of Electricity by Richard Kreck, and Modern Love by Andrew Scott.
Dream Big, Work Harder got Rebecca a featured reading spot at the huge Small Press Fair in New York City, which then lead to a mention as a title of note in ForeWord, which itself speaks of the quality of the writing. It's a fantastic read.
Richard Krech's Rumors of Electricity has probably been our most successful book out of the gate. The reviews for both the writing and the presentation have been overwhelming, which has been a great compliment and vindication because the original idea was just a broadside. But I noticed a geographical theme in a lot of what Richard submitted, and he had these fabulous poems that all tied in with each other stylistically, and the project just grew into the finished project, culminating with the great cover design that Kseniya Thomas created-which in itself was a bit of a landmark, as it was the first cover that I didn't design myself.
Kseniya also did the printing for Modern Love by Andrew Scott, although the art was by Ed Herrera, who contributed illustrations throughout. Ed's main genre is comic books, but his style and interpretation of Andrew's writing really nailed the feel of the writing, while also creating an added dimension-it's crisp and bold, while what won me over in the story are the blurred lines of protagonist and antagonist. It's a story you can read a few times and still be thinking about weeks later.
As a small independent press, what are some of the challenges you face?
The inability to capitalize on economies of scale, either due to smaller markets or because of production technique, is a constant problem. Another major problem is doing the tasks that I'm not naturally inclined to or terribly keen on, such as the accounting and public relations stuff. There are a lot of roles to fill, and until growth allows us other employees and specialized tasks, doing everything is both a blessing and a burden.
How do you fund your press?
The press is a business. There was some investment in the beginning as startup capital, but since then the press has been mostly self-sufficient as we base our growth on reinvestment of profits. So far we've been quite lucky to have most of our titles be successful within our budget scheme, which really is credit due to our authors and the amount of work they put into making the books a success.
What type of work do you look for?
I like creative work that uses solid imagery and intelligent metaphors and allusions. I suppose you could trace a bit of darkness through our titles, and to that end I prefer work that applies to the human condition, but that, naturally, isn't always despondent. But I do generally gravitate to innovative work that has multiple layers to it.
How many books, chapbooks, broadsides and postcards do you print a year?
That depends largely on the budget and the scope of the titles we have scheduled. I think we're currently on pace for eight or nine books or chapbooks for 2007, including a second edition for a title on the verge of selling out.
Obviously paperbacks require more time and money than chapbooks and are also a greater risk, so there's a constant fluctuation with the numbers. Last year was a good year for us, so three of our forthcoming titles are going to be paperbacks-four if you count the postcard book we have scheduled, and possibly more if those have early financial success.
You do your own printing with a letterpress. Please talk about this process.
Setting forms with lead and wood gives one a completely new perspective on dimensions and leading. It's a lot like learning English grammar from taking Latin-it's much more structured. It gives you a lot more respect for how technology has facilitated things, for better and worse.
That said, as rewarding as it is, it can also be a real pain in the ass. But even digital publishing should be given the same care-it's just a different dimension. I learned that you shouldn't ever use automatic settings in a program, and hand-setting type reinforces that a bit-you need to consciously decide what piece of type or leading you're setting, and you have to be deliberate about it-if it doesn't work out, you might get stuck formatting the whole damn form again, which is considerably more work than tweaking a point size in InDesign.
There is more freedom with digital layouts, but the same basic decisions need to be made-which fonts, how much leading, which ligatures, which weight, what justification, et cetera.
There are probably more pitfalls in desktop publishing, too, such as poor renditions of typefaces, fake italics and forced condensation, resolution and output issues, and so forth. With letterpress printing, it's sort of nice to not have to worry about that, although that's not to say that all type and dies are cast equally, either.
Do you write at all or are you just into publishing?
Most of my writing these days involves press releases and grant proposals, I'm afraid. The occasional whim still strikes, though, and I'm lucky enough to have had Hemispherical Press accept a very short manuscript of poems, which will be released sometime this year.
Who is a literary influence for you?
On the poetry end of things, my favorite poets are probably e. e. cummings, Donald Hall, and Charles Simic, to name a few. I could take up quite a lot of space listing everyone who's written a poem that significantly influenced me. My personal preference for recreational reading has shifted dramatically to non-fiction in recent years, and I suppose those most to blame/credit would be P. J. O'Rourke, Lawrence Millman, Tim Cahill, and Bill Bryson, off the top of my head.
Somerville has many writers and is active in the arts scene. sunnyoutside press, Ibbetson St. Press and Červená Barva Press are all based in Somerville. Do you see any changes in our community in regards to publishing? Do you feel Somerville is a good base for all of us?
Somerville has a very rich literary history, once being home to writers like Denise Lebertov and presses like Firefly Press. I'm not going to be daft and suppose that sunnyoutside is a suitable replacement for Firefly, who has since relocated to Allston, but the tradition is there, so I see any change more as fluctuation rather than linear in nature.
It's a very intelligent and cultured community. We're a city of only four square miles and we have more decent coffee shops than most towns ten times that size. Culture has its own ecosystem-there's a lot going on here and there will always be a creative spirit that manifests itself as some form of publishing.
Any last comments? Is there something else you'd like to say regarding your press or the publishing scene in general?
I think the average person knows a lot more about typography and design than they realize, and that people should start expecting the same standards of books and magazines that they do of anything else. Most of typography is based on aesthetics, so if something doesn't look right, it probably isn't.

---