About Gloria Mindock | Nothing Divine Here by Gloria Mindock | Blood Soaked Dresses by Gloria Mindock
"There is nothing to writing. All you do is sit down at a typewriter and bleed. "
~Ernest Hemingway
---
New Release: Hyperlinks of Anxiety by Daniel Y. Harris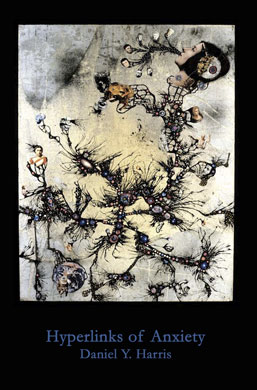 Daniel Y. Harris holds a Master of Arts in Divinity from The University of Chicago, where he specialized in the history and hermeneutics of religion and wrote his dissertation on The Zohar. He is the author of The New Arcana (with John Amen, New York Quarterly Books, 2012), Paul Celan and the Messiah's Broken Levered Tongue: An Exponential Dyad (with Adam Shechter, Červená Barva Press, 2010; picked by The Jewish Forward as one of the 5 most important Jewish poetry books of 2010) and Unio Mystica (Cross-Cultural Communications, 2009). He is a three-time Pushcart Prize nominee. His poetry, experimental writing, art and essays have been published in The Denver Quarterly, European Judaism, Exquisite Corpse, The New York Quarterly, Poetry Salzburg Review, among others.
His website is www.danielyharris.com.
---
Daniel Y. Harris's new volume of poetry brings together a range of texts – older and newer – evocative of the qualms and uncertainties of our new millennium. A subtle and highly affective read.
—Sander L. Gilman, Distinguished Professor of the Liberal Arts and Sciences; Professor of Psychiatry, Emory University
Is cyberspace the most recent iteration of the diaspora? Will the next Zohar be composed in computer code? Can notarikon generate lyric poems out of the discourses of pharmacology, neurology, biophysics…? Welcome to the Hotel Url, Daniel Y. Harris, sole owner and proprietor, where these questions—and others that the reader has yet to dream—will be answered. No need to be anxious: in less than a nanosecond, the hyperlinks elaborated in Harris's poems will whisk you from catastrophe creation to apocalypse and beyond. Beam me up, Ezekiel!
—Norman Finkelstein, Professor of English, Xavier University and author of On Mount Vision: Forms of the Sacred in Contemporary American Poetry
Daniel Y. Harris combines impressive erudition with a profound awe for continuity—that the eternal energies underlying Life itself constantly (re)iterate and (re)incarnate in myriad waxing and waning forms. Ideas birth Art; Art births Ideas. In such fashion, to employ classic terms, the heart and mind forge a dynamic union resulting in both clarity of perception and depth of feeling. These are poems to be read and reread, concepts and descriptive phrases operating like portals into other worlds. In Hyperlinks of Anxiety, Harris functions as a twenty-first century, digital alchemist, adeptly yoking the abstract and concrete, offering us singular and transformative experiences, all the while reminding us that Poetry is trans-authorial, Mystery our only true teacher.
—John Amen, author of At the Threshold of Alchemy; editor of The Pedestal Magazine
$17.00 | ISBN: 978-0-9883713-4-7 | 156 Pages | In Stock
---
May 3, 2013: Sweet Snow A novel of the Ukrainian famine of 1933 by Alexander J. Motyl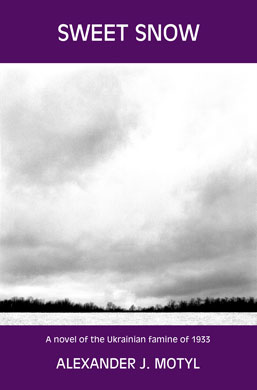 Cover Photograph: Mark Hewko
Alexander Motyl is a writer, painter, and professor. He is the author of four novels, Whiskey Priest, Who Killed Andrei Warhol, The Jew Who Was Ukrainian, and Sweet Snow, and two novellas, Flippancy and My Orchidia; his poems have appeared in Mayday, Counterexample Poetics, Istanbul Literary Review, Orion Headless, The Battered Suitcase, Red River Review, Green Door, and New York Quarterly. He has done performances of his fiction and poetry at the Cornelia Street Café and the Bowery Poetry Club in New York. Motyl's artwork is represented on the Internet gallery, www.artsicle.com, and has been exhibited in solo and group shows in New York, Philadelphia, Westport, and Toronto. He teaches at Rutgers University-Newark and lives in New York.
---
Sweet Snow is set in the winter of 1933 in Ukraine. A terrible famine is raging in the countryside, while the Soviet secret police is arresting suspected spies in the cities. A German nobleman from Berlin, a Jewish communist from New York, a Polish diplomat from Lwów, and a Ukrainian nationalist from Vienna come to share a cell in some unknown prison. One day, as they are being transported to another prison, their van overturns, their guards are killed, and they are freed — to wander amidst the devastated villages, desolate landscapes, snowbound villages, and frozen corpses. As they struggle to survive, they come to grips with the horror of the famine as well as with their own delusions, weaknesses, and mortality.
$18.00 | ISBN: 978-0-9883713-7-8 | 154 Pages | In Stock
---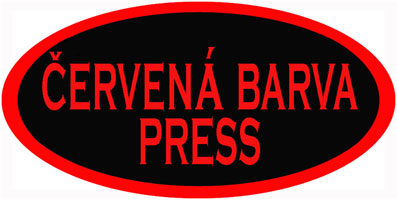 ČERVENÁ BARVA PRESS STUDIO
THE CENTER FOR THE ARTS AT THE ARMORY
APRIL & MAY, 2013 EVENTS
Arts for the Armory
Basement, Room B8
191 Highland Avenue
Somerville, MA
Inside the Armory:
Go inside main doors and walk straight ahead about 30 feet, look for the door on the right to the stairs down to the basement. (There is an elevator just after the stairs.) Once in the basement walk through the basement lobby straight ahead about 20 feet, first door on the right is the Červená Barva Press Studio.
---
ČERVENÁ BARVA PRESS READING SERIES
Featuring: Jack Scully | Nancy Brady Cunningham
SATURDAY JUNE 8th, 7:00PM
Jack Scully was the co-founder with the late Mike Amado of two ongoing poetry venues in Plymouth, Massachusetts, Poetry: The Art of Words a monthly poetry series and The Poetry Showcase a yearly poetry reading held in conjunction with the Plymouth Guild for the Arts yearly juried art show. Mike Amado published three books of poetry during his short time on this earth. Scully and poet Nancy Brady Cunningham have edited this, his fourth book. Scully, who currently serves as the literary executor of Mike's work has read Mike's poetry as a feature reader at numerous poetry venues throughout Eastern Mass.
Nancy Brady Cunningham is a published poet and author of 5 books of non-fiction. Nancy has featured at many venues, including Boston's First Night 2000 in Big Night at the Bookhouse at the Boston Public Library. Her international experience includes readings in Paris, Toronto, and Lesbos, Greece. She is the founding member of the poets' theater troupe IYANU, which has performed in Cambridge at the Blacksmith House, Club Passim, and Squawk Coffee House, as well as in Easton at the Blackthorne Tavern.
In April 2010, Nancy was one of 6 finalists for the New England Greater Brockton Society for Poetry and the Arts' poetry contest held through the Brockton Public Library. In August 2010, Nancy was the co-winner for first place in the New England Poetry Club's contest for the Barbara Bradley Award. Also in 2010 Nancy was co-winner for first place in NEPC's Gretchen Warren Award contest.
Admission $3.00. Reception to follow.
---
Directions & parking:
The Center for the Arts is located between Davis Square and Union Square. Parking is located behind the armory at the rear of the building. Arts at the Armory is approximately a 15 minute walk from Davis Square which is on the MTBA Red Line. You can also find us by using either the MBTA RT 88 and RT 90 bus that can be caught either at Lechmere (Green Line) or Davis Square (Red Line). Get off at the Highland Avenue and Lowell Street stop. You can also get to us from Sullivan Square (Orange Line) by using the MBTA RT 90 bus. Get off at the Highland Avenue and Benton Road stop.
Inside the Armory:
Go inside main doors and walk straight ahead about 30 feet, look for the door on the right to the stairs down to the basement. (There is an elevator just after the stairs.) Once in the basement walk through the basement lobby straight ahead about 20 feet, first door on the right is the Červená Barva Press Studio.
---
May 12, 2013: The Bonsai Curator by Pamela L. Laskin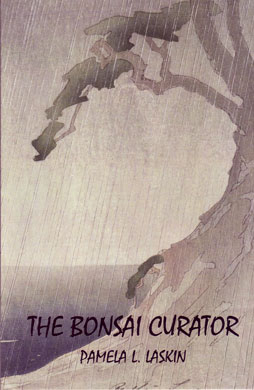 Pamela L. Laskin is a lecturer in the English Department, where she directs the Poetry Outreach Center. Poetry collections include: Remembering Fireflies and Secrets of Sheets (Plain View Press), Van Gogh's Ear (Červená Barva Press), Daring Daughters/Defiant Dreams (A Gathering of Tribes), and The Plagiarist (Dos Madres Press). Several children's books have been published.
---
In The Bonsai Curator, through metaphor, myth, and fairy tale, Pam Laskin chronicles a life, from the figurative museum, into the woods, then out of that museum, into the world. But my favorite moments live in her language and imagery, like: "The pines, bamboo, and plum trees... from the same father, / a recluse / who made his children lovely, / but lonely." / and "I am good at stunting growth; / I've kept myself / five forever." As always, Laskin doesn't blink, and she doesn't flinch, either.
—Estha Weiner
In this subtly complex collection of poems, Pam Laskin takes the image of bonsai—stunted and scarred into beauty through deliberate human artifice—and makes it a metaphor of being mothered, smothered and "wretchedly loved." Then with great deftness, she uproots the image and offers us a fresh and expansive vision of a tree, one that summons us to the sprawling beauty of parenting—and of poetry—that is nurtured in respect and love.
—David Groff, Author of CLAY
---
Bonsai Beauty
I have been birthed/unearthed
from air,
a mutation
my odd, atrophied limbs
are startling.
Like a fixture I stand
paralyzed
by motherless memories.
Yes, there is a tree here
but at fifty
I still can't grow.
$17.00 | ISBN: 978-0-9883713-5-4 | 72 Pages | 3 in Stock
---
March 2013 Workshops
at the Červená Barva Press Studio
"From Get That Pen Out: Writing Exercises"
Pictures courtesy of Irene Koronas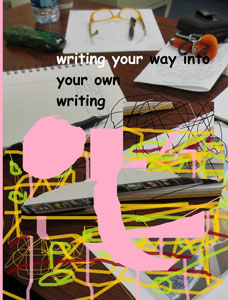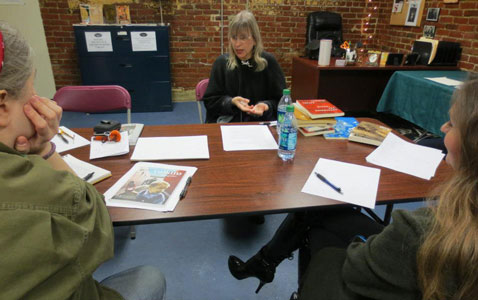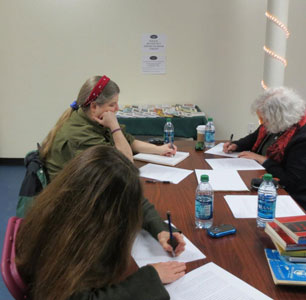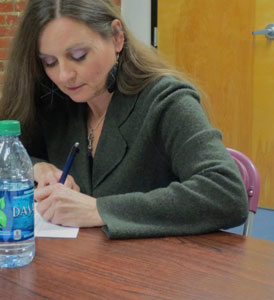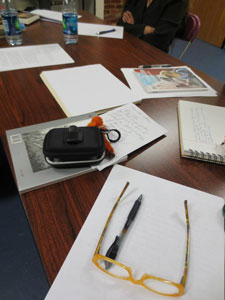 ---
Gloria Mindock interviewed by Rodica Draghincescu
in the new issue of Levure Litt&eacuteraire.
Please check it out.
There are many photos of Červená Barva Press authors included.
The interview is also translated into the French by Cécile Oumhani.
http://levurelitteraire.com/gloria-mindock-2/
ABOUT THE PRESS
ČERVENÁ BARVA PRESS was founded in April of 2005. The press solicits poetry, fiction, and plays from various writers around the world, and holds open contests regularly for its chapbooks, postcards, broadsides and full-length books. I look for work that has a strong voice, is unique, and that takes risks with language. Please see submission guidelines for current information. I encourage queries from Central and Eastern Europe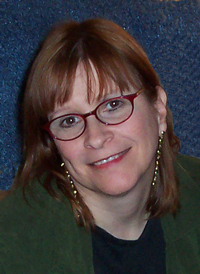 Gloria Mindock is editor and publisher of Červená Barva Press. In 2007, she took over as editor of the Istanbul Literary Review, an online journal based in Turkey. In 2010, she co-founded an experimental journal, X Peri, with Irene Koronas.
She is the author of two chapbooks, Doppelganger (S. Press), Oh Angel (U Šoku Štampa) and is the author of three books, Blood Soaked Dresses (Ibbetson St. Press, 2007), Nothing Divine Here (U Šoku Štampa, 2010), and La Portile Raiului (Ars Longa Press, Romania, 2010), translated into the Romanian by Flavia Cosma.
Gloria has been published in numerous journals including River Styx, Phoebe, Poet Lore, Blackbox, Ibbetson St., WHLR, Poesia, Arabesques, and Bogg. In Romania, her poems can be found in UNU: Revistă de Cultură, Gând Românesc, Citadela and the anthology Murmur of Voices (Cogito Press) with translation by Flavia Cosma. Other anthologies include: Bagel With the Bards No.1 and No. 2, WHLR Anthology # 1, and City Lights.
Recently, she was interviewed by Luis R. Calvo and Flavia Cosma in the literary magazine, Generación Abierta (Buenos Aires, Argentina). The interview was translated into Spanish by Flavia Cosma.
Gloria has been nominated for a Pushcart Prize, St. Botolph Award and was awarded a fellowship from the Somerville Arts Council.
From 1984-1994, she edited the Boston Literary Review/BLuR and was co-founder of Theatre S & S. Press, Inc. Theatre S. received grants from the Polaroid Foundation, The Rockefeller Foundation, The Globe Foundation, New England for the Arts, Massachusetts Cultural Council, and the Somerville Arts Council.
With an extensive background in theatre, Gloria has written and performed numerous performance pieces including BIG BOMB BUICKS, WHERE DID ALL THOSE BIRDS AND DOGS COME FROM?, I WISH FRANCISCO FRANCO WOULD LOVE ME, and SKIN CELLS, MAGGOTS, AND OTHER POINTS OF INTEREST. Her poetry collection called Doppelganger was a text of a theatre piece of the same name performed by THEATRE S. A review by STAGES stated she took great liberties with Poe and "captured the romantic desperation of "William Wilson," a tale of self-destructive double-identity."
Gloria has performed, acted, composed music, and sang in the theatre. Her newest performance piece is called WALKING IN El SALVADOR. Gloria works as a Social Worker and freelances editing manuscripts and conducting workshops for writers.
Gloria Mindock's Website is currently under construction.
Nothing Divine Here by Gloria Mindock
U Šoku Štampa Press, 2010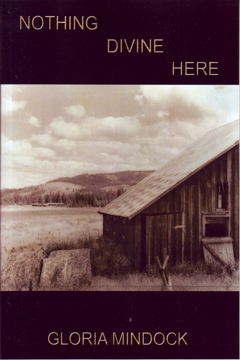 Gloria Mindock is the author of the forthcoming book, La Porile Raiului (Ars Longa Press, 2010, Romania) and Blood Soaked Dresses (Ibbetson Street Press, 2007). She is editor of Cervena Barva Press and the Istanbul Literature Review, an online journal based in Istanbul, Turkey. She has had numerous publications including Poet Lore, River Styx, Phoebe, Blackbox, Poesia, Bogg, Ibbetson, WHLR, UNU: Revista de Cultura, Citadela, Aurora, and Arabesques. She has been nominated for a Pushcart Prize, St. Botolph Award, and was awarded a fellowship from the Massachusetts Cultural Council distributed by the Somerville Arts Council.
---
From the Preface
Passionate and rebellious, Gloria Mindock's poetry jumps forcefully from the page, grabs the reader by the collar of his coat and holds and hangs on to his/her attention.
In unison with the poet's heart, the nature of things is in big turmoil here, forever searching for the elusive Divine Harmony, the only force capable of rearranging the world into one of love and understanding.
In a perpetual state of sadness and grief, these poems descend to the very core of the raw discourse of the soul, devoid of artifice and pose. The stark simplicity of their statement disarms us and leaves us vulnerable in front of the bitter reality of life.
—Flavia Cosma, author of seventeen books of poetry, a novel, a travel memoir, and four books for children
The stunning thing about Mindock's work is its overwhelming sense of the real world in real time. It's "poetic" in its own way, well-crafted, agile, nicely balanced, but in terms of content, you move into Mindock's world and you're suddenly in a basic, essential reality that hardly anyone in the poetry world touches: "I see your skull veiled by a cloud/Eyelids sunk/Hands pressed on knees/Heart gone/A sight of secrets//I think living is brave/Death is a release/The dog knows -- heaven is nothing but a frill." ("Dog Dance," p.41). An interesting mixture of existential toughness crowned by an ultimate sense of final nothingness.
It's interesting how Mindock's world-view combines a dispairing sense of expanding out into the horrific Now with a vision of everything eventually dissolving into nothingness: "Living on this earth is/one big nightmare.,/This landscape frightens me./Too much death./Think about it.//I refuse to fall short of detail so/ here it is: Death of emotion/Death of love/Death of skin...//I'm going away to where I really belong./To me, this is uplifting." ("Aftermath," p.63).
Very few style-games here. This is poetry as a minimalist Declaration of Finality. And the very fact that Mindock doesn't play style-games makes her vision a thousand times more effective/powerful than the word-game players who turn poetry into a kind of syntactical basketball.
—Hugh Fox
In Nothing Divine Here, Mindock invokes a resurrection, the power of love to spring eternal from the hurt we all know. She looks at the personal and the political, that haunting polarity, and weaves a gentle but brave hopefulness between them.
—Afaa Michael Weaver, Simmons College
Gloria Mindock is a fearless poet. She gets right in the face, in the very nostril of death. She confronts her past lovers, her dreams, dashed or otherwise, not with cool detachment, but with a visceral lyrical and emotional engagement. She has made her pain into high art, into the high holy. Mindock, is a force to be reckoned with, so watch your back!
—Doug Holder, Arts Editor The Somerville News, Founder Ibbetson Street Press
---
Review by Michael Parker at Unlikely Stories: http://www.unlikelystories.org/blog/
$15.00 | ISBN: 978-0-578-04760-7 | 87 Pages | In Stock
Blood Soaked Dresses by Gloria Mindock
Ibbetson Street Press, 2007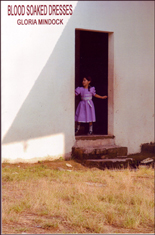 In her fascinating poem cycle, Gloria Mindock jolts back into memory the roots of El Salvador's present day violence. Mindock coaxes to the page the voices of the dead who lie, less in peace, than in restless obsession with the atrocities they suffered. She brings forth as well the voices of the living who seem startled to find that they died somewhere between the horrors they witnessed and the grave they have yet to lie down in. Blood Soaked Dresses is a beautiful, harrowing first book.
--Catherine Sasanov
Also available at Grolier Poetry Bookstore in Cambridge, MA., and can be ordered online at: Amazon, Barnes and Nobles, and Powells.
For signed copies: order directly from the author at: P.O. Box 440357, W. Somerville, MA 02144-3222 ($13.50 plus $3.00 S/H)
---
"El Salvador, 1983" was translated into Serbian by Berislav Blagojevic:
http://hiperboreja.blogspot.com/2011/05/el-salvador-1983-glorija-mindok.html
Berislav Blagojevic's Blog:
http://berislavblagojevic.wordpress.com/2011/05/17/el-salvador-1983/
To read reviews go to:
Boston Globe review by Ellen Steinbaum
Boston Area Small Press and Poetry Scene Reviews:
http://dougholder.blogspot.com/search?q=lo+gallucio
http://dougholder.blogspot.com/search?q=irene+koronas