Half my life is an act of revision.
-John Irving
---

Here we go: The next Read America Read Project is Saturday, December 30th.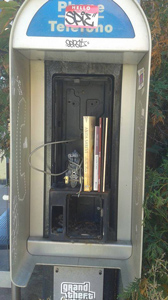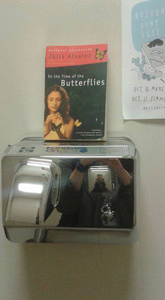 Leave a book for someone to take anywhere you want. This time, ask two people you know to do this also. This way the project will grow each month. I would like a book marker to go in every book so people know where they are coming from. Please e-mail me at the following e-mail address and I will send you an e-mail back with the book marker for you to print out and cut. Thank you for being a part of this project. Lets make December 30th great! Send me photos too. I have a list of names of who participated and as this grows, keep letting me know you are doing this. Thanks a zillion. You all rock. Lets get America reading!!!!
e-mail: gloria@read-america-read.org
Thanks so much,
Gloria

---
THE LOST BOOKSHELF BOOKSTORE
IN THE CERVENA BARVA PRESS STUDIO
WILL BE OPEN SATURDAY DECEMBER 9 FROM 10AM TO 1PM
Directions:
The Center for the Arts is located between Davis Square and Union Square. Parking is located behind the armory at the rear of the building. Arts at the Armory is approximately a 15 minute walk from Davis Square which is on the MTBA Red Line. You can also find us by using either the MBTA RT 88 and RT 90 bus that can be caught either at Lechmere (Green Line) or Davis Square (Red Line). Get off at the Highland Avenue and Lowell Street stop. You can also get to us from Sullivan Square (Orange Line) by using the MBTA RT 90 bus. Get off at the Highland Avenue and Benton Road stop.
---
Released December 8, 2017: Rene Schwiesow came to the Boston Poetry Scene through drumming. In a fortuitous alignment of the planets and stars she met the late, great Mike Amado at a drum circle and the rest is history. She is currently a co-host for the popular South Shore poetry venue, The Art of Words, where she not only reads poetry and introduces features and open mike readers, but also is maker of the meatballs served during intermission (recipe is strictly a secret, unless you ask her nicely). Rene has been published in various publications including Muddy River Poetry Review, City Lights, Ibbettson Street Press, The Aurorean, and Bagel Bard and Tidepool Poet Anthologies. When she is not writing, reading, or watching Doctor Who, she can be found with a Tarot deck, aligning chakras with Reiki, or shopping for boots in support of her obvious shoe fetish.

---

In this collection of heart echoes, the words reverberate moments strung along the poet's timeline. The poetry is a showcase of laughter, heartache, growth, letting go, recognition, awareness, friendship, and love. Schwiesow has used keyboard as paintbrush to create page after page of moving images. May you find your own echoes whispering in the gap between each word, phrase, and poem that imprints itself upon your mind. $17.00 | ISBN: 978-0-9984253-0-6 | 77 Pages
---
Released September 22, 2017: David Gullette was one of the first editors of Ploughshares, and has been for many years the Literary Director of the Poets' Theatre. He has published poetry, fiction, memoir and criticism in a wide range of journals, and book-length translations from both Italian and Spanish, with a specialty in Nicaraguan revolutionary poetry. He is Vice President of the Newton/San Juan del Sur (Nicaragua) Sister City Project and Professor Emeritus of English at Simmons College in Boston.

---

David Gullette describes 'the way we live our only life': the world is kicked awake by our desire;/if not, the loser lies there sunk in sloth./ There is no sunset we do not ignite. A lesser writer would have composed a more "slothful" volume: But the ignition of brilliancies in David Gullette's QUESTIONABLE SHAPES is as dependent on copious learning and the keen sort of intelligence that the Augustans called wit as it is on emotional impulse. The balance and maturity of this book make it a real keeper!
-Sydney Lea, Poet Laureate of Vermont QUESTIONABLE SHAPES is a book brimming with long-brewed illuminations. "Orbiter Dicta" gives an unforgettable portrait of a lovable dangerous brilliant father. "Disaffiliation" and "What the Catbird Sang" are terrific poignant instances of the eternal farewell to mother. "Superscriptions" and "Fame" are profound meditations on the unappeasable human longing to leave a lasting trace. Questionable shapes as we all are, we need the soul-encouragement that David Gullette's marvelous book so generously and buoyantly provides.
-Mark Halliday, author of Thresherphobe "What are the strata / of pastness?" a poem in this fine book asks, and David Gullette responds with ghosts, dreams, daydreams, visions-"questionable shapes" that live beneath the surface of richly lived and recorded experience, like "waves breaking deep down under the house." A carefully wrought tension between depth and surface, memory and desire makes this deeply explorative book-with its moments of linguistic whimsy and social commentary-both challenging and engaging.
-Martha Collins, author of Blue Front $17.00 | ISBN: 978-0-9984253-8-2 | 67 Pages
---
Released September 22, 2017: Tree Riesener is the author of Sleepers Awake, a collection of short fiction, winner of the Eludia Award from Hidden River Arts, published by Sowilo Press in 2015. Her collection of poetry inspired by astronomy, The Hubble Cantos, was published in 2016 by Aldrich Press. Her achievements include three first prizes for fiction at the Philadelphia Writers Conference, finalist for Black Lawrence Press's Hudson Prize, finalist in PANK magazine's Fiction Chapbook Contest, the William Van Wert Fiction Award, semi-finalist in the Pablo Neruda Competition, three short stories staged in the Writing Aloud Series of InterAct Theatre, Philadelphia, a Hawthornden Fellowship at Hawthornden Castle, Scotland, and three poetry chapbooks: Liminalog, Inscapes, and Angel Poison.

---

The poems in Tree Riesener's EK: Poems of Ekphrasis hark back to the original meaning of ekphrasis- "to speak" "out." Driven by a kind of surrealistic urgency, the poems use all the language at their disposal to name what they see so that one bird "might escape the net." Whether focusing on works of art, photos, ultrasound images, relics, a bull fight, Chernobyl, or a shrine for a boy struck while bicycling, Riesener is an "eye witness," combining a longing for an "otherworld" with a sharp awareness of the "dead zones" of our making.
-Rebecca Seiferle, Editor of The Drunken Boat, Tucson Poet Laureate, author of Wild Tongue In the epigraph to EK, Goethe speaks of reproducing the world that surrounds by means of the world within. No argument there as far as it goes - but he may have, in his heart, aimed for more. Tree Riesener applies wit and sometimes ecstatic imagery to form and to literary conceit, clearly aiming for more; beyond reproduction toward provocation; in this case, evoking not just the world but the mystery of encountering it. In EK, such evidence is abundant, first poem to last: "clear bright dense mysterious dusky bluish venous arterial subterranean multi-layered sustaining singing vulnerable scarlet" or "you signed the forms to be present in this room because being here where perpetual light shines upon you is better than being in the prison yard buried under a number"
-Kathryn Rantala, Founder-Editor of Ravenna Press, author of The Finnish Orchestra and other collections The breadth and range of subjects in Tree Riesener's latest collection, EK: Poems of Ekphrasis, stretch the boundaries of the form, demand attention, enthrall, unsettle, and delight the careful reader. In "annunciation of reluctance," she has captured both Mary's terror and her desire for things to be normal with an unpleasant but quite ordinary migraine, a signal of that surreal occurrence. Brilliant! In a group of poems inspired by the Messiaen musical quartet, written in a concentration camp during WWII, the reader joins her in "searching the ruins of the rainbow for the angel who announces the end of time" (after Katrina). The ending dirge, "owed to thanatopsis gardens," is written for the plastinated bodies in an exhibit. The beautiful questioning meditations on the sublime round out these poems of witness truly written on the body and the soul.
-Michele Belluomini, poet and storyteller, former Literature Librarian of the Free Library of Philadelphia, author of Crazy Mary and Others (winner of Plan B Press chapbook contest), Translations from the Dark and signposts for sleepwalkers. In this new collection, Riesener's "poems of witness" move into powerful, unexplored worlds of language. What strikes me the most? The vitality and freshness of her work-the beautiful side by side with the ugly and the sacred with the profane. The author dares you to tell the difference.
-John Sweet, author of Famine, Human Cathedrals, and Century of Dreaming Monsters, winner of the 2014 Lummox Poetry Prize $17.00 | ISBN: 978-0-9981027-6-4 | 114 Pages
---
ABOUT THE PRESS
ČERVENÁ BARVA PRESS was founded in April of 2005. The press solicits poetry, fiction, and plays from various writers around the world, and holds open contests regularly for its chapbooks, postcards, broadsides and full-length books. I look for work that has a strong voice, is unique, and that takes risks with language. Please see submission guidelines for current information. I encourage queries from Central and Eastern Europe.

---
---
---