"There is nothing to writing. All you do is sit down at a typewriter and bleed. "
~Ernest Hemingway
---
Submissions
We are currently reading poetry and fiction manuscripts until February 10th, 2016.
Details here...
---

Read America Read will have its fifth event Saturday, February 20th.
Here we go: The next Read America Read Project is Saturday, February 20th.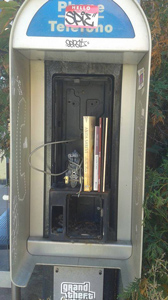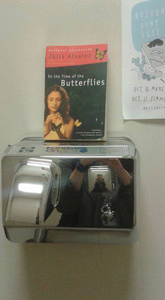 Leave a book for someone to take anywhere you want. This time, ask two people you know to do this also. This way the project will grow each month. I would like a book marker to go in every book so people know where they are coming from. Please e-mail me at the following e-mail address and I will send you an e-mail back with the book marker for you to print out and cut. Thank you for being a part of this project. Lets make February 20th great! Send me photos too. I have a list of names of who participated and as this grows, keep letting me know you are doing this. Thanks a zillion. You all rock. Lets get America reading!!!!
e-mail: gloria@read-america-read.org
Thanks so much,
Gloria

---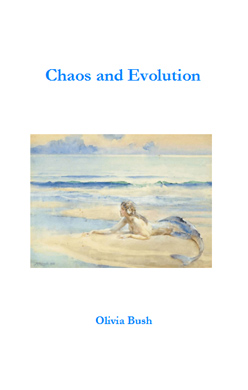 Olivia Bush is currently a junior at Simmons College, an all-women's college in Boston, Massachusetts, and is studying English and Communications. After she graduates, she aspires to become an editor. Born and raised in Central New Jersey, many of her poems are inspired by its scenery from the factories on the Turnpike facing the city skyline, to the picturesque shore. She is a poetry buff, who enjoys reading and draws inspiration from works from a variety of eras. Besides writing, she is an immature distance runner, and currently works as the director of a mentoring program for ninth and tenth graders. Despite the usually dark undertones present throughout most of her works, she enjoys a good comedy, and one of her long-term dreams is to write for a cartoon.
---
The Pin
Your peculiarity stuck me like a pin,
As I am a peculiar soul;
It met my delicate skin, drawing blood,
Which dripped to the floor
It was surprising: just a pin
drew such abundant blood;
but the bleeding roused my fancy,
as it poured from veins to the air
When it collected in a puddle, stained the rug;
I knew I had to do something
To stop the bleeding—
I eventually learned bandages only go so far
$7.00 | 18 Pages | In Stock
---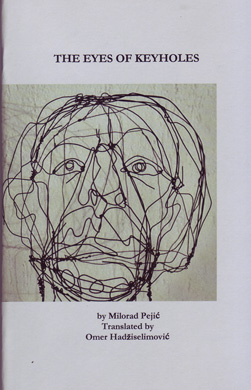 Milorad Pejić was born in Tuzla, Bosnia, in 1960. Since 1992 he has lived in Sweden. His books of poems include The Vase for the Lily Plant (1985), The Eyes of Keyholes (2001, 2012), and Hyperborea (2011, 2013), for which he received the "Slovo Makovo-Mak Dizdar" prize in Bosnia in 2012.
Omer Hadžiselimović, formerly a professor at the University of Sarajevo, is now an adjunct professor of English at Loyola University Chicago and at North Park University, Chicago. He has published works in American studies, English literature, and travel writing. In recent years he has been translating poetry from Bosnian into English and from English into Bosnian, published in various venues.
FISHING VILLAGE
I mourn for the cypresses I brought
from Hvar: under tiny days, like through
sunglasses deficient they grow, breathing
with deaf leaves as if through a button.
From their horrible disease, like a thin trail
of ink spilled on a newspaper, they bleed out
at night over the yard wall into the moonlight. The long winter is drying out the boats down
at the lake, a small church above smoking
roofs looks like a fishing buoy. No one from
anywhere to unlock me from the cypresses.
Planted in the snow, they traipse after me with
their shadows' needles like after a vial of lavender. $7.00 | ISBN: 978-0-9966894-1-0 | 44 Pages | In Stock
---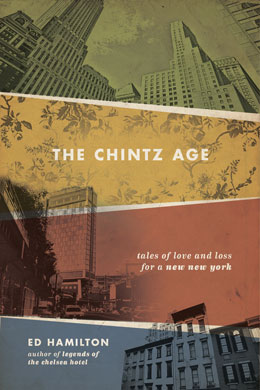 Ed Hamilton is the author of Legends of the Chelsea Hotel: Living with the Artists and Outlaws of New York's Rebel Mecca (Da Capo, 2007). His fiction has appeared in dozens of small journals, including Limestone, The Journal of Kentucky Studies, SoMa Literary Review, Exquisite Corpse, Bohemia, Omphalos, and in translation in the Czech Republic's Host. His non-fiction has appeared in The Villager, Chelsea Now, The Huffington Post, and Living With Legends: Hotel Chelsea Blog. Ed lives in New York City. Visit his website at www.edhamilton.nyc
---
Just as Soylent Green is people, so The Chintz Age is now. Everything is cheaper and chintzier than in the past, from consumer products to culture itself. Our great cities, and, in particular, New York, are being transformed as we speak, as rising rents squeeze out the artists and bohemians who honed and burnished the city's glittering cutting edge. So should we look backward in teary-eyed nostalgia for the glorious past, or grit our teeth and move forward, accepting the inevitability of change in order to carve out a place for ourselves in this Brave New New York? This book of gritty urban fairy tales represents a heartfelt prayer for the future of the arts in New York, as well as a blueprint for a moral and spiritual resistance to the forces of cultural philistinism.
In seven stories and a novella, Ed Hamilton takes on this clash of cultures between the old and the new, as his characters are forced to confront their own obsolescence in the face of this rapidly surging capitalist juggernaut. Ranging over the whole panorama of New York neighborhoods—from the East Village to Hell's Kitchen, and from the Bowery to Washington Heights—Hamilton weaves a spellbinding web of urban mythology. Punks, hippies, beatniks, squatters, junkies, derelicts, and anarchists—the entire pantheon of urban demigods—gambol through a grungy subterranean Elysium of dive bars, cheap diners, flophouses, and shooting galleries, searching for meaning and a place to make their stand.
---
PRAISE FOR THE LEGENDS OF THE CHELSEA HOTEL
"There's something remarkable about the way the author manages to celebrate the Chelsea's singular atmosphere — the exuberant aspiring artists, the divorced movie stars, the disheveled blonde who may have Tourette's and who lingers in the lobby hissing like a snake — without ever forgetting how toxic the air is for many of the people who come desperate to breathe it."
—Jeff Giles, The New York Times Book Review
Reviews:
$18.00 | ISBN: 978-0-9861111-9-8 | 284 Pages | In Stock
---
ABOUT THE PRESS
ČERVENÁ BARVA PRESS was founded in April of 2005. The press solicits poetry, fiction, and plays from various writers around the world, and holds open contests regularly for its chapbooks, postcards, broadsides and full-length books. I look for work that has a strong voice, is unique, and that takes risks with language. Please see submission guidelines for current information. I encourage queries from Central and Eastern Europe.

---
---
---