Half my life is an act of revision.
-John Irving
---

Here we go: The next Read America Read Project is January 26th.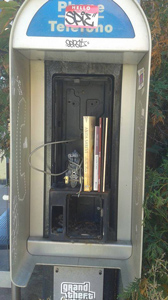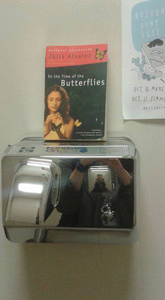 Leave a book for someone to take anywhere you want. This time, ask two people you know to do this also. This way the project will grow each month. I would like a book marker to go in every book so people know where they are coming from. Please e-mail me at the following e-mail address and I will send you an e-mail back with the book marker for you to print out and cut. Thank you for being a part of this project. Lets make January 26th great! Send me photos too. I have a list of names of who participated and as this grows, keep letting me know you are doing this. Thanks a zillion. You all rock. Lets get America reading!!!!
e-mail: gloria@read-america-read.org
Thanks so much,
Gloria

---
What Happens Next by George Ovitt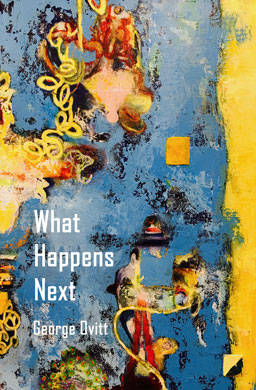 George Ovitt is the author of Splitting the Difference (poems), The Snowman (stories), and Stillpoint (a novel). Since 2012 he has co-written the popular literary blog Talented Reader. He lives in New Mexico.
---
The poems in What Happens Next allow us to enter the patience and calm of a poet who expresses himself after long listening, creating a welcome intimacy and a sense of life considered and savored. Natural in their diction, unforced, these poems create clarity even when looking out at a chaotic world.
-Kim Garcia, author of DRONE and The Brighter House
$17.00 | ISBN: 978-0-692-13790-1 | 69 Pages
---
April 13, 2018: 4 new chapbooks from Červená Barva Press
Small as Hope in the Helicopter Rain by Lisa Akus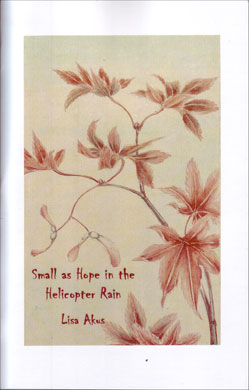 Lisa Akus has published poems in Congeries, Lake Effect, Redactions, and in the anthology Double Kiss: Stories, Poems, Essays on the Art of Billiards (2017 Mammoth Books). Her poem "Killdeer" received an honorable mention for the Pushcart Prize. She lives in Erie, PA with her partner and sometimes collaborator Sean Thomas Dougherty, and their daughters Amara Rumi and Andaluzja Akhmatova who provided much inspiration for these poems.
---
Small As Hope In the Helicopter Rain
Among the tall grass and clover flowers our youngest sits picking. She squints an eye shut and holds one up to the light twisting at its stem. Slow and careful. She wants to know how the sunlight breaks through its petals and so begins pulling them out one by one. Her sing-song voice counting them until they are all gone. What she takes from this she will tell no one. Then a helicopter seed. And a new question as she continues to pick it up and toss it into the air. Despite it's falling back to the ground, every time. But soon they are falling all around her. A strong wind has brought them almost fluttering in a way she seems somehow familiar with. And suddenly she is spinning with them. She, this girl we worried so much about her walking late. Always tripping over nothing, and even now still unable to come down off her toes. And yet she is spinning, and stretching her arms out as if to welcome something back. Something we at some point lost? Something, small as hope in the helicopter rain.
$7.00 | 29 Pages
---
The Elusive Heroine: My Daughter Lost in Magritte by Linda Nemec Foster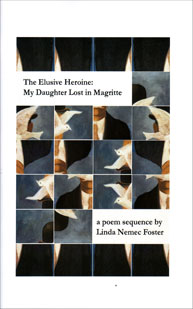 Linda Nemec Foster has published ten other collections of poetry including Amber Necklace from Gdansk (finalist for the Ohio Book Award in Poetry), Talking Diamonds (finalist for ForeWord Magazine's Book of the Year), and The Lake Michigan Mermaid (co-authored with Anne-Marie Oomen). Foster's work has appeared in such journals as The Georgia Review, Nimrod, Connecticut Review, New American Writing, The North American Review, Paterson Literary Review, and Quarterly West. Her poetry has also been published in anthologies in the United States and Great Britain, translated in Europe, and produced for the stage. She has been honored with Pushcart Prize nominations and has received awards from the Arts Foundation of Michigan, ArtServe Michigan, National Writer's Voice, the Polish-American Historical Association, and the Academy of American Poets. Foster was selected to serve as Grand Rapids, Michigan's first Poet Laureate from 2003-05. Her chapbook, Contemplating the Heavens, was the inspiration for jazz pianist Steve Talaga's original composition which was nominated for the 2007 Pulitzer Prize in Music. Foster's project, Cry of Freedom, is a collaboration with Hungarian musician Laszlo Slomovits and was released on CD in 2013. Foster is the founder of the Contemporary Writers Series at Aquinas College and in 2015 received the Lifetime Achievement Award from the Dyer-Ives Foundation for her work as a poet and advocate for the literary arts.
$7.00 | ISBN: 978-0-9984253-9-9 | 40 Pages
---
Seen/unseen (a father and son converse) poems by Benjamin Ostrowski and Steven Ostrowski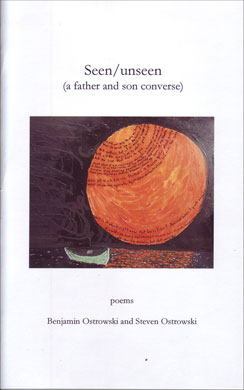 Steven Ostrowski is a poet, fiction writer, painter and songwriter. His work appears in numerous literary journals and magazines, and he is the author of three previous chapbooks—two of poems and one of stories. New chapbooks from Island Verse and, with Ben Ostrowski, Black Magic Media, are scheduled for 2018. He teaches at Central Connecticut State University.
Benjamin Ostrowski is a current PhD student studying Organizational Behavior at Carnegie Mellon University. He has poems published in The American Journal of Poetry, The Gyroscope Review, Blue Muse, The Dark River Review, and others. He has a forthcoming chapbook co-authored with his father, Steven, from Black Magic Media.
---
Seen/unseen is an ecstatically authentic conversation, poetry full of unapologetic humanity. This is not just call and response but challenge and answer, parry and thrust. Two voices calling each other higher, reveling in each other's performance. We could not ask for more from such a talented father-son team.
-Will Hicks, author of Stargazer's Kitchen
Seen/Unseen gives us the visions that occur when each participant closes their eyes, opens themselves to the world and speaks from one soul to another. The commonplace and the miraculous intertwine in this exchange of the gifts the father brings the son, and the son brings the father, when both open their souls to the other and view what they hold in their hearts.
-Gian Lombardo
$7.00 | ISBN: 978-0-692-08026-9 | 31 Pages
---
The Day She Decided to Feed Crows by Hope Jordan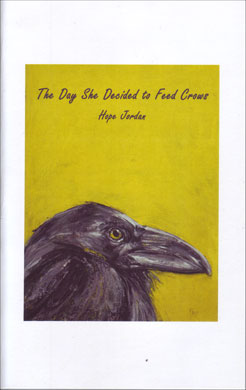 Hope Jordan is in the Creative Writing MFA program at UMass Boston. Her poems have recently appeared in such publications as Nine Mile, Comstock Review, Naugatuck River Review, and Red Headed Stepchild. She was the first official poetry slam master in New Hampshire.
Hope Jordan's small book is stripped to the bone precise-yellow jackets and sweet grass, ice fishing holes and old Buicks mark the landscape of people struggling in small towns where "Housewives overdose after Halloween." These are razor sharp poems that tell us only just enough, restrained by love, and terror.
-Sean Thomas Dougherty
$7.00 | 31 Pages
---
Released April 13, 2018:
Family Chronicles Poems by Andrey Gritsman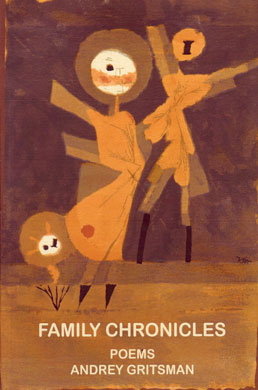 Andrey Gritsman is a poet, essayist and writer of short stories from Russia, writes in English and in Russian. His works have appeared in many American, European and Russian magazines and anthologies. Gritsman is the author of ten collections. Andrey runs Intercultural Poetry Series at Cornelia Street Café and edits poetry magazine INTERPOEZIA. He lives in New York City and works as a physician.
---
This book is a poetic family memoir. It is roughly divided in three parts: "Childhood – Youth," "Parents" and "America." Naturally, there is a significant overlap in terms of themes, moods and approach to the material. For the reader it will be easier to go through this book since it relates metaphorically to biography.
My childhood and youth, the younger years, were spent in Russia, in Moscow where I was born and raised. My family is Muscovites in several generations. I am also a third generation of doctors who graduated from the First Moscow Medical School (Medical Faculty of the Moscow State University).
I came to the U.S. in the spring of 1981 with my family (my wife and two little children). For a year I worked as a research fellow at the National Cancer Institute, then passed my medical exams and walked the usual path of the American physician: Residency, Fellowship at the Cancer Center in Houston and eventually landed in Manhattan at Lenox Hill Hospital, historical place on the map of the United States. Since then my life was closely connected with the City, Hudson River and Hudson River Valley.
Upper East Side was place were my literary career in American poetry started: Master Class with incomparable Amy Clampitt. The best creative years were years at the Vermont College MFA working with such brilliant poets and mentors as Deborah Digges, Jack Myers, and Roger Weingarten. A special influence on me has been my long term friendship with wonderful American poet Baron Wormser.
I am a poet and a writer of short stories and personal essays both in Russian and in English. This part of bilingual writing is important facet of my combined sensibility. The reader might notice this bilingual feature in the content of poems, but also in the usage of language and idioms.
Many of the poems are equipped with a short footnote, explaining some of the peculiarities and specificities of the situation, explaining some of the historical events. But also, specific features of the Russian and Moscow life at certain historical periods. Some of the footnotes are simply the explanations of certain family events and their relation to the historical periods and events in Russia or in the U.S.
$17.00 | ISBN: 978-0-9984253-3-7 | 70 Pages
---
Released April 13, 2018:
The Dishonesty of Certain Mirrors by Len Kuntz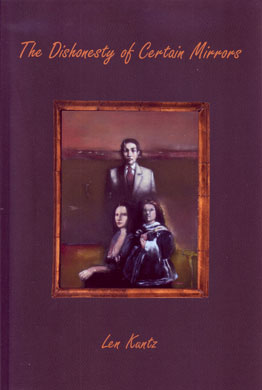 Len Kuntz is a writer from Washington State and an editor at the online magazine Literary Orphans. He is the author of three books, The Dark Sunshine, I'm Not Supposed To Be Here and Neither Are You, and The Dishonesty of Certain Mirrors. His latest story collection, The Deep End, is forthcoming from Ravenna Press in 2018. You can also find more of Len's writing at: lenkuntz.blogspot.com
---
Poetry Summary:
In this searing collection of personal poems, we encounter a myriad of everyday struggles and loss deftly turned on their head. From dementia to child abuse to the disintegration of relationships, each subject is rendered with raw abandon as well as an empathetic heart. There's lush music in the language of these poems, no matter their length. True to the title's promise, there's also a magical pulling back of the curtain, so that we are not only voyeurs privy to the author's innermost life and experiences, but our own as well. Stepping inside these pages is like finding a diary replete with secrets, hopes and broken dreams, a diary that could well belong to our closest friend, or perhaps, a diary written by our own hand.
$17.00 | ISBN: 978-0-9984253-4-4 | 94 Pages
---
Released January 5, 2018:
The Sun Eaters a novel by Alex M. Pruteanu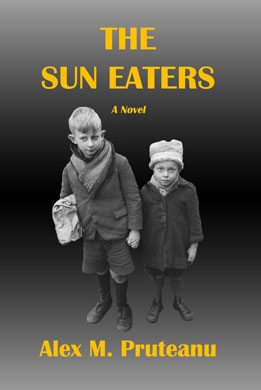 Alex M. Pruteanu is author of novella Short Lean Cuts, and Gears: A Collection (Independent Talent Group, Inc.), both available at Amazon, Barnes & Noble, and Powell's Books. He has published fiction in Guernica, [PANK], Specter Literary Magazine, The Prague Revue, The Stockholm Review of Literature, and many others.
---
The Sun Eaters unravels the story of two brothers in a small village of an Eastern European country just post World War II. The two boys and a handful of their colorful mates struggle to survive famine, desolation and destruction, as well as repressive political ideology that has been forced upon their country. In the boys' battle against what seems like all elements of life-turned-hostile, we discover the beauty of the enduring human spirit and the coping powers of a child's imagination during difficult times.
$18.00 | ISBN: 978-0-9984253-5-1 | 156 Pages
---
Released December 8, 2017: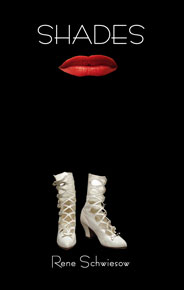 Rene Schwiesow came to the Boston Poetry Scene through drumming. In a fortuitous alignment of the planets and stars she met the late, great Mike Amado at a drum circle and the rest is history. She is currently a co-host for the popular South Shore poetry venue, The Art of Words, where she not only reads poetry and introduces features and open mike readers, but also is maker of the meatballs served during intermission (recipe is strictly a secret, unless you ask her nicely). Rene has been published in various publications including Muddy River Poetry Review, City Lights, Ibbettson Street Press, The Aurorean, and Bagel Bard and Tidepool Poet Anthologies. When she is not writing, reading, or watching Doctor Who, she can be found with a Tarot deck, aligning chakras with Reiki, or shopping for boots in support of her obvious shoe fetish.
---
In this collection of heart echoes, the words reverberate moments strung along the poet's timeline. The poetry is a showcase of laughter, heartache, growth, letting go, recognition, awareness, friendship, and love. Schwiesow has used keyboard as paintbrush to create page after page of moving images. May you find your own echoes whispering in the gap between each word, phrase, and poem that imprints itself upon your mind.
$17.00 | ISBN: 978-0-9984253-0-6 | 77 Pages
---
ABOUT THE PRESS
ČERVENÁ BARVA PRESS was founded in April of 2005. The press solicits poetry, fiction, and plays from various writers around the world, and holds open contests regularly for its chapbooks, postcards, broadsides and full-length books. I look for work that has a strong voice, is unique, and that takes risks with language. Please see submission guidelines for current information. I encourage queries from Central and Eastern Europe.

---
---
---