INTERVIEW WITH PHILIP E. BURNHAM JR.



Photo by Christine Cleary

Write a Bio:

Born in Rochester, New York, I was soon transported to New England where I grew up and went to Groton School and Harvard College with a year at the University of Edinburgh in between. In 1962, I was accepted into the State Department and served as American Vice Consul in Marseille, France, for two years. I returned to teach history at both public and private schools and colleges in the Boston area from 1965 to 1999, with a three year break to get a Ph.D. in Medieval History from Tufts University in 1972. During my teaching career, I lived for two sabbatical years in Cambridge, England and in Paris. After 30 years of living in Newton, Massachusetts, I have returned to Cambridge.

Louise Hassel and I were married in 1960. We have three children, Elizabeth and Philip, who live in California, and Nicholas who lives in Ireland, and two grandchildren, Tristan and Eloise. Louise died in 2002.

My poetry biography begins with my mother saying and singing nursery rhymes,and the whimsical rhymes of A.A. Milne in the adventures of Pooh. At church, the hymns I learned were largely metered and rhymed, as was the poetry I read in elementary school and high school. I began writing poetry in college, publishing my first poems in the 1960's. Raising a family and teaching took me away from anything but occasional writing of poetry. When Louise died five years ago, poetry became the voice of my grief and my adjustment to a very different world. My poetry has appeared in literary magazines, including Atlanta Review, Lyric, Margie, Midwest Quarterly and Wilderness House Literary Review. I have published four books of poetry, My Neighbor Adam (Mellen Press, 2003), Sailing from Boston (Ibbestson Street, 2003), Housekeeping (Ibbetson Street, 2003) and A Careful Scattering (Cervena Barva, 2007).
Describe your favorite places to write.
I like to write in the morning, near windows and sunlight. For many years I have written in a cabin in New Hampshire on a lake.There, I first began to write for extended periods of time as I looked out on the lake, the surrounding forest and the changing light of the day. When I discovered that I could write every day whether the writing was productive or not, it became a pleasureable obligation. When I am at home, I like to sit on my back porch to write in the summer and at my dining room table, looking at the sun and the trees, in the winter.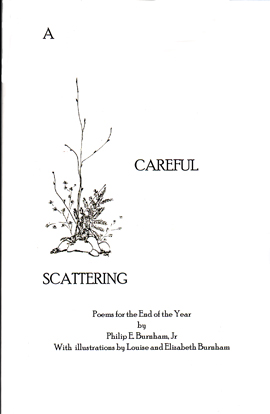 Červená Barva Press just published your poetry collection called, "A Careful Scattering, Poems for the End of the Year." It is a beautiful tribute to your wife and your family. Please discuss this book, the illustrations and the use of French translations.
"A Careful Scattering" represents 47 years of writing a poem for the Christmas season. When I wrote the first poem in the autumn of 1960 and Louise made an illustration for it, I don't think either of us imagined what we would continue to produce a card for the next 41 years. Over the years the cards and their illustrations reflected moments and places in our family life. Our house in Newton appears in three years (1986, 1988, and 1996). Features of the house, the front door (1983) the fireplace (1984), the front hall mirror (1991) and a kitchen window (1981) are included in other years. Three of the poems were set to music by Robert Powell (1980, 1985 and 1987) and published separately as carols. Many of the poems were written in a cabin in New Hampshire, and the illustration for 1995 is a view of the hills across the lake below the cabin. The poems are usually begun in July - in that cabin -from notes made in the previous Christmas season. Then Louise, or most recently, our daughter Elizabeth, had time to produce an illustration, which were in different media - crayon, wood-block, vegetable print, collage or pen and ink. Since we lived in France for more than two years early in our marriage, we often included a French version of the poem in addition to the English. In writing the poems, I usually begin with an English draft and then move to the French which in turn helps me to see the English version in a new way.
Order "A Careful Scattering"
From 1962-1964, you served as American Vice Consul in Marseille, France. What was this experience like for you?
Living in Marseille and Provence for two years was both difficult and delightful. Difficult because it was not easy to make social contacts in the city, although we did find a group of people with whom we became lifelong friends. Delightful because the region has a mild climate, a stunning landcape of vineyards, olive groves, and fields of lavender and sunflowers. It also contains many remains from the Roman and medieval eras. French sensitivities to food, to art and to a Mediterranean pace of life became integrated into our lives, particularly for Louise whose love of cooking was inspired by her experience t here. It was not easy to return to a land without Boursin, but Julia Child was about to change the eating habits of America, and she had lived in Marseille.
You are retired but for 35 years you taught history. How does your love of history fit into into your writing?
History appears in my writing in several ways. The first is simply by writing about historical subjects, a palace of Frederick the Great outside Berlin, the Roman Saturnalia, the standing stones at Carnac, a medieval sculpture of Eve, a poem about teaching history. Other poems make references to historical places such as Delphi and Mycenae, or persons, St. Augustine and Cassandra. History also informs me of other cultures, other points of view, especially through such epics as Gilgamesh and the Mahabharata. In my own mind I did not so much teach history as live it in front of my students.
What writers influence you?
Without stealing a leaf from Paul Simon, I would have to say the two of the writers whose writing has influenced my own are Emily Dickinson and Robert Frost, although Shakespeare's poetry and language are also very close to me. I find great stories, Beowulf, Gilgamesh, Roland, as well as mythology inpirational starting places for poems. Among more contemporary writers, I have found Richard Wilbur, A.R. Ammons, Anne Sexton, Theodore Roethke. A.D. Hope, and Stanley Kunitz, to be stimulating writers.
Who are you reading now?
I just finished Robert Haas's 'Time and Materials," and Seamus Heaney's "Opened Ground." Among other recent "reads" are Turgenev's "Fathers and Sons" and Irene Nemirovsky's "Chaleur du sang." I have been reading the series by Patrick O'Brian about the Napoleonic Wars and the novels of John Banville.
You attend Bagel Bards every Saturday morning. Discuss the importance of this writing community to you.
Bagel Bards is a wonderfully fluid community. Every Saturday morning there are different blends (bards) in the (coffee) pot. Started as an antidote to what might be considered an establishment of poets, it provides an open forum for the discussion of poetry, publishing, and promotion as well as the pleasure of meeting with and talking to people who, like myself, want to compare notes about the world, both poetic and otherwise, around them. It is a society of poetry-minded people - not necessarily of poets. The founders, Doug Holder and Harris Gardner are the great enablers of our poetic community and I am grateful for their work and their presence in my life.
Any last comments?
A note of thanks to Gloria Mindock for taking on this book in two languages as well as its art, and to Steve Glines for putting the book together so patiently and well.

---