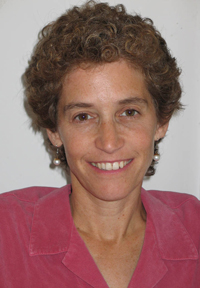 Write a bio about yourself.
I grew up in the Boston area. Poetry has always been important to me, from Mother Goose on. After college-I went to Colby, in Maine-and studies in medieval literature in England, I went to Columbia for an M.F.A. New York City is also where I had my first several jobs in publishing, as a production assistant and later production editor for college textbooks and professional books. My husband, Peter Brown, is a writer whom I met in graduate school. After the birth of our son in 1988, we moved back to Boston.
Describe the space you write in.
We live on the second and third floors of a two-family house. My writing space is a small area at the top of the third-floor stairs. The space was originally a kitchenette that the former owners had installed, against the local building code; when we moved in, we had the kitchenette dismantled and the old eating-counter became a new desk surface. A door separates my husband's third-floor writing space from mine, which helps both of us concentrate. I admit that my space is messy and cluttered with books and papers; that seems to be my nature. I'm also a member of the Writers' Room of Boston, which provides cubicle workspace, and I often head downtown when I need a chunk of time uninterrupted by phone calls.
Talk about the publication of your book Rigging the Wind, by Kore Press.
I had been working on a manuscript for some time. I had written poems about cities, about marriage and motherhood, and about Galicia, Spain, where I lived for several months with my husband in 1986. What made the book come together for me was adding to this mix an interest in the judeo-conversos in Spain. In 2000, I began reading up on fifteenth-century Spain, trying to understand the glimpses of daily life and historical forces at work in fragments of Inquisition documents, and this puzzling-out turned into various new poems.
Kore Press is a small press located in Tucson, Arizona; Kore's founder and director, Lisa Bowden, has an extensive book design and book-making background. Kore had just instituted a first-book poetry prize in 2002, the year I sent my manuscript in. It was selected by Jane Miller, who teaches at the University of Arizona. The Press focuses on women writers, and I enjoyed seeing their various publications when I went to Tucson to give a reading.
When did you start publishing the literary magazine Salamander? What sort of writing do you look for? Just recently, Suffolk University in Boston, Massachusetts, announced it is sponsoring the publication of Salamander. Please talk about how this came about. What does this mean for the magazine?
I started publishing Salamander in 1992. As for what sort of writing we look for, that's difficult to put into words. I would say that we look for writing that stays in the reader's mind after it's read, that enters the reader's memory. Sometimes I find myself saying a line of poetry, adrift from its surrounding lines, enjoying the rhythms or phrasing without remembering where the line was from, and it turns out to be a line from a poem that appeared in Salamander recently, or years ago.
Suffolk University recently founded the Poetry Center, under the direction of poet and professor Fred Marchant. Suffolk's interest in affiliating with Salamander has to do with the Poetry Center and the expansion and deepening of Creative Writing at Suffolk's College of Arts and Sciences. The affiliation in turn provides Salamander with a base in downtown Boston, and will enable us to increase the magazine's reach nationwide.
What is your biggest challenge as an editor and writer?
I'd answer "time" in both categories. Managing the hours needed for writing, teaching, editing, and parenthood on any given day can be challenging. Sometimes I miss sharply the daydreaming space that can result in a whole different take on things. I'm teaching Thoreau to my students this month, and I find myself a bit envious of his time at Walden, writing whenever he felt like it, watching the pond and the birds and the rain.
What are you working on now?
I'm writing some new poems…

---