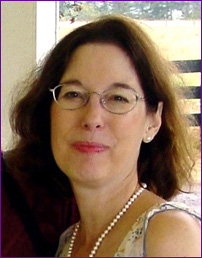 Write a bio about yourself.
Here is the standard bio I currently send out with work:
Judith Skillman is the recipient of numerous awards, including the Eric Mathieu King Fund from the Academy of American Poets for her book "Storm," Blue Begonia Press, 1998. Grants include a Writer's Fellowship from the Washington State Arts Commission, a publication prize and public arts grant from the King County Arts Commission. Her poems have appeared in FIELD, Poetry, Southern Review, Seneca Review, The Iowa Review, Prairie Schooner, , Fiberarts, Northwest Review, and many other journals. Skillman's "Heat Lightning: New and Selected Poems 1986 - 2006" appeared in February, 2006 from Silverfish Review Press. It contains selections from her seven previously published books. "Coppelia, Certain Digressions," is due out in midsummer from David Robert Books. Skillman is a Faculty Member at City University in Bellevue, Washington.
Describe the room you write in.
I have written in many different rooms over the past twenty-five years. The common theme when I set up my 'writing' room is a sturdy desk, a window, either with the desk facing the window or near it, index cards, my computer and printer, and my favorite authors in a cubby or on a shelf nearby. Some of these authors are Philip Levine, Czeslaw Milosz, Lorca, Borges, and Baudelaire. There are many others, including the Swedish poet Edith Sodergran. I often refer to Hugo's "The Triggering Town" and Stafford's "Writing the Australian Crawl" for inspiration, or during those 'fallow' times. The University of Michigan Press Series "Poets on Poetry" provides excellent essays from many poets, and has been a good source of inspiration as well.
Where do you find inspiration for writing?
Inspiration comes in many forms. It can happen when I remember a vivid dream, have a conversation with a fellow writer or artist, or read an article, essay, short story, or novel. Dialogue with other authors and artists in diverse disciplines, including music and textile art, inspire me. Nature is another source of inspiration. I like to walk, either in the neighborhood, or on nearby trails such as the one called "Red Town" (also the title of my fourth book) in Cougar Mountain Regional Park. My walks aren't too long, but just being around trees is very calming. Last but not least, my childhood is an endless source of inspiration. I must have suffered as a child, because I can never seem to get free of those memories. Writing about them is not only therapeutic, but creates a forum for me to investigate the past and see it in another light.
You have two new books forthcoming by Silverfish Review Press and from David Robert Books. Please give the names of your books and talk about your poetry in them.
"Heat Lightning: New and Selected Poems 1986 - 2006" will be out shortly from Silverfish Review Press. This is a collection of poems taken from my seven previously published books, plus a section of new poems that have been in FIELD, Northwest Review, JAMA, and other journals. I am very excited about this new collection as it feels as if a body of work has been completed. The book is due back from the printer any day now. This project was demanding for Rodger Moody, the editor of SRP, and he was very patient with the incredible number of changes that had to be integrated as we worked through the manuscript. Text is hard to pin down! The upside of having this body of work in print is that I feel free to move forward with new work, and perhaps in a new direction (I'll address this more later, with your last question.)
"Coppelia, Certain Digressions," will be published by David Robert Books in the summer or early fall of 2006. This book contains poems about the myth of Coppelia, which was made into a ballet and is rather beautiful with a happy ending, and the reality of the Hoffman Coppelia story, which is not quite so pretty. The gist is that of a man who creates a woman and she becomes his puppet. I try to explore the differences between the sexes in this book, and there are other themes as well, including figures from literature and myth such as Procrustes and Prometheus, and Madame de D., who was a young girl diagnosed with tourettes syndrome around the turn of the century. The poems are diverse, but I hope they hold together as another way of investigating both the problems and delights of womanhood. The volume has three sections: "Wood," "Stone," and "Human."
Forgotten But Not Gone, is a collaboration you did with Ron Hammond. As you know, I grew up in a small town. I have been to Eureka, Illinois many times. In college, I even brought the musical Godspell there in the 70's. It was performed just one night there in the gym. We'll leave it at that. I feel small town life is such a big part of me. My family and many of my friends still live in the area. I was intrigued by this project since I grew up not far from there. What inspired this? Talk about the photos and poems on the CD.
The inspiration for Forgotten But Not Gone was the set of photographs Ron Hammond showed me. That work was done over a decade ago; the details of how we decided to collaborate on this project are sketchy. In any case, these short vignettes came easily. I grew up in a small town-Greenbelt, Maryland, from age 6 - 28-and that helped me to relate to his photographs. There was a "Co-op" in Greenbelt; I used poetic license to overlay it with the Farmer's Co-op in Goodfield, Illinois:
"The Co-op once meant life to its members,
even if that life was one where you could be
accused of being a Communist, and taken in
for questioning. Even when all that was inside
the humble store answered I'm not Red:
barrels of salt, sugar, and flour.
Also, I spent two years in Westminster, Maryland, for my first two years of college. That town had a railroad, silos, and abundant pasture land, in the early seventies. In addition, I had visited relatives in the Midwest as a child, and found that I could identify with the landscapes. I'd experienced a squall and seen a tornado in the distance, and those images stayed with me. It was fun to have visual point of reference to work with, and Ron is a very accomplished photographer.
I know one of the founding editors of Fine Madness, John Marshall. When did you become one of the editors? What sort of work does the magazine look for? Please talk about the magazine and the other editors involved.
I became an editor for Fine Madness in the Spring of 2000. The magazine looks for accomplished verse that has a certain flavor. Each issue has, on the inside cover, "Neat Marlow bathed in Thespian springs/Had in him those brave translunary things…For that fine madness he did retaine,/which rightly should possesse a poets braine." We have published poets such as Neruda, Mandelstam, Keleras and others in translation. In addition, FM takes work from both well known and beginning poets from all over the country. Our editors are diverse, so much discussion takes place before accepting or rejecting a promising piece.
I have found my work as an editor helpful in that it assists me in understanding the process that takes place when I send poems out in the mail. I am, however, taking a leave of absence at present due to many writing and other obligations. The work of a journal is intense, ongoing, and rather thankless. None of the editors are paid. I suppose the reward is in finding a gem of a poem every so often, one that makes us green with envy. And, of course, when a new issue comes out there is a real feeling of accomplishment. Fine Madness has received awards at Bumbershoot. It also gives our four awards of $500 each for poets published in the magazine.
What are you working on now?
My current manuscript is titled "The Carnival of All or Nothing." In it I am trying to explore the theme of all or nothing as it relates to relationships, but also, in a larger context, our cultural environment in which human domination of animal species, the 'concrete jungle' of cities, and the gap between rich and poor is ever widening. I hope, within these poems, to use some experimental forms such as visual poetry and structural verse, as I have been writing in stanzas of left justified fixed lines lengths (a three or four beat line, generally) for many years. Opening up the poem to lines of varying lengths and sprawling across the page, using the 'ampersand' for and, and other devices interest me at present. I feel that this form, or lack of formality, may go with the content I am trying to capture. It's exciting to try new things.

---