July, 2005 Aug. 2005 Sept. 2005 Oct. 2005 Nov. 2005 Dec. 2005 Jan. 2006 Feb. 2006 Mar. 2006 Apr. 2006 May 2006 June 2006 July 2006 August 2006 September 2006
---
ČERVENÁ BARVA PRESS NEWSLETTER
Gloria Mindock, Editor Issue No. 16 October, 2006
---
INDEX
---
POETRY READINGS
---
Welcome to the October, 2006 Newsletter.
The winner of the 2006 Short Story Competition is Adrian S. Potter for his story, "Survivor Notes." Judge was Dorothy Freudenthal. Thank you to all who entered.
On September 12th, Červená Barva Press hosted a reading at the KGB Bar in NYC. I would like to thank Susan Tepper for all her work organizing it. It would not have happened if it wasn't for her. A huge thank you to the readers: George Held, William James Austin, Andrey Gritsman, and Susan Tepper. It was a wonderful and a very memorable evening for me. I had a great time in NYC and everyone I met and spent time with was just wonderful. Enjoy some of the pictures taken by Miles Tepper and myself.
KGB Bar

Gloria Hosting.
Yes, they really are listening to me!

Estelle Bruno and Miles Tepper

Susan Tepper

Andrey Gritsman

William James Austin

George Held
Sorry George, we didn't get you at the podium.
Mark Pawlak is interviewed in this months newsletter.
Postcard Series: Two, will be out this Winter as mentioned in last months newsletter. There is some wonderful news concerning the postcard series. Poet and artist Nancy Mitchell has agreed to let me use her artwork for the series. It is so exciting to have all the postcards have the work of one artist. Nancy's images are just beautiful.
Recently, I was interviewed by Doug Holder (Ibbetson Press) on his Community TV Program called, Poet to Poet. I would like to thank him for the support he has given me as a writer and with the press.
Thank you to Shirley Gerald Ware, the publisher of Fresh! Literary Magazine, for her review of Blue Edge by Susan Tepper. (Červená Barva Press, 2006) It is a wonderful review and I am so excited by it. The new issue of the magazine is out.
To order or for information contact:
http://members.aol.com/shirgerald/shortst.htm
The Lost Bookshelf will be opening up in October sometime. My Webmaster is busy at work with it. Send your chapbbooks or books to sell to Červená Barva Press. To read information and guidelines, go to: http://www.thelostbookshelf.com

---
Plain View Press to Release Theaters of War
Contact
Hank Daidone
Author Book Club
Shiloh@inteliport.com
252 336 2516-Ph
Elizabeth City, NC August 19, 2006 - Plain View Press is announcing the publication of Theaters of War by E. Ngwainmbi © 2006. Price: $14.95 ISBN 1-891386-65-4
The poems address the traumatic effects of war, warfare and civil unrest especially in Eastern Europe, Africa and Middle East. Many poems specifically describe the situation in Israel, Palestine, Iraq and Kuwait. Half of the 125 poems describe the plight of a soldier during war reminiscing about his fiancée, family, home and country. The volume has been described as "a triumph of controlled passion, understated but powerful emotion" There's monologue and dialogue between a young lover and a female with a different complexion. He celebrates the virtues of humanity and peace--love of country, goodness through filial and erotic love and the power of sanity.
The second half deals with the persona's outlandish attitude toward war in general. He criticizes the institutions and ideologies that promote war, anguish, mayhem and bloodshed while celebrating the virtues of humanity and peace--love of country, goodness through filial and erotic love and the power of sanity (war-free mentality).
The book is structured in six parts, like a dramatic production. Scene I (Hannah and Bill) a dialogue between the lovers, Bill in Iraq and Hannah at home. In Scene II captioned Hannah's Time Alone, the lover is in solitude meditating, wondering about the condition of her lover, Bill. Scene III (Bill's Time Alone) addresses Bill's perception of war, America's role in the war, his condition as a soldier and Bill expresses his anger against the war. In Scene IV captioned Palestinian-Israeli Olympics, the persona presents 'controversial' views about the decades-old conflict in the region. Scene V (Desert Storms) contains a handful of poems about the Gulf War and an American soldier's moods. In Scene VI titled World Games, the personae reminisce about other wars around the world.
"Whenever blood oozes from a human body provoked by violence, someone somewhere suffers. The world is hurting. Generations have incurred psychophysical pain caused by often senseless wars and massive killings", says author, Emmanuel Ngwainmbi. "Everyone is powerful and sometimes powerless, however, we must seek alternative means to rising problems. Give diplomacy and negotiations a chance," he said.
The book can be purchased at
Or contact your local bookstore for details.
Plain View Press
---
The Truth is Not Real by Leonard Cirino
The Truth Is Not Real, is out from Adastra Press. This is a letterpress chapbook and beautifully done. It is one long poem from 2005. There are illustrations and the book is beautifully designed with handset type and letterpress printing.
To order: Gary Metras
Adastra Press
16 Reservation Road
Easthampton, MA 01027.
The price is $15 plus $2.50 shipping.
---
The No-Net World
Prepare to change your mind, your heart, your history!
LARISSA SHMAILO has been published in Newsweek, Ratapallax, Lungfull!, American Translators' Slavfile, and other publications. She has read at numerous colleges, for the Writers' Harvest against Hunger, with the Black Panthers, and on WBAI and WNYE among many other venues. She has received "Critic's Pick" notices for her appearances from the New York Times, the Village Voice, and Time Out magazine.
Larissa is the creator and host of the Sliding Scale Poetry series, which introduced many of today's most popular young poets. She translated the Russian Futurist opera Victory Over The Sun by A. Kruchenych, performed at the Brooklyn Academy of Music's Next Wave Festival, and exhibited in video at the Los Angeles County Museum and the Hirshhorn Museum in Washington, D.C.
RAVE REVIEWS FOR THE NO-NET WORLD:
FROM THE PEDESTAL MAGAZINE:
Listening to poet and translator Larissa Shmailo's latest spoken word CD is almost like attending eighteen short plays in the span of forty minutes. Like the best plays, each poem tells a compelling story of human struggle, in which characters fight (and routinely fail) to obtain such basic necessities as food, shelter, liberty, even love. Like the best plays, her poems also crackle with breathtaking language, which in the true tradition of the tragedies of which she speaks almost sound as if they could be sung (indeed, in some cases they almost are). Shmailo's expert understanding of the close relationship between poetry and drama, music and language, and the primal human need to just hear a really, really good story make The No-Net World a truly unique contribution to twenty-first century American poetry, and a CD worth listening to frequently and carefully.
If the poems on The No-Net World are beautiful, the CD's sound quality and production only add to their beauty. The recording is mercifully free from static, interference, and white noise that often plague spoken word CDs. Shmailo's rich, expressive contralto never sounds tinny or cavernous. Overall it is a nearly flawless CD that will especially appeal to patrons and practitioners of the performing arts, and to anyone who simply loves to hear a good story told well.
FROM BOOG CITY:
Larissa Shmailo...really knows how to write, how to read, how to present her poetry...Shmailo's album is thoughtful, entertaining, and bears repeated listens.
FROM POETIX.NET:
"How My Family Survived the Camps," [IS] the strongest, the most important poem here, and one which clearly is based on personal (or at least familial) experience, and one which carries great emotional power. In it she describes the combination of luck and ingenuity that enabled her family to survive the Holocaust. The key poem on the CD, it gives by far the best realization of her running theme, that how we react to what happens to us is as important as the events themselves."
FROM NEW CENTURY:
Intense and poignant.
Emotionally riveting
Reviewer: Chocolate Waters
Both intellectually stimulating and emotionally riveting - this CD is a joy, a celebration of life. You must have the No-Net world in your collection. Get one before they're all gone!
A brilliant and serious dissectiion of a lunatic world ...
Reviewer: Robert Dunn
In a world apparently hell-bent on destroying itself through avarice and hatred, there are still veins of love and compassion to be tapped. This is where Larissa Shmailo comes in. Her poetry CD, The No-Net World (produced by SongCrew Records) brilliantly puts humanity on notice—battling personal economic disaster, crises of the heart, even a trip back in time to her family's incarceration in a Nazi concentration camp—all dramatically rendered in a dazzling display of multilingual virtuosity. The No-Net World will make you want to rush out and help save the world—or, at least, your own little corner of it. An absolute must! Robert Dunn-- Author, Zen Yentas in Bondage, Horse Latitudes
One of the best spoken word CDs of the past ten years!
Reviewer: Eric Yost
Powerful, timely, beautiful, fearless, incisive, and superhot! Larissa Shmailo reads like a skilled performance poet, writes like an angel, and delivers insights--from the erotic to the political--that would burn most poets if they dared touch them.

---
October is fund-raising month. The press fund-raises two times a year, in April and October. Please help support this press. Send a donation to help keep it going. Last April, the response was wonderful. The price of printing numerous books, ink, mailings, paper, and postage etc….does not come cheap. Paper and printing costs have gone up so help the press out with something. Donate, any amount is appreciated. You can print out a fund-raiser form on the Web if you choose to. This year, chapbooks published so far are by writers Judy Ray, Ed Miller, Susan Tepper, George Held and a free e-book by Martin Burke.
Forthcoming yet in 2006 by the press: Chapbooks by Ian Randall Wilson, Richard Kostelanetz, and Flavia Cosma. Postcard Series: Two, by various poets will also be out.
In 2007, chapbooks by Susanne Morning, Doug Holder, Harris Gardner, Adrian Potter, Michael Graves, Ed McManus, Mary Bonina, Ioan Tepelea, Lucille Lang Day, and the winner of the 2006 poetry competition.
In 2007, full-length poetry books by CL Bledsoe, Glenn Sheldon, Martin Burke, Flavia Cosma, and Phillip Burnham will be published. Plays by Michael Nash and Leela Arnet will come out and the Poetry Postcard Series: Three, will also be published.
All these publications come out of my own pocket and from fund-raising. As you can see, my schedule of publications, is very ambitious and exciting. I definitely can use the help so please donate to Červená Barva Press!
Next year, I am going to take the plunge and file to go Non-Profit. It will enable me to apply for grants with the herds of other non-profits. Boy, I just love cattle-calls! Being an LLC, closed the door to grant opportunities. Some people couldn't use their donations as a tax write- off because of it being an LLC. I really didn't want to go Non-Profit. I will still be in complete total control of my press. I will be very PICKY about who I have being board members or any other position in the press. I ran a Non-Profit for 10 years before and had no problem. Anyway, this is what I'm up to.
My last begging line, please help support the press!!!!!!!!!

---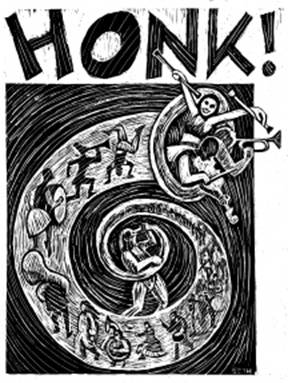 [festival graphic by Seth Tobocman]
HONK! FESTIVAL
TWO DAYS OF ACTIVIST BRASS BANDS
featuring
Revolutionary Snake Ensemble &
Stick and Rag Village Orchestra (from MA)
The Hungry March Band &
Rude Mechanical Orchestra (from NYC)
Brand New Orleans County Brass Band (from VT)
What Cheer? Brigade (from RI)
March Fourth Marching Band (from OR)
Brass Liberation Orchestra (from CA)
Environmental Encroachment &
Black Bear Combo (from Chicago)
The Carnival Band (from Vancouver)
Leftist Marching Band (from NH)
Presented by the
Second Line Social Aid & Pleasure Society
Brass Band (from Somerville, MA)
October 7-8
in
Davis Square, Somerville
(Somerville, MA) The Second Line Social Aid & Pleasure Society Brass Band presents the HONK! Festival featuring Revolutionary Snake Ensemble, Stick and Rag Village Orchestra, The Hungry March Band, Rude Mechanical Orchestra, Brand New Orleans County Brass Band, What Cheer? Brigade, March Fourth Marching Band, Brass Liberation Orchestra, The Carnival Band, Environmental Encroachment, Black Bear Combo, and the Leftist Marching Band. Saturday-Sunday, October 7-8, in and around Davis Square, Somerville. Saturday schedule, rain or shine: 9-11 am (finish line concerts on Holland St. for the Somerville Homeless Coalition Road Race), noon-6 pm (outdoor parades and concerts), 3:00 – 5:00 pm ("Philosophy of Honk" symposium held indoors at Jimmy Tingle's Off Broadway Theater, 255 Elm St.); all Sat. events are free and open to all. Sunday schedule: 8 pm-midnite concert at the VFW Dilboy Hall, 371 Summer St.; donation $10. All events are wheelchair accessible and conveniently located near the Davis Sq. stop on the MBTA. For more information log onto http://www.honkfest.org or call 617-497-9889.
The first-ever HONK! Festival (http://www.honkfest.org) is a Fall gathering of activist brass bands from across North America. Acoustic and mobile, these street bands all support the actions and aspirations of the progressive community, providing the soundtrack for peace rallies, social forums, relief benefits, community fundraisers and joyous reclamations of public space. All of these bands honk their horns — or beat their drums or wave their flags — for the same reasons motorists honk theirs: to arouse fellow travelers, to warn of danger, to celebrate special occasions, and to just plain have fun.
Across the country and around the world, a new type of street band is emerging. Acoustic and mobile, borrowing repertoire and inspiration from a diverse set of folk music traditions — New Orleans second line brass bands, European Klezmer, Balkan and Gypsy music, Brazilian Afro Bloc and Frevo traditions, as well as the passion and spirit of Mardi Gras and Carnival — these "Honkers" all share a commitment to music as social action. The HONK! Festival in Davis Sq. is a stop-over where well-known roving bands, such as the Revolutionary Snake Ensemble, March Fourth Marching Band, Brass Liberation Orchestra, and The Carnival Band, can join forces and share their sounds with such emerging groups as the What Cheer? Brigade, The Hungry March Band, Stick and Rag Village Orchestra, Rude Mechanical Orchestra, and the Brand New Orleans County Brass Band. [For a complete list of participants, along with sample sound bytes, log onto http://www.honkfest.org/bands.htm.] For the first time ever, Honkers from across North America will unite for a weekend of camaraderie and righteous music. The HONK! Festival sets the stage for the emergence of a new musical force.
The HONK! Symposium will discuss the "Philosophy of Honk," including the background and implications of street music as activist community performance, and will bring Honkers from across the continent together with significant Boston-area musicians. The Symposium panel will include Marcos Amaya-Torres of Vancouver's Carnival Band; composer Mark Harvey of Boston's Aardvark Jazz Orchestra; Leslie Wacker of Chicago's Environmental Encroachment; Ken Field of Somerville's Revolutionary Snake Ensemble; and moderator John Bell of the Second Line Social Aid and Pleasure Society Brass Band.
The HONK! Festival provides a unique opportunity for participants to compare notes, publicize the values and goals of the Honk movement, and perform for a diverse, sophisticated and open-minded audience. The members of these types of street bands vary widely in age, class, ethnicity and background, and although they often wear some kind of uniform, there is also always an emphasis on individuality and a DIY sensibility to their instrumentation and attire. These bands play music that is by, for, and of "the people." The distinction between performer and audience, just like the distinctions between different musical genres, is just one more arbitrary social boundary they aspire to overcome. Spectators often think "Hey, I could do that!" and, indeed, these bands often recruit new members right off the street.
As often as they honk in protest, they also perform to celebrate the causes and institutions they support: multicultural festivals, peace conferences, social forums, artists' collectives, community gardens, block parties, neighborhood fundraisers, relief benefits and homeless shelters. In every case, the Honkers' ultimate goal is to have fun, to relish the art of making fun as a form of individual and collective transcendence, and to encourage others to see and do the same.
For further information about the genesis and development of the HONK! Festival, watch September's installment of SCAT's Somerville Art Matters (http://somervilleartmatters.blogspot.com/ or http://blip.tv/file/66660). Also, a slide show of the participants is available at http://www.honkfest.org/slideshow/slideshow.htm.
The HONK! Festival has been made possible through the generosity of the following sponsors (in part): Redbones (http://redbonesbbq.com/), Jimmy Tingle's Off Broadway Theater (http://www.jtoffbroadway.com/), Somerville Cable Access TV (SCAT) (http://www.access-scat.org/), Iggy's Bread (http://www.iggysbread.com/main.html), Somerville Homeless Coalition (http://www.somervillehomelesscoalition.org/welcome/main.html), the Puffin Foundation (http://www.puffinfoundation.org/) and the WZBC News Department, 90.3 FM (http://www.wzbc.org). Further information on the presenter Second Line Social Aid and Pleasure Society Brass Band can be found at http://slsaps.org/.
The Honk! Festival is a program of Great Small Works, Inc., a 501(c)(3) non-profit corporation (http://www.greatsmallworks.org).

---
Dean Perchik

Beatriz Alba Del Rio

Afaa Michael Weaver

Rane Arroyo

Doug Holder Somerville Community Access TV

---
Interview with George Held and Afaa Michael Weaver
Chapbook by Ian Randall Wilson

---
Bio
Mark Pawlak grew up in Buffalo. He came to Boston to attend college and has never really left. He attended MIT, where he majored in physics and studied poetry with Denise Levertov. He has taught poetry, mathematics and science at the middle school, high school and college levels. For a period he was poet-in-residence for Worcester public schools. He currently teaches mathematics at the University of Massachusetts Boston, where he is the Director of Academic Support Programs. He has been the recipient of two Massachusetts Artist Fellowship awards. He lives in Cambridge with his wife and his teenage son.

Pawlak is the author of five poetry collections, of which Official Versions is the latest (Spring 2006). The other most recent titles being Special Handling: Newspaper Poems New and Selected and All the News. His poetry and prose has appeared in The Best American Poetry 2006 (Billy Collins, ed.), New American Writing, Mother Jones, The World and The Saint Ann's Review, among many other places. His work has been translated into German, Polish, and Spanish. In addition, he is the editor of four anthologies, most recently, Present/Tense: Poets in the World, an anthology of contemporary American political poetry; and Shooting the Rat: Outstanding Poems and Stories by High School Writers, the third anthology drawn from the pages of the legendary high school section of Hanging Loose magazine (http://hangingloosepress.com), where he has been an editor for over 26 years.
Describe the room you write in. Is there a special time of the day when you feel most creative?
I like to work in the early morning when my mind is as yet unencumbered with the day's tasks. My favorite place, the one where I write most productively, is in the kitchen of a rented house on the coast of Maine. For many years that was a cottage on the St. George peninsula overlooking Tenant's Harbor with a view of sailboats and working lobster boats. The last couple of years it has been another rented house in Lubec at the Canadian border with a picture window looking out on a salt marsh and beach fronting Passamaquoddy Bay, with a view of Quoddy Head and, in the distance, Grand Manon Island. I rise at dawn and work undisturbed for hours at a stretch until my wife and son stir upstairs. Unfortunately, this ideal writing situation lasts only for a brief couple of weeks each summer.
The rest of the time I write in snatches, wherever I happen to be. Poems frequently come to me while riding the Red Line subway to work in the morning. I also do a lot of my writing in cafés. I can work productively when surrounded by people as long as the conversations going on around me are not distracting and as long as the music being played isn't to loud or jarring. I wrote my entire first book of poems in the French Patisserie in Harvard Square back in the 70s. It was a dark, below-street-level cave that served strong black coffee and fresh baked croissants. I taught at an alternative high school back then located just around the corner. I would sneak out between my classes to work on poems at a table in a dimly lit back corner.
I share a tiny study in our cramped house with my wife, the writer Mary Bonina. We each have a desk in the room, but both are piled high with papers and folders. There is a computer on "my" desk which we take turns using. The room has floor to ceiling bookcases that are filled two rows deeps with books. The floor is cluttered with books stacked dangerously high and with shoulder bags stuffed with works in progress (a unique filing system). I mostly use the study and its computer to answer emails and to perform editorial work for Hanging Loose Press. Occasionally a poem gets started in that room but more often it's where I type up the finished versions of poems that I have been worrying over for a while.
Once the inspiration for a poem has started me scribbling, my preferred way of working is to keep at it until finished. What I do is I carry it around and pull it out at every free moment throughout the day-while eating lunch in the cafeteria, grabbing a cup of coffee between classes, etc. If the poem needs a final concentrated push then I will stop at a café in Harvard Square at the end of the workday when I get off the Red Line and before catching the bus the rest of the way home. But all too often, my teaching, administrative and editorial responsibilities take me away from the poems I'm working on for long stretches of time, then it's a struggle to get back into the mindset of finishing up what I started. Sometimes a poem benefits from such neglect, more often that just sinks it.
You have found material in many of your poems. How do you find this material? Any favorite sources of inspiration?
A lot of it comes from newspapers, which I read voraciously, at least two each day, starting with the New York Times, then the Boston Globe, often finishing up with the Boston Herald or Metro. You may remember the theater piece I performed in with the October Poetry Theater back in the 80s called News from Crazy Horse? It included a monologue describing my habits as a news junkie, something I freely admit to being. Books I'm reading, commercial signs and advertisements, overheard conversations, restaurant placemats, and various lists such as The Best 100 Movies of all Time, and Billboard's List of the Best Rock 'n' Roll Songs of the 60s have served as sources for material I have incorporated in poems. This may give the impression that I stalk poems while reading but in fact it happens more like a chance encounter with a delectable mushroom while walking in the woods (mycology is one of my hobbies).
What is the strangest thing you've done to find writing material?
Like any creative person, I have dry spells and then I have tried to prod my muse by means of formal exercises such as "write a sestina" to see if my natural resistance to such strictures will spark something, that leads to a genuine poem. I'm fond of the Experimental Writing Exercises that Bernadette Mayer used with her students at the Poetry Project many years ago, such as "Systematically derange the language: write a work consisting only of prepositional phrases, or, add a gerund to every line of an already existing work" (available at http://www.writing.upenn.edu/bernstein/experiments.html). But the strangest thing I ever did occurred during a conceptual art phase when I was constructing poems in the form of the matching pedagogical exercises I had to do in grade school. You know, the kind in which you were given two columns, one of say the names of the states, the other of capitol cities and you had to draw lines connecting the state from column A to its capitol in column B. Each poem was a categorical list that I had chosen, such as classic American authors. I set myself the challenge of using only actual businesses found in the Yellow Pages. It lead to some wonderful surreal juxtapositions of the kind that Lautréamont had in mind: "the fortuitous meeting, on a dissection table, of a sewing machine and an umbrella;" for example, Bret Harte Mini Storage and Lowell's Cut Above. After I had exhausted the Boston Yellow Pages, I moved on to the Manhattan Yellow Pages, then it occurred to me that I could use Internet search engines to find businesses in any city in the U.S.A. that fit each category. I made an entire book of these, matchings, including their "solutions" with telephone numbers of the businesses (as yet unpublished) so you could call each one to get such responses as: "Hello. Bret Harte Mini Storage. What can I do for you?"
Your wife, Mary Bonina, is also a writer. Do you ever bounce your writing off of each other?
Certainly, but Mary is much more inclined to share her work in progress than I am. She has been heard to quip that the only time she sees a new poem of mine is when it is in print. That's an exaggeration but it points to a difference in the way we each work. She likes to get feedback at every stage of the writing process and since she is often working on long prose pieces-for several years a book length memoir; presently a novel-that makes a lot of sense. When I'm writing prose, which I occasionally do-essays, memoir, but never fiction, as I'm incapable-I'll ask her to listen and give me feedback on a draft in progress. But with poems, I'm very private until they are finished. I prefer to let a new poem sit and cool before offering it to be savored by Mary or anyone else.
In my experience writers need the fellowship of other writers to sustain their work over the long haul and Mary and I have sought that support independently of one another. Mary has been in several writing groups over the years, while I have had the camaraderie of my coeditors at Hanging Loose, and indirectly the community of poets in New York and elsewhere who have been long associated with our magazine and press. Until the death in 2004 of Ron Schreiber, he and Dick Lourie, my other Boston area co-editor were the ones I showed my new poems. For a time, we even met together on a bi-weekly basis just to discuss each other's poems. The rule was no Hanging Loose business. Since Ron's death, Dick and I carry this on irregularly. We are still the first to see one another's poems and to pronounce them either finished or still in need of work.
Talk about your experiences being one of the editors of Hanging Loose Press and the type of work you look for. The press is celebrating its 40th anniversary. Please talk about this. (also speak about other editors)
Hanging Loose sprang to life in 1966 during the political, cultural, and artistic ferment of the 60s Greenwich Village scene. It's coeval with such other lasting institutions as the Poetry Project and Teachers & Writers Collaborative, plus countless little magazines that have since come and gone. Hanging Loose magazine was a product of the mimeograph "revolution" of that time; something roughly analogous to the computer "revolution" that is responsible for the proliferation of print Zines and Internet Zines today. It allowed anyone with access to a mimeo machine to put out a magazine. The first issues of HL were produced that way, consisting of poems printed on individual sheets of paper stuffed inside an envelope with graphic art on the cover, hence the name. It wasn't until issue #28 that HL magazine was printed offset and saddle-stitched, chapbook fashion. Later came perfect binding. Hanging Loose #89, our 40th anniversary issue, has just appeared. It runs 168 pages, perfect bound, with a four-color cover and a portfolio inside featuring the art of Rackstraw Downes. It also includes a facsimile of issue #1. We threw a big party in New York in celebration last spring. Now were having an anniversary reading in Harvard Square on October 17th by the editors and guest HL author Ha Jin.
Denise Levertov was a catalyst in the creation of HL and is indirectly responsible for my involvement (she is also responsible for introducing Mary and me.) Two of the founding editors, Dick Lourie and Emmett Jarrett met in New York as members of the very first poetry workshop that Levertov ever taught. Bob Hershon and Ron Schreiber joined them in launching HL in 1966, with Levertov as a contributing editor. One thing Denise did in this capacity was to edit special self-contained supplements inserted in the magazine from time to time. For these she selected the work of her students and protégés. My first publication ever appeared in HL #12 as part of a supplement she edited of poems produced by the students in her 1969-1970 MIT poetry writing class.
In subsequent years, Denise lived in the Boson area, for the longest stretch in Davis Square, Somerville. She became my confidant and mentor. It was through her that I got to know Ron Schreiber who by then had relocated here to teach at UMass Boston. He lived in Somerville for a long time before settling in North Cambridge. I also met Dick Lourie at Denise's Davis Square home when he was passing through town. Later he also relocated to Somerville where he continues to live (in Union Square). In 1980, when Emmett Jarrett stepped down as an editor to enter the Episcopal priesthood, I was invited to join the editorial board as his replacement. Previous to that I had been working with John Crawford at West End Press as an associate editor. I have been an HL editor for 26 years, the "kid" editor as the others tease.
The short answer to what kind of poems we favor at HL is that our taste is very eclectic. Our aesthetic has its sources in the New American poetries of the post war generation and the kinds of poetry that have subsequently evolved on that side of the fence. We have published many writers associated with the Poetry Project and Naropa, including successive generations of New York Schoolers, but also a wide variety of others across the country plus a few expatriates living in Paris. Many new writers and older writers who we feel deserve wider recognition appear regularly in our pages, including high school age writers, at one extreme, and the other extreme, octogenarian phenoms Harvey Shapiro and Wilma Elizabeth McDaniel. We're also proud to have published first books by the likes of Sherman Alexie, Hettie Jones, Kimiko Hahn, D. Nurkse, Joanna Fuhrman, Maggie Nelson, and Cathy Park Hong, among many others.
For the sake of space, rather than talk at greater length about the kinds of poems we are eager to find in our mail drop, I refer readers to a lengthy essay I wrote on this subject that is available on-line in the archives of Gulfstreaming magazine, where it first appeared (http://w3.fiu.edu/gulfstrm/Pawlak.htm).
You teach mathematics, write, and work as an editor. How do you balance your time?
I thought you were going to ask me how I manage teaching mathematics and writing poetry without short-circuiting my brain's two hemispheres, which is a question I'm frequently asked. Balance time? It's a mystery to me; I suppose it helps that I can get along on little sleep. I like to think that I work efficiently at the various things I do and that I'm well organized (although Mary might dispute the well-organized part). In my 28 years of teaching at UMass Boston, I have learned to adapt my writing to the academic calendar. It's difficult to start new work when teaching because the cream of my creative juices gets skimmed off to my students, so I make the best use of semester breaks. In addition to a teacher, I'm also a department administrator, so I don't have the entire summer off as faculty does; nevertheless, my summer workload is much lighter. The summer and winter semester breaks are when I get new things started, poems or personal essays that I can then polish during the academic year during those moments I steal for myself. But, of course, those breaks are never long enough. I always feel shortchanged. Having said this, I have to, nevertheless, admit that I thrive on these constraints. They force my mind to focus and work efficiently in the snatches of time that I am allowed. I fear that given boundless time to just write, without distractions of teaching and other work, my attention would become diffuse and my imaginative energies dissipate.
Your household is very artistic with you and Mary being writers. Your son, Gianni plays the saxophone. He is very good by the way. Have you ever used his music to influence your writing in the way that John Cage wrote?
No, never to influence my writing, but I hope to collaborate with Gianni in the near future when performing my poems; i.e. reciting them with saxophone accompaniment somewhat in the way that my colleague Dick Lourie, who is also a musician, accompanies himself on his tenor sax.
One of your poems is being published in translation in the Polish American issue of Nowa Okolica Poetow. Please talk about this and when the poem was first published.
Actually two pieces of mine have been translated into Polish for that journal. In addition to the poem is an essay titled, "Poetry from an American Oral Tradition." It appeared in The Buffalo Sequence, my first poetry collection (Copper Canyon, 1978). The poems in that book and the essay document my efforts to recover the memories of my childhood growing up in the working class, Polish American community of Buffalo, NY and to rediscover the language and ethnic speech patterns that were educated out of me. When the essay first appeared in the late 70s, it had a lot of resonance for other Sputnik Generation poets who grew up in working class, ethnic enclaves in big industrial cities of the Northeast and Midwest. It continues to be cited in studies of ethnic poetry and Polish American culture. The poems from the Buffalo Sequence have frequently been anthologized in the U.S. and I would have thought one of them a more appropriate choice in a sampling of Polish-American writing to appear in Poland. Instead the editors picked a poem about Treblinka that appeared in a later collection of my work (Special Handling: Newspaper Poems New and Selected). It's one in a series of poems I wrote about the holocaust, inspired by Charles Reznikoff's Holocaust, a sequence of found poems drawn from testimony from the Nuremberg Trials. As someone of Polish heritage (my ancestors emigrated about1900), I needed to understand for myself the anti-Semitism and the complicity in the extermination of European Jews that is attributed to the Poles. My "investigation" of these questions resulted in a series of poems about the Holocaust. Several of these have been included in English language anthologies of writing about the Holocaust, and now one of them is available to Polish readers, which, I guess, makes a kind of sense.
What are you working on now?
I continue to explore the poetic journal, combining terse prose observations or speculations with short lyrics. I call them haibun after the Japanese form. These haibun comprise a significant portion of my latest collection Official Versions, but I feel that I haven't exhausted the possibilities as yet and so continue to feel around that form. One of my recent efforts in this vein is about to appear in an anthology titled For the Time Being: The Bootstrap Book of Poetic Journals, edited by Tyler Doherty and Tom Morgan (Bootstrap Press). It seems that everywhere I turn lately I find another poet who is writing a poetic journal-it must be something catching. Kimiko Hahn, for one; her work frequently appears in Hanging Loose. She has a new book just out from Norton comprised entirely of poetic journals. It's title, The Narrow Road to the Interior, is a nod to the Japanese poet Basho, one of the inventors of the form.
The past several summers I have been working on a book length prose memoir/personal essay about Denise Levertov, beginning with my experience as her student at MIT in the late 60s. Right now I'm working on the 3rd chapter about the years when she lived in Davis Square here in Somerville. I used to live just across Mass. Ave in North Cambridge then and spent a lot of time in her company.
In addition to these two thrusts, I try to keep myself open to any chance visits from the muse while riding the subway to work.
You recently wrote FAQ's that you are asked about on so many interviews. Explain why you decided to do this. These questions and answers will follow your answer to this question.
Two reasons: first, I have never been happy with the outcome of face-to-face interviews. I have always felt afterward that I haven't represented my thoughts and ideas well; or I have felt that the interviewer misunderstood my responses or misrepresented my intentions or simply missed the nuances. It has made me appreciate why Nabokov insisted on interviewers submitting questions to him in writing and then having the last say on what got printed. The other reason is that over the years my poems have raised questions in readers' minds that have become repetitious for me. These have literally become "frequently asked questions." So the FAQ format seemed a good one to appropriate for this purpose. These FAQs have provided me an opportunity to get said once and for all my answers to the repetitious inquiries.
---
FAQs by Mark Pawlak
---
Q: What accounts for the changes in style that your poetry has undergone? After the early lyricism of The Buffalo Sequence, there was an abrupt shift to didactic Brechtian poems in All the News. Special Handling followed with an assortment of found poems, documentary poems, and other kinds of appropriations. Now Official Versions represents a move in new directions, especially the poetic journal that has a central place in your new collection.
A: Is this really so unusual? Didn't Rilke recreate himself as a poet with every new book? And what about Miles Davis, who went from being a baroque bebop trumpeter to become the straight-ahead, minimalist cool jazz icon, and finally morphing into an electric jazz/rock avant-guardist? An artist, whether poet or musician, is an explorer as well as an experimenter in his medium. If I keep making poems the same way over and over, I bore myself along with my readers. Self-imitation is something I try to avoid. Official Versions is both a cycling back to earlier modes as well as an advance in new directions. "This new collection," one perceptive reader commented, " should shut up those who've complained about the lack of lyricism in your poems since The Buffalo Sequence."
Q: Official Versions is a collection of poems written in several different styles. If these poems weren't between the covers of the same book, someone reading them might think different poets wrote them. How do you explain this?
A: "I contain multitudes," said Whitman, meaning all of us. Ever since I first encountered Fernando Pessoa's poems 35 years ago in the British journal MPT (Modern Poetry in Translation) I have been at ease with the idea of multiple voices as being natural and not a sign of schizophrenia. He wrote four distinctly different kinds of poems under different names, as if there were actually different writers at work in his imagination. I don't go so far as to assume alter egos, each with its own heteronym, but I am always reinventing my self, absorbing new influences, seeing where they lead me, finding new ways of working, discovering how these excursions reveal new facets of myself, my imagination. The sensibility, however, that underlies each kind of poem I write is one and the same. Multiplicity of styles in the same artist is not uncommon. Think of Hayden Carruth's oeuvre. Among musicians, there's the example of Stravinsky, about whom Richard Taruskin wrote, "Though the glittering surface of this famously cosmopolitan composer's music seemed to change with every passing cloud, his 'morphology, his basic manner of self-expression, and something that goes far deeper than style," remained unchanged and utterly Russian.
Q: But shouldn't a poet's voice be distinctive, singular, if not exactly the same in every poem at the very least recognizable in each one that he writes; i.e. a quality akin to the artist's line; his "signature," recognizable in every drawing he makes?
A: The MFA Boston recently mounted an exhibit of David Hockney portraits spanning his entire career. Regardless he was drawing in pen and ink, etching, painting in oils or watercolor, the work is all unmistakably Hockney. It's the same sensibility behind each portrait regardless of the medium. Hockney is a tremendous draughtsman, which even his teenage work shows. But there is nothing of his singular line, his draftsmanship in his late Cubist inspired photo collages; nevertheless, the subjects, their composition and the temperament binding them together tell you it is Hockney. Even when one of my poems in made entirely of appropriated language, I think my signature is evident. It's the particular language fragments that I chose to include, how I put them together, both the juxtapositions and the overall shape, and the point of view framing the whole that make them recognizably mine. A poet who has been a close reader of my work over the years made a comment about the "Hart's Neck Haibun" in my new book that I took as a compliment. He recognized this journal sequence to be a departure from the kinds of poems I have done before. He also noted that it was stylistically different from other poems in Official Versions. Nevertheless, he said, he felt that is was unmistakably by the same poet.
Q: About the journal sequence, "Hart's Neck Haibun"- It's in five parts, each one concluding a different section of Official Versions. You could say that it is the backbone of your new collection. But is it really a haibun, since that traditional Japanese form uses prose and haiku together? Your poems in this poetic journal are often very short but not strictly speaking, haiku. That is to say, they aren't made of three lines consisting of 5, 7 and 5 syllables as we expect of haiku.
A: The editor of a journal which first published the Hart's Neck piece in its entirety wanted me to remove the designation "haibun" from the title. She made much the same argument that it wasn't really a haibun because the poems that interrupt the prose are, strictly speaking, not actual haikus. I had to strenuously disagree. It IS a haibun in a postmodern American sense filtered through the aesthetics of New York School and Objectivist poetries in which I locate my work. I'm not a Formalist, although formal concerns have an important place in my work. Rather I treat the haibun form imaginatively-- some might say, irreverently--much the way that Ted Berrigan treated the sonnet form in his Sonnets, and the way Jack Agüeros treated the psalm in his book, Lord, Is This A Psalm? Strict adherence to traditional forms can too easily lead to poems lacking linguistic vitality. The essence of haibun is what I'm after, and that, simply stated, is terse prose and prose narrative combined with keen observation of nature (including people) put down on paper as minimalist poems or poetic epiphanies. The line is short and the line count varies from one or two in some poems to many lines in others. I find it ironic that the three line haiku, as we know it in English was an invention of translators. In the original Japanese, haiku consist of seventeen characters written in a single horizontal line of verse.
Q: Many of your poems have dedications to artists in other genre's, for example, political cartoonists, Dan Wasserman, Aaron MacGruder, and Gary Trudeau; innovative documentary filmmaker Errol Morris; conceptual artist Barbara Kruger, etc. What's this about? What does it say about your poems, your intentions?
A: I take inspiration from artists, photographers, painters, draftsmen, and collagists. Poetry, compared with the other arts is conservative -poetry in English anyway, in contrast to French poetry since Baudelaire, for example. I'm inspired by visual artists much as William Carlos Williams was in the early decades of the 20th Century, as the New York School poets were during the second half of that century, as many contemporary poets are, those, in particular who I consider to belong to my tribe; i.e. poets associated with the Poetry Project and Naropa, among others. I want to explore different ways of working with language (I hesitate to say experiment because "experimental poetry" is frequently a pejorative term for undisciplined, formless writing). Language is both my medium and my subject: its uses and abuses, all the ways that words refer to other words as well as the ways that words refer to things in the world.
Q: One reviewer of Official Versions observed that "[Pawlak] collects phrases, archaic songs, ephemera from the past, and makes a strong poetic statement…." He called you a "lyrical junk man." Is it accurate to say that there is an affinity between your poems made out of found language and the photo collages made by the late Robert Heineken, who used preexisting print images that he borrowed from product packaging, television commercials, pornographic magazines, etc.?
A: Yes, this is what biologists call convergent evolution: similar structures evolved through different developmental pathways. Following a different trajectory, using different material, and belonging to a different generation, I independently arrived at a way of working with found texts that is analogous to what Heineken did with photographic images. We both recontextualize what we have appropriated to construct works of art that are political and cultural critiques. I read in Heineken's recent obituary that he criticized traditional photography for turning out "limp translations of the known world instead of vital objects which create an intrinsic world of their own." "There is," he said, "a vast difference between taking a picture and making a photograph." That sounds very close to William Carlos Williams' famous statement about the poet as maker: "It's not what he says that counts as a work of art, but what he makes, with such intensity of perception that it lives with an intrinsic movement of its own to verify its authenticity."
Q: Sampling, appropriation, collage are techniques you employ a lot. Are you influenced by French experimental poetries?
A: You can't use found materials in your art, as I frequently do, without paying homage to Duchamp. But Duchamp aside, my influences are more German than French. The razor sharp irony found in George Grosz's drawings of Weimar society is something I aspire to in my satirical, political poetry. But in terms of techniques, Dada is more my inspiration. John Heartfield, Hannah Hoch, Raoul Hausmann, Kurt Schwitters… They cast aside traditional methods, what they called "playing the artist;" in their place they substituted Dada art, utilizing montage and collage. I love the story of how Hausmann "discovered" photomontage: He had supposedly noticed that typical German households displayed a lithograph of a grenadier standing in front of his barracks. Some families had pasted over the face in the print with that of their own soldier, cut out from the family photograph album. Noticing this, Hausmann said, he realized in a flash that one could make pictures entirely composed of cutout photographs. The Nation's art critic Arthur Danto wrote something shortly after 9/11 that points to Dada's legacy for artists today. He said "One of the things contemporary art has made available to artists is the freedom to appropriate to their own artistic ends the very things with which ordinary, artistically untrained persons express themselves, so they can now bring the powers of life into art. So much of contemporary art consists of selecting and arranging things that define ordinary life."
Q: There is a noticeable structural similarity in two of your long poems in Official Versions. There are several different narrative strands in each one, which are fragmented and which then unfold in an alternating sequence. Is this narrative approach something you invented? Where did it come from?
A: That's right, the long poems, "Credible Information" and "Aiming High," both employ the same formal structure while treating very different subject matter. This device is one that I first used in a poem titled "Firsts," from my collection, Special Handling. In that poem, stories are told about two different individuals who share a common ambition to be the first persons ever to accomplish feats that most of us would think of as outlandish. I had cut up and alternated their stories to convey the similarity of their ambitions. Shortly after writing that poem I saw "Gates of Heaven," my first documentary film by Errol Morris. It moves back and forth between the stories of the owners of two different pet cemeteries. Morris employed this device in several other films, perhaps most famously and most effectively in "Fast, Cheap & Out of Control (1997)." In it, he shows us four different eccentric characters, a lion trainer, a topiary gardener who sculpts giant animals out of hedges, an expert in the study of African mole-rats, and an MIT robotics scientist. By means of careful editing and by alternating each of their stories sequentially, he succeeds in showing how the pursuits of these seemingly unrelated individual are linked. The result is in an illuminating essay on eccentricity and the human imagination. My use of this same devise has evolved over the years in a succession of poems, the two included in Official Versions being the latest examples. I dedicated "Aiming High" to Morris because it was after seeing "Fast, Cheap & Out of Control" that I was inspired to outdo my previous efforts to use this approach in treating a complex subject that is not ordinarily viewed as appropriate for poetry.
Q: You have said that formal concerns in poetry are important to you when writing poems. Does that make you a Formalist? What do you think about the New Formalism?
A: I have an acquaintance that collects antique autos. He lovingly restores them to vintage condition and drives them around on weekends for his pleasure as well as for show. But come Monday morning, he leaves the roadster in the garage and drives his Lexus to work. If I am a formalist at all, it is with a lower case "f". I'm a big fan of the list poem as anyone can see from reading Official Versions. I'm less interested in traditional poetic forms than in forms appropriated from other mediums. One of the most inventive poets I know and admire is Paul Violi. He's written poems in the form of a book index, another in the form of TV Guide listings, to give just two examples. Also, there are poets for whom I have high regard who have used traditional forms to break out of old habits and as a by-product have discovered unexpected felicities in the language. Jimmy Schuyler's sestinas and Elinor Nauen's book length poem in ottava rima are two that come to mind. And then there is the irreverent use of traditional forms, which I applaud. The sonnet has never been quite the same since Ted Berrigan took it on.
Q: There are many sharply ironic, political poems in Official Versions. How do you respond to the criticism that political poetry is "of the moment" and not "for the ages;" that it is more often than not occasional in nature, therefore a lesser brand of poetry?
A: What is more timeless than vainglorious leaders, governmental deceit, and the misrepresentation of the truth for political ends? Injustice and oppression likewise are ever present. They are eternal aspects of the human condition. What is different at different times is only the degree to which one or the other is at the forefront of our consciousness on a daily basis. Poets who are inclined to write poems on contemporary themes and who take as a starting point current events often feel the need to have something to push against. I certainly do. In times such as the present moment, when the men who run our country are less than subtle about their agenda, having gone to school at the Ronald Reagan academy of media manipulation where they learned to call catsup a vegetable and a weapon of mass destruction a "Peacekeeper," the subjects that fuel the writing of political poems are staring everyone who wishes to see them right in the face.
Q: Would you offer the same defense for anti-war poetry, which seems to be popular once again after being out of favor since the Vietnam War?
A: Brecht once said, "War is like love; it always finds a way." Was there ever a time when a war was not being waged somewhere-frequently with the U.S.A. having a hand in instigating it? Wars are the inspiration for a lot of poems down through the ages, some of them among our greatest poems, e.g. The Iliad. There were countless poetry readings against war that took place across the entire country during the build up to the invasion on false premises of Iraq. I was struck, in particular, by the relevance for that moment of the poems I heard read, many of which had been written years, even decades before-some of my own included. It was as if a coin had been flipped from tails to heads. Poems, which were thought to be "dated," quite suddenly were revealed to be timely, telling. It is no secret that those who aim to discredit political poetry invariably support the established order. Remember what Orwell said: "The opinion that art should not be political is itself a political opinion."
Q: One often thinks of political poetry as moralistic and preachy, but your poems surprisingly are neither of those things; they're ironic and infused with humor.
A: Didactic poetry, i.e. poetry that instructs, is one of the most ancient of verse forms. It comes down to us from the classical Greek and Roman poets. Horace, I think it was, said that poetry should instruct and entertain. That's a view of poetry I embrace, but I don't think of these two functions as mutually exclusive. My ambition is to make poems that do both those things simultaneously. One can be instructive without being pedantic or moralistic. I have a high opinion of my readers' intellects. I believe that they can construct meaning for themselves from the words and images I put before them-a light touch helps.
My day job, by which I support my poetry habit, is teaching mathematics to adult college students who never liked math and never felt particularly adept at it. Math is supposed to be boring and one is supposed to feel guilty about not liking it-in these respects it is similar to poetry. I pride myself in demonstrating to my students that math can be a tool of critical intelligence, a means a figuring out what the real story is where numbers, graphs, and tables are concerned. I try to make it both intellectually stimulating and enjoyable. My approach to poetry is much the same.
Q: You recently edited an anthology of contemporary American political poetry, entitled Present/Tense: Poet's in the World. Do you think of yourself as a "poet in the world", and just what does that term mean to you?
A: "Poets in the World" borrows its name from and pays homage to a seminal collection of essays by Denise Levertov that appeared in 1973 just as the Vietnam War was beginning to wind down (a war she was an outspoken opponent of and which was the subject of many of her poems). Her collection of essays titled, A Poet in the World, seemed to sum up much of what was vital in American poetry of the postwar years. I'm speaking of course of the "New American Poetry" defined by the Donald Allen anthology of that name. Levertov, by choosing that title for her book, was pointedly taking sides in a debate that had raged throughout the 60s, one that was variously characterized as the "raw" versus the "cooked," "poets of the streets" versus "ivory tower academics", poems with "dirt under the fingernails" as opposed to sanitary, well-manicured verses. Levertov was part of a group of women poets who were feminist to the core, if she herself was not always explicitly so, including such figures as Adrienne Rich and Muriel Rukeyser. These women wrote about children and sex, poverty in the inner cities, racism, and prison conditions. They opposed the war with their words and with their bodies, frequently getting arrested at anti-war demonstrations. They wrote with eyes wide open. Perhaps one of the distinguishing characteristics of such writers as these three is that they pricked the academic balloon of professed objectivity that many male poets subscribed to. These women had a point of view and they were explicit about stated it in their poems. So, a "poet in the world?" Yes, I'm proud to count myself in that tradition.

---
(These readings current as of October 1st, go to the Readings page to see updated listings!)

Find Out… BORDERS
Presents
A Tapestry of Voices
Hosted by Harris Gardner
(617-723-3716)
THURSDAY, OCTOBER 12th , 2006 - 6:30 P.M. -FREE
With an OPEN MIC' to follow
FEATURED POETS:
Gloria Mindock is editor of Červená Barva Press, 2006. She has been published in numerous journals including Phoebe, River Styx, Poet Lore, Black Box, and UNU: Revista de Cultura in Romania. From 1984-1994, she was editor of the Boston Literary Review/BLuR. Gloria has been nominated for a Pushcart Prize and her chapbook, Oh Angel, was published recently by U Soku Stampa in Montenegro. Her book, Nothing Divine Here, is forthcoming by the same press.
Alfred Nicol, received the 2004 Richard Wilbur Award for his first book of poems, Winter Light, and he edited The Powow River Anthology, published in 2006. His poems have been anthologized in Contemporary Poetry of New England and in Sonnets: 150 Contemporary Sonnets, and have appeared in Poetry, Commonweal, The New England Review and The Formalist and others.
Beatriz Alba Del Rio is a bilingual poet and lawyer. Beatriz won the 1st prize of the 2002 Octavio Paz International Poetry Contest, the 3rd prize of the 2003 Pablo Nerudsa International Poetry Contest, and the 2004 Cambridge Poetry Award for "Best female erotic poem". Her poetry has appeared in several anthologies and literary magazines. Beatriz is a member of the New England Poetry Club.
Marc Widershien's poems have been published recently in The New Renaissance, The Connecticut Review, Blue Unicorn, Hexagon, Adirondack Review, and Cafe Review. His new book, Poems of Survival, has received very positive reviews. Recently, he won a "Commendable" in the 2006 New England Writer's Anthology Contest. He has been the recipient of a Mass Council on the Arts Grant, and a Pushcart Nomination. He frequently appears on The Jordan Rich Show on WBZ Radio.
Borders Boston -Downtown Crossing
Corner of Washington and School Streets
617-557-7188
Harris Gardner
Director of Tapestry of Voices
website: http://tapestryofvoices.com
---
Jimmy Tingle's Off Broadway/The Somerville Writer's Festival IV
The Somerville News Writer's Festival IV
November 12, 2006
Jimmy Tingles Off-Broadway Theatre
255 Elm Street/Davis Square
Somerville, MA
Tickets: $15.00
Toll-Free Tickets: (866) 811-4111
Box Office: (617) 591-1616
Hosted by Jimmy Tingle
DISCOUNTS: Students, Seniors, Groups of 10 or more
Recommended for age: 14+
Length of Program: 2.5 hours
Fiction:
Nick Flynn:

"Another Bullsh*t Night in Suck City"

Steve Almond:

"What Brings Me to You"

Michael McGlone:

"And All the Roses Dying..."

Christopher Castellani:

"The Saint of Lost Things: A Novel"

Lisa Carver of Nerve.com:

"Drugs are Nice: A Post-Punk Memoir"

Timothy Gager:

"Short Street"
Poetry:
Includes presentation of Ibbetson Street Press Lifetime
Achievement Award to David R. Godine
Hugh Fox
David Slavitt
Marc Widershien
Marc Goldfinger, Poetry Editor of Spare Change News
Joanna Nealon
Doug Holder
And featuring musical guest Meg Hutchinson.
Jimmy Tingle's Off Broadway/The Somerville Writer's Festival IV
---
Sophie Wadsworth Workshops
Concord, MA
* "Exploring Creativity and Spirit Through Poetry"
at the Women's Well (West Concord)
starting Wed. Sept. 13th
* "New Seeds for Writing" at the Concord Poetry Center
(at the Emerson Umbrella)
starting Tues. Oct. 3rd.
Webpage (bio & Letters from Siberia info, and links to local reading series)
http://home.earthlink.net/~sophieone
* The Concord Poetry Center
(at the Emerson Umbrella, Concord MA)
NEW SEEDS FOR WRITING
"Poems would be easy if our heads weren't so full of the day's clatter. The task is to get through to the other side, where we can hear the deep rhythms that connect us with the stars and the tides."
-- Stanley Kunitz
Designed for both new and more experienced writers, this six-week workshop explores writing poetry and generating new words on the page. Emphasis will be on discovering our own wildest ideas. We'll experiment with in-class writing exercises and talk about ways to cultivate, or deepen, a writing p ractice. Each session includes supportive feedback on your work (a new poem each week) and a discussion of craft. Poets such as Frost, Kenyon, and Rilke will offer inspiration as we explore what makes poetry accessible, full of music, and spiritually vital. Please bring with you 10 copies of a list of poems you deeply admire.
Six Weeks, Tuesdays, October 3rd to November 7th 7:00--9:00 PM $200 (CPC members, $180)
* * *
---
The Women's Well
West Concord, MA
http://www.womenswell.org
(click on link for courses)
Exploring Creativity and Spirit through Poetry
This workshop circle explores creativity and spirituality through poetry. Each session includes sharing poems aloud -- Sappho and early mystical poets through Jane Kenyon -- and informal in-class writing exercises. In a supportive setting, participants share their beginnings, bearing witness and listening for wildest ideas. There is ample time for discussions on writing/reading as spiritual practice. Where do we find spiritual energy? What makes words sing? And what words would we choose to carry with us through our days? This workshop is for both newcomers and experienced writers or artists -- anyone curious about poetry. Poems and related readings provided (one $10 materials fee payable to the teacher).
Sophie Wadsworth
Five alternating Wednesday evenings
7:00 - 9:00 p.m.
September 13, 27; October 11, 25; November 8
$100 early/$120 regular
("early" means postmarked one week before start date;
please see web form under "Registration" link)
* * *
---
Concord Poetry Center
Concord, MA
Wednesday, October 4, four weeks, "Building a Better Poem" with Joan Houlihan
More info: http://www.concordpoetry.org/BuildingBetterPoem.htm
Saturday, October 7, 8 pm "An Evening With Lucie Brock-Broido"
Don't miss it!
More info: http://www.concordpoetry.org
Monday, October 9, 10 weeks, "Online Poetry Workshop" with Reginald Shepherd
More info: http://www.concordpoetry.org/OnlinePoetryWorkshop.htm
Friday, October 20--23, 3 days, "Seven Mountains Writers Conference: Market and Craft" with Lucie Brock-Broido, Joan Houlihan and more
More info: http://www.concordpoetry.org/ColrainOctober/
NOTE: This conference is for fiction writers and poets. There are 3 more spaces for poets (limited to 10). Please apply asap if you are interested.
---
Upcoming workshops led by Tom Daley:
Poetry writing workshop with Tom Daley
at the instructor's home in Cambridge
Eight Mondays starting Monday, September 18
from 5:30-7:30 pm
cost $160
for information contact Tom Daley at tom.daley2@verizon.net
Boston Center for Adult Education
Poetry writing workshop
Eight Tuesdays starting September 12
from 5:45-7:45 pm
cost $176.00
5 Commonwealth Avenue (Back Bay)
Boston
to register, go to http://www.bcae.org/SearchECat?Open&Query=poetry+workshop
or call (617) 267-4430
Lexington Community Education
Poetry writing workshop
Six Wednesdays starting October 11 6-8 pm
Lexington High School
251 Waltham Street, Lexington
Lexington, MA
cost $80 ($60 seniors)
To register call (781) 862-8043
http://lexingtoncommunityed.org/
---
Poetry Festival
October 1, 2006, 12:00 to 6:00PM
LOOK PARK, North Main Street,, Northampton, MA
This outdoor poetry festival begins noon in the Sanctuary at Look Park overlooking pond. Twenty Five poets will read their original works over a six hour event. Every phase of poetry represented from intellectual poetry to hard core slam to elementary school newcomers. Open to the entire community free of charge. Free refreshments.
---
NEW ENGLAND POETRY CLUB READINGS
ALL FREE
***UPCOMING EVENTS***
Monday October 2nd 7pm
at Yenching Library
2 Divinity Ave, Cambridge
Editors of FULCRUM Magazine, KATIA KAPOVICH, PHILIP NICOLAYEV reading and speaking about the new poetry in Russia today.
Monday November 6th 7pm
at Yenching Library 2 Divinity Ave, Cambridge
POW WOW POETS
Monday December 4th 7pm
at Yenching Library
2 Divinity Ave, Cambridge
NEPC PRIZE WINNERS
http://www.nepoetryclub.org/events.htm
---
Barnes and Noble at Boston University
Barnes and Noble at Boston University
660 Beacon Street
Boston, MA.
617/267-8484
http://www.bu.bkstore.com
Tuesday, October 3 7:00pm
Robert Zelnick - Israel's Unilateralism: Beyond Gaza.
Talk and Signing.
Mr. Zelnick, former chair of BU's Journalism department, examines the issues at the heart of the Israeli-Palestinian conflict as well as the peace process, which recent events have placed in jeopardy.
Wednesday, October 4 7:00pm
Dennis Lehane - Coronado: Stories.
Reading and Signing.
Publisher's Weekly called him the "hippest heir of Hammett and Chandler" and The New York Post named him a "mystery master". Award-winning author of Mystic River and Boston area resident, Dennis Lehane's new release is a collection of short stories where "a small town is a hard place to keep a secret".
Wednesday, October 4 7:00pm
Drew Karpyshyn - STAR WARS Darth Bane: Path of Destruction.
Reading and Signing.
Thousands of years before Darth Vader, in a time when Jedi and Sith were numerous and fighting was constant, one Sith waited out the strife and rose from the destruction of the Sith Order to become the most powerful Sith Lord ever, Darth Bane.
Wednesday, October 11 7:00pm to 9:00pm
Writing Essays for Publication.
Free.
Hear expert advice on the process of writing and selling essays from successful wordsmiths Barbara Beckwith, Edith Pearlman and June Lemen and get those ideas out of your notebook and into print. Sponsored by the National Writers Union.
For more information, contact A.C. Kemp at ackemp@slangcity.com
Thursday, October 12 7:00pm
Andy Wasif and Rick D'Elia Talk and Signing.
How to Talk to a Yankee Fan Stand up comics and die hard Sox fans Wasif and D'Elia will help Red Sox Nation deal with that necessary evil, the Yankee Fan. Learn how to talk to one, if you must.
Barnes and Noble at Boston University
660 Beacon Street
Boston, MA.
617/267-8484
http://www.bu.bkstore.com
---
Jabberwocky Bookshop
Tuesday, October 3 7:00pm
Jabberwocky Bookshop welcomes author Diane Setterfield,
reading from her debut novel THE THIRTEENTH TALE, in conjunction with a special Book Club Symposium presented by Simon and Schuster Publishing.
Wednesday, October 4 7:00pm
Jabberwocky Bookshop welcomes author and graphic artist Marisa Acocella Marchetto,
reading from her new graphic memoir CANCER VIXEN: A TRUE STORY.
Friday, October 6 7:00pm
Jabberwocky Bookshop welcomes cartographic historian Joseph G. Garver,
in a reading and presentation of his seminal new book SURVEYING THE SHORE: HISTORIC MAPS OF COASTAL MASSACHUSETTS, 1600-1930.
Friday, October 13 7:00 pm
Jabberwocky Bookshop hosts author and animal expert Jon Katz,
in a reading and discussion of his touching new memoir A GOOD DOG: THE STORY OF ORSON, WHO CHANGED MY LIFE.
Jabberwocky Bookshop
50 Water Street
Newburyport, MA.
http://jabberwocky.booksense.com
978.465.9359
---
Porter Square Books
Porter Square Books
25 White Street
Cambridge.
Wednesday, Oct 4 at 7 pm
Patrick Somerville
Wednesday, Oct 4 at 6 pm
Kurt Brown and Laure-Anne Bosselaar
Hotel Marlowe
Cambride, MA
Friday, Oct 6 at 7 pm
Gregory Spatz and Alexander Parsons
Tuesday, Oct 10 at 7 pm
Richard Hoffman and Saul Touster
Poetry Reading
Wednesday, October 11 7:00pm
Emily Franklin reading and signing.
The Girls' Almanac, by Emily Franklin, chronicles the lives of Jenna and Lucy,
two thirty-something women who desperately long for a true friend.
Thursday, Oct 12 at 7 pm
D. T. Max
The Family that Couldn't Sleep
Friday, Oct 13 at 7 pm
Debbie Brisson aka Stitchy McYarnpants
The Museum of Kitschy Stitches
Tuesday, Oct 17 at 7 pm
Suzanne Berne
The Ghost at the Table
Wednesday, Oct 18 at 10:30 am
Karen Cushman
The Loud Silence of Francine Green
Wednesday, Oct 18 at 7 pm
Jean Chandler and The Every Other Thursday Poetry Club
Reading and Tribute to Bill Holshouser
Readers will include Bonnie Bishop, Con Squires, Polly Brown, Susan Donnelly, Deborah Melone, John Hildebidle, Sarah Bennett, and other friends.
Thursday, Oct 19 at 7 pm
Anita Silvey
500 Great Books for Teens
Friday, Oct 20 at 7 pm
Ed Viesturs
No Shortcuts to the Top
Sunday, Oct 22 at 3 pm
Vikki Stark
My Sister, My Self
Tuesday, Oct 24 at 7 pm
Charles Mann
1491
Wednesday, Oct 25 at 7 pm
Denise Bergman
Seeing Annie Sullivan
poetry
Thursday, Oct 26 at 7 pm
Ellen Kushner and Delia Sherman
The Privilege of the Sword; Changeling
Friday, Oct 27 at 7 pm
Sarah Chayes
The Punishment of Virtue: Inside Afghanistan after the Taliban
Tuesday, October 31 at 7 pm
Clea Simon, Susan Conant, Hallie Ephron, Jane Langton
Night of Mystery on Halloween
Our guests will be reading from their latest work.
Contact Information
email: ellen@portersquarebooks.com
phone: 617-491-2220
web: http://www.portersquarebooks.com
Porter Square Books, Inc. | Porter Square Shopping
Center | 25 White Street | Cambridge | MA | 02140
---
Newtonville Books
Wednesday, October 4 7:30pm
Reading and Book signing.
SMALL ACTS OF SEX AND ELECTRICITY by AGNI author LISE HAINES.
With Emily Franklin, Girl's Almanac.
Newtonville Books
296 Walnut St.
Newton, MA
---
The Paradise Lounge
Saturday, October 7 9:00pm
Final Event in the 2006 Boston Progressive Reading Series.
A literary (and musical!) benefit to support progressive congressional candidates nationwide. Featuring Sue Miller, author of The Good Mother and While I Was Gone; Charlie Pierce, author of the upcoming Moving the Chains: Tom Brady and the Pursuit of Everything and contributor to NPR's Only a Game and Wait, Wait Don't Tell Me; and a selected performance from Tonya & Nancy: The Opera (yes - Tonya Harding and Nancy Kerrigan!), written by Elizabeth Searle.
$10 in advance, $20 at the door,
The Paradise Lounge
967 Commonwealth Avenue
Boston, MA
---
Harvard Book Store
Tuesday, October 10 6:30pm
Chimamanda Ngozi Adichie reading from Half of a Yellow Sun. A masterly, haunting new novel from the author of Purple Hibiscus, Half of a Yellow Sun re-creates a seminal moment in modern African history: Biafra's impassioned struggle to establish an independent republic in Nigeria in the 1960s.
http://www.harvard.com/events/press_release.php?id=1708
http://grubstreet.c.topica.com/maafb2Pabty4NckchRTe/
FREE
Harvard Book Store
1256 Mass. Ave.
Cambridge.
---
The Harvard Coop/B&N College Store
Wednesday, October 11 7:00pm
SMALL ACTS OF SEX AND ELECTRICITY by AGNI author LISE HAINES.
Reading & signing.
The Harvard Coop/B&N College Store,
1400 Massachusetts Ave.
Cambridge, MA.
---
Cambridge Women's Center
Friday, October 13 6:00 - 8:00 pm
American Women of Color Reading Group (AWOC). Join the newly-formed American Women of Color Reading Group. The next meeting is Friday, October 13th at the Cambridge Women's Center from 6-8 pm, and we'll be discussing Bharati Mukherjee's Leave it to Me. Price is $5 per monthly meeting, and a three-month commitment is required.
Email awocreadinggroup@gmail.com for a syllabus, application, and more information.
---
We are proud to announce the new Autumn, 2006 Chapter & Verse Poetry Series in Jamaica Plain, MA.
PLEASE NOTE NEW LOCATION CHANGE:
(All readings take place from 7:30 to 9:00 pm.)
Chapter and Verse at LORING GREENOUGH HOUSE, 12 South Street in Jamaica Plain. (Loring Greenough House is a beautiful, historically preserved house on a spacious lawn that has hosted numerous musical events over the past few years. We are delighted to have a wonderful new location!!!! Loring Greenough House is easily accessible by MBTA 39 bus line and/or Orange Line T at Forest Hills).
Chapter and Verse is FREE and refreshments are served.
For information contact:
dorothy.derifield@gmail.com (Dorothy Derifield)
or wileysister@yahoo.com (Carolyn Gregory)
Autumn Schedule:
Wednesday, October 4 7:30 pm Holly Guran, Marc Widershien, Susan Eisenberg
Wednesday, November 1 7:30 pm Alan Smith, Lisa Beatman, Doug Holder
Wednesday, December 6 7:30 pm Elena Harap, Sybille Rex, Marc Goldfinger
Chapter and Verse is free and refreshments are served.
---
Speakeasy Poetry Series- Massachusetts
Frannie Lindsay and Perugia Poets
Forbes Library
Northampton, MA
Wednesday, October 4; 7 p.m.
Frannie Lindsay, Faye George, Carol Edelstein, and Janet Aalfs
Borders Braintree
255 Grossman Drive
Braintree, MA
Friday, October 13, 7 p.m.
---
Mark Pawlak upcoming poetry readings
October 4th, 7:00 PM
Café Expresso Poetry Hoot
Featured Reader: Mark Pawlak
Cafe Espresso
738 Islington Street (in the 800 Islington Plaza)
Portsmouth, NH
http://www.pplp.org/HootNight.htm
October 17th 7:00 PM
Hanging Loose 40th Anniversary reading by the editors
Grolier Poetry Series
Adams House
26 Plympton Street, Entry C, 26
Harvard Square, Cambridge
(three doors down from the Grolier)
December 13th 8 PM
The Poetry Project
with Bill Zavatsky
St. Mark's Church
131 E. 10th St.
New York, NY 10003
http://www.poetryproject.com/
---
Bay State Underground Reading Series
Keep you calendars open: October 5th, 7:00 P.M.! We hope to see you then for the first night of the Bay State Underground Reading Series.
Bay State Underground brings together current students and alumni of the Boston University Creative Writing program and members of the Writers' Room of Boston to share work, wine, and companionship. Co-sponsored by Agni Magazine, the BU Writing Program, and the Writers' Room, readings will be held on the first Thursday of the month during the academic year.
This month's reading features:
Lesego Malepe, whose novel Matters of Life and Death was published last year by Genesis Press. Currently a fellow of The Writer's Room, Malepe received her doctorate in political science from BU and taught at Wheaton College before turning to writing full-time.
Kaelan Smith, a graduate of University of California at Davis and a fiction writer in this year's BU creative writing program.
Nancy Kassel, a long-time member of The Writers' Room. Nancy's most recent publications are the first English translations (from the Polish, with Anita Safran) of Zuzanna Ginszanka's "Non omnis moriar" in AgniOnline. Kassel's poems have also appeared in Salamander, Kalliope, Verse, and Universe.
Tess Taylor, a graduate of the BU program and of the journalism program at New York University, whose work has appeared in Literary Imagination, the New York Times, the Times Literary Supplement, and the New Yorker.
Cliff Odle, a student in the BU creative writing program, whose plays have been performed in the New York area and in San Diego. An actor and director as well as playwright, Odle is currently an understudy in the Huntington Theatre's critically acclaimed production of August Wilson's Radio Golf.
The readings will be held in the Agni offices, located in the basement of 236 Bay State Road. The building is one block off Commonwealth Avenue at the BU East T-stop (on the B-line). Doors open at 7:00 pm; readings being at 7:30. Readings are open to the public and include refreshments.
For more information, please contact Will Delman at redbrickwriters@hotmail.com.
I hope you'll join us,
Will Delman
Eric Grunwald
Kate Woodworth
---
Poetry Reading: "An Evening With Lucie Brock-Broido"
Readers: Lucie Brock-Broido
Date Saturday, October 7
Time 8pm
Place Concord Poetry Center
Address Emerson Umbrella Center for the Arts, 40 Stow Street
City Concord
State MA
Contact information cpc@concordpoetry.org
See: www.concordpoetry.org for all details
---
Upcoming Features @ the Somerville News Poetry/Music Series Events
The event starts at 3pm. I play for about 15 minutes to welcome folks and set the mood. This is followed by a half-hour or so set for each poet and musician feature (caution advised --certain features may have overlapping talents!), flexible of course... I may play again 15 minutes afterwards or in between, whatever feels right depending on set-up etc. Then there is an open mic for poets and singer-songwriters. Bards musical and lyrical alike are welcome to join us and share their creative efforts.
10/8 - Janet Cormier (poet/comedian) and Jahn Sood (musician)
at Tír na nOg
366A Somerville, MA 02143
(617) 628-4300
tirnanog@thenog.com)
---
Ellen La Forge Memorial Poetry Reading Series
Sam Cornish and Afaa Michael Weaver
October 10th, Tuesday 8PM
SAM CORNISH reads from his collected works: 1935: A Memoir (Ploughshares), Folks Like Me, Sam's World and Cross A Parted Sea (Zoland). He is also the author of two children's books. has been a regular contributor of poetry and criticism to Ploughshares and has served on the faculty of Emerson College.
AFAA MICHAEL WEAVER reads from his selected poems, Multitudes (Sarabande). He has published nine collections of poetry and edited These Hands I Know: African-American Writers on Family (Sarabande). A factory worker for fifteen years, he published during that period poetry, short fiction, was a freelance journalist, was the founder of Seventh Sun Press. He published his first collection of poetry Water Song in 1985, the year he received a full university fellowship to Brown University's graduate creative writing program. In addition to his poetry, he has had two professional theatre productions. He has also organized the first international Chinese Conference Poetry in the United States.
October 17, Tuesday, 8PM
In celebration of the 40th anniversary of Hanging Loose Press poet-editors Robert Hershon, Mark Pawlak, Dick Lourie, and poet Ha Jin read.
The Brooklyn based press, Hanging Loose was founded by Hershon, Lourie, and Ron Schreiber to bring notice and appreciation to work by poets not formally recognized. To further the focus, the first issues were published in the unusual format of 8" x 11" sheets of paper, mimeographed, in a manilla envelope, to allow readers to keep their favorites by discarding others. The Press, open to a variety of views, has published and introduced writers such as Sherman Alexie, Indran Amirthanayagan, Jayne Cortez, and Ha Jin. It regularly features portfolios of work by a single artist or photographer. In 1968, it introduced a regular feature devoted to the work of high school students which evolved into three anthologies. As of now, the Press has published 135 titles and 88 issues all of which are now in print.
October 24th, Tuesday, 8PM
Julia Budenz reads from the second section Carmina Carmentis (Pivot), of her booklength poem, From the Garden of Flora Baum. The first section of the poem was published in 1984 by Wesleyan. At the moment, the poem comprises some 1800 typed pages. She has been published in the journals, Arion, Rhino, Notre Dame Review as well as on the website, Poetry Porch.
All readings are held at Adams House
Entry C, 26 Plympton Street
Cambridge, Ma.
Harvard Square.
Wheelchair accessible. Books are on sale at 10% off.
For information, contact Louisa Solano at 617-868-3593
or e-mail ellenlaforge@cs.com.
Admission, $3.
---
Newton Free Library Poetry Series Fall 2006
Director: Doug Holder
All readings are held at the Newton Free Library
Second Tuesday of each month 7 PM
330 Homer St. Newton Centre
617-796-1360
http://www.newtonfreelibrary.net
Open Mic after the features.
October 10th:
Jean Monahan
Lo Galluccio
Richard Cambridge
November 14th:
Marc Widershien
Wendy Mnookin
Sarah Getty
---
Four Stories Reading Series
Monday, Oct. 16th 7-9 p.m.
Readers: Stace Budzko, Jamie Cat Callan, Mike Heppner and Ellen Litman
The Enormous Room
567 Massachusetts Ave.
Cambridge, MA
---
The Blacksmith House Poetry Series
56 Brattle Street, Cambridge, MA
8:00 pm | $3
Tickets may be purchased 45 minutes prior to the reading.
Readings
Monday, October 16
Carole Oles and Martha Collins
Carole Oles reads from Waking Stone: Inventions on the Life of Harriet Hosmer, with Martha Collins, whose latest poetry collection is Blue Front.
Monday, October 23
David Barber and Jason Shneiderman
David Barber reads from his latest collection, Wonder Cabinet, with Jason Shneiderman whose debut poetry collection is Sublimation Point.
Monday, October 30
Robin Becker and Frannie Lindsay
Robin Becker, author of Domain of Perfect Affection, reads with Frannie Lindsay, whose most recent poetry collection is Lamb.
Monday, November 6
Jonathan Wilson and Kim McLarin
Jonathan Wilson, author of An Ambulance is on the Way: Stories of Men in Trouble, reads with Kim McLarin, whose new novel is Jump at the Sun.
Monday, November 13
Cave Canem: A 10th Anniversary Reading
Gail Mazur and Major Jackson hosting Venise Battle, Nehessaiu deGannes, Colin Enriquez, Tonya Hegamin, Afaa Michael Weaver, and Kate Rushin.
Monday, November 27
Eamon Grennan and Jonathan Aaron
Eamon Grennan, whose most recent poetry collection is The Quick of It, reads with Jonathan Aaron, author of Journey to the Lost City.
Monday, December 4
Jane Hirshfield
Jane Hirshfield reads from her latest poetry collection, After.
Monday, December 11
Elizabeth Arnold and Joshua Weiner
Elizabeth Arnold, author of the poetry collection, Civilization, reads with Joshua Weiner, author of From the Book of Giants.
---
Woodberry Poetry Room, Harvard University
Address: Harvard Yard, Cambridge, Mass.
Date and time: October 17, 2006, 5:30 pm
Readers: Tess Gallagher and Linda Gregg
Free, but photo ID required for all visitors to Lamont Library
Pura López Colomé
Woodberry Poetry Room, Lamont Library, Harvard University
Monday, October 30, 2006, 5:30 pm
Free, but photo ID required for all visitors to Lamont Library
Don Share
Curator of Poetry in the G.E. Woodberry Poetry Room
Lamont Library, Harvard University
Cambridge, MA 02138 USA
Telephone: (617) 495-2454
Fax: (617) 495-1376
Poetry Room information:
http://hcl.harvard.edu/libraries/houghton/collections/poetry_room.html
---
Powow River Poets Monthly Reading Series
Newburyport, MA.
EVENT: Powow River Poets Monthly Reading Series
DATE: October 18, 2006
TIME: 7:30 PM
SITE: Newburyport Art Association Gallery, 65 Water Street, Newburyport
READERS: Luisa Igloria and José Edmundo Ocampo Reyes
DETAILS: Event is free and open to the public; site is handicapped-accessible; light refreshments
INFO: For more information, check NAA site www.newburyportart.org or contact mcantor@prodigy.net
Luisa A. Igloria, an Associate Professor of English at Old Dominion University in Virginia, has published nine books of poetry, most recently Trill & Mordent (WordTech Editions, 2005), and edited the anthology Not Home, But Here: Writing From The Filipino Diaspora (Anvil, 2003.) Her work has appeared in numerous anthologies and journals including Poetry, Crab Orchard Review, The Missouri Review, Poetry East , Smartish Pace, The Asian Pacific American Journal, and TriQuarterly. Various national and international literary awards include The 2006 Stephen Dunn Award for Poetry; the first Sylvia Clare Brown Fellowship, and the Ragdale Foundation Summer 2006 Residency. Born in the Philippines, she moved to Chicago in 1992 as a Fulbright Fellow, and holds a Ph.D in Creative Writing from the University of Chicago.
José Edmundo Ocampo ("Jodie") Reyes was born and raised in the Philippines, and holds degrees from Ateneo de Manila and Columbia Universities. He was featured in the most recent New Poets issue of The Hudson Review, and his poems and translations have also appeared in Caracoa, Circumference, Michigan Quarterly Review, Natural Bridge, Philippine Studies, Ploughshares, Poetry Daily, Rattle, and other Phillipine and U.S.-published magazines and anthologies. He is the recipient of the Don Carlos Palanca Memorial Award and a two-time winner of the Der-Hovanessian Translation Prize.
---
The Nantucket Poetry Slam - 3rd Year Celebration
SATURDAY
October 21
From 9AM-12PM
Nantucket Poetry Slam
Poetry Workshop w/ Tom Daley
Nantucket Atheneum
2 India Street
Nantucket, MA.
For details on how to register call Amy Jenness Program Director at The Atheneum (508) 228-1110
SUNDAY
October, 22
Nantucket Atheneum
2 India Street
Nantucket, MA.
From 2-4 PM
Featuring - Jack McCarthy and Stephen Dobyns
CASH SLAM - 1st place $200.00, 2nd place $100.00, 3rd place $50.00
PSI rules apply - Len Germinara/PSI SlamMaster
For details call Amy Jenness/Program Director at The Atheneum (508) 228-1110
Visit The Nantucket Poetry Slam @ http://www.nantucketpoetryslam.org
---
Cambridge Cohousing presents
The Fireside Reading Series
How to get to Cambridge Cohousing:
Cambridge Cohousing is located just north of Porter Square at 175 Richdale Ave. From Massachusetts Ave., turn onto Walden St. Go over the commuter rail tracks and immediately turn right onto Richdale Ave. Cambridge Cohousing is the complex of yellow buildings. Walk through the main gate at 175 Richdale Ave. to the common house. For further information or directions, please contact Jenise Aminoff, 617.576.2004, jenise@alum.mit.edu or Molly Watt, 617-354-8242, mollywatt@comcast.net.
For more information, go to http://www.cambridgecohousing.org/poetry/.
To join our mailing list, send email to poetry-request@cambridgecohousing.org.
Draft to date of Eighth Fireside Series Schedule 2006-7
Tuesday, October 24, 2006
7:30 PM
Readers: Regie Gibson and Irene Koronos
Tuesday, November 28, 2006
7:30 PM
Readers: Martha Collins and Tino villanueva
Tuesday, January 2, 2007
7:30 PM
Readers: Annie Deppe and Ted Deppe
Tuesday, February 27, 2007
7:30 PM
Readers: Fred Marchant and Mala Radhekrishnan
Tuesday, March 27, 2007
7:30 PM
Readers: Jean Alonso and H. susan Freireich
Tuesday, April 24, 2007
7:30 PM
Readers: Steve Glines and Lolita Paiewonski
Tuesday, May 29, 2007
7:30 PM
Readers: Bernadette Davidson and Elizabeth Quinlan
---
Zora Neale Hurston Literary Center
Poetry Reading: Book Launch for Evidence of Things Seen
Reader: Richard Wollman
October 25, 2006 6:00 pm
Simmons College (Special Functions Room)
300 The Fenway
Boston, MA 02115
Contact: Rachel Ruggles, 617-521-2220
---
EMACK & BOLIO
POETRY READINGS:
As usual, there will be two featured poets and plenty of open mic time. Please come and participate!! The series has been running now solidly for over three years as hosted by poet, Marc Widershien. It includes a diverse and welcoming audience and has featured some terrific Boston and nationally known poets. . .
--Carolyn
This fall's schedule of readings for Emack and Bolio's follows below:
October 26th: Peter Desmond, Paula Savoy
November 30th: Michael Sherlock
December 28th: To be announced...
EMACK & BOLIO
2 Belgrade Avenue
Roslindale, MA.
---
Brookline Poetry Series
FRIDAY, NOVEMBER 3 7PM
DENISE BERGMAN
Poetry Readings-NEW WORK and poems from "Seeing Annie Sullivan"
Brookline Booksmith 279 Harvard St. (basement)
Coolidge Corner, Brookline
---
Inkwell Bookstore Reading
Jamie Cat Callan
Girls Night Out event and reading from her new book, "Hooking Up or Holding Out."
Thursday, November 16th 7 pm
Inkwell Bookstore in Falmouth, MA
---
Brockton Library Poetry Series
Poets: Martha Collins, Rosanna Warren
2:15 - 3:30 Open reading
3:45 - 4:45 Features
December 16, 2006
Brockton Library
304 Main St, Brockton, MA

---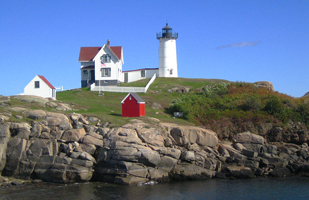 Moon Pie Press
Sunday, October 22, 2006; 7 PM
Live at Chicky's CD Recording Party with Jazz
Restaurant opens just for us at 6:00. Come have dinner and be part of the live audience for recording our CD of The Best of Moon Pie Press Anthology, Volume II.
Chicky's Fine Diner
3 Bridge Street
Westbrook.ME (right off Main Street.)

---

92nd Street Y Reading Series
Lexington Avenue at 92nd Street
New York, NY
---
Phoenix Reading Series
10/1, Sunday, 5:30 pm
Mervyn Taylor, Larissa Shmailo
Andrew Kaufman, Robert Viscusi
Open Reading, if time allows
High Chai
18 Avenue B
NYC
212-477-2424
One purchase
Donation
The Phoenix Schedule is posted at http://poetswearprada.com
The Phoenix Reading Series has a new venue and is looking for readers. "In general, preference will be given to writers who have not yet read in the series or who have read infrequently in it."
For information, please contact Michael Graves at: mikegraves50@hotmail.com
---
PERCH
LITERARY TUESDAYS
October 3- EMILY RABOTEAU is an assistant professor in the English Department at The City College of New York and the author of a novel, THE PROFESSOR'S DAUGHTER. Her short stories have appeared in Callaloo, The Missouri Review, The Gettysberg Review, Tin House, Best American Short Stories, Best American Mystery Stories and elsewhere. She has received the Chicago Tribune's Nelson Algren Award, a Pushcart Prize, a NY Foundation for the Arts Fellowship and a Literature Fellowship from the NEA.
October 10- SARAH BECK, RISHANA BLAKE, GREGORY CROSBY, LAURA MODIGLIANI, SEAN O'HANLON, STELLA PADNOS,CATHY PALERMO, ALYSSA YANKWITT—City College MFA students read their poetry.
October 17- SUZANNE WEYN, author of dozens of picture books and young adult novels, reads from her latest, THE BAR CODE REBELLION and WATER SONG. Party and book signing to follow.
October 24- REBECCA CHACE teaches Fiction and Dramatic Writing in the MFA program at City College, as well as being a Visiting Lecturer in First Year Seminar at Bard College. A graduate of New York University's Graduate Acting Program, she has written several screenplays, teleplays and nationally produced radio dramas. She has reviewed books for the New York Times Book Review and has been a featured writer for The New York Times. Her first book, a memoir entitled: CHAUTAUQUA SUMMER, ADVENTURES OF A LATE TWENTIETH CENTURY VAUDEVILLIAN, was published in 1993 and was selected for "Editor's Choice" and "Picks for Summer." CAPTURE THE FLAG, a novel, was published in 1999, and adapted as a screenplay. Her plays include COLETTE and VERSHININ'S WIFE.
October 31- A HALLOWEEN READING
7:30pm Followed by open mic
$5 Minimum
9PM-LIVE JAZZ
365 5TH AVENUE PARK SLOPE
F/R Train to 4th Avenue/9th Street (between 5th and 6th Streets)
WWW.THEPERCHCAFE.COM
718-788-2830
---
Readings featuring Thad Rutkowski:
NEW REVIEW
Tetched is reviewed in the July edition of KBG Bar's online journal:
http://www.kgbbar.com/lit/book_reviews/thaddeus_rutkow.html
UPCOMING WORKSHOP
Generating Fiction will begin on Monday evening, Sept. 11, at The Writer's Voice of the West Side YMCA. The workshop focuses on producing new writing (stories, chapters, prose pieces) and is open to everyone. Eight meetings. Free for Y members. Call Glenn Raucher at (212) 875-4124, or email graucher@ymcanyc.org.
UPCOMING READINGS
Oct. 5, Thursday, 8 p.m.
Poetry vs. comedy. Galapagos Arts Space, Galapagos 70 North Sixth Street, Williamsburg, Brooklyn. L train to Bedford. Hosted by Cheryl B.
(718) 782-5188.
Nov. 10, Friday, 7-9 p.m. Memoir reading, Callanwolde Fine Arts Center, 980 Briarcliff Road N.E., Atlanta, $10. Good refreshments. Hosted by June Akers Seese: jakers1@mindspring.com
Jan. 18, 2007, Thursday, 7 p.m.
Drunken! Careening! Writers! KGB Bar, 85 East 4th Street (at Second Avenue). Manhattan. Hosted by Kathleen Warnock. Free.
Hope to see you! --Thad Rutkowski
---
Sunday, October 8, 2006, 5 p.m.
The Bowery Poetry Club
308 Bowery (bet. Houston & Bleecker), NYC
$6
Information: 212-712-9865 & SLIDINGSCA@AOL.COM
The Feminist Poets in Low-Cut Blouses
L&L (Love and Lust) Reading
Larissa Shmailo / Iris N. Schwartz / Madeline Artenberg
Dorothy Friedman August / Frank Simone / Jean Lehrman
Erica Miriam Fabri / Matthew K. Johnson
Larissa Shmailo translated the Russian Futurist opera Victory over the Sun performed at the L.A. County Museum, the Hirsshorn Museum, and internationally. She has been widely published, ranging from Rattapallax to poetz.com to Street News. Her poetry CD, The No-Net World, is available at http://www.cdbaby.com/cd/shmailo, iTUNES, and bookstores.
Iris N. Schwartz's book of poetry with Madeline Artenberg, Awakened, was published this year by Rogue Scholars Press. Other poetry has been appeared in An Eye for an Eye Makes the Whole World Blind: Poets on 9/11, Vernacular, Mobius, and other journals and anthologies. Her fiction has been anthologized most recently in Stirring Up a Storm. She has featured at KGB Bar, Barnes & Noble, and other venues in NY, NJ, and PA.
Madeline Artenberg performs frequently in NYC, including at the Bowery Poetry Club, backed by David Amram, and at Cornelia St. Café, with The Larry Simon Ensemble. Her work appears in journals such as Absinthe Literary Review and Margie, An Anthology of American Poetry, she has garnered poetry awards, and her book Awakened (with poems by Iris N. Schwartz) was published by Rogue Scholars Press in April 2006.
Dorothy Friedman August is an award-winning poet, a performer, college professor, and editor. Her two books are Family Album and Liberty Years, a collection of feminist buccaneer poems she composed while soaring outside thunder. She's won two NYFA fellowships and published in numerous journals, including Partisan Review, Ms., Hanging Loose, and California Quarterly. D.H. Melhem has called her "a necessary poet." She can still be seen daily in the act of dropping her leaflets over the city.
Jean Lehrman has featured at Cornelia Street Café, Bowery Poetry Club, Nuyorican Poets Café, and the United Nations World Youth Conference. Her work, influenced by Buddhism, existentialism, and the Marxes Karl and Groucho, can be read on poetz.com, roguescholars.com, in the anthology Cat's Breath, and in the upcoming Tribes magazine. Her chapbook, If You Come Back I Won't Have AIDS, is about to go into its second printing.
Erica Miriam Fabri received her MFA in poetry from the New School. She is the author of High Heel Magazine, a chapbook of poetry. Her poems have appeared in Good Foot Magazine and Got Poetry? An Offline Anthology. She currently teaches creative writing at The School of Visual Arts, Baruch College, and Lehman College.
Matthew K. Johnson is the winner of the Astere E. Claeyssens Prize for Playwriting, and is a Departmental Dramatic Writing Fellow at the Tisch School of the Arts at NYU. His plays have been produced in Washington, DC and New York City. In addition, Matthew writes poetry, which he performs in venues throughout New York City.
Larissa Shmailo
253 W 72nd St # 715
York, NY 10023
212/712-9865
slidingsca@aol.com
larissashmailo.blogspot.com
Listen to THE NO-NET WORLD on http://www.cdbaby.com/cd/shmailo and on iTUNES
---
Bard Reading Series: Fiction
Thursday, Oct. 12 6-8 pm.
Readers TBA
Hosted by Jamie Cat Callan
Bowery Poetry Club
308 Bowery @ Bleecker
New York, NY 10012
212-614-0505
---
Mad Hatters' Poetry Readings
Thursday, October 19th, 7 – 9pm: Carol Novack will be reading in Kathleen Warnock's Drunken, Careening Writers Series at the KGB Bar.
October something or other at some time & place or other: MHR editors will offer a reading to celebrate the launching of Issue 6. Expect to hear some remarkable guest readers as well as editors & maybe a contributor or two. Stay in tune for details.
Friday, November 17th, 7 – 9 pm: The Mad Hatters' Review Poetry, Prose & Anything Goes Series (KGB Bar)
will feature Diane Williams, Frederic Tuten & Canadian poet Carolyn Zonailo, published in our second issue.
DETAILS ABOUT READINGS ARE OR WILL BE AVAILABLE ON THE MAD HATTERS' REVIEW EVENTS PAGE: http://madhattersreview.com/events.shtml
---
The Academy of American Poets
Fall Events 2006
Chancellors Reading
Rita Dove, Galway Kinnell, Philip Levine, Nathaniel Mackey, Kay Ryan,
Gerald Stern, James Tate, Ellen Bryant Voigt
October 26 7 p.m.
The Kaye Playhouse, Hunter College
East 68th St (btw Park & Lexington)
[purchase tickets at the door, or call 212-772-4448;
$15, or $10 for Academy members; free for Hunter students]
A Celebration of Emma Lazarus
October 28 7 p.m.
St. James Chapel
1047 Amsterdam Avenue at 112th Street, New York, NY
Sponsored by Academy of American Poets and Poet's Corner,
Cathedral Church of St. John the Divine
212-274-0343 x 10
The Academy of American Poets Awards Ceremony
Michael Palmer and others
November 8 7 p.m.
Lang Auditorium, New School
55 West 13th Street
212-274-0343 x 10
---
Poetry Reading
Bowery Women/Poems Book Release Party
Readers-Donna Masini, Elaine Equi, Honor Moore and others
Friday, November 10, 2006
7 to 10 p.m.
Bowery Poetry Club
308 Bowery
New York, NY 10003
Contact: Bowerywomen@gmail.com
Poetry Reading
Bowery Women/Poems Book Release Party II
Readers-Janine Pommy Vega, Marty Mc Connell, Patricia Spears Jones and others
Sunday, December 3, 2006
2 to 5 p.m.
Bowery Poetry Club
308 Bowery
New York, NY 10003
Contact: Bowerywomen@gmail.com
---
Poetry Reading: Modern Metrics Series
Readers: Samuel Menashe and Richard Wollman
November 11, 2006 4:00 pm
Eleventh Street Bar
510 E. 11th St., between Aves. A and B.
New York, NY
Contact: Ray Posposil raypos@earthlink.net
---
Speakeasy Poetry Series- New York
Frannie Lindsay, Timothy Liu, Malena Morling
KGB Bar
85 East 4th Street
New York, NY
Monday, December 4, 7:30 p.m.
---
Nahid Rachlin Readings:
OCTOBER, 2006
NEW YORK CITY
Thursday, October 12, 7:00 P.M.
Reading and book signing, PERSIAN GIRLS (memoir)
Borders Bookstore
461 Park Ave. (at 57th St.)
Manhattan
212.980.6785
ALBANY, NEW YORK
Tuesday, October 17, 4:15 P.M.
Seminar, Assembly Hall CC
8:00 P.M. Reading and book signing, PERSIAN GIRLS (memoir), Recital Hall PAC
New York State Writers Institute, LE 320
University at Albany, SUNY
Information:(518) 442-5620
NEW YORK CITY
Thursday, October 19, 7:00 P.M.
Reading and book signing, PERSIAN GIRLS (memoir)
Barnes and Noble
280 E. 86th Street, between Second and Third Avenues
Manhattan
Information: 212 794 1962
NEW HAVEN, CONNECTICUT
Tuesday, October 24, 4:00-6:00 P.M.
Reading, book signing, PERSIAN GIRLS(memoir)
Joseph Slifka Center at Yale
80 Wall Street
New Haven, Connecticut
203-432-1134
NEW YORK CITY:
Wednesday, october 25, 6:30-8:30 P.M.
Reading Book Signing, PERSIAN GIRLS (memoir)
Graduate Center, sponsored by the Middle East and Middle Eastern American Center
365 Fifth Avenue (at 34th Street), Room 9206
Manhattan
Information : 212) 817-7570
***
NOVEMBER
SARATOGA SPRINGS, NEW YORK:
Friday, November 3
NYLA Conference
Discussion: 9:30-10:45 A.M.
Will discuss the creative process, external and internal and circumstances of my books
Booksigning: 1:30-2:15:
PERSIAN GIRLS (memoir)and JUMPING OVER FIRE (novel)
Saratoga Hotel and Conference Center
***
Click here for Nahid Rachlin California Readings in November
***
DECEMBER
SLEEPY HOLLOW, NY
Sunday, December 10, 4:30 P.M.
Reading, booksigning, PERSIAN GIRLS (memoir)
300 Riverside Drive (in the Philipse Manor residential area), Sleepy Hollow, NY
Information: 914-332-5953.
website: http://www.nahidrachlin.com/
Nahid Rachlin Bio:
Nahid Rachlin, born in Iran, came to the United States to attend college and stayed. She has been writing and publishing novels and short stories, in English. Among her publications are four novels, JUMPING OVER FIRE (City Lights), FOREIGNER (W.W. Norton), MARRIED TO A STRANGER (E.P.Dutton), THE HEART'S DESIRE (City Lights), and a collection of short stories, VEILS (City Lights). She has a memoir, PERSIAN GIRLS, in press at Penguin (october 5, 2006).
Her individual short stories have appeared in about fifty magazines, including The Virginia Quarterly Review, Prairie Schooner, Redbook, Shenandoah. Her essays have been published in, Natural History Magazine, The New York Times Magazine, Contemporary Authors Autobiography Series, and is in press at an anthology, How I Learned to Cook and other writings On Complex Mother-Daughter Relationships, Penguin. She has written reviews for the NEW YORK TIMES and NEWSDAY.
While a student she held a Doubleday-Columbia fellowship and a Wallace Stegner Fellowship (Stanford). The grants and awards she has received include, the Bennet Cerf Award, PEN Syndicated Fiction Project Award, and a National Endowment for the Arts grant. Currently she teaches at the New School University and the Unterberg Poetry Center at the 92nd Street Y. She has taught at Yale University and Barnard College. Presently she is a fellow at Yale.
PERSIAN GIRLS:
(Tarcher/Penguin, October 5 2006) jacket description:
In a story of heartache, ambition, oppression, hope, and sisterhood, Persian Girls traces Rachlin's childhood and coming of age in Iran under the late Shah—and her domineering father—her tangled family life, and her relationship with her older sister, and unexpected soulmate, Pari. A story of promises kept and promises broken, of dreams and heartache and, most important, of sisters, Persian Girls is a gripping saga that will change the way anyone looks at Iran and the women who populate it. "Riveting and beautifully observed, Persian Girls recounts Nahid Rachlin's family epic with the same quietly mesmerizing power that makes her novels and short stories linger in the mind years after we've read the last page." —Dona Munker, coauthor of Daughter of Persia

---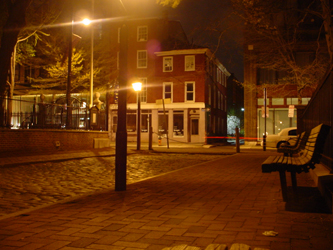 "Schuylkill Valley Journal of the Arts" Fall Contributors Reading
Sunday, October 8 3pm
Fiction and poetry featuring Susan Tepper, Farrell Bloch, Joe Canzano and other contributors to the fall issue
Manayunk Art Center
419 Green Lane (rear)
Philadelphia, PA 19128
mac@manayunkartcenter.org
215-482-3363

---

The Poetry Center's Reading Series LIP
Lip Reading Series
Please join us for Lip, the new reading series devoted to emerging writers and performers at
The Spot
4437 N. Broadway
between Montrose and Wilson,
the Wilson stop on the Red Line.
8 pm Admission $5
Join hosts Joel Chmara and Mary Fons as they present the best emerging poets and spoken word performers from across the city and the country. The venue features an open mic, where both emerging poets and seasoned artists get to strut their stuff, followed by local and national features.
October 5: Tara Betts (NY, NY), Emily Rose
November 2: Derrick Brown (Nashville, TN), Stephanie Shaw
December 7: Mike Salinger (Cleveland, OH), Aaron Enskat
---
Series A at the Hyde Park Art Center
Hyde Park Art Center
5020 S. Cornell Avenue
Chicago, IL
Number: 773-493-2682
Contact: William Allegrezza
October 24, 7:00-8:00 p.m.
Thea Goodman
Jennifer Scappettone
November 21, 7:00-8:00 p.m.
Ricardo Cortez Cruz
Chuck Stebelton

---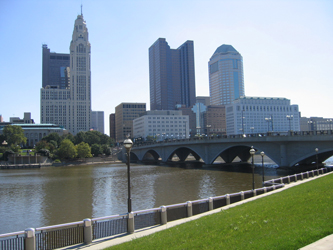 The Poetry Forum at Larry's
The Fall Season
Looking forward to seeing you'all soon for our 23rd season--
Readings: 2 sets about 20-25 minutes each. From:

October 2-- Charlene Fix
October 9-- Fred Andrle
October 16-- Joanna Schroeder
October 23-- Katie Daley
October 30-- Dead Poets
November 6-- Chad Prevost
November 13-- James Harms
November 20-- Steve Davenport
November 27-- Gary Pacernik
December 4-- Kevin Griffith
All Events Mondays 7pm
2040 N. High St
Columbus, Ohio
All readings followed by a brief open mike.
Funded by the Ohio Arts Council: A state agency that supports public programs in the arts.
David Baratier, Co-coordinator, Larry's Poetry Forum
editor@pavementsaw.org
David Baratier, Editor
Pavement Saw Press
PO Box 6291
Columbus, OH 43206
http://pavementsaw.org
---
Wick Poetry Reading Series
2006-2007
Tuesday, October 17th, 2006
8:00PM
Ariana-Sophia M. Kartonis and Eleanor Wright
Kiva, Kent Student Center
Thursday, November 9th, 2006
7:30PM
Eintou Pearl Springer
Mbari Mbayo Lecture Hall
Room 107A, Oscar Ritchie Hall
Wick Poetry Center
301 Satterfield Hall
Kent State University
P.O. Box 5190
Kent, Ohio 44242-0001
Phone: (330) 672-2067
Fax: (330) 672-3333
Email: wickpoet@kent.edu
Contact Webmaster

---

California Readings featuring Lucille Lang Day
October 12, 2006, 7:30 p.m.
Lucille Lang Day and North Coast Poets
North Beach Library
2000 Mason St.
San Francisco, CA 94133
(415) 355-5626
Coordinator: Vince Storti vincentstorti@sbcglobal.net
Thursday, Oct. 26, 2006 7:30 p.m.
Lucille Lang Day, Lenore Weiss, and Andrena Zawinski
Prism Cafe
1918 Park Blvd.
Oakland, CA
(510) 251-1453
Contact: Lucille Lang Day lucyday@scarlettanager.com
November 5, 2006, 2:00 p.m.
Lucille Lang Day and Chad Sweeney
Wine and Words
Martinelli Conference and Event Center
3585 Greenville Rd.
Livermore, CA
Coordinator: Connie Post connie@poetrypost.com
November 20, 2006, 7:00 p.m.
Lucille Lang Day
Poetry Express
Priya Indian Cuisine
2072 San Pablo Ave.
Berkeley, CA
(510) 644-3977
Coordinator: Mark States dreamboogie@yahoo.com
---
Poets on the Plaza
Poetry Reading Monday, October 9th 7 p.m.
Featured reader: Leonard Cirino
open reading follows
Poets on the Plaza
Arcata Plaza Building
Arcata, CA
---
Poetry Center San Jose
October 26, 2006, 7pm
Poetry Center San Jose
Reader: Ralph Angel
Dr. Martin Luther King Jr. Library
150 East San Fernando Street
San Jose, CA
November 20, 2006, 7:30pm-9:30pm
Poetry Center San Jose
Reader: Linda Pastan
Dr. Martin Luther King Jr. Library
150 East San Fernando Street
San Jose, CA
---
NOVEMBER
CALIFORNIA:
PALO ALTO
November 8, Wednesday 7 P.M.
Reading and Booksigning, PERSIAN GIRLS (memoir)
Stanford University
the Terrace Room of Margaret Jacks Hall
(bldg. 460), Stanford University, Pala Alto
Info: 650 723 2300 or (650) 723-0011
SAN FRANCISCO
Thursday, November 9, 3:30 P.M.
Reading and book signing,PERSIAN GIRLS(memoir)
The Poetry Center & American Poetry Archives
San Francisco State University
1600 Holloway Avenue, San Francisco
Info: 415-338-2227
SAN FRANCISCO
Friday, November 10, 7:30 P.M.
Reading and book signing, PERSIAN GIRLS (memoir)
Modern Times Book store
888 Valencia Street
San Francisco
Info: 415-282-9246
SAN FRANCISCO
Saturday, November 11, 1:00 P.M.
Reading and book signing, PERSIAN GIRLS (memoir)
Book Passage, 1 Ferry Building Plaza, San Francisco
Info: 415-835-1020 or visit www.bookpassage.com.
also: 415 927 0960, ext, 239
BERKELEY
Sunday, November 12, 6:00 P.M.
Reading and book signing, PERSIAN GIRLS (memoir)
Black Oak Books
1491 Shattuck Avenue
Berkeley, CA
Info: see http://www.blackoakbooks.com/
or call (510)486-0698
LOS ANGELES
Tuesday November 14, 7:00 P.M.
Reading and book signing, PERSIAN GIRLS (memoir)
Hammer Museum
10899 Wilshire Blvd
Los Angeles
Info: 310 443 7038
website: http://www.nahidrachlin.com/
Nahid Rachlin Bio:
Nahid Rachlin, born in Iran, came to the United States to attend college and stayed. She has been writing and publishing novels and short stories, in English. Among her publications are four novels, JUMPING OVER FIRE (City Lights), FOREIGNER (W.W. Norton), MARRIED TO A STRANGER (E.P.Dutton), THE HEART'S DESIRE (City Lights), and a collection of short stories, VEILS (City Lights). She has a memoir, PERSIAN GIRLS, in press at Penguin (october 5, 2006).
Her individual short stories have appeared in about fifty magazines, including The Virginia Quarterly Review, Prairie Schooner, Redbook, Shenandoah. Her essays have been published in, Natural History Magazine, The New York Times Magazine, Contemporary Authors Autobiography Series, and is in press at an anthology, How I Learned to Cook and other writings On Complex Mother-Daughter Relationships, Penguin. She has written reviews for the NEW YORK TIMES and NEWSDAY.
While a student she held a Doubleday-Columbia fellowship and a Wallace Stegner Fellowship (Stanford). The grants and awards she has received include, the Bennet Cerf Award, PEN Syndicated Fiction Project Award, and a National Endowment for the Arts grant. Currently she teaches at the New School University and the Unterberg Poetry Center at the 92nd Street Y. She has taught at Yale University and Barnard College. Presently she is a fellow at Yale.
PERSIAN GIRLS:
(Tarcher/Penguin, October 5 2006) jacket description:
In a story of heartache, ambition, oppression, hope, and sisterhood, Persian Girls traces Rachlin's childhood and coming of age in Iran under the late Shah—and her domineering father—her tangled family life, and her relationship with her older sister, and unexpected soulmate, Pari. A story of promises kept and promises broken, of dreams and heartache and, most important, of sisters, Persian Girls is a gripping saga that will change the way anyone looks at Iran and the women who populate it. "Riveting and beautifully observed, Persian Girls recounts Nahid Rachlin's family epic with the same quietly mesmerizing power that makes her novels and short stories linger in the mind years after we've read the last page." —Dona Munker, coauthor of Daughter of Persia

---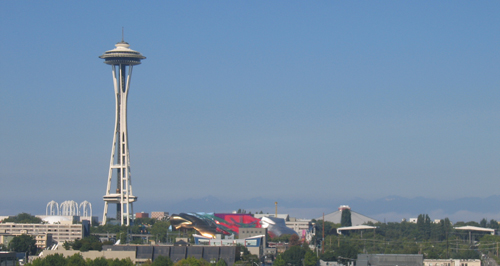 Poetry readings by Judith Skillman:
October 28th, 4:30 pm
at The Elliot Bay Book Company
101 South Main Street
Seattle, Washington, 98104.
Contact info: 206-624-6600
November 9th, 7 pm
at The Seven Muses Gallery
1127 Broadway
Tacoma, Washington 98402.
Contact info: tmichael@harbornet.com

---

Flavia Cosma Readings
DEER PARK LIBRARY
GUEST READER Flavia Cosma
Deer Park Library, St. Clair & Yonge, Toronto, Ontario, Canada
Wednesday November 1, 2006, 6pm
Contact person : Linda Steinberg
email: lsteinberg@torontopubliclibrary.ca

---
Kosmos Theatre Group is the only English language theatre group in Brugge, Belgium and welcomes scripts for its first season of play readings. These events will be free to the public and feedback will be asked for after each reading –feedback that will in turn be offered by to the playwright as the only compensation we can offer for her/his work.
Scripts may be submitted via email as a word doc to martin.burke@pandora.be
All submissions will be replied to. Put Kosmos Submission and your last name in the subject line.

---
InterAct Theatre Company's Writing Aloud: Going Forward
Featured Stories & Writers:
"The Bard of Frogtown" by Allison Whittenberg
"Smart" by Benjamin Matvey
"The Bridge Keepers" by Neda Scepanovic
Featured Readers To Be Announced
On the Mainstage at The Adrienne
2030 Sansom St., Philadelphia
Monday, October 30, 2006 at 7:00 p.m.
Tickets are $12.00 for general admission or $6.00 for InterAct subscribers
For tickets or information: BoxOffice@InterActTheatre.org or (215) 568-8079
David Golston
InterAct Theatre Company's Writing Aloud: Going to Pieces
Featured Stories & Writers:
"Bent and Blue" by CJ Spataro
"Smoke" by Robin Parks
"Pablo and the Frogs" by Steven Schutzman
Featured Readers To Be Announced
On the Mainstage at The Adrienne
2030 Sansom St., Philadelphia
Monday, December 12, 2006 at 7:00 p.m.
Tickets are $12.00 for general admission or $6.00 for InterAct subscribers
For tickets or information: BoxOffice@InterActTheatre.org or (215) 568-8079
David Golston
web: http://www.InterActTheatre.org
INTERACT THEATRE COMPANY ANNOUNCES 2006/2007 SEASON OF WRITING ALOUD
Philadelphia, PA - InterAct Theatre Company is excited to announce the eighth season of Writing Aloud, a series of one-night-only evenings of short contemporary fiction written by the region's finest writers and read on stage by professional actors. The 2006/2007 Season will feature a selection of twenty-one short stories by area writers, including New York Times bestselling author Jennifer Weiner. David Sanders, Director of the Writing Aloud program, recently announced the season line-up while adding, "We are thrilled to have received such a high number of outstanding submissions this season, making our eighth season one of our most exciting ever."
---
ABOUT THE 2006/2007 SEASON
---
The 2006-2007 season of Writing Aloud kicks off on October 30, 2006 at 7:00 p.m. with an evening entitled Going Forward, featuring "The Bard of Frogtown," by Allison Whittenberg, "Smart," by Benjamin Matvey, and "The Bridge Keepers," by Neda Scepanovic.
The second installment in the series, entitled Going to Pieces, takes place on December 12, 2006 and features "Bent and Blue," by CJ Spataro, "Smoke," by Robin Parks, and "Pablo and the Frogs," by Steven Schutzman.
Going Down, on February 5, 2007, will be Writing Aloud's first performance in the new year. It will feature the stories "He Did It for Morgan," by Kathryn Watterson, "Loss Prevention," by Marion Wyce, "Child at Play" by Manini Nayar, and "The Captain is Sleeping," by Norman Lock.
The series reconvenes on March 19, 2007 with a series entitled Coming Apart, featuring "The Black Box," by Clare Keefe Coleman, "Feeding the Ducks," by Jim Ray Daniels, "The Embrace," by Niama Leslie Williams, and "Between States," by Greg Downs.
The fifth installment, Coming to Terms, on April 30, 2007, will feature an exciting story from Jennifer Weiner, New York Times bestselling author of Good in Bed and In Her Shoes. Also featured in Coming to Terms will be "The Haircut," by Linda Blaskey, "Dog Whispers," by Randall Brown, and "Make Me Over," by Amina Gautier.
The 2006-2007 Season of Writing Aloud concludes on June 11, 2007 with an evening of stories entitled Coming Together, featuring "Good Providers," by Miriam Fried, "The BVM" by Tree Riesener, and "Measures of Sorrow," by Jacob M. Appel.
Casting for the upcoming 2006/2007 Writing Aloud season has not yet been announced, however, InterAct is in the process of finalizing a line-up of some of Philadelphia's best actors to read the short fictional stories. The recently completed 2005/2006 season of Writing Aloud included twenty-seven actors, including Barrymore Award winners Catharine K. Slusar, Madi Distefano, and Maureen Torsney-Weir, as well as Barrymore-nominated actors Matt Saunders, Amanda Schoonover, Buck Schirner, David Ingram, and Karen Peakes.
Each event in the 2006/2007 Writing Aloud season will be held on InterAct Theatre Company's Mainstage at The Adrienne, 2030 Sansom Street in Philadelphia. All performances are on Monday evenings at 7:00 p.m. Tickets are $12.00 for general admission or $6.00 for InterAct subscribers. Season subscriptions to the Writing Aloud season are available starting at only $10 an event, or $60 for the entire six-show season. Seating is limited, so advance reservations are strongly recommended and can be made by calling InterAct's Box Office at 215-568-8077. Group rates are also available.
---
ABOUT THE WRITING ALOUD PROGRAM
---
Directed by David Sanders, Writing Aloud was established in 1999 to present diverse voices in contemporary fiction by the region's best writers, read on stage by professional actors. Quickly establishing itself as the region's premiere reading series, Writing Aloud has attracted sold-out audiences, has been featured in special broadcasts on WHYY-FM public radio, and is a recipient of Philadelphia Magazine's 2001 "Best of Philly" award.
---
ABOUT INTERACT THEATRE COMPANY
---
Founded in 1988, InterAct Theatre Company is a theatre for today's world, producing new and contemporary plays that explore the social, political, and cultural issues of our time. Lead by Producing Artistic Director Seth Rozin, InterAct is one of the nation's leading centers for new writing in theatre, introducing important contemporary writers to audiences through its world premiere stage productions, developmental residencies, and Showcase of New Plays. The Writing Aloud program extends InterAct's mission of cultivating and presenting diverse artistic voices into the realm of short fiction.
InterAct's 2006/2007 Mainstage Season begins on October 20 with the classic play, KISS OF THE SPIDER WOMAN, written by Manuel Puig and translated by Allan Baker. Directed by Seth Rozin and featuring Philadelphia favorite, Frank X, and 2004 Barrymore nominee, Vaneik Echeverria, KISS OF THE SPIDER WOMAN opens officially on Wednesday, October 25, and runs through November 19, 2006. Continuing the season in the new year will be the world premieres of Thomas Gibbons' A HOUSE WITH NO WALLS (January 19-February 18, 2007) and Sherry Kramer's WHEN SOMETHING WONDERFUL ENDS (April 6-May 6, 2007). The season will then conclude with May 25-June 24 production of SKIN IN FLAMES, the East Coast premiere of a new play written by Catalan playwright Guillem Clua and translated by DJ Sanders.

---
If you would like to be added to my monthly e-mail newsletter, which gives information on readings, book signings, contests, workshops, and other related topics...
To subscribe to the newsletter send an email to:
newsletter@cervenabarvapress.com with "newsletter" or "subscribe" in the subject line.
To unsubscribe from the newsletter send an email to:
unsubscribenewsletter@cervenabarvapress.com with "unsubscribe" in the subject line.

---
Index | Bookstore | Submissions | Newsletter | Interviews | Readings | Workshops | Fundraising | Contact | Links
---
Copyright © 2005-2006 ČERVENÁ BARVA PRESS LLC - All Rights Reserved