July, 2005 Aug. 2005 Sept. 2005 Oct. 2005 Nov. 2005 Dec. 2005 Jan. 2006 Feb. 2006 Mar. 2006 Apr. 2006 May 2006 June 2006 July 2006 August 2006 September 2006 October 2006 November 2006 December 2006 January 2007 February 2007 March 2007 April 2007 May 2007 June 2007 July 2007
---
ČERVENÁ BARVA PRESS NEWSLETTER
Gloria Mindock, Editor Issue No. 26 August, 2007
---
INDEX
---
POETRY READINGS
---
Welcome to the August, 2007 Červená Barva Press Newsletter.
Červená Barva Press is starting a new reading series which starts in September. Mary Bonina is coordinating this series with me. Here is the information about it.
Červená Barva Press Reading Series
Pierre Menard Gallery
10 Arrow St/ Harvard Square
Cambridge, MA
7:00 PM
Free Admission
Reception to follow
September 19th, 2007
Readers:
Lucille Lang Day
Diana Der-Hovanessian
F. D. Reeve
October 17th, 2007
Readers:
John Minczeski
Mark Pawlak
Susan Tepper
November 14th, 2007
Readers:
Mary Bonina
Harris Gardner
Tam Lin Neville
---
Other readings will be held in October for Červená Barva Press throughout the country. I will be listing more in the September newsletter once I have confirmed the information.
TUESDAY, OCTOBER 9, 7:30
Poetry Flash at Berkeley City College:
A Červená Barva Press poetry reading presenting
Lucille Lang Day, Ed Miller, and Tony White
Berkeley City College Auditorium, 2050 Center Street, Berkeley.
(half block from Berkeley BART, parking garage next door)
For info: Poetry Flash at 510-525-5476, www.poetryflash.org
free event
---
Hit the refresh button and visit The Lost Bookshelf again.
Next week, many more used books will be added.
Visit: http://www.thelostbookshelf.com

---
Červená Barva Press creates a new press, Cloudkeeper Press, to publish poetry chapbooks for writers for a fee. We charge reasonable rates.
For information, you can e-mail me at: editor@cervenabarvapress.com
Please put chapbook query/Cloudkeeper Press in the subject line so e-mail does not go to the spam folder.
Cloudkeeper Press information and prices:
All chapbooks printed on a Dell Laser Printer
24 pages of poetry with front and back matter equaling a total of 32 pages

Price for 50 chapbooks with black and white cover
| | |
| --- | --- |
| Total for 50 B&W CoverChapbooks | $209.00 |
| Cost per book: | $4.18 |
Price for 50 /32 page chapbooks with Color Cover
| | |
| --- | --- |
| Total for 50 Color Cover Chapbooks | $269.00 |
| Cost per book: | $5.38 |

---
Two Creative Talents Announce the Formation of ISCSpress to Service Small Publishers and Independent Authors
Somerville, MA (PRWEB) July 20, 2007 -- Steve Glines, president of Industrial Myth and Magic and Doug Holder, president of Ibbetson Street Press announce the creation of ISCSpress to service the needs of small publishers and independent authors in the Boston area and nationwide.
"Both small presses and independently published authors are rarely able to provide the expertise required to bring a book to market," said Doug Holder, "by combining our editorial, design and marketing skills we hope to bring about a renaissance in the small press world by allowing independent publishers access to the same level of resources the big boys have."
"We have a magnificent staff," said Steve Glines, "Our principal designer has been designing books for over 30 years and our editors include a Pulitzer Prize finalist, serial novelists, retired and active professors, Fulbright scholars and assorted other literati. Our marketing director has successfully promoted dozens of books in just the last year, placing reviews, radio interviews and arranging readings and book signings all over the US."
Ibbetson Street publishes the best of the small press. Our press is nationally distributed. We have received notice in the Boston Globe, Small Press Review, Harvard Review, Verse Daily, etc. We have published over 30 books by writers like: A.D. Winans, Linda Lerner, Ed Galing, Robert K. Johnson, Louisa Solano, Hugh Fox and others; as well as 21 issues of the literary journal "Ibbetson Street." Ibbetson Street Press books are distributed nationally and are available at most independent bookstores and on Amazon.com. See www.ibbetsonpress.com.
Industrial Myth is a cooperative collection of poets, playwrights, novelists, freelance journalists and an assortment of fine and commercial artists who know when to think out of the box. At Industrial Myth & Magic our mission is to tell an intriguing story that will resonate with your customers and draw them to you, your company and your products. It's not good enough to state the obvious, you need a more compelling story, a story that will be told and retold. It's not just advertising, it's not just marketing, it's not just corporate design, it's the creation of an industrial myth and that's magic. See www.industrialmyth.com.
ISCSPress is an author and publishers service bureau. ISCSpress performs all the functions of a publisher on an a la carte basis:
- Editorial: including developmental editing, ghost writing, copyediting. - Production: including book design, copyright, ISBN and CIP registration, printer brokerage (both conventional and POD), warehousing and fulfillment. - Marketing: including pitching to editors, publishers and authors agents, marketing campaigns to bookstores and unconventional outlets, placing reviews, author and book publicity & promotion, arranging book signing tours, web site development and book club promotion.
ISCSpress associates have written, edited, designed and promoted hundreds of books over the past few years. ISCSpress can be found on the web at http://www.ISCSpress.com.
Contact Steve Glines at: editor@iscspress.com
-----
Please check out their services. Both Steve and Doug are wonderful to work with. I know both of them personally. I also know the staff and they are top notch. I am very happy to be one of the staff involved in this under editorial services. Steve is doing some work for Červená Barva Press. Check ISCSpress out. I recommend them highly.

---
The new issue of Poesia should be out soon by Indian Bay Press. This issue includes many writers including AMIN ANDERSON AVIGNON BALLARD BARNES BERBRICH BUNCH CANÇADO CARABALLO CIRINO DE CANIO DOMINICK ELLIOTT FALABELA FORREST GER GIACOMINOV HADA HARRISON JOHNSON KING KROSINSKY KUHN LITTLE MALIN MARTINDALE MCINTRYE OGUNLESI PRAY RAY REIS ROLLI SACKETT SAUTER SOLOMON STUART TATTER TROLINGER VICTOR WILLIAMS WORTON
This is a great magazine publishing many writers from all over the world. Check out their newsletter and subscription information at: www.IndianBayPress.com
---
A Monologue by Miriam Gallagher's was recently performed at Waterford's inaugral 123 Drama Festival in Lismore,Ireland
The latest production of her play 'Nocturne' (celebrating Irish composer, John Field) takes place at the Carrick Water Music Festival in Carrick on Shannon on Aug. 15th and 16th. Performed by Breffni Players with local pianist Róisin Blunnie, who received a scholarship for full-time study at the Kodály Institute, Hungary.
'Nocturne,' was performed in 2006 at Carton House, Co. Kildare for the John Field Institute inaugral celebrations with pianist Alison Hood and actors, Róisin Deady & Robert Carley.
The original production of 'Nocturne' took place at the National Concert Hall, Dublin. The piece has been translated into Russian.
---
Check out this new magazine:
http://edenwaterspress.com
Congratulations to Anne Brudevold and her editorial staff.
---
Simon Perchik is the guest poet on poets.org by the Academy of American Poets for July and August. Check it out and have a conversation with Simon. He is a wonderful poet. http://www.poets.org/forum/viewtopic.php?t=12040
---
The Old Witch Winks
by Don Moyer
It is based on the Old Testament stories and legends.
Information available at http://www.beatitudepress.com
Beatitude Press
1731 10th St. Ste. A
Berkely, CA.
94710
---
A Book of Prophecies
by John Wieners
To order:
Bootstrap Press
82 Wyman St.
Lowell, MA 01852
ISBN 0-9779975-4-5
$15.00

---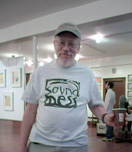 Write a Bio
A short bio is available at http://www.library.ohiou.edu/archives/mss/mss116.pdf
A more complete autobiography was published in CONTEMPORARY AUTHORS AUTOBIOGRAPHY SERIES, v. 25, Detriot: Gale, 1996. This may be found in many libraries.
Describe the room or place where you like to write.
It's a small room in my home, built out over the driveway, and so crowded with books, CDs, objets d'art ("junk"), rubber stamps, wooden and lead type, and files and piles of paper, that it's almost myself into my desk where I have my pens, a no. 3 Underwood typewriter, and 2 computers.
You are a visual, experimental, and sound text poet. How many years have you been writing? Who are some of your major influences in writing?
I have been writing as long as I can remember; it started when I was a very young child and has never stopped. There was always something "magical" about it; it has always been a way of making the world.
I really don't like to discuss "influences", since there have been so many, but mainly because the concept of influence is so ambiguous and slippery. For example, one can point to "influences" on my work that came AFTER I started writing something that could be seen as having been "influenced" by an earlier writer/artist. Culture is a give and take, a kind of swarming, and it is simplistic to think in terms of linear influences.
I saw you perform in Somerville a few years ago with Be Blank Consort and BuffFluxus. It was an amazing night. John M. Bennett with Be Blank Consort and BuffFluxus
You are constantly touring your work. What has this experience been like for you? You have been touring with some of the same people, how do you keep finding inspiration?
I enjoy performing my work, it makes it come alive in a different way. I should say that when I perform my poetry, I am a somewhat different person than the person who wrote it. I was an actor in my youth, and the poems become roles that I inhabit. This means that another performer could do the same, and come up with an entirely different, but equally valid, interpretation.
The Lost and Found Times is a magazine you published for close to 30 years. Discuss your experience and challenges. Who were some regulars in your magazine? What did it feel like when you discontinued it?
LAFT was in part a way to be of service to the community of undervalued writers I am a part of, and also a way for me to focus on and really pay attention to other writers and artists who were doing interesting things. I suppose the process of having to select what I thought was the "best" work, was a way of refining my own sensibilities. It was saddening to end it, but I'm getting older and slower, and the magazine was starting to overwhelm me - especially my eyesight, which has been getting worse. But I'm glad to see that others have taken up the cause, and there are a number of efforts out there that are filling any void that was left by the end of LAFT. It has left me more time to get some of my own long-delayed books into print.
Discuss Luna Bisconte Prods and publications. How long have you been publishing books?
LBP started in 1974 as a way to make editions or multiple of work that no one else would publish - rather the same mission as LAFT's - and also to publish things of my own over which I could have complete esthetic control.
Where do you find material for your poetry and images?
They come out of my head, which has been trained over many years, to find and see them. They get into my head through the condition of my being alive.
Some people have no conception what experimental writing is or understand it. Does this ever bother you? Do you find this frustrating?
No, I don't find it frustrating - "experimental" writing really just means I am always looking for news ways to write, and in exploring new methods etc. Naturally, it takes other people a while to "understand" it - it's always been that way with new forms of expression, and new forms of culture in general. I enjoy the exploration, finding new territory, and actually rather emjoy the fact that I'm alone in that journey. That is, alone in the moment of writing; I'm certainly not alone in that there are others who work this way, and I find their companionship and their own explorations very stimulating and meaningful.
Any last comments.
Be Blank!

---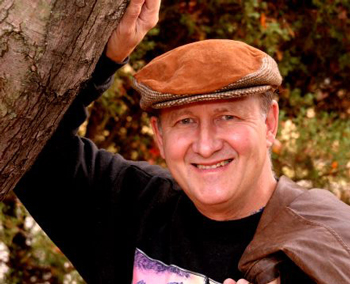 Write a bio.
I was born in West Berlin in 1947. I was the child of a German war bride and an American GI. My dad was stationed in Berlin where he met my mother. His name is Richard Krok and my mother's maiden name is Ingeborg Pfingst. We came to the United States during the Berlin airlift in 1948. In fact there is a picture of my father and mother and little me on the front page of the Philadelphia Bulletin.
I attended Roman Catholic High School and graduated in 1965. In 1969 I graduated from LaSalle College where I majored in History and studied under the noted historian, John Lukacs. I consider Lukacs, the historian, my mentor. I attended Ohio University at Athens on a History fellowship, which I did not complete. I was at Ohio University during the Vietnam War and I was 42 in the Lottery. I was at Ohio University during the Kent State killings and the Ohio National Guard came to my campus too and the school year was abruptly terminated. The memory of the loss of those innocent lives at Kent State and the calling of the National Guard to the campus of Ohio University has left an indelible impression on me. As a consequence, I needed to stay in school and I attended Temple University where I studied in the journalism program. Because of a knee injury I did not have to serve in the military. Later I got a fellowship and studied in the Fels School of Government at the University of Pennsylvania and I obtained a Master's Degree in Government in 1995.
Early Life
You might say that I was rather a lonely child who found a retreat in books. Books were a place I went to much more so than television. In some ways I think books are more participatory than television. I suppose too that books were an escape. Books were a place I always felt at home in. I was not interested in writing books but I was interested in expressing myself and asking myself who I was.
Are you married? Children?
I am married now for 33 years. I have three children. Two years ago I became a proud grandfather. And as I tell everyone, "Call me Opa." And my grandson always knows me by my cap.
Editorial Bio:
I have been editor of The Schuylkill Valley Journal since 2001 and am the Humanities/Poetry Director of the Manayunk Art Center where I coordinated a literary series since 1990. I grew up in Philly originally in Kensington and later in Fairmount. Because of my identification with row house and red brick Philadelphia, I am oftenreferred to as "the red brick poet." My poems have appeared in numerous journals including the Yearbook of American Poetry, Midwest Quarterly, Poet Lore, Mid-America Poetry Review, Potomac Review, and Connecticut Review. Recently my poem, "10 PM at a Philadelphia Recreation Center," was selected for inclusion in Common Wealth: Contemporary Poets On Pennsylvania to be published by the Penn State Press.
Where do you live/work?
I work in northeast Philadelphia at the Naval Supply Center or what used to be called the Defense Industrial Supply Center. I work for the Defense Logistics Agency and I am a contract specialist in the subsistence directorate.
Describe the room you write in?
I have a room where I have my computer, but I can't call it the room I write in. I always used to write in a basement and I've tried writing in my computer room but I find that the computer is too distracting and I prefer the solitariness of the basement without the windows. In fact I've just recently gone back to the basement because there I can write without the distraction of the computer. It is more of a reflective place. I do best in places of solitude, but it is my own kind of solitude (it is not the solitude of libraries but the solitude of trains and subways and buses where I am among others but I am an observer not a participant in the surroundings). Actually often I find a place like McDonald's okay so long as I am alone. I find I get the urge for the muse in many kinds of places. Often on the ride to work I find it a convenient vehicle for the reflective mode, but it is something that just happens. I really don't spur the poems; the poems just come as a gnaw or a question or a refrain. A line that I like the sound of.. One might even find me scribbling a note here or there while driving. Driving in a car is a good way to get away and out of myself so that the mind can just wonder. I am a rather disorganized person, so one would never find me like a William Stafford getting up in the morning and sitting at my desk and then writing a poem for the day. My poems take a lot of brewing inside of me and on the page. I am rather slow about the process, but there are times when Eureka. It just comes in a rush and the words find a space on the page. As for me and the process, it reminds me about what my father says about my painting and spackling jobs around the house. My dad would say I do a good job but he wouldn't want to pay me by the hour.
In many ways I see myself always balancing life and work because above all I think it is life that is most important. There is something I want to share that was told to me by my good friend, the Russian writer Valentina Sinkevich. Valentina would always insist that life is more important than art and she used this anecdote. The sculptor Giacometti said that if your house is burning and if you have a choice to either save your cat or a Rembrandt painting. Save the cat because the cat has life. Frankly whether I would really do this I don't know because I don't like cats, but if it were a dog that would be different. Anyhow you get the point of the matter. By the way Pasternak made the remark sometimes a fire among one's papers is sometimes good because it makes one begin again. How we handle our responsibilities among the living I think are first which is not to underestimate the importance of the muse in our lives but to place it in the context of one's life. I see myself always balancing the demands of my writing and the demands of life.
What writer's have influenced you?
As for influence, I really can't say what are my direct influences but I can say what I respond to and what goes on around and inside me. The poets I go back to time and again are Rilke, Yeats and Eliot. I see these three supplying various impulses or perceptive modes for me. I respond to these poets in this order too. Rilke who is considered a poet's poet was my first poet (my first real influence) and the poems of his that I respond first too were those from the Neue Gedichte and Duino Elegies, but I soon found the Duino Elegies less appealing and too flighty. But the Neue Gedichte has stayed with me as did Rilke's Das Buch Bilder (The Book of Pictures). Rilke first influenced me with the poems about the world around us -- the lonely child (certainly loneliness has a persistent theme of mine), the swan, the merry-go-round, falling leaves, seasons, sadness - Rilke got into feelings and moods and scenes in a way unlike anyone else for me. The book I truly enjoy too is Rilke's LETTERS TO A YOURNG POET, which I would recommend to everyone and I have given quite often as a gift to younger poets.
Yeats was my next major influence. Yeats appealed to my romantic inclination - the romantic impulse. Yeats poems "A Prayer For My Daughter," "Lapis Lazuli," "Sailing to Byzantium," "The Tower," "The Second Coming" and so many other poems have so much symbolic resonance. In that way Yeats came to grips with the age and he wrote about the age. I feel attached to that impulse. Certainly Czeslaw Milosz, Osip Mandelstam, Adam Zagajewski and other major European poets seem to do that. I very much like Eugenio Montale's "Mosca" poems (they are just gems). Yeats is illimitable and inspiring. He was a voice of the age just as Bob Dylan was for the Sixties. The third major influence for me is Eliot. Eliot gets into the spiritual aspect and Eliot's Four Quartets are to me one of the finest pieces of poetry in the whole history. I would have Eliot's four Quartets as my first choice of a poetry book on my bookshelf. Eliot's criticism and words about writing remain for me a hallmark of perception.
Contemporary:
There are too many contemporary poets. I think I am more affected by particular poems e.g., "The Woman at the Washington Zoo" (in fact there is a book that has just been published with this title) or "Nestus Gurley" by Randall Jarrell's; "Let the Evening Come" and "Otherwise"; a number of Mary Oliver's poems including "When Death Comes". At present I feel closest to the work of Mary Oliver, Jane Kenyon and Stanley Kunitz..
What made you decide to become a public poet?
I never really decided to become a public poet; it was just a process of attending readings and listening and then building up the confidence to do my own readings. It took me a long time to develop the confidence to read before an audience. People are often surprised when I tell them that but it did take quite a while for me to read before the public. As a child, I was always shy. In fact one of my school counselors told my parents, "He's afraid of his own shadow." Insecurity is something I always understood. For much of my formative growing and formative adult years, I was very insecure. I am still adjusting to this insecurity but it certainly is not the troublesome burden that it was. That insecurity is much more filtered now. As I got older, I attended many poetry readings and gatherings and it became natural to want to participate. Ultimately the poet (the writer) wants to be heard. I think one writes for one's self but not only one's self. I like to feel that I can offer something of use within my experience and/or imagination that can be evoked through a craft of language which in words which can then be shared with others. This can be a very sustaining motivation.
What is your career in addition to poetry?
I am a federal employee and I am grateful for the stability that comes with my job. I would not want to be dependent on my writing as a career or a profession. For me the writing is an outlet for the creative calories in my life. By pursuing my writing I am constantly challenging myself to think more and to reflect more. The writing is a process that gives an added meaning and richness to my life. The writing in a sense is a constant challenge to improve my expression. I like the challenging aspect of writing. In writing one can get a sense of fulfillment but that fulfillment is not lasting because there is always the new challenge to put down words that matter.
To what location in Pennsylvania do you feel closest? (and thus should be placed there on the Map) If this location is in either Pittsburgh or Philadelphia, please mention a specific neighborhood for more precise placement.
I grew up in Fairmount, a neighborhood near the Philadelphia Museum of Art and the Parkway. I used to take walks along the East River Drive and I had many merry dalliances on Lemon Hill. It was my place to take a girl and watch the Schuylkill River and the reflections on the river. Lemon Hill was a place to dream. I have been called the Red Brick Poet because of my roots and connection to red brick Philadelphia.
Publication History:
Since 1970 I have had more than one hundred and seventy poems published. My work has appeared in the following publications: America, Blue Unicorn, The Christian Science Quarterly, Four Quarters, Hyperion, Midwest Quarterly, Negative Capability, Poem, Poet Lore, The Philadelphia Daily News, etc. The editors of The Philadelphia Drummer singled out my poem, "The Misfit Generation - In Memory of the Kent State Four" in the tenth anniversary issue of "The best Of The Drummer." I helped organize and conduct a special commemorative program dedicated to the 25th anniversary of Kent State at the Abington Friends' School in May 1995.
I was also an invited speaker to the 20th anniversary of the Overbrook Park Library in Philadelphia on March 20, 1993. At that event I read some of my poems and offered a special tribute to the Overbrook Park Library. In that piece I also wrote about how the library has always been a central place in my life. That speech on libraries appeared in the Philadelphia Daily News as a Guest Opinion feature with the headline, "My love for Library isn't silent."
In 1980 three of my poems were included in An Anthology of Canadian and American Poetry. My poem, "The Skater," was featured in the 1984 Yearbook of American Poetry and the following year my poem, "You're Here, Walt" was selected. My poem, "What Is Of Consequence," was translated into Russian by Valentina Sinkevich and appeared in the Russian poetry journal, Encounters. Some of my poems have been translated into Spanish and Greek.
I have written articles on Osip Mandelstam and Eugenio Montale and a wide variety of other topics concerning literature and its meaningfulness in life. With Emiliano Martin, I collaborated in writing the script and performing in a conversational dramatic presentation on the Spanish Poet, Federico Garcia Lorca. The presentation combines English and Spanish and introduces a wide audience to Spanish culture, the Spanish passion for poetry, and the heart of the writer.
What themes do you feel are present in your work?
Themes present in my work are: aloneness, solitariness, the joy of love and memories of love, the city (images of the city), a kind of religious or spiritual search, and the always quest to know the self. In some ways I think of myself as a word painter because I like the reader to see and feel vicariously what I see (for example the Recreation Center in the evening).
I keep asking the question, what is important? How do I define myself?
Much of my life has been through the drama and uncertainty of my poems. Let me explain I am in the process of completing a manuscript for Foothills Publishing, the title of the book is either Looking for An Eye or Searching For an Eye. I'm still not fixed on the title. Much of my work has been focused around this inner search for a self-identity. I do not think I was a happy child. I was very sensitive, insecure child as a priest told my parents at a parent and teachers' evening at my high school, "He's afraid of his own shadow." I would waver between what could be construed as elation and depression and just coping. What might be considered little incidents would drop me into a chasm of painful uncertainty and self-anger - what we could call depression. It certainly was a downward spiral. blues. Churchill used to call it 'the black dog." Writing became a way of coping, a way of asking the questions to find myself, a way or reconciling with myself, and a reflection of the struggle within. A kind of palimpsest of my struggle within.
Hence the title of my first volume, LOOKING FOR AN EYE. I see the book as combining facets of myself and in the process too a means of looking at the world I grew up in order to evoke those scenes into something worth remembering and sharing. This is the searching for an "I" which could also be seen as looking for an "eye" -- a way of viewing the world and coming to terms with that world. The search to know who I am. The cornerstone for the Greeks is the advice. "Know thyself." That has been my struggle. Hence the constant interplay of questions because in many ways much of my work is a series of questions. I think it is evident enough in my work and it will be in the volume of poems. As for what it is I am ultimately looking for, I am reminded of Melville's phrase in Moby Dick, "It's not down on any map. True places never are." As the worn yet true expression goes, each day is a new beginning; today is always the first day of the rest of one's life.
Sometimes in my writing I see myself as an observer where I like to film or paint the scene or mood. I take my lens and draw a picture of a trash picker or a girl waiting on the corner with her base fiddle. The three qualities that I regard as most important are: a good listener, a desire to change (for self-improvement, call it curiosity too - I think one should always be curious about the world and the things around one) and the third quality is a hunger for the truth. One always needs to look and to examine one's self and in that way to ask questions. I see life as a kind of evolution of Hegel's dialectic (thesis, antithesis and synthesis -- an ever continuing struggle). Yeats made the point we make rhetoric out of our arguments with others and poetry out of our arguments with ourselves.
Above all I see myself like Antaeus who needs one foot on the earth because I am always struggling for something in the air. The poetry takes me soaring and I need to keep my life rooted, close to the earth, I believe my wife and family, friendships and literary programs at the MAC and the journal help to keep me rooted to the earth. Just see how many malcontents and dissatisfied souls there are among the writers. It is rather endemic among the writing sort but it doesn't have to be that way. I need the world around me to keep me rooted and I need the poetry because it is there that I find the challenge and the intellectual fulfillment of my attempt to reach for a creativity and the Wonderland where I can satisfy my curiosity. I am always reminded of Keats idea of "negative capability" - the uncertainties, because that has always been integral to my life.
If having a goal for readers' responses to your poetry is a legitimate question, what is your goal?
The goal is that the reader feels or sees or experiences more after having read my work.
What writing plans do you have for the future?
My own writing plans are to continue to work to develop my craft. I am also the humanities director of the Manayunk Art Center where I have been coordinating literary programs and readings since the fall of 1990. In 2001 after the death of a good friend, Jim Marinell, I became the editor of the Schuylkill Valley Journal, which has occupied quite a bit of my time and energy. One might say I have three objectives: to write, to coordinate readings at the Manayunk Art Center and to sustain and promote (which includes raising funds) a journal worth reading.
What else do you think the public should know about you and/or your poetry?
I would like the guy on the street to say "Hey, I know what he means. I've been there."

---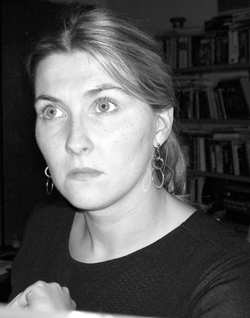 First of all, who are you, Lina?
It was Jodorowsky who said,
"You cease to exist when you say, 'this is what I am.' "
However, who I am is not the same although actions define the soul.
I ask life questions in poetic forms, consider my Buddha nature and try to maintain mindfulness in everything I do.
(She likes to muse and be a muse).
You are both a publisher and a poet. Is it difficult to face up these two activities?
I think they work symbiotically. As a publisher, I read new poets and as a writer, I do the same. I am always fascinated by other writers-new forms, methods, and ideas abound. It inspires me to read them.
You are a Lithuanian-American woman. How is it possible to mix two different cultures?
Do you think you have a specific inspiration for writing? My parents were born in Germany (father) and Brazil (mother). Their parents, my grandparents, were all from Lithuania and fled to these countries during the war. I was born in the United States in Virginia, and then my parents moved to Chicago, where I primarily grew up between a Lithuanian neighborhood and a small town outside the city. It has always been my challenge and greatest strength to continue questioning the atavistic nature of my writing. I receive calls to my Lithuanian heritage in my every day mournings of life, decisions. I find myself vicariously still relating these experiences. To some extent, I feel a significant duty to preserving my nationality. I am always on the outskirts of American life, though I am quite immersed and versed in it. I feel "Lithuanian". Being American is a strange thing for me to handle. When I visited the homeland in 1998, my features told the story of a Lithuanian girl to strangers, though some doubt caressed their faces-they detected the American in me as a mother bird detects a human scent on her young. This has been my experience internally for as long as I can remember. I belong someplace where my history lies. I lie someplace where I make my history.
You manage "milk", an online literary magazine with Larry Sawyer. Could you explain its originality?
milk (www.milkmag.org) was created by Larry in 1998 and then, when we met in 1999, we decided to jointly approach the venture. After one print issue entirely funded by ourselves, I captured an Internet stance. We have been online now for 8 years, one of the longest running Internet literary magazines. Our originality stems from intuitive selection. We do not limit ourselves to any themes or styles. We enjoy the interesting collage of poetry, experiemental fiction, and visual art that milk becomes when we assemble each annual issue.
Do you write in English only?
I attempt to write in Lithuanian and Spanish. I write and speak in amalgamated forms: Lithunglish, Spanglish.
What is the situation of poetry in the USA?
New York and San Francisco still have very alive scenes. What movements have grasped them, I am not well-versed enough to say. In Chicago, however, there is an interesting group of experimental writers who have recently put out an anthology adopted widely by many university curriculums: The City Visible: Chiacgo Poetry in the New Century (Cracked Slab Books, 2007).
www.crackedslabbooks.com
Is "Milk" also a publishing house? Why (or why not?)
milk is a labour of love and Larry and I both work full-time at day-to-day jobs. Someday we will get grant money to help us publish the issue in print and on CD-ROM annually.
What do you want to say in your writing?
I have always said that I am an Evaporating Language Photographer. I am disappearing between the lines of the poetry I write, which I how I would express scientific emotion. I hope to make people think and feel and not know which is more powerful.
Do you think there is a feminine specific voice in literature?
I feel both masculine and feminine energy from certain pieces of literature. It depends largely on what you read.
Any last comments?
Thank you for being interested and reading poetry. Viva la poesie!

---

(These readings current as of August 1st, 2007- go to the Readings page to see updated listings!)
Cambridge Central Square Art Festival October 13th
Hey Artists ...
Here is a really cool art show to participate in!!! And we totally want you to be a part of the Cambridge Central Square Art Festival coming up in October (13th) to be exact. Want to SIGN UP for it. You can demonstrate your art in a live performance in front of a business or sell you artwork at a table. In any case, talk to either Tom on his cell phone (after 4pm-preferably) at 617-233-0269 or talk to Deborah Priestly at cell phone (617)388-9452 anytime she doesn't really care because she is so ADHD that she enjoys interruptions. Hee hee. Anyways, the deadline is coming up -- July 31st. We need many artists, poets, singers, musicians. We will explain details when you call us. For those of you concerned about money -- let's talk. Any poets reading poems, any singers singing, any musicians playing, any mimes miming -- IT IS FREE!!!! We need poets for Rodneys, for the Out of the Blue Art Gallery and for the YWCA sites. Poets -- it is free no matter what you read anywhere or hear from anyone -- IT IS FREE and you can sell your books or CDs. Non-profit art businesses or agencies, you have a separate form to fill out -- see when you go to the ARTS CENTRAL site, and there should not be a charge. If there are any other concerns ... please call us! Don't be shy!
Artists … want to be part of an outdoor art festival, Saturday, October 13th?
Then call Tom, preferably after 4pm – get the scoop! (617)233-0269 or at the Out of the Blue Art Gallery at (617)354-5287. Perform, sell your work in Central Square, Cambridge!! Yahoo! Seriously call! Show your art!
Hurry .. call now. The deadline is July 31st.
(Sign up form at Arts Central) website!
Click below for more info.
http://www.centralsquarecambridge.com
---
Červená Barva Press is starting a new reading series which starts in September. Mary Bonina is coordinating this series with me. Here is the information about it.
Červená Barva Press Reading Series
Pierre Menard Gallery
10 Arrow St/ Harvard Square
Cambridge, MA
7:00 PM
Free Admission
Reception to follow
September 19th, 2007
Readers:
Lucille Lang Day
Diana Der-Hovanessian
F. D. Reeve
October 17th, 2007
Readers:
John Minczeski
Mark Pawlak
Susan Tepper
November 14th, 2007
Readers:
Mary Bonina
Harris Gardner
Tam Lin Neville
---
Out Of The Blue Gallery
EVERY MONDAY NITE,
Stone Soup Poetry (Host: Chad Parenteau), a 35 year old venue, $4, sign up to be a feature - call Bill Perrault at 978-454-7423.
Starts at 7:30PM and don't forget to sign up!
Recorded on local t.v. station.
---
DIRE LITERARY SERIES /Out of the Blue Gallery/
1st Friday- Cambridge, MA
5, 15 MINUTE OPEN MIC SLOTS AT 8 PM,
SIGN-UP AT 7 PM
FOLLOWED BY FEATURES
Aug. 3rd Readers: Nathan Graziano and Nina Shore
Sept. 7th Readers: K.C. Frederick and John Amen
---
USUALLY the 3rd FRIDAY of the MONTH!
NOLA's TIGH FILI POETRY & OPEN MIC, $5, 8PM, Host: Nola, poems/prose.
---
OPEN BARK FEATURES @ OUT OF THE BLUE:
OPEN MIC STARTS @ 8:30pm, FEATURE @ 9:00pm
SIGN-UP AT 8:00pm
Come and perform or listen!
Coming Up:
Open Bark Features @ the Out of the Blue Art Gallery:
August 4: Bryan Croad
(Virtuoso acoustic guitarist and 8-string bass player, self taught)
www.bryancroad.com
August 18: Edward Carvalho & Lo Galluccio
(Sharing duel residencies in Indiana, Pennsylvania,and Boston Edward makes his return
to the Cambridge/ Boston scene, with special guest, Lo Galluccio)
www.edwardjcarvalho.com
Sept 15: Burt Stern
(Somerville's own Bert Stern, Writer, Teacher, Poet)
Oct 6: Lolita Paiewonsky
(Great Poetess, dramatic reader!)
Oct 2: Sean Theall
(The host of the Main Street Cafe Poetry reading Series in Easton, Mass)
Feb 16 2008: Christine Korfhage
(From Sanbornton New Hampshire, Christine celebrates the release of her first book, We Aren't Who We Are and this World isn't either from CavanKerry Press)
Feature info: Mike Amado, spokenwarrior@verizon.net
---
1st SUNDAY of the MONTH!
DEMOLICIOUS POETRY, $5, 2PM, Host: John, experimental poetry.
Out Of The Blue Art Gallery
106 Prospect Street
Cambridge, MA 02139
phone: 617-354-5287
---
POETRIBE -
Featuring Nicole Terez Dutton
Saturday August 4, 8 pm
The Community Room
East Bridgewater Public Library
32 Union Street
East Bridgewater, MA
Hosted by David R. Surette and Victoria Bosch Murray
7:30 Open mic Sign-ups
8:00 Open Mic
9:00 Featured Poet
September 15 Daniel Tobin
September 29 Jeffrey Harrison
---
Boston Fiction Festival
July 14, 21 and August 11
at Sweet Christopher's in Jamaica Plain.
Tickets Now Available
We're happy to announce that tickets for the second Boston Fiction Festival
are now available via our website (here: http://fictionfest.com/tickets.htm ).
Tickets are a mere $7.00 per night for any of our three nights which are July 14, July 21 and August 11. Each night features three wonderful authors. The price is right, and tickets are limited, so don't delay. You can use Paypal to purchase tickets directly from our website or, if you would prefer to pay by check, please contact us via email at: admin@fictionfest.com.
I hope you will be able to join us.
---------------------------
Writers and Programs:
The following authors will be featured at this year's Boston Fiction Festival:
Sat July 14 - Michael Reitema, William Orem and Jaimee Wriston Colbert
Sat July 21 - Emma Wunsch, Thaddeus Rutkowski and CB Bernard.
Sat Aug 11 - Perry Glasser, Jeff Dougherty, and Susanna Sturgis
you can find out a heck of a lot more about our writers here:
http://fictionfest.com/authors_2007.htm
-and even sample their stories here: http://fictionfest.com/stories_2007.htm
---------------------------
Cheers-
Armand Inezian
Project Administrator
Boston Fiction Festival
http://fictionfest.com/
The Festival will run from 6 pm to about 8:30 pm each night at Sweet Christopher's Dessert Cafe.
We expect be able to provide more specific program information soon.
Sweet Christopher's Dessert Cafe
601 Centre St.
Jamaica Plain MA 02130
http://www.fictionfest.com
Sweet Christopher's is located in the neighborhood of Jamaica Plain in South-West Boston. It is accessible by the MBTA 39 bus route that runs from Boston's Back Bay to Forest Hills Station. There are also a couple of large public parking lots within three city blocks of Sweet Christopher's.
---
Word on the Street at First Thursdays,
sponsored by Jamaica Plain Centre/South Main Streets
Thursday, August 2, 6:30 to 8 p.m. at Sweet Finnish
761 Centre St., JP, MA
Open mike begins and ends the evening with two featured poets, Catherine Sasanov and Tom Daley.
Come any time starting at 6 to sign up for the open mike.
An informal setting where all kinds of poetry by any all kinds of people reading in any style are welcome.
More info: 617-522-0300.
Catherine Sasanov
Jamaica Plain resident Catherine Sasanov is the author of two full-length poetry collections, Traditions of Bread and Violence and All the Blood Tethers, as well as the chapbook, What's Left of Galgani (Franciscan University Press). She was the librettist for the theater work, Las Horas de Belén: A Book of Hours, commissioned by Mabou Mines. Catherine is currently working on a series of poems based on the recent discovery that slaveholding had been part of her family's history. Work from that poem cycle has appeared in recent issues of Field and Salamander, and is forthcoming this summer in Sentence. Červená Barva Press will also be publishing a chapbook of Catherine's work later this year. Copies of her books and chapbook will be available for purchase.
Tom Daley
Tom Daley tutors poets privately and leads poetry writing workshops at the Boston Center for Adult Education, Lexington Community Education, and the Online School of Poetry. He is a member of the tutorial faculty of Walnut Hill School for the Arts. He has been a guest lecturer at Brown University, Stonehill College and SUNY Cobleskill. His poetry has been published in Harvard Review, Prairie Schooner, 32 Poems, Poetry Ireland Review, Diagram, Salamander, Archipelago and elsewhere. His manuscript, Shim, was a finalist for The Poetry Foundation's Emily Dickinson Prize and he is a past recipient of the Academy of American Poets Charles and Fanny Fay Wood Prize.
Gloria Mindock, Editor
editor@cervenabarvapress.com
http://www.cervenabarvapress.com
http://www.thelostbookshelf.com
---
Readings featuring Timothy Gager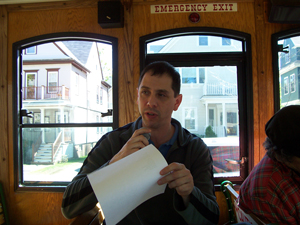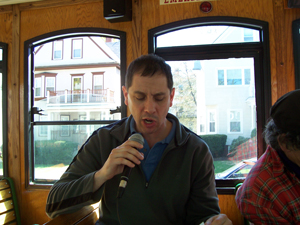 Photos by Gloria Mindock May 6th, 2007 at SOS Trolley Readings in Somerville, MA.
August 3, 2007, Cambridge, Massachusetts
Hosting and reading at The Dire Series, 8 PM
Out of the Blue Art Gallery
106 Prospect Street, Cambridge, Massachusetts
Featuring: Ted Pelton and Nina Shope
plus Nathan Graziano
---
September 7, 2007, Cambridge, Massachusetts
Hosting and reading at The Dire Series, 8 PM
Out of the Blue Art Gallery
106 Prospect Street, Cambridge, Massachusetts
Featuring: KC Frederick and Leah Hager Cohen
plus John Amen
---
September 23, 2007, New York, New York
Reading for Mad Poets Steel City Coffee House Series, 1 PM
with Jennifer McPherson
203 Bridge Street
Phoenixville, PA
610-933-4043
---
NEW ENGLAND POETRY CLUB SUMMER READINGS
At Longfellow National Historic Site 105 Brattle Street
free and open to the public
Sponsored with the Friends of Longffellow
Sunday, August 5, 4 pm
East Lawn
GALWAY KINNEL a reading by and celebration of his 80th birthday
Galway Kinnell, called "America's preeminent visionary" . Book signing.
Sunday, August 19, 4 pm
East Lawn
ATLANTIC MONTLY's 150th Anniversary gala reading
Poetry Editor DAVID BARBER presents many guest readers to celebrate.
2007 -- Henry W. Longfellow's 200th Anniversary Year!
Longfellow National Historic Site
105 Brattle Street
Cambridge MA 02138
617-876-4491
---
Gypsypashn's Poetry Caravan at Bestseller's Cafe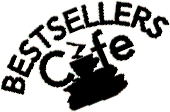 Gypsypashn's Poetry Caravan at
Bestseller's Cafe
24 High Street
Medford, MA. 02155
(In the heart of downtown historic Medford, MA. where Jingle Bells was written; right off Rte 93)
Our venue meets the third Thursday of each month at 6:30 PM.
Free refreshments Open Mic.
Readings commence at 6:30 PM. Readings conclude 8:00 PM.
= = = =
August 16th- Third Annual Biker Poetry Month Celebration and BBQ afterwards!
Don your leathers, lace up your boots, hop on your scoot, on jump in the car, and head on over to Bestsellers for this Celebration! Biker poets from near and far, and far and wide will be present to read their craft, and take you on the ride of a lifetime. Poet Laureates, K. Peddlar Bridges, Colorado T. Sky, Betsy "Gypsypashn" Lister, Marc "Moshe" Goldfinger, JoeGo Gouveia, J. Barrett "Bear" Wolf, will keep you holding on tight. If you didn't arrive on two wheels, when you leave you'll feel like you just spent the evening with the wind in your hair! After the reading, there'll be a continuation of the celebration of Biker Poetry Month at a BBQ Gypsy's house. This is the third year we've done this, and it becomes bigger and better each year! Don't miss this treat!
= = = =
September 20th OPEN - Stone Soup Poets of Cambridge will be featured at Bestsellers!
Line up to follow, and this is yet another first of what I hope to be an annual event. There's loads of talent at Stone Soup, and we're honored to have those poets feature at Bestsellers.... stay tuned for more info.....
= = = =
October 18th First ever SENIORS Reading.
I suppose at this point most of us are Seniors, and if you know of anyone who is over 65, please have them contact me to arrange becoming a feature this evening!
= = = =
November 15th David R. Surrette
David returns to Bestsellers. David R. Surette's first book of poetry is Young Gentlemen's School (Koenisha, 2004). Koenisha will publish a second volume of his poetry Easy to Keep, Hard to Keep In in 2007. David has three poems in a new anthology French Connections: A Gathering of Franco-American Poets. (Louisiana Literature Press 2007) and a poem in Look! Up in the Sky! An Antholgy of Comic Book Poetry (Sacred Fools Press 2007). He co-hosts Poetribe, a poetry series in southeastern Massachusetts.
= = = =
December 20th OPEN - planning something festive, but not sure what yet! :*)
Anyone wishing to feature here, let me know! :*)
That will wrap it up thus far Bestseller's... and anyone who hasn't yet featured, who'd like to, kindly write me and let me know! As always there's OPEN MIC, and REFRESHMENTS courtesy of me.... so as they say on the Price is Right...."C'mon Down!"
The months of April and August are already spoken for, but all other months remain open. If you'd like to be a feature at Bestsellers this coming year, let me know. A reminder that we meet the third Thursday of each month at 6:30 PM.
Want to feature one of the open months? Email me at: Gypsypashn@aolcom
Write on!
Gypsy
New Hampshire Poet Laureate 2005
New Hampshire Poet Laureate 2006, Massachusetts Poet Laureate 2006
Founder of Gypsypashn's Poetry Caravan
===================================================
Contact information:
Betsy Lister
P.O. Box 496
Medford, MA 02155
U.S.A.
---
Brockton Library Poetry Series
Upcoming Features:
August 18th an Afternoon with painter, philosopher Arnie Danielson
September 15th Maxine Kumin, Carole Oles
October 20th Dr Jeffrey Thomson
November 17th Joanna Nealon, Robyn Su Miller
December 15th TBA
---
Squawk Coffe House
Sept 20 9PM Squawk Coffeehouse
1555 Mass. Ave.
Harvard Eppworth Church (just outside Harvard Sq)
Cambridge, MA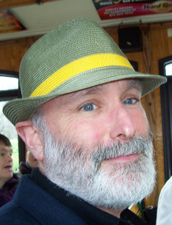 Poet Doug Holder, founder of Somerville's Independent small press and literary magazine will be reading from two new poetry collections. "Of All the Meals I Had Before" (http://www.cervenabarvapress.com) that has poems about such local eateries as the Au Bon Pain, the old Wursthaus, Market Basket, Hong Kong, Sherman Cafe, Savenor's and more.
The other "No One Dies at the Au Bon Pain" (http;//www.sunnyoutside.com) was composed at Au Bon Pain's in both Central Square, Cambridge, and Davis Square, Somerville.
Both collections are archived at the Harvard Poetry Room, and were published by Somerville small presses.
Squawk offers music, open mike, $4 donation if you got it!
Call 617-628-2313
---
POETRY SHOWCASE at The Plymouth 40th Annual Juried Art Show
Saturday, September 22, 10:30am to 12:00pm
Sponsored by: 1st Wednesday Poetry @ Books & More
in partnership with the Plymouth Art Guild
Hosted by Mike Amado
Featured Readers:
DZVINIA ORLOWSKY
RYK McINTYRE
SHEILA TWYMAN
Guest Readers:
MELISSA GUILLET
ROGER TWYMAN
WALTER HOWARD
BILL PERRAULT
INGRID LOBERG
LYNN HOLDSWORTH
The Plymouth Art Show will be held under the tent in down town Plymouth, Route 3A, on the Training Green, near Friendly's Restaurant.
More info: spokenwarrior@verizon.net
---
Cambridge Cohousing Presents
THE FIRESIDE READING SERIES
Fall 2007 – Spring 2008
Tuesday September 25 7:30 PM
Denise Bergman and Charles Coe
Tuesday October 30 7:30 PM
Ruth Henderson and Dan Sklar
Tuesday November 27 7:30 PM
Luke Salisbury and Tim Gager
Tuesday January 29 7:30 PM
Harris Gardner and Gloria Mindock
Tuesday February 26 7:30 PM
Jean Alonso and Jean Dany Jochaim
Tuesday March 25 7:30 PM
Gail Mazur and Danielle Legros George
Tuesday April 29 7:30 PM
Tom Daley and Julie Rochlin
Tuesday May 27 7:30 PM
The Jamaica Plain Carpenter Poets
Refreshments are served before and after each reading, starting at 7 PM
Note: The Walden St. bridge is under construction. Cambridge Cohousing is located just north of Porter Square at 175 Richdale Ave. From Massachusetts Ave., turn onto Upland Rd. Take the first right onto Richdale. Cross Walden St. and proceed to 175 Richdale Ave. Cambridge Cohousing is a complex of yellow buildings. Walk through the main gate to the Common House. For further information or instructions, please contact Molly Lynn Watt, 617-354-8242, mollywatt@comcast.net, or Jenise Aminoff, 617-576-2004, jenise@alum.mit.edu or go to http://www.cambridgecohousing.org/fireside/index.html
---
Cafe Luna City Night Readings
Friday September 28 - 7:00 PM
A celebration of prose & poetry
Doug Holder
Joan Houlihan
Rodney Wittwer
Rebbeca Kaiser Gibson
Dan Memmolo
La Luna Caffé
403 Massachusetts Avenue, Cambridge, MA
Doug Holder
http://www.ibbetsonpress.com
http://dougholder.blogspot.com
http://authorsden.com/douglasholder
http://somervillenewswritersfestival.com
http://yahoogroups.com/group/ibbetsonstreetpressupdate
---
An Evening of Performance Poetry
Poets: Tom Daley, Reggie Gibson, and Shira Erlichman
Gamble Manision
Boston Center for Adult Education
October 19th
7-9PM
Admission: $17.00
To reserve a spot, call the BCAE at 617-267-4430
or register online at
http://www.bcae.org/BCAECatalog/BCAEeCommCatalog.nsf/Web.Show.Course.Section?OpenForm&K=Slam!+An+Evening+of+Performance+Poetry+with+Regie+Gibson,+Shira+Erlichman,+and+Tom+Daley.
---
The Boston Poetry Slam Downstairs at the Cantab Lounge
738 Massachusetts Ave,
Central Square, Cambridge, Mass
(617) 354-2685
Email: cantab@slamnews.com
(http://www.slamnews.com/)
Wednesday, 8 pm open mike; 9:30 pm feature; 10:30 pm slam
Hosted by: Slammaster Simone Beaubien
Co-hosts: Dawn Gabriel, Ryk McIntyre, J*me, Adam Stone.
$3 at the door
Please Note:
*****18+ everyone must have a photo ID*****
---
Lizard Lounge Poetry Jam Sunday Night!
Cambridge Common
1667 Mass. Ave., Cambridge
$5 Cover
Every Sunday Poetry Slam: 8:00 pm
Feature: 9:30 pm
Open Mike: 10:30 pm
---
1ST WEDNESDAY POETRY GROUP IN PLYMOUTH, MA.
Hosted by MIKE AMADO
Part workshop, part reading - all poetry & songs
@ BOOKS AND MORE, in Plymouth, MA
(HOME DEPO PLAZA)
EX. 5, off RT. 3
info: spokenwarrior@verizon.net

---
GOT POETRY LIVE
Hosted by Tony Brown
Every Tuesday starting at 7:30 PM
Reflections Cafe
8 Govenor St, corner of Wickenden St
Providence, RI 02903-4429
(401) 273-7278
(http://www.gotpoetry.com/)

---

***************************************
OPEN MICS & LIKE THAT
***************************************
EVENTS! EVENTS! EVENTS!
Asbestos Arts Group/The Vault—90-21 Springfield Blvd, Queens Village.
[F] to 179 Street, then Q43 to Hillside Ave & Springfield Blvd. Walk past 90th Ave.
Robert Dunn, emcee. $5 adm, no min.
Thursday, August 9th, 2007 @ 8 pm. Will Morris + Open.
**************************************************

Asbestos Arts Group/Back Fence Bar—155 Bleecker St, Manhattan.
(btwn Broadway & 6th Ave)
[A] [C] [E] [B] [D] [F] [V] to W 4th St.
Robert Dunn, emcee. All Back Fence Opens $5 adm, $3 min.
Sunday, August 5th, 2007 @ 3 pm Miriam Stanley + Open. Will Morris, guest emcee.
Sunday, August 12th, 2007 @ 3 pm Thomas Fucaloro + Open.
Sunday, August 19th, 2007 @ 3 pm Matthew Hupert + Open. Will Morris, guest emcee.
Sunday, August 26th, 2007 @ 3 pm Robin Small-McCarthy + Open.
**************************************************

Asbestos Arts Group/Senona's—102-37 Jamaica Ave, Richmond Hill, Queens
[J] to 102nd-104th Streets.
Robert Dunn, Leigh Harrison, emcees. $5 adm, $3 min.
Tuesday, August 14th, 2007 @ 7:30 pm David Mills + Open.
**************************************************
Asbestos Arts Group c/o Robert Dunn,
75-05 210th Street
#6N Bayside NY 11364.
718 776-8853
dunnmiracle@aol.com
Submit to Asbestos Poetry Journal at dunnmiracle@aol.com.
Submit to Soul Fountain (Literary Journal) at DaVault@aol.com
Include submission in body of e-mail.
**************************************************
---
Living Poetry at The Living Theater Presents Hiroshima Day Reading at The Living Theater
Monday, August 6th, 8-11, $6 Curated by: Dorothy F. August
**With Open Mike to follow reading
Addiional introductions by: Patricia Corragon and others
Dorothy F. August
Steve Cannon
Luis Chaluisan
Steve Dalachinsky
Bob Hershon
Eliot Katz
Judith Malina
Lissa Moira
Yuko Otono
Hanon Reznikov
Bina Sharif
Larissa Shmailo
George Wallace
Chavisa Woods
Bill Zavatsky
Joanie Fritz-Zosike
---
Readings featuring Thad Rutkowski
UPCOMING READINGS
August 7, Tuesday, 5 p.m.
Reading, Happy Gnome restaurant
498 Selby Ave., St. Paul, Minn.
Info: allenabigail@hotmail.com
Saturday & Sunday, August 11-12.
Thad will read on Sunday, August 12, at 1 p.m.
Hudson Valley Poets Festival
Widow Jane Mine, Rosendale, N.Y.
Sept. 25, Tuesday, 7:30 p.m.
Barnes & Noble
1542 Northern Blvd., Manhasset, L.I.
Info: crm1912@bn.com
November 9, Friday, 7 p.m.
Memoir Reading
Callanwolde Fine Arts Center, 980 Briarcliff Road N.E., Atlanta
$10. Good refreshments
Hosted by June Akers Seese
Info: jakers1@mindspring.com
November 16-18, Friday-Sunday
Berlin Poetry Hearings
Berlin
www.myspace.com/poetryhearings
January 4, 2008, Friday, 9:30-11:30 p.m.
Panel discussion: "Polish American Writing: From Polish Tradition to the American Identity."
Polish American Historical Association, Washington, D.C.
Hope to see you! --Thad Rutkowski
http://www.thaddeusrutkowski.com
---
Readings featuring Timothy Gager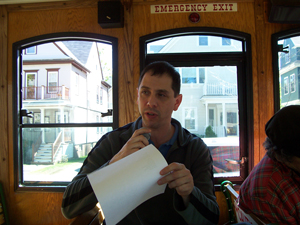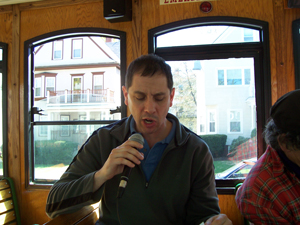 Photos by Gloria Mindock May 6th, 2007 at SOS Trolley Readings in Somerville, MA.
September 23, 2007, New York, New York
Reading for Mad Poets Steel City Coffee House Series, 1 PM
with Jennifer McPherson
203 Bridge Street
Phoenixville, PA
610-933-4043
---
LALITA JAVA READINGS
3rd THURSDAYS 7-9 PM
HOSTED BY DOROTHY F. AUGUST
Lalita Java
210 East 3rd St.
(Btwn. B & C)
---
92nd Street Y Reading Series
Lexington Avenue at 92nd Street
New York, NY

---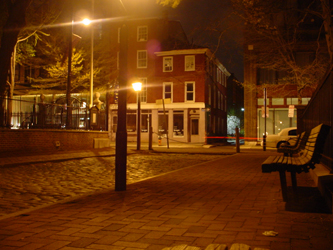 "Poetry & Prose & Anything Goes with Dr. Ni"
(radio show; internet radio)
Address: (Dr. Ni's local address) P.O. Box 15095
City and State: Philadelphia, PA 19130-9998
Contact person and or URL/information: Dr. Niama L. Williams; www.internetvoicesradio
Date, time, price: Every Tuesday, 8-9 p.m. EST
$35/guest/appearance on show
Readers: International internet radio listeners
Other appropriate info: (station owner's address):
Ms. Lillian Cauldwell
P.O. Box 2344 Ann Arbor, MI 48106-2344;
734-332-5902.
Dr. Niama L. Williams
P. O. Box 15095
Philadelphia, PA 19130-9998
http://www.lulu.com/drni
http://thejourney.booktreasurehouse.com/
http://soulwork.booktreasurehouse.com/
http://famousfaces.booktreasurehouse.com/
http://steven.booktreasurehouse.com/
---
1ST FRIDAYS ON VINE
Hosted by Aziza Kintehg
Every First Friday of the Month
Be part of an Art Extravaganza * Spoken Word * Music Freestyle * Open Mike
Jose Sebourne Graphic Design
1213-15 Vine Street Philadelphia PA 19107
7-10pm $5.00 Cover
Contact info:
The Gallery - (215)564-2554
Aziza Kintehg(215)668-4500
Email: azizalockdiva@...
or check out the website: www.Josesebourne.com

---

Lucille Lang Day Readings:
August 15, 2007, 7:00 p.m.:
Lucille Lang Day, plus open mic
Northpoint Coffee company
1250 Bridgeway,
Sausalito, CA 94965
(415) 331-0777
Coordinator: Martin Hickel isledesk@isledesk.com
Nov. 5, 2007, 7:00 p.m.:
Lucille Lang Day, plus open mic
All Poets Welcome Reading Series
Gallery Cafe
1200 Mason at Washington
San Francisco, CA
Coordinator: Kit Kennedy kit.kennedy@yahoo.com
---
Readings and events by Nahid Rachlin
Description of PERSIAN GIRLS, a memoir (Penguin 2006): In a story of ambition, oppression, hope, heartache, and sisterhood, Persian Girls traces Rachlin's coming of age in Iran under the late Shah-and her domineering father-her tangled family life, and her relationship with her older sister, and unexpected soul mate, Pari. Both girls refused to accept traditional roles prescribed for them under Muslim cultural laws. They devoured forbidden books. They had secret romances. But then things quickly changed. Pari was forced by her parents to marry a wealthy suitor, a cruel man who kept her a prisoner in her own home. After narrowly avoiding an unhappy match herself with a man her parents chose for her, Nahid came to America, where she found literary success. Back in Iran, however, Pari's dreams fell to pieces.
Reading: Friday, August 17
Where: Books Inc., Opera Plaza, 601 Van Ness, San Francisco, CA
What time: 7 p.m.
Event info: 415-776-1111
Reading: Friday, September 28
Where: Shakespeare and Company, Paris, France
What time: 7 p.m.
Event info: 00 33 (0) 143 25 4093
Memoir-Fiction Workshop: September 29–Oct. 4
Where: Le Moulin a Nef: Auvillar, France
Event info: A memoir-fiction workshop, taught by Nahid Rachlin, sponsored by the Virginia Center for the Arts, in a picturesque village in south of France. There will be tours and restaurants, along with the workshop. Information: 212 996 3478
---
Nahid Rachlin at Books Inc. in Opera Plaza
Time: Friday, August 17, 2007 7:00 PM
Location: Books Inc. in Opera Plaza
601 Van Ness, SF
Information: 415-776-1111
Meet Nahid Rachlin
(website: http://www.nahidrachlin.com)
author of Persian Girls (Penguin, 2006), a memoir: A story of promises kept and promises broken, of dreams and secrets, and most importantly, of sisters, "Persian Girls" is a gripping memoir that can change the way anyone looks at Iran and the women who populate it.
Praised by V. S. Naipaul, Anne Tyler, and other writers, Nahid Rachlin has spent her career writing novels about hidden Iran-the combustible political passions underlying everyday life and the family dramas of ordinary Iranians. With her long-awaited memoir, "Persian Girls," she turns her sharp novelist's eye on her own remarkable life.
---
Poetry Flash at Berkeley City College:
TUESDAY, OCTOBER 9, 7:30
A Červená Barva Press poetry reading presenting
Lucille Lang Day, Ed Miller, and Tony White
Berkeley City College Auditorium
2050 Center Street, Berkeley
(half block from Berkeley BART
parking garage next door)
For info: Poetry Flash at 510-525-5476
http://www.poetryflash.org
free event

---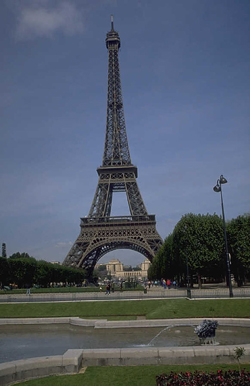 Readings and events by Nahid Rachlin
Description of PERSIAN GIRLS, a memoir (Penguin 2006): In a story of ambition, oppression, hope, heartache, and sisterhood, Persian Girls traces Rachlin's coming of age in Iran under the late Shah-and her domineering father-her tangled family life, and her relationship with her older sister, and unexpected soul mate, Pari. Both girls refused to accept traditional roles prescribed for them under Muslim cultural laws. They devoured forbidden books. They had secret romances. But then things quickly changed. Pari was forced by her parents to marry a wealthy suitor, a cruel man who kept her a prisoner in her own home. After narrowly avoiding an unhappy match herself with a man her parents chose for her, Nahid came to America, where she found literary success. Back in Iran, however, Pari's dreams fell to pieces.
Reading: Friday, September 28
Where: Shakespeare and Company, Paris, France
What time: 7 p.m.
Event info: 00 33 (0) 143 25 4093
Memoir-Fiction Workshop: September 29–Oct. 4
Where: Le Moulin a Nef: Auvillar, France
Event info: A memoir-fiction workshop, taught by Nahid Rachlin, sponsored by the Virginia Center for the Arts, in a picturesque village in south of France. There will be tours and restaurants, along with the workshop. Information: 212 996 3478

---
If you would like to be added to my monthly e-mail newsletter, which gives information on readings, book signings, contests, workshops, and other related topics...
To subscribe to the newsletter send an email to:
newsletter@cervenabarvapress.com with "newsletter" or "subscribe" in the subject line.
To unsubscribe from the newsletter send an email to:
unsubscribenewsletter@cervenabarvapress.com with "unsubscribe" in the subject line.

---
Index | Bookstore | Submissions | Newsletter | Interviews | Readings | Workshops | Fundraising | Contact | Links
---
Copyright © 2005-2006 ČERVENÁ BARVA PRESS LLC - All Rights Reserved