July, 2005 Aug. 2005 Sept. 2005 Oct. 2005 Nov. 2005 Dec. 2005 Jan. 2006 Feb. 2006 Mar. 2006 Apr. 2006 May 2006 June 2006 July 2006 August 2006 September 2006 October 2006 November 2006 December 2006 January 2007 February 2007 March 2007 April 2007 May 2007 June 2007 July 2007 August 2007 September 2007 October 2007 November 2007
---
ČERVENÁ BARVA PRESS NEWSLETTER
Gloria Mindock, Editor Issue No. 30 December, 2007
---
INDEX
---
---
Welcome to the December, 2007 Červená Barva Press Newsletter.
Bill and I wish all of you a very happy and joyous Holiday Season!!!!
I want to thank everyone who ordered Cervena Barva Press chapbooks and books, donated, read in the reading series or organized readings for the press, volunteered, interned, gave the press or myself publicity, reviewed Cervena Barva books, sent books to The Lost Bookshelf, interviewed for the press, was interviewed for the newsletter, and the many other kindnesses in 2007. You helped make a wonderful year for the press. By the end of December, 12 chapbooks have been published this year, 5 e-books, and 2 full-length poetry collections. How exciting!
Thank you to all the editors and small presses I correspond with. All your help, generosity, and friendship is so appreciated.
2008 will be active also. Many more full-lengths will be out. I fell behind on them this year. The chapbooks were on schedule though. I hope all of you will continue to support the press. It was more of a struggle these past 6 months. Please order books and donate! We can use all the help we can get. Check out The Lost Bookshelf again! We need you!
The Cervena Barva Press reading series will resume in February. Mary Bonina is coordinating this series with me. It still will be held at the Pierre Menard Gallery, Harvard Square, in Cambridge, MA.
In January, I will list all the readers and dates for you.
Before this month is over, Bird Scarer, by Glenn Sheldon will be out as well as chapbooks by Adrian Potter and Michael Graves.
Interviewed this month is Philip E. Burnham Jr.
Cervena Barva Press just published his full-length book called, A Careful Scattering. More information about this book is in his interview. Thank you to Steve Glines, ISCS Press, for all the production work.
The online contest winners for poetry, fiction, and plays will be announced at the end of this month.
The poetry and fiction chapbook contest winners will be announced January 2nd.
Postcard Series Two will be out in 2008. Sorry to the poets and artist Nancy Mitchell for the delay.

---
Rane Arroyo is now officially the co-chair for the AWP Conference to be held at Chicago 2009. Way to go Rane!!!!
---
Looking for an Eye by Peter Krok
Poetry
76 pages
Available December 8th.
"A skilled book of poems that strike to the heart about those who "watch" and "wave" and no less those who "never return," about invisible walls among us, about questions that grow "like a vine in the earth," about the inexplicable comfort of rain. A warm and well-crafted book with great appeal."
--Franklin Reeve
To order:
Foothill Publishing
$15.00
$1.75 Shipping/Handling
P.O. Box 68
Kanona, NY 14856
---
No Bones to Carry by James Penha
New Sins Press, 2007
72 pages
$13.00
"James Penha is able to mold exotic topics into poignant universal truths. Should I be called upon to speak at a funeral, I would choose to quote the first four lines of the evocative title poem, 'No Bones to Carry'"
--Virginia Howard, editor of Thema
To order: www.newsinspress.com
New Sins Press
3925 Watson Avenue
Toledo, OH 43612
---
Kings: 5 Poems for the Theatre by Martin Burke
World Audience Publishers
To order: http://www.worldaudience.org/pubs_bks/pubs_bks_Burke_Kings.html
Kings: Five Poems for the Theatre is a book of verse poems for the stage. "In spite of the break which the twentieth century made with it, the link between poetry and theatre is ancient and enduring. Kings does not seek to single-handily restore that link; it is part of that verse tradition which poets have applied to the theatre in situations not always favourable to its reception."
-from the Author's introduction.
---
Helen Bar Lev and John Michael Simon both Ibbetson Street Press poets and authors of "Cyclamens and Swords" ( Ibbetson 2007) have won awards for their poems, both of which appeared in this book. Congratulations to the writers and to Ibbetson Street Press.
---
Plum Flower Dance by Afaa Michael Weaver
The Plum Flower Dance includes new poems and poems from Weaver's earlier works My Fathers Geography, and Timber and Prayer, among others.
University of Pittsburgh Press
136 pages
$14.00
To order: http://www.upress.pitt.edu/BookDetails.aspx?bookId=35884
---
AWAKENINGS by Richard Wilhelm ($15)
"In Richard Wilhelm's powerful free-verse, sonorous, image-tapestried first collection, the mature poet takes us through a remarkable series of awakenings, most of them to profound interconnections between himself and primordial riches of the natural world-half-buried treasures that glimmer with mystery, ecstasy, and the divine, and that contemporary humans have to a great extent lost touch with in their techno-industrial materialistic lives."
-- Douglas Worth / author of "Catch The Light" (Higganum Hill)
To order:
Ibbestson Street Press
25 School St.
Somerville, MA 02143

---
No rant this month but next month, there will definitely be one.

---
Are you a Mom-Writer or Artist?
The Mom Egg
Alana Ruben Free & Marjorie Tesser, eds.
Cartoons, black and white drawings, or photos. Please attach as high quality .jpg file.
Up to 5 poems/ fiction/ creative prose (up to 500 words, any topics welcome).
Please attach your work to the email as a word .doc file.
Include a bio: 3-5 lines.
Submit by email to themomegg@gmail.com
Publication date: May, 2008.
Submission deadline: December 31, 2007.
Raw and real, lively and lustful, The Mom Egg is a lively, eclectic collection by creative artists who are also mothers. Poets, lyricists, humorists, and essayists, from new moms to grandmothers, examine single-motherhood, dating younger men, separation anxiety, breasts, caring for older parents, the changing nuclear family and sex: intimate moments with Moms from all over North America. Diverse, multi-generational, and not just for Mother's Day, The Mom Egg is a great read.
The Mom Egg is the official literary publication of the Mamapalooza Festival, an international festival featuring mom musicians, artists, poets, comics, dancers and filmmakers. Check out www.mamapalooza.com for more info.

---



Photo by Christine Cleary

Write a Bio:

Born in Rochester, New York, I was soon transported to New England where I grew up and went to Groton School and Harvard College with a year at the University of Edinburgh in between. In 1962, I was accepted into the State Department and served as American Vice Consul in Marseille, France, for two years. I returned to teach history at both public and private schools and colleges in the Boston area from 1965 to 1999, with a three year break to get a Ph.D. in Medieval History from Tufts University in 1972. During my teaching career, I lived for two sabbatical years in Cambridge, England and in Paris. After 30 years of living in Newton, Massachusetts, I have returned to Cambridge.

Louise Hassel and I were married in 1960. We have three children, Elizabeth and Philip, who live in California, and Nicholas who lives in Ireland, and two grandchildren, Tristan and Eloise. Louise died in 2002.

My poetry biography begins with my mother saying and singing nursery rhymes,and the whimsical rhymes of A.A. Milne in the adventures of Pooh. At church, the hymns I learned were largely metered and rhymed, as was the poetry I read in elementary school and high school. I began writing poetry in college, publishing my first poems in the 1960's. Raising a family and teaching took me away from anything but occasional writing of poetry. When Louise died five years ago, poetry became the voice of my grief and my adjustment to a very different world. My poetry has appeared in literary magazines, including Atlanta Review, Lyric, Margie, Midwest Quarterly and Wilderness House Literary Review. I have published four books of poetry, My Neighbor Adam (Mellen Press, 2003), Sailing from Boston (Ibbestson Street, 2003), Housekeeping (Ibbetson Street, 2003) and A Careful Scattering (Cervena Barva, 2007).
Describe your favorite places to write.
I like to write in the morning, near windows and sunlight. For many years I have written in a cabin in New Hampshire on a lake.There, I first began to write for extended periods of time as I looked out on the lake, the surrounding forest and the changing light of the day. When I discovered that I could write every day whether the writing was productive or not, it became a pleasureable obligation. When I am at home, I like to sit on my back porch to write in the summer and at my dining room table, looking at the sun and the trees, in the winter.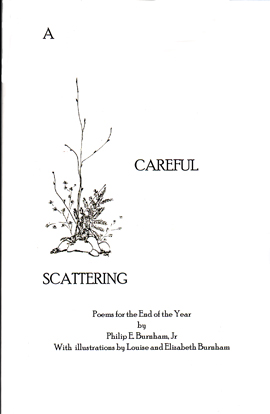 Červená Barva Press just published your poetry collection called, "A Careful Scattering, Poems for the End of the Year." It is a beautiful tribute to your wife and your family. Please discuss this book, the illustrations and the use of French translations.
"A Careful Scattering" represents 47 years of writing a poem for the Christmas season. When I wrote the first poem in the autumn of 1960 and Louise made an illustration for it, I don't think either of us imagined what we would continue to produce a card for the next 41 years. Over the years the cards and their illustrations reflected moments and places in our family life. Our house in Newton appears in three years (1986, 1988, and 1996). Features of the house, the front door (1983) the fireplace (1984), the front hall mirror (1991) and a kitchen window (1981) are included in other years. Three of the poems were set to music by Robert Powell (1980, 1985 and 1987) and published separately as carols. Many of the poems were written in a cabin in New Hampshire, and the illustration for 1995 is a view of the hills across the lake below the cabin. The poems are usually begun in July - in that cabin -from notes made in the previous Christmas season. Then Louise, or most recently, our daughter Elizabeth, had time to produce an illustration, which were in different media - crayon, wood-block, vegetable print, collage or pen and ink. Since we lived in France for more than two years early in our marriage, we often included a French version of the poem in addition to the English. In writing the poems, I usually begin with an English draft and then move to the French which in turn helps me to see the English version in a new way.
Order "A Careful Scattering"
From 1962-1964, you served as American Vice Consul in Marseille, France. What was this experience like for you?
Living in Marseille and Provence for two years was both difficult and delightful. Difficult because it was not easy to make social contacts in the city, although we did find a group of people with whom we became lifelong friends. Delightful because the region has a mild climate, a stunning landcape of vineyards, olive groves, and fields of lavender and sunflowers. It also contains many remains from the Roman and medieval eras. French sensitivities to food, to art and to a Mediterranean pace of life became integrated into our lives, particularly for Louise whose love of cooking was inspired by her experience t here. It was not easy to return to a land without Boursin, but Julia Child was about to change the eating habits of America, and she had lived in Marseille.
You are retired but for 35 years you taught history. How does your love of history fit into into your writing?
History appears in my writing in several ways. The first is simply by writing about historical subjects, a palace of Frederick the Great outside Berlin, the Roman Saturnalia, the standing stones at Carnac, a medieval sculpture of Eve, a poem about teaching history. Other poems make references to historical places such as Delphi and Mycenae, or persons, St. Augustine and Cassandra. History also informs me of other cultures, other points of view, especially through such epics as Gilgamesh and the Mahabharata. In my own mind I did not so much teach history as live it in front of my students.
What writers influence you?
Without stealing a leaf from Paul Simon, I would have to say the two of the writers whose writing has influenced my own are Emily Dickinson and Robert Frost, although Shakespeare's poetry and language are also very close to me. I find great stories, Beowulf, Gilgamesh, Roland, as well as mythology inpirational starting places for poems. Among more contemporary writers, I have found Richard Wilbur, A.R. Ammons, Anne Sexton, Theodore Roethke. A.D. Hope, and Stanley Kunitz, to be stimulating writers.
Who are you reading now?
I just finished Robert Haas's 'Time and Materials," and Seamus Heaney's "Opened Ground." Among other recent "reads" are Turgenev's "Fathers and Sons" and Irene Nemirovsky's "Chaleur du sang." I have been reading the series by Patrick O'Brian about the Napoleonic Wars and the novels of John Banville.
You attend Bagel Bards every Saturday morning. Discuss the importance of this writing community to you.
Bagel Bards is a wonderfully fluid community. Every Saturday morning there are different blends (bards) in the (coffee) pot. Started as an antidote to what might be considered an establishment of poets, it provides an open forum for the discussion of poetry, publishing, and promotion as well as the pleasure of meeting with and talking to people who, like myself, want to compare notes about the world, both poetic and otherwise, around them. It is a society of poetry-minded people - not necessarily of poets. The founders, Doug Holder and Harris Gardner are the great enablers of our poetic community and I am grateful for their work and their presence in my life.
Any last comments?
A note of thanks to Gloria Mindock for taking on this book in two languages as well as its art, and to Steve Glines for putting the book together so patiently and well.

---
Call for Submissions
Sixth Edition of
The MOM EGG
The journal of Mamapalooza
Alana Ruben Free and Marjorie Tesser, Editors
Are you a Mom-Writer-Artist?
Please submit to TheMomEgg@gmail.com
Up to 5 poems/ creative prose up to 500 words, any topics welcome/ Please attach your work to the email as a word file.
Cartoon/black and white line drawings/Please attach as .jpg file
Include a bio: 3-5 lines.
Deadline: December 31, 2007
Publication date May, 2008
Mamapalooza is an international festival for moms who rock!It is a month long cultural event in May featuring mom musicians, artists, poets, comics, dancers and filmmakers.Check out www.mamapalooza.com for more info.

---
McIntyre & Moore Booksellers hosts
"You CAN get there from here"
with
Barbara Beckwith
and
Judah Leblang
Wednesday, December 12, 7:30-9:00 pm
(Somerville, MA) McIntyre & Moore Booksellers hosts "You CAN get there from here" with
Barbara Beckwith and Judah Leblang.
Wednesday, December 12, 7:30-9:00 pm at McIntyre & Moore Booksellers,
255 Elm St. in Davis Square, Somerville, near the Red Line.
Free and open to all; wheelchair accessible. Light refreshments will be served.
15% book discount on store inventory for all those attending* [*discount available for day of event only].
For information call McIntyre & Moore Booksellers (617) 629-4840 or log onto www.mcintyreandmoore.com.
Two local writers promise an evening of fun and pathos as they share true stories of glitches, stumbles and losses – and the joys and humor of coming out the other side of trouble. Barbara Beckwith's personal essays have appeared in the Smithsonian magazine, New York Times and Christian Science Monitor, to name a few. Judah Leblang is a columnist for Bay Windows and a commentator on NPR.
For more information, visit www.judahleblang.com and www.geocities.com/beckwith_barbara/.
McIntyre & Moore Booksellers
www.mcintyreandmoore.com
On the Red Line, in the heart of Davis Square
Greater Boston's best source for scholarly used books
Open for browsing 7 days a week until 11 pm
--submitted by marycurtinproductions
c/o Mary Curtin
PO Box 290703, Charlestown, MA 02129
617-241-9664, 617-470-5867 (cell), marycurtin@comcast.net
"dedicated to staging insightful entertainment, particularly in non-traditional venues"
http://www.marycurtinproductions.com

---

(These readings current as of December 1, 2007 go to the Readings page to see updated listings!)
KEEPING UP WITH CORMIER DECEMBER 2007
I will be exhibiting art at the
Annual Holiday Artist and Artisan Sale
Saturday December 1 from 10:00AM - 4:00PM
Footlight Club
7A Eliot St, near the Monument in Jamaica Plain
---
CORMIER'S ANNUAL HOLIDAY COMEDY MADNESS SHOW
I host a lineup of very funny comedians who will be ranting and raving about those holidays...
lineup includes: Angie Thibault, Mary Cheyne, David Powell, Steven Duval
and music by Sam Hooper...
Sunday December 2, 2007
at the All Asia
334 Mass Ave, Cambridge (outside of Central Square)
Showtime 6:30 PM
Admission $5.00
bring friends who love to laugh!!!
Happy holidays
JC
---
Out Of The Blue Gallery
EVERY MONDAY NITE,
Stone Soup Poetry (Host: Chad Parenteau), a 35 year old venue, $4, sign up to be a feature - call Bill Perrault at 978-454-7423.
Starts at 7:30PM and don't forget to sign up!
Recorded on local t.v. station.
Upcoming Stone Soup Features
Out of the Blue Gallery
December 3rd: Open miker Gordon Marshall returns.
December 10th: Gloria Mindock
---
DIRE LITERARY SERIES /Out of the Blue Gallery/
1st Friday- Cambridge, MA
5, 15 MINUTE OPEN MIC SLOTS AT 8 PM,
SIGN-UP AT 7 PM
FOLLOWED BY FEATURES
---
USUALLY the 3rd FRIDAY of the MONTH!
NOLA's TIGH FILI POETRY & OPEN MIC, $5, 8PM, Host: Nola, poems/prose.
---
OPEN MIC STARTS @ 8:30pm, OPEN MIC STARTS @ 8:15pm, FEATURE @ 9:00pm
SIGN-UP AT 8:00pm
Come and perform or listen!
Coming Up:
Open Bark Features @ the Out of the Blue Art Gallery:
Dec.1: Abbott Ikeler
Dec. 15 Jasen Souza
Jan. 5: Matt Rosenthal
Jan, 19: Thade Corea
Feb 16 2008: Christine Korfhage
Feb 23: Ann Carhart
March 8: Harris Gardner
March 15: Laurel Lambert
April 12: David Surette
April 19: Lisa Taylor
3-5 dollar donation @ the door
Feature info: Mike Amado, spokenwarrior@verizon.net
---
1st SUNDAY of the MONTH!
DEMOLICIOUS POETRY, $5, 2PM, Host: John, experimental poetry.
Out Of The Blue Art Gallery
106 Prospect Street
Cambridge, MA 02139
phone: 617-354-5287
---
Lizard Lounge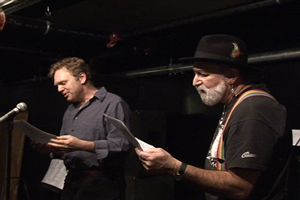 December 2, 2007
Lizard Lounge
1667 Mass Ave.
Cambridge, MA
Readers: Douglas Bishop and Marc Goldfinger
Oh, the cost -- last year it was $5. Before the show there is usually a slam which begins at 7:30,
then the show at about 9:30pm, then an open mike.
The Jeff Robinson Trio backs all the poets with jazz -- except the slam of course.
If you don't like slams then just come after 9pm,
As a teacher, DOUGLAS BISHOP has worked with students ranging in age from one to ninety, and now teaches English as a Second Language at a middle school in Lowell, Massachusetts. As a poet, he has performed in places as distant as Glasgow and Guatemala, but now appears primarily around Boston, where he is known for bringing a literary voice to musical and multi-voiced settings of poetry. A member of Doc Brown's Traveling Poetry Show, he also hosts the poetry series at Walden Pond. His first book, Songs in Love, is available at Mothwingarts.com.
MARC D. GOLDFINGER has been published by the Ibbetson Street Press, the Aurorean, Pegasus, the Boston Poet, the Crooked River Press, Earth First! magazine, Clamor magazine, The New Renaissance, User's News and many others. He is currently the poetry editor of the Spare Change News, a paper put out for the benefit of homeless people. He is a counselor for people with Substance Use Disorders and some of his work has been used to augment courses at the University of Massachusetts in Boston. He is a member of the Highway Poets, a motorcycle club whose members have been published throughout the world.
---
THE NEW ENGLAND POETRY CLUB PRESENTS The Fall and Winter 2007 Poetry Series
THE NEW ENGLAND POETRY CLUB founded in 1915 by Amy Lowell, Robert Frost, and Conrad Aiken *For more information, please call: 617-876-4491*
*Unless otherwise stated, all events are free and open to the public*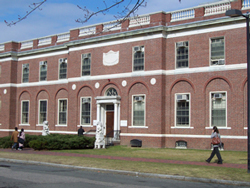 UPCOMING READINGS
Monday, the 3rd of December, 2007, at 7:00 o'clock p.m.
VENUE:
The Harvard Yen-Ching Library,
1st Floor, Common Room,
No. 2 Divinity Ave. at Kirkland St., Cambridge (near Sanders Theatre/Memorial Hall).
FEATURING:
SUSAN EISENBERG, author of the poetry collections Blind Spot (Backwaters Press 2006) and Pioneering (Cornell 1998), and the nonfiction book, We'll Call You if We Need You: Experiences of Women Working in Construction, a New York Times Notable Book. She is Visiting Scholar in Women's Studies at Brandeis.
JONATHAN AARON, author of three collections of poetry - the new Journey to the Lost City (Ausable Press), Corridor, and Second Sight. His poems have been included in Best American Poetry five times. He teaches at Emerson and Amherst College.
---
Tuesday, the 11th of December, 2007, at 7:00 o'clock p.m.
VENUE:
The Cambridge Public Library, Central Square Branch,
No. 45 Pearl Street at Massachusetts Avenue.
Next to the parking garage. Floor, Common Room, Cambridge, MA.
FEATURING:
ROSANNA WARREN, painter, translator, prize-winning poet, and past Chancellor of the Academy of American Poets, introduces this year's recipient of The New England Poetry Club Golden Rose, DAVID FERRY, award-winning poet and translator who has also been a finalist for the National Book Critics Circle Award, the New Yorker Book Award for Poetry, and the PEN New England/Winship Award.
READING BY NEPC BOARD MEMBER F. D. REEVE
NEPC Board Member F.D.Reeve will read his "The Blue Cat Walks the Earth" to musical accompaniment (piano and horn) at 7:30 p.m., Wednesday, 7 November 2007, at Adams House, Harvard University, Cambridge, Massachusetts.
Harris Gardner
______________________
Director of Tapestry of Voices
website: http://tapestryofvoices.com
---
PAINTINGS BY
IRENE KORONAS
O'NEAL Library
70 Rindge ave Cambridge
opening reception December 6, 2007
5:45 pm Thursday
followed by a poetry reading, 6 pm - 7:45 pm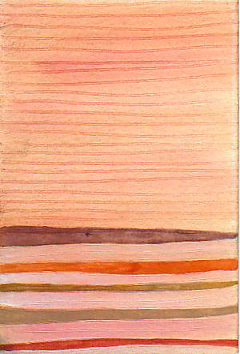 Syl-la-ble
reading series presents
Poets
Phillip Burnham
Julia Carlton
Jenny Grassl
Irene Koronas
Varsha Kukafka
Gloria Mindock
Barbara Thomas

---

Ellen LaForge Poetry Series Mary Bonina
&
Mark Pawlak
Mary Bonina has published poetry, memoir and fiction in literary magazines, online journals, and anthologies. Chapters excerpted from her memoir My Father's Eyes, have appeared in Gulfstreaming (online) at Florida International University and in Hanging Loose magazines 40th anniversary issue (2006). Bonina earned her Master of Fine Arts degree at Warren Wilson College. She was winner of Boston Contemporary Authors competition, a public art project, and as a result, her poem "Drift" is inscribed on a granite monolith permanently installed outside Green Street subway station on the MBTA Orange Line. She has been a fellow at the Virginia Center for the Creative Arts since 2001, when she was named first alternate for the Goldfarb Prize in non-fiction. She has also been a fellow-in-residence at the Vermont Studio Center. She is a member of The Writers Room of Boston. Living Proof, her first poetry collection is published by Cervena Barva Press (November 2007).
Mark Pawlak is the author of five poetry collections, of which Official Versions is the latest (2006, Hanging Loose). For the Time Being, The Bootstrap Book of Poetic Journals (2007, Tyler Doherty and Tom Morgan, eds.) included his work. Other titles are Special Handling: Newspaper Poems New and Selected, and All the News. His poetry and prose has also appeared in The Best American Poetry 2006 (Billy Collins, ed), in New American Writing, Mother Jones, The Saint Ann's Review, and many other journals and anthologies. Pawlak's publications have been translated into Polish, German, and Spanish. In addition, he is editor of four anthologies, most recently, Present/Tense: Poets in the World, an anthology of contemporary American political poetry, and Shooting the Rat: Outstanding Poems and Stories by High School Writers, the third anthology drawn from the pages of the legendary high school section of Hanging Loose magazine, where he has been an editor for 27 years.
---
Gypsypashn's Poetry Caravan at Bestseller's Cafe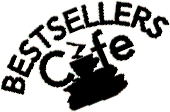 Gypsypashn's Poetry Caravan at
Bestseller's Cafe
24 High Street
Medford, MA. 02155
(In the heart of downtown historic Medford, MA. where Jingle Bells was written; right off Rte 93)
Our venue meets the third Thursday of each month at 6:30 PM.
Free refreshments Open Mic.
Readings commence at 6:30 PM. Readings conclude 8:00 PM.
= = = =
December 20th OPEN - planning something festive, but not sure what yet! :*)
Anyone wishing to feature here, let me know! :*)
That will wrap it up thus far Bestseller's... and anyone who hasn't yet featured, who'd like to, kindly write me and let me know! As always there's OPEN MIC, and REFRESHMENTS courtesy of me.... so as they say on the Price is Right...."C'mon Down!"
The months of April and August are already spoken for, but all other months remain open. If you'd like to be a feature at Bestsellers this coming year, let me know. A reminder that we meet the third Thursday of each month at 6:30 PM.
Want to feature one of the open months? Email me at: Gypsypashn@aolcom
Write on!
Gypsy
New Hampshire Poet Laureate 2005
New Hampshire Poet Laureate 2006, Massachusetts Poet Laureate 2006
Founder of Gypsypashn's Poetry Caravan
===================================================
Contact information:
Betsy Lister
P.O. Box 496
Medford, MA 02155
U.S.A.
---
Cambridge Cohousing Presents
THE FIRESIDE READING SERIES
Fall 2007 – Spring 2008
Tuesday January 29 7:30 PM
Harris Gardner and Gloria Mindock
Tuesday February 26 7:30 PM
Jean Alonso and Jean Dany Jochaim
Tuesday March 25 7:30 PM
Gail Mazur and Danielle Legros George
Tuesday April 29 7:30 PM
Tom Daley and Julie Rochlin
Tuesday May 27 7:30 PM
The Jamaica Plain Carpenter Poets
Refreshments are served before and after each reading, starting at 7 PM
Note: The Walden St. bridge is under construction. Cambridge Cohousing is located just north of Porter Square at 175 Richdale Ave. From Massachusetts Ave., turn onto Upland Rd. Take the first right onto Richdale. Cross Walden St. and proceed to 175 Richdale Ave. Cambridge Cohousing is a complex of yellow buildings. Walk through the main gate to the Common House. For further information or instructions, please contact Molly Lynn Watt, 617-354-8242, mollywatt@comcast.net, or Jenise Aminoff, 617-576-2004, jenise@alum.mit.edu or go to http://www.cambridgecohousing.org/fireside/index.html
---
Newton Free Library Poetry Series
Newton Free Libray
330 Homer Street
Newton, MA

Director: Doug Holder
Newton Free Library/ 2007-2008
The Newton Free Library Poetry Series meets the second Tuesday of each month ( September, October, November, February, March and April) at 7PM. Open Mic follows feature. One poem per poet.
Features
Feb. 2008

Harris Gardner
Dan Sklar
Lisa Beatman
March 2008

Susan Owen
Moira Linehan Ounjlian
Barbara Helfgott Hyett
April 2008

Fred Frankel
Lois Ames
Deborah DeNicola
---
The Boston Poetry Slam Downstairs at the Cantab Lounge
738 Massachusetts Ave,
Central Square, Cambridge, Mass
(617) 354-2685
Email: cantab@slamnews.com
(http://www.slamnews.com/)
Wednesday, 8 pm open mike; 9:30 pm feature; 10:30 pm slam
Hosted by: Slammaster Simone Beaubien
Co-hosts: Dawn Gabriel, Ryk McIntyre, J*me, Adam Stone.
$3 at the door
Please Note:
*****18+ everyone must have a photo ID*****
---
Lizard Lounge Poetry Jam Sunday Night!
Cambridge Common
1667 Mass. Ave., Cambridge
$5 Cover
Every Sunday Poetry Slam: 8:00 pm
Feature: 9:30 pm
Open Mike: 10:30 pm
---
1ST WEDNESDAY POETRY GROUP IN PLYMOUTH, MA.
Hosted by MIKE AMADO
Part workshop, part reading - all poetry & songs
@ BOOKS AND MORE, in Plymouth, MA
(HOME DEPO PLAZA)
EX. 5, off RT. 3
info: spokenwarrior@verizon.net

---
GOT POETRY LIVE
Hosted by Tony Brown
Every Tuesday starting at 7:30 PM
Reflections Cafe
8 Govenor St, corner of Wickenden St
Providence, RI 02903-4429
(401) 273-7278
(http://www.gotpoetry.com/)

---

Asbestos Arts Group Open Mic
Back Fence Bar
Sunday, December 2nd, 2007 @ 3 pm.
155 Bleecker Street (btwn Broadway & 6th Ave)
New York NY
CD Release Party: Robert Dunn's Sickly Minutes ($15) + Open
$5 suggested contribution, $3 min.
Handicap accessible? Yes.
Robert Dunn, emcee
dunnmiracle@aol.com
---
Asbestos Arts Group Open Mic
Back Fence Bar
Sunday, December 9th 2007 @ 3 pm.
155 Bleecker Street (btwn Broadway & 6th Ave)
New York NY
Angela Peluso + Open
$5 suggested contribution, $3 min.
Handicap accessible? Yes.
Robert Dunn, emcee
dunnmiracle@aol.com
---
Asbestos Arts Group Open Mic
The Vault
Thursday, December 13th, 2007 @ 8 pm.
90-21 Springfield Blvd,
Queens Village, NY
CD Release Party: Robert Dunn's Sickly Minutes ($15) + Open
$5 suggested contribution, no minimum.
Handicap accessible? Afraid not (it's somebody's house).
Robert Dunn, emcee
dunnmiracle@aol.com
---
Asbestos Arts Group Open Mic
Back Fence Bar
Sunday, December 16th, 2007 @ 3 pm.
155 Bleecker Street (btwn Broadway & 6th Ave)
New York NY
No Mopin' Open
$5 suggested contribution, $3 min.
Handicap accessible? Probably.
Patricia Carragon, guest emcee
dunnmiracle@aol.com
---
Asbestos Arts Group Open Mic
Back Fence Bar
Sunday, December 23rd, 2007 @ 3 pm.
155 Bleecker Street (btwn Broadway & 6th Ave)
New York NY
Cliff Bleidner + Open
$5 suggested contribution, $3 min.
Handicap accessible? Probably.
Robert Dunn, emcee
dunnmiracle@aol.com
---
Asbestos Arts Group Open Mic
Back Fence Bar
Sunday, December 30th, 2007 @ 3 pm.
155 Bleecker Street (btwn Broadway & 6th Ave)
New York NY
Ann Kenna + Open
$5 suggested contribution, $3 min.
Handicap accessible? Probably.
Robert Dunn, emcee
dunnmiracle@aol.com
---
Mad Hatters' Review Poetry, Prose & Anything Goes Series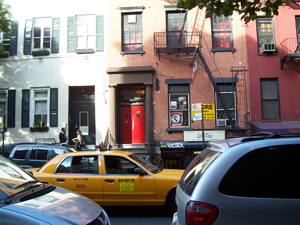 ---
Mad Hatters' Review Poetry, Prose & Anything Goes Series
December 7, 2007, 7 - 9 PM
Readers: Yuriy Tarnowsky, et al. (TBA)
KGB Bar
85 East 4th Street
New York, NY
Cost: FREE
Handicap accessible: No
See http://www.madhattersreview.com/events.shtml
---
Mad Hatters' Review Poetry, Prose & Anything Goes Series
Date: February 1st, 2008 7:00-9:00 PM
Readers: Rikki Ducornet, Eric Melbye, Carol Novack, Jonathan Penton,
Charles P. Ries, Tamara Kaye Sellman, and Anmarie Trimble
KGB Bar
85 E 4th St
New York, NY 10003
(212) 505-3360
Cost: free
Handicap accessible: no
---
Readings featuring Thad Rutkowski
UPCOMING READINGS
January 4, 2008, Friday, 9:30-11:30 p.m.
Panel discussion: "Polish American Writing: From Polish Tradition to the American Identity."
Polish American Historical Association, Washington, D.C.
Hope to see you! --Thad Rutkowski
http://www.thaddeusrutkowski.com
---
Poets House Reading and Signing Series
Late March (Date is coming)
Jean and Robert Hollander
Poet's House
72 Spring Street, 2nd floor, between B'way and Lafayette
New York, NY
Cost: free
Handicap accessible
refreshments served
---
LALITA JAVA READINGS
3rd THURSDAYS 7-9 PM
HOSTED BY DOROTHY F. AUGUST
Lalita Java
210 East 3rd St.
(Btwn. B & C)
---
92nd Street Y Reading Series
Lexington Avenue at 92nd Street
New York, NY

---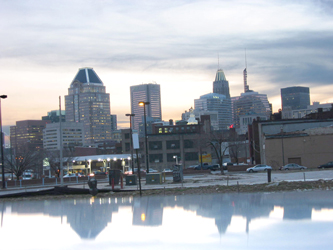 Reading/Booksigning
The Bones of the Homeless
by Judy 'Joy' Jones
Upcoming Event Thursday, December 6th, 2007 4-6pm
Howard University
Washington DC
Howard University Bookstore

---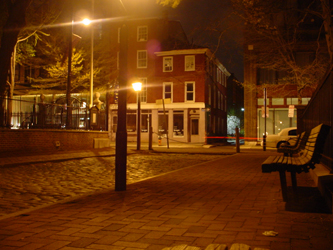 Manayunk Art Center
Manayunk Art Center located at 419 Green Lane (rear) is offering a special Humanities program,
"A Catholic Look: - Five Poets Putting Faith Into Words:
Father John McNamee, Marjorie Maddox, Angela O'Donnell, Tree Riesener and Peter Krok,"
on Sunday, 2 December from 3:00 - 5:30 PM.
$4 Donation requested. Refreshments will be available.
John P. McNamee, a Catholic Priest ordained May 1959, is a native of Philadelphia where he has served as a parish priest in the inner-city neighborhoods. Since 1984 he has been Pastor of St. Malachy Church. , He is the author of several books of poetry and prose including Clay Vessels, Poems, Endurance - The Rhythm of Faith, and Donegal Suite: A Collection of Poetry, and his published journal, Dairy of a City Priest, was made into a film starring David Morse as Father McNamee.
Angela O'Donnell teaches English Literature, American Catholic Studies, and Creative Writing at Fordham University in New York City. Her chapbook, MINE, has been recently released by Finishing Line Press. A full-length collection of poems, Moving House, is forthcoming from Word Press, and a chapbook of saints' lives, Waiting for Ecstasy, is forthcoming from Franciscan University.
Professor of English at Lock Haven University, Marjorie Maddox has published Perpendicular As I (Sandstone Book Award); Transplant, Transport, Transubstantiation (WordTEch Editions); Weeknights at the Cathedral (Yellowglen Prize); When the Wood Clacks Out Your Name: Baseball Poems and more. She is the co-editor of Common Wealth: Contemporary Poets on Pennsylvania (PSU Press 2005)
Tree Riesener, a winner in the Authors in the Park Short Story Competition and in England's Ian St. James Competition, has published poetry and short fiction in many literary magazines. She is Managing Editor of the Schuylkill Valley Journal. Two new poetry collections are forthcoming in late 2007/early 2008: inscapes from Finishing Line Press and angel poison from Pudding House Publications.
Peter Krok is the editor of the Schuylkill Valley Journal and serves as the Humanities/Poetry Director of the Manayunk Art Center, where he has coordinated a literary series since 1990. Because of his identification with row houses and red-brick Philadelphia, he is often referred to as "the red-brick poet." His book, Looking For An Eye, has recently been published by Foothills Press.
For information about literary programs at the MAC call Peter Krok,
Humanities Director of the Manayunk Art Center, at 215-482-3363.
---
"Poetry & Prose & Anything Goes with Dr. Ni"
(radio show; internet radio)
Address: (Dr. Ni's local address) P.O. Box 15095
City and State: Philadelphia, PA 19130-9998
Contact person and or URL/information: Dr. Niama L. Williams; www.internetvoicesradio
Date, time, price: Every Tuesday, 8-9 p.m. EST
$35/guest/appearance on show
Readers: International internet radio listeners
Other appropriate info: (station owner's address):
Ms. Lillian Cauldwell
P.O. Box 2344 Ann Arbor, MI 48106-2344;
734-332-5902.
Dr. Niama L. Williams
P. O. Box 15095
Philadelphia, PA 19130-9998
http://www.lulu.com/drni
http://www.blowingupbarriers.com
---
1ST FRIDAYS ON VINE
Hosted by Aziza Kintehg
Every First Friday of the Month
Be part of an Art Extravaganza * Spoken Word * Music Freestyle * Open Mike
Jose Sebourne Graphic Design
1213-15 Vine Street Philadelphia PA 19107
7-10pm $5.00 Cover
Contact info:
The Gallery - (215)564-2554
Aziza Kintehg(215)668-4500
Email: azizalockdiva@...
or check out the website: www.Josesebourne.com

---

Anthony Russell White Readings
There will also be two Winter dates with details to be announced later:
March
I'm reading with CB Follett & Susan Terris:
Poetry Center San Jose
Location to be announced later
March
I'm reading with Daphne Crocker-White & CB Follett & Susan Terris:
Sonoma Ashram
1087 Craig Avenue (west of downtown off Arnold Drive)
Sonoma, CA
(707) 996-8915
Copies of my books will be available at all the readings, and by mail from me.

---
If you would like to be added to my monthly e-mail newsletter, which gives information on readings, book signings, contests, workshops, and other related topics...
To subscribe to the newsletter send an email to:
newsletter@cervenabarvapress.com with "newsletter" or "subscribe" in the subject line.
To unsubscribe from the newsletter send an email to:
unsubscribenewsletter@cervenabarvapress.com with "unsubscribe" in the subject line.

---
Index | Bookstore | Submissions | Newsletter | Interviews | Readings | Workshops | Fundraising | Contact | Links
---
Copyright © 2005-2008 ČERVENÁ BARVA PRESS LLC - All Rights Reserved