July, 2005 Aug. 2005 Sept. 2005 Oct. 2005 Nov. 2005 Dec. 2005 Jan. 2006 Feb. 2006 Mar. 2006 Apr. 2006 May 2006 June 2006 July 2006 August 2006 September 2006 October 2006 November 2006 December 2006 January 2007 February 2007 March 2007 April 2007 May 2007 June 2007 July 2007 August 2007 September 2007 October 2007 November 2007 December 2007 February 2008 March 2008 April 2008 May 2008 June 2008 July 2008 August 2008 September 2008 October 2008 November 2008 December 2008
ČERVENÁ BARVA PRESS NEWSLETTER
Gloria Mindock, Editor Issue No. 42 February, 2009
---
INDEX
---
Welcome to the February, 2009 Newsletter
Hi everyone! There was no newsletter in January. Interviews will start again in March.
I hope to see some of you at the AWP Conference in Chicago. The press will have a book table there. Four Červená Barva Press authors will be signing their books at the book table. See the AWP schedule for times. They are: Nancy Mitchell, Glenn Sheldon, Eric Wasserman, and Linda Nemec Foster.
All authors who have a book coming out, please do not schedule any readings until your book is at the printers. I have mentioned this numerous times. I have a busy schedule and am doing the best I can. My Webmaster has been very busy also. My interns will be back helping me in March which will be a big help. The next three full-lengths to come out are by CL Bledsoe, Michael Nash and Nancy Mitchell. These books will be released in March. CL Bledsoe and Michael Nash have waited a long time for their books to come out. They have been just gems. In March, I will give all full-length and chapbook authors a tentative publishing schedule. It seems like every writer wants their book out in the Spring. That just isn't going to happen. I just cannot do that.
I have talked about going non-profit in previous newsletters but never got around to changing the status of the press. I plan to start that this Spring. I want to apply for grants to help with publishing books. Sales and donations are down. Now when you watch TV or read the news, there are more lay-offs happening. The economy is bad. Many of the big presses are laying off employees or have stopped accepting anymore manuscripts for publication. It is amazing to see small presses publishing at all. Please support the small presses that publish you. We all need to survive. Promote your books. The small presses can't do it all.
Červená Barva Press has many wonderful chapbooks and books coming out this year. It is very exciting. It is such an honor to publish such gifted writers. Bill, my interns, and myself will be working very hard this year on the press. Be patient. We will not rush the books because that's how mistakes happen. We pride ourselves on how our chapbooks and books look.
---
In Memoriam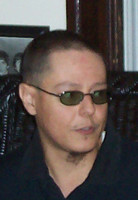 On January 2nd, 2009, the poetry community lost a wonderful spoken- word poet, Mike Amado. He passed away due to Kidney disease at the young age of 33. Mike was a friend of mine and will be missed. When I first met Mike at Bagel Bards, a writing community that meets every Saturday morning at the Au Bon Pain in Davis Square, in Somerville, MA.,I just loved him. He was funny, witty, smart, out-going, but very shy concerning his poetry. I kept telling him to send his work out to magazines and how great his work was. Others in the community kept telling him the same thing. Soon, I watched a shy writer take flight. Mike started to get magazine acceptances and started to write reviews. In 2008, Cervena Barva Press published his chapbook and Ibbetson Street Press published a full-length book. I am so happy Mike lived long enough to see these come out.
Being as sick as he was, you would never hear him complain about his health. Nothing stopped him. Not the pain, the dialysis treatment, or the failed Kidney transplant. He was a person who touched your heart with his bravery and courage.
Mike started a reading series in Plymouth and often you would find him reading at other venues or attending being supportive of other writers in the community. Jack Scully, who was a close friend of Mike's, brought him to many of the venues and to Bagel Bards. Jack is such a gem of a person. Mike was very lucky to have such a friend as Jack. I know I am very happy to have Jack in my life too.
I will always remember Mike with much love and for the many laughs we had. Sometimes on Saturday mornings, when the writing community would gather, Mike and I would be laughing hysterically. The comments from the others would be, "There they go again."
Recently, there was a memorial reading in Cambridge. We read his work and spoke about him. I could just envision Mike rolling his eyes wondering why we all are honoring him. At Mike's funeral service, some of us spoke again. On Sunday, June 28, beginning at 1:00 PM in Plymouth, at the Plymouth Guild for the Arts Building., a program of music, poetry and memories is being formulated at this time to help celebrate Mike's short time on this earth.
It is so strange not to see Mike but to those of us who knew him, we will keep his work alive. Mike had a way with words and always spoke his mind forcefully and beautifully in his poetry. Whether it was about the medical profession or the world, he saw through the BS and could write in many different styles. He always memorized his poetry and was a remarkable percussionist. He loved hard core rock music so it was fitting to hear his favorite music played at his funeral service by his family. Mike, my dear friend, rock on!

---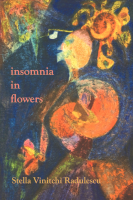 insomnia in flowers by Stella Vinitchi Radulescu
Plain View Press
ISBN: 978-0-911051-29-2
80 pages, $14.95
To order: http://plainviewpress.net/gallery2/pages/Insomnia-In-Flowers.htm
"This book is just stunning and beautifully written. Stella is one of my favorite poets.
I highly recommend this book."
Gloria Mindock, Editor
---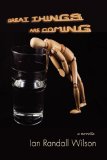 Great Things Are Coming (a novella) by Ian Randall Wilson
From the Hollyridge Press Website:
First published in The Gettysburg Review, Ian Randall Wilson's novella, Great Things Are Coming, takes us into an odd temporary world. With his vivid prose and eye for the unusual detail, Wilson tells a story of survival and redemption, a journey through time and memory, dark and bleakly funny, a celebration of lives lived and lost.
To buy go to: Holly Ridge Press or
www.amazon.com
---

Drawn From Life, a novel by Jonathan Strong.
Quale Press
ISBN: 978-0-9792999-3-3
Perfect Bound, $17.00
5 x 7 inches, 302 pages

FICTION
Jonathan Strong is a true master, embodying all the old-fashioned attributes that count: a lucid style, a moral footing, an eye for the key details, and the kind of passion that shames cheap irony. In Consolation he has turned the university novel into the kind of splendid soap opera that Tolstoy used to give us. . . a triumph in every way."
-Darin Strauss

Individuals: Order directly from Small Press Distribution
1-800-869-7553; or Amazon.com.
Bookstores: Order through BookSurge or Small Press Distribution.
---

Souls of Wind, a novel by John Olson.
Quale Press
ISBN: 978-0-9792999-2-6
Perfect Bound, $16.00
5.5 x 8 inches, 272 pages

FICTION
"A wonderful serving of similigetti topped with a saucy sauce of metaphoratutti. Easy on the sanctimony and just greatilicious. A Good night out. Gotta be Five Stars!!!!"
-Philip H. Red Eagle, The Raven Chronicles

Individuals: Order directly from Small Press Distribution
1-800-869-7553; or Amazon.com.
Bookstores: Order through BookSurge or Small Press Distribution.
---
Check out the new issue of the Poesia Forum (Indian Bay Press) at:
http://www.indianbaypress.com/about_us.html
Subscribe to Poesia/$18.00 a year. Check out their website for details.

---

---
If you would like to be added to my monthly e-mail newsletter, which gives information on readings, book signings, contests, workshops, and other related topics...
To subscribe to the newsletter send an email to:
newsletter@cervenabarvapress.com with "newsletter" or "subscribe" in the subject line.
To unsubscribe from the newsletter send an email to:
unsubscribenewsletter@cervenabarvapress.com with "unsubscribe" in the subject line.

---
Index | Bookstore | Submissions | Newsletter | Interviews | Readings | Workshops | Fundraising | Contact | Links
---
Copyright © 2005-2008 ČERVENÁ BARVA PRESS - All Rights Reserved