July, 2005 Aug. 2005 Sept. 2005 Oct. 2005 Nov. 2005 Dec. 2005 Jan. 2006 Feb. 2006 Mar. 2006 Apr. 2006 May 2006 June 2006 July 2006 August 2006 September 2006 October 2006 November 2006 December 2006 January 2007 February 2007 March 2007 April 2007 May 2007 June 2007 July 2007 August 2007 September 2007 October 2007 November 2007 December 2007 February 2008 March 2008 April 2008 May 2008 June 2008 July 2008 August 2008 September 2008 October 2008 November 2008 December 2008 February 2009
ČERVENÁ BARVA PRESS NEWSLETTER
Gloria Mindock, Editor Issue No. 43 March, 2009
---
INDEX
---
Welcome to the March, 2009 Newsletter
The fiction and poetry chapbook winners will be announced soon. I have the top 5 picked in each category. The quality of writing is really quite remarkable. I will let you know my decision shortly.
---
Interviewed this month: Elizabeth Quinlan and Nancy Mitchell
---
In my previous newsletter, I told you 4 books would be coming out. They will be out this month as planned. The books are: They're Dropping Bombs Not Ham Sandwiches (play) by Michael Nash, and three poetry books, Grief Hut by Nancy Mitchell, Anthem by CL Bledsoe, and The Curvature of Blue by Lucille Lang Day: Watch for the press releases and ordering information. Here's a sneak peek at the bookcovers.



"Their Dropping Bombs
Not Ham Sandwiches"
by Michael Nash




"Grief Hut"
by Nancy Mitchell




"Anthem"
by CL Bledsoe




"The Curvature Of Blue"
by Lucille Lang Day
---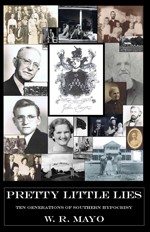 Cervena Barva Press would like to announce a book soon to be released.
It is called, "Pretty Little Lies" by William Mayo
Book Description:
"Follow ten generations of one of the Arkansas Delta's oldest families from its known origins in 1654 from Somersetshire England to the present where its hosts of secrets long clouded by smoke and mirrors are revealed by one of its own.
The greatest lie is perhaps the one they tell themselves as a result of a culmination of four centuries of failing to learn from their own history which they repeat time and again.
Take a pinch of Poe, a dash of Faulkner and mix well with Tennessee Williams and you will not find a more dysfunctional family."
---
Congratulations to Rane Arroyo, who chaired the AWP conference in Chicago this year. You did a wonderful job and so did the others who were involved. I am so happy I finally got to meet you!
Being at the AWP conference this year was so much fun. I got to see so many friends I haven't seen in years, met writers I am publishing or have published in ILR and Cervena Barva Press, and met some wonderful editors, publishers, and writers. This is what made the conference so wonderful.
The bookfair was overwhelming. There were four huge rooms full of book table after book table. I have never seen anything like it. It was overwhelming. I bought so many books which was great. I want to thank Thea Ledendecker for all her help at the Cervena book table as well as Nancy Mitchell and Kathleen Aguero. Thanks also to Linda Nemec Foster, Eric Wasserman, Nancy Mitchell, and Glenn Sheldon for being there for booksignings.
I cannot even begin to tell you how much fun I had. Thanks so much Glenn and all of the New Sins Press editors for the great time and the laughs. You all are the best! Thanks to Eric Wasserman for introducing me to such wonderful people throughout. It meant so much to me.
Finally, I would like to say my hotel room overlooked Lake Michigan. It was beautiful. After the conference, I went home to Oglesby, which is about 2 hours from Chicago, in North Central Illinois. I saw my parents and my close friends in the area. That was the best!
---
Get Ready for the poetry month of April and mark your calendars for April 2nd, 7:00 PM. It is an event not to miss. Come join us at SCAT, Union Square, Somerville, MA.
(This press release is courtesy of Doug Holder.)
Renowned African American poets Afaa Michael Weaver and Major Jackson will be in a filmed public discussion at Somerville Community Access TV. It will be moderated by Gloria Mindock of the "Cervena Barva Press."
Doug Holder, founder of the independent literary press "Ibbetson Street," and the host of the Somerville Community Access TV Show "Poet to Poet: Writer to Writer" has started the process of organizing a public discussion featuring renowned African American poets Afaa Michael Weaver (http://afaamweaver.com) and Major Jackson (http://www.majorjackson.com) on April 2, 2009 ( Poetry Month)
Somerville poet Afaa Michael Weaver has won the prestigious PUSHCART PRIZE (2008) for his poem "American Income," published in POETRY magazine and in his collection "Plum Flower Dance" ( U/Pitt Press.)
Henry Louis Gates, historian and professor at Harvard University writes of Weaver:
"Afaa Michael Weaver is one of the most significant poets writing today. With its blend of Chinese spiritualism and American groundedness, his poetry presents the reader (and the listener, for his body of work is meant to be read aloud) with challenging questions about identity, about how physicality and spirit act together or counteract each other to shape who we are in the world. His attention to the way language works is rare, and the effects of that attention on his poetry are distinctive and expansive."
Major Jackson is the author of two collections of poetry: Hoops (Norton: 2006) and Leaving Saturn (University of Georgia: 2002), winner of the 2000 Cave Canem Poetry Prize and finalist for a National Book Critics Circle Award. Hoops was a finalist for an NAACP Image Award in the category of Outstanding Literature - Poetry. He has received critical attention in The Boston Globe, Christian Science Monitor, Parnassus, Philadelphia Inquirer, and on National Public Radio's 'All Things Considered.' His poems have appeared in the American Poetry Review, Boulevard, Callaloo, The New Yorker, Post Road, Poetry, Triquarterly, among other literary journals and anthologies. He is a recipient of a Whiting Writers' Award and has been honored by the Pew Fellowship in the Arts and the Witter Bynner Foundation in conjunction with the Library of Congress. Last year, he served as a creative arts fellow at the Radcliffe Institute for Advanced Study at Harvard University and as the Jack Kerouac Writer-in-Residence at University of Massachusetts-Lowell. Major Jackson is an Associate Professor of English at University of Vermont and a core faculty member of the Bennington Writing Seminars. he is the current poetry editor of the Harvard Review.
A description of the discussion is as follows:
"Two Generations of Black Male Poets/ Two Sets of Eyes on the Urban Landscape
Afaa Weaver & Major Jackson
In a public chat in the SCAT television studios in Somerville, these two poets share the experience of their lives as black men who came of age in large American cities, Baltimore and Philadelphia. They discuss the music, visual art, and literature that were influential in their times, from The Temptations to Grandmaster Flash and Chuck D, from Ron Milner to Susan Lori Parks, and more. They share intimate moments in their lives and some of their own work as well as that of poets they know and admire in an evening setting in the burgeoning artistic community north of Cambridge to be recorded in front of the live audience."
---
Cervena Barva Press Reading Series
Wednesday, March 18th
Pierre Menard Gallery
10 Arrow Street (Harvard Square)
Cambridge, MA
7:00PM, Free
Reception to follow
Cervena Barva Press celebrates three local Writers
Readers:
Dorothy Derifield
Lo Galluccio
Kim Triedman
Dorothy Derifield is a poet and writer from Roslindale, MA, who is a member of the Jamaica Pond Poets. She recently won an Editor's Prize from Plainsongs, and her work has appeared in The Radcliffe Quarterly and Harvard Magazine, among others. She teaches poetry classes at Sherrill House in Jamaica Plain and is the director of the long-running literary reading series Chapter and Verse.
Lo Galluccio is a poet, vocal artist and creative non-fiction writer whose first chap, "Hot Rain" was published on Ibbetson St. Press. Her third poetry chapbook will be released this summer on Propoganda Press. Her latest work, published by Cervena Barva Press, from which she will read, is a prose-poem memoir called, "Sarasota VII." Lo's been published in numerous journals and on-line blogs. She's been nominated for Pushcart prizes in poetry three times. She's also produced two vocal CDs: "Being Visited" and "Spell on You: --- both available on www.cdbaby.com.
Kim Triedman has worked in both poetry and fiction. Her first poetry collection - "bathe in it or sleep" - was named winner of the 2008 Main Street Rag Chapbook Competition and semi-finalist for the 2008 Black River Chapbook Competition. In the past year, she's also been named finalist for the 2007 Philbrick Poetry Award, finalist for the 2008 James Jones First Novel Fellowship, and semi-finalist for the 2008 Parthenon Prize for Fiction. Her poems have been published widely by literary journals and anthologies here and abroad. She is a graduate of Brown University, lives in Arlington, and has read widely in the Boston area.
The current exhibit at the Pierre Menard Gallery is called, Heads and Tales by Heide Hatry For Heads and Tales events and readings, go to: http://www.pierremenardgallery.com/events.html
I highly recommend this exhibit and the events. Check them out.
---
Cervena Barva Press Celebrates 4 Year Anniversary
Wednesday, April 15th, 7:00 PM, Free
Pierre Menard Gallery (Harvard Square)
10 Arrow St.
Cambridge, MA
Come celebrate our 4th year anniversary with Cervena authors and friends. List to be announced shortly of readers.
---
Cervena Barva Press celebrates new book authors by the press
Wednesday, May 20th
Pierre Menard Gallery (Harvard Square)
10 Arrow St.
Cambridge, MA
Readers:
CL Bledsoe, will be here from Maryland
Nancy Mitchell, will be here from Maryland
TBA
CL Bledsoe will read from his poetry collection "Anthem"
Nancy Mitchell will read from her poetry collection "Grief Hut"
Bios for the May readers will be in next newsletter.

---
When Performers Swim, The Dice Are Cast, by Judy Katz-Levine
Ahadada Books
ISBN: 978-0-9811704-3-5
To order: www.ahadadabooks.com
"Almost every poem seems to work at the intersection of multiple planes. They offer the reader, who allows them to work their magic, a rich, rewarding experience. Many of the poems are a swirl of images tied to the ground by the thinnest of threads, others are firmly rooted, some even burrowing into subterranean places…There are so many moving poems in this collection, some that uplift the spirit, others embrace sadness, and loss."
-Mark Pawlak, editor of Hanging Loose, author of "Official Versions"
---
I have numerous book reviews coming out. They are not ready yet but soon…
---
Hanging Loose Press SPRING 2009 NEW TITLES
Hanging Loose Press
231 Wyckoff Street
Brooklyn, NY 11217
Phone (212) 206-8465 Fax (212) 243-7499
E-Mail: Print225@AOL.com
www.hangingloosepress.com
POETRY
Face, Sherman Alexie. Hardcover: ISBN 978-1-931236-71-3, $28. Paperback: ISBN 978-1-931236-70-6, $18. April 15, 2009. First poetry collection in nine years by the recent National Book Award winner.
The One and Only Human Galaxy, Elizabeth Swados. Hardcover: ISBN 978-1- 934909-08-9, $28. Paperback: ISBN 978-1-934909-07-2, $18. April 15, 2009. The first book of poetry by the celebrated composer, novelist and children's book author.
On the Imperial Highway: New and Selected Poems, Jayne Cortez. Hardcover: ISBN 978-1-931236-99-7, $28. Paperback: ISBN 978-1-931236-90-4, $18. April 29, 2009. Hard-hitting new work and previously hard-to-find early poems.
Getting Lost in a City Like This, Jack Anderson. Hardcover: ISBN 978-1-931236-98- 0, $28. Paperback: ISBN 978-1-931236-97-3, $18. April 29, 2008. First new book in ten years by the well-known New York poet and dance critic.
If the Delta Was the Sea, Dick Lourie. Hardcover: ISBN 978-1-934909-02-7, $28. Paperback: ISBN 978-1-934909-01-0, $18. May 5, 2009. Poems of the Mississippi Delta by the author of Ghost Radio who is also a busy musician.
Complete Lineups, Charles North. Paperback: ISBN 978-1-934909-03-4, $18. May 5, 2008. The legendary baseball lineup poems together for the first time, with art by Paula North.
Circa, Hannah Zeavin. Paperback: ISBN 978-1-934909-09-6, $16. May 12, 2009. A high-energy debut by an 18-year-old Brooklyn poet. Co-published with Scholastic.
When We Were Countries: Outstanding Poems and Stories by High School Writers, edited by Robert Hershon, Dick Lourie and Mark Pawlak. Hardcover: 978-1-934909-06- 5, $28. Paperback: ISBN 978-1-934909-05-8, $18. May 12, 2009. The fourth anthology of work from Hanging Loose magazine's much-praised high school writing section
---
Visit the March Poesia Forum at www.IndianBayPress.com and see what's new!
Our Spring issue of Poesia to be released April 1
Cervena Barva Press announces the new upcoming release of W.R. Mayo's Pretty Little Lies
Submissions are now closed for the Spring Issue of Poesia
The Oxford American - Depending On The Kindness of Strangers
Susan Tepper - Circling
Meet Carol Ann Howell
Join Us!
Indian Bay Press
Montgomery Center
1750 Montgomery Street
San Francisco, California 94111
www.IndianBayPress.com

---



Photo: Rick Maloof

Nancy Mitchell is the author of The Near Surround (2002) and her poems have appeared in Agni, Poetry Daily, Salt Hill Journal, Great River Review, and are anthologized in Last Call by Sarabande Books. She has received an Artist in the Schools grant for Virginia, and residency fellowships from the Virginia Center for the Creative Arts in Amherst, Virginia, Auvillar, France, and a Four Way Books fellow-residency at the Fine Arts Work Center in Provincetown, MA. Mitchell teaches Creative Writing Courses in the English Department at Salisbury University, Maryland, and has taught in the Stonecoast MFA program in Maine. She resides in Salisbury, on the Eastern Shore of Maryland, with her husband John Ebert, a filmmaker.

When did you start writing?

Story telling was part of the tradition I grew up in; I was born into a large southern family of eight. We followed my father's career in oil to many interesting places, including Egypt, so we didn't grow up in the south around our extended family, but they loomed in mythic proportions in our canon of family stories. My siblings, all of whom have returned to the south to live are doing a great job maintaining and perpetuating our family's dramatic saga.
As a child, I had a lot of curiosity and imagination, much to the annoyance of my parents and siblings. Early on, I expressed myself by writing plays and arm twisting my sister, younger brothers and the neighborhood kids into starring in them-we'd use the front porch as the stage, and I'd bug my mother until she agreed to let us drag the dining room chairs out into the lawn for the audience of parents shanghaied into attending-a pregnant mom got the best chair. For costumes, I would exhume my mother's cocktail dresses from a mothballed cedar chest-a very elegant cast-I cannot remember anything about these brilliant plays except that somehow, someone inevitably, very suddenly died, and there had to be a white sheet handy to pull over the immediately deceased. In elementary school, sometimes teachers would read my writing assignments to the class as examples of good writing-I spent a lot of time staring out the window, so I wasn't very good student in other subjects-was especially abysmal in math- and it was great to get some attention for doing something well.
When did you know you wanted to write seriously?
Again, in elementary school, one teacher actually wiped a tear away as she read a ridiculously sentimental story I wrote about an old man begging on a street corner on Christmas Eve while the fur-clad rich passed obliviously by him-I remember being stunned and deeply gratified to discover I could move someone with writing.
So, inevitably, I became an English major in college, and wrote acceptable and somewhat entertaining, but not exceptional fiction in Creative Writing Classes. I married early, and raised three great little kids in the decade of my twenties. I was thrilled to have kids and was totally involved and nourished by that world, and whatever need I had to write was kept at bay by keeping a notebook/journal. The kids got bigger and the marriage got smaller, and one day I became a single parent with three teenagers, and a full time and two part-time teaching jobs. It was a rough patch, but one of the gifts of those days was that I met and became involved with the wonderful poet Michael Burkard, who shone a light on poetry so I experienced it in a way I never had before. It would be years before I would start writing poems in earnest, but when I did, I went to Warren Wilson's MFA Program for Writers, and have been writing ever since.
What was the experience at Warren Wilson for your MFA like?
It was great- I still refer to the classes on craft in my own teaching. To be in such close proximity to a faculty of great writers, and among serious writing students on a daily basis during residencies was amazing for me. The support from faculty was generous, and the camaraderie among the students was sustaining and fun. The friends I made there are among my dearest.
Talk about your book The Near Surround (Four Way Books, 2002).
The title of The Near Surround refers to a physics term, which loosely means all that is intuitively palpable to us, which we can feel, but not necessarily perceive with our five senses. I was intrigued with "presences" of people, places that at times felt more immediate than what was tangibly present, and I examined if it was my own longing which kept them so present. When I read the lines from Rilke "what seems most far from you is most your own", I understood completely what he meant. The poems in The Near Surround concerned themselves with presences within absences…there is intentionally a lot of white space in the book.
Cervena Barva Press just published your full-length collection, Grief Hut. Please talk about your new book.
During the time I was writing many of the poems which are in Grief Hut, I was still grieving my parent's death-they died within five weeks of each other-and the loss of a dear friend, Debbie Gichner. Our oldest son had come out to us about his long-standing struggle with substance abuse, from which he nearly died, and a very dear friend had been diagnosed with breast cancer. I had written some poems on the loss of Debbie and my mother which were published in The Near Surround, but I still felt very heavy, full, encumbered, if you will, with grief-I seemed to move through life so slowly, write slowly, and the typical avenues of dealing with grief weren't doing the job. In a phone conversation with a friend who was having a similar experience, I joked that it would be great if there were grief huts, like birth huts in primitive cultures, situated along secluded beaches where women could go away to birth to their grief assisted by mid-wives. I started thinking about that idea, could actually envision it, and wrote a poem about it, which is the title poem. What the women actually gave birth to is the articulation of their grief, "the knot, rising from their throats." The book itself then became the grief hut for the poems about the big, obvious losses, and later as those were cleared out, other smaller losses and disappointments rose to the surface-a protracted labor! I am a true believer about the healing power of transforming emotions out of the body via physical expression-writing, painting, dancing, whatever. Grief has to be some way articulated in order for one to be well. As Shakespeare advised, Give sorrow words. The grief that does not speak/Whispers the o'er fraught heart and bids it break. Grieving is a fully human, primal expression of loss, but one that our culture hurries us through, and that we somehow are ashamed of doing-it somehow seems distasteful to demonstrate grief-it's OK to see this level of grief on the big screen, or on stage, but in real life it is a much longer, very messy process, and we are very busy people! Somehow to grieve beyond a certain time seems self indulgent, and we are encouraged to "get over it", but we really do not know how to do that. For some, talk therapy works, but to me the vision of a far away hut -out of time, and context, a womb to return to in which to birth one's grief-assisted by wise and trusted midwives was very nourishing and sustaining to me. After I finished the book, it became obvious to me that the process of writing the poems was the labor, and my midwives were my amazing friends who took time to read and comment on the poems and encourage me to keep writing.
You have been awarded fellowships from writers' residencies. Can you talk about your experiences there?
I've been to VCCA in Virginia and to their Moulin a Nef, in Auvillar, France and they were both wonderful in different ways. I spent January of 2000 at VCCA in Virginia, which is out in the country and on acres of beautiful, rolling farm land; it was winter and my parents had just died, and for the first week, I would pick up my lunch pail and walk this path to my studio-it felt like I was a kid going off to school with lunch lovingly packed by a parent-I felt very cared for-then I would sit in my little cocoon of a studio all day and watch snow fall and slowly pile up on telephone wires, branches, etc., I'd talk long walks in the cold, at night, and feel safe-I was feeling fragile, sort of contagious with grief, so I wasn't as social as I might have been otherwise. To have that privacy, space and freedom to be quiet with myself and process the preceding months was an incredible gift. Although there was never any pressure to produce, I eventually developed a good writing routine. Some of the composers and visual artists would welcome drop-ins to their studios, so I would stop by, and be amazed by what others were doing-it was wonderfully interested and inspiring. In June of 2007, I went to VCCA's Moulin a Nef, which is in the tiny medieval village of Auvillar in the gorgeous countryside of southwestern France. We fellows were welcomed and feted by the villagers like royalty. It took a lot of discipline to go to the studio everyday; we were in the thick of authentic village life, and there were festivals to go to, so many lovely things to see, eat, drink, and talk about and so many equally lovely people to do all those things with!-in spite of all those wonderful distractions, I did manage to get a lot of writing done. Both experiences were life changing, and gifts for which I'm forever grateful to VCCA. In May, I'm going to the Fine Arts Work Center in Provincetown as a Four Way Books fellow-I'm realy looking forward to it.
Currently, you teach at Salisbury University. Talk about the classes you teach
I teach beginning Creative Writing, and advanced Writer's Craft and Poetry Workshop, as well as Modern Poetry.
What do you try to teach your students about writing?
The first task is to get them to tether abstractions to imagery and at the same time honor and access that imagery from their own experiences. I try to show them as many examples of artists who have done that, with as many different examples in film, visual art, music, not exclusively fiction or poetry-and I encourage them to bring in anything else as well. After that beginning Creative Writing class, we start to look at issues of craft-how different artists use materials, and what the result is-my syllabi are very subject to change as each class evolves in its own way.
What was your experience like teaching at the Stonecoast MFA program in Maine?
Via e-mail and land mail, I directed two thesis essay students and one manuscript student. As I have worked primarily with undergraduates, it was a new pleasure, and an absolute joy to work with these very serious, talented MFA candidates.
Describe your favorite places to write.
At home in my second story study, which overlooks a lovely, lively 500-acre pond, or in any place with proximity to water. However, I can really write anywhere as long as I can access a particular frame of mind.
Who are your favorite writers?
I love so many writers, that I could never even begin to name even a few-but I do know that I love the work of any writer who will get out of the way and allow the poem to move, breathe and turn in thrilling, unexpected ways-I offer as an example the gorgeous Pushcart winning poem, Nude Descending-by Dzvinia Orlowsky- I can't tell you how many times I've read that poem, yet I cannot read it without wonder and a shiver.
Whom are you reading now?
This semester I'm teaching Modern Poetry; I've been having the most wonderful time revisiting Whitman, Dickinson, Yeats, etc.-like all great poetry, its always fresh and deepens with each reading. We're reading Frost this week, and I thought, as much as I had read and studied him, that I was beginning to get the old Yankee's number, but I most certainly am not!

---



Photo: Jon Gummer

How long did it take you to work on your book, Promise Supermarket? Was it painful to write about your childhood?

The first poems in the series, I wrote twenty-nine years ago— while my young daughter slept, I enjoyed a long bath. Two poems: Betty's Faith, (which spawned a play) and Spencer Avenue, became many poems, eventually became the second manuscript in the memoir series. The poems came out whole, though they went through revisions through the years—I added the prayer years later, and characters came out into their own poems. After awhile it's as if the work has a life of its own! Later, I found fragments or images in the poems in my earlier journals (where I started most of my poems). There were very different versions of the collection over the years. Through the years I'd put it away, and pick it up again— going a little deeper.
I first started to tell some of the stories in my visual artwork. When I was at the Boston Museum School, (in my twenties) I did a series of black and white etchings, from my dreams. Nightmares really! They were created on a subconscious level— I didn't understand why they disturbed people. They were very grotesque and quite explicit. Now, most of the meanings of the images are clear to me. I understand what stories they were trying to tell.
There were experiences that I'd never forgotten but hadn't realized the full significance of— my parents behaviors had a deep effect on me. That last door of memories terrified me. I would write a word, a fragment, an image— then hide my journal under my mattress. But I have told these stories! I have a strong belief in the creative spirit as a healing force giving hope.
The title poem of the book, Promise Supermarket, still fills up my throat when I read it, as does Mental Tests— because I can still feel my mother's pain and shame. There is a poem, In the Dark, in the second manuscript, which revisits in a fuller way the experience of my mother being hit by the plate my father has thrown. That night, when my mother bled (what seemed to me as a child) all night—was probably the most traumatic event. We were so isolated emotionally—we just cried and prayed. Even though I had written the poem, Betty's Faith, years earlier—watching a film, where suddenly blood ran down a woman's face, I was stunned back to that event. I recall sitting in Barbara Helfgott Hyett's workshop in her home, and starting to read that poem, In the Dark, and was then again that broken child, crying. Some one beside me gently read the poem for me.
I think it's important to feel safe, when you explore this kind of work. I am very grateful that the years I went deeper into these memories I had an excellent therapist— she was my guide.
Talk about your experiences going to the Joiner Center. What were the things you learned attending workshops?
This past June was my eleventh year attending the Joiner Center for the Study of War and Social Consequences, Writer's Workshop. I could go on and on— it's an amazing community of writers, too many to name, and wonderful participants. The Workshop this year runs from June 15-26th. You can attend for one week of two weeks. I've worked with many esteemed writers: Bruce Weigl; Marilyn Nelson (whose coming back this year); Macdara Woods, Larry Heinemann, Eva Bourke and many more. Other writers, filmmakers, playwrights have come to lead workshops and/or to participant in panels. Iraq Veterans Against the War, came several years ago, when they were a small brave group speaking out that has since grown to a very strong movement. Grace Paley was a regular we looked forward to: her down to earth humor, stories and ideas—she came even while she was dying. Martha Collins ran the translation workshop for years; and has translated two books of Vietnamese writers. And this June she's leading a one-week non-fiction poetry workshop so many of us are excited about. People like Lady Borton, who has lived in Vietnam for many years and works for the American Friends Service Committee, a wonderful writer— and also has been working to eliminate the landmines that still litter Vietnam, and brought films that have shown us the still present devastation of Agent Orange on birth defects. Barbara Sonneborn whose award winning film, Regret to Inform, that took ten years to make, is a remarkable journey to Vietnam by a widow— as the train moves through the countryside she tells her story, but her story opens into the stories of Vietnamese widows. She spent two weeks at the Joiner. Her beautiful film could stand as a metaphor of the journey the Joiner has taken starting with the Vietnam Veterans with their own stories of war and trauma; these writers who are still telling their remarkable stories, have also gone beyond their own stories...
The work that Kevin Bowen, the Director, Bruce Weigl and Nguyen Ba Chung (all remarkable poets in their own rights), have done is no less astonishing! These American Vietnam Veterans (and Chung a Vietnamese American) have brought writers from Vietnam, translated their work, and seen their work to publications: Writing Between the Lines, An Anthology of War and Social Consequences,* (University of Mass. Press.); Two Rivers, New Vietnamese Writing From America and Vietnam, (University of Hawaii Press). The most recent translated work is Zen Poems From Early Vietnam, Bowen and Chung ,(Saigon Cultural Publishing House), with images by Nguyen Duy. The Writer's Workshop is only part of the Joiner Center's work— year round it sponsors panels, conferences, and visiting writer's and artists in it's fellowship program. Last month it sponsored For Gaza, a night of readings and conversations at the Cambridge Friends Meeting House, to an overflowing crowd of people sad and outraged by the deaths. I've learned so much I'm grateful for, as well as having a safe place to work on my own difficult stories. I've personally had excellent criticism but also encouragement. The experience has really opened up my world, to so many voices of struggle and survival. These writers: Kevin, Bruce, Martha, Lady, Grace Paley…have done so much to cross borders, to create reconciliation and healing in the world. I'm so grateful for the work they've done and keep doing. You can go to the web site to find out more about their work year round and the Writer's Workshop. www.joinercenter.umn.edu
Martha Collins helped you edit many of your poems. What was this experience like?
It was a wonderful experience— Martha just made my book so much stronger. And her forword for the book, my God, she's been such an incredible mentor to me. We go way back, since I worked on my Honors in Poetry with her at UMass/Boston in the late eighties, and even years before that in a workshop. I was pregnant with my daughter then, and remember giving her poems with a thousand commas, long winding cryptic poems. I even gave her one of my grotesque etchings of a nightmare for a gift. What was I thinking? My manuscript for the Honors was a collection of poems, which I called, Betty's Faith, some that are in the book in different versions. Martha's is such a brave writer. As you know her book, Blue Front, is about a lynching her father witnessed as a child— She never made me feel that the work was too difficult or painful, and understood as well as respected what I was doing. We took out some of the weaker poems (her instincts were right about that) and we merged some others, and had some of the same ideas. She even helped me with the cover. Sometimes it was magical: like when I showed her the last cover (I had made nine versions)and the green on that ninth cover (like the new leaves unfolding in spring) was one of her favorite colors. She felt it represented a hopefulness. Another time she suggested I change the title, from Blueberry Storm, to Promise Supermarket— since the Stories started in the country, but they quickly moved to the city. When I was trying to find a new title for the second manuscript, I thought of Promise Supermarket, but realized that poem was in the first manuscript. Martha has such a keen eye, is such an expert editor. She was very generous with her time to take this on. I'm so grateful, and feel truly blessed.
As a visual artist, you have studied book art. Do you make books? What are some of the things you've done?
Yes, I do make handmade books. I use to sell them at craft fairs where my daughter would sell her jewelry. But it really wasn't very profitable. Mostly, I enjoy making personal books for occasions: gifts for weddings, birthdays, journals, thank you books. I recently made a triptych book with a kind of medieval look for a thank you gift. I've also made healing books (with tree collages) the pages contained compiled poems or letters from friends sent to a poet experiencing illness or grief. Those were very important to me. A few years ago, I made a sculpture book, Stories of the Grandmother, a compiling of stories, some family history, photographs, collages and found objects. The book focused on the complicated relationship between my mother and my grandmother (whom I'd never met), as well as my relationship with my mother. I would like to turn this into a small edition.
I also teach book arts and make books with all ages from Preschool to school ages to seniors.I am presently working part time as an artist in residence at Red Oak after school program.
I've been making multi-cultural books with the children, and also doing staff workshops for the teachers. I love all parts of the book arts from decorating papers to making paper and create a lot of my own techniques.
I recently taught my husband, Vincent Dorio, (one of the Jamaica Plain Carpenter Poets) to make books, and he's turned our dining room into a (temporary) workshop. He's completed 41 hard cover hand made books of his poems for a fundraiser. Each book is distinct and beautiful (which I've added a flowers or leaves to the covers) all the proceeds from the sale will go to St. Margaret's Convent in Haiti).

---

---
If you would like to be added to my monthly e-mail newsletter, which gives information on readings, book signings, contests, workshops, and other related topics...
To subscribe to the newsletter send an email to:
newsletter@cervenabarvapress.com with "newsletter" or "subscribe" in the subject line.
To unsubscribe from the newsletter send an email to:
unsubscribenewsletter@cervenabarvapress.com with "unsubscribe" in the subject line.

---
Index | Bookstore | Submissions | Newsletter | Interviews | Readings | Workshops | Fundraising | Contact | Links
---
Copyright © 2005-2008 ČERVENÁ BARVA PRESS - All Rights Reserved