July, 2005 Aug. 2005 Sept. 2005 Oct. 2005 Nov. 2005 Dec. 2005 Jan. 2006 Feb. 2006 Mar. 2006 Apr. 2006 May 2006 June 2006 July 2006 August 2006 September 2006 October 2006 November 2006 December 2006 January 2007 February 2007 March 2007 April 2007 May 2007 June 2007 July 2007 August 2007 September 2007 October 2007 November 2007 December 2007 February 2008 March 2008 April 2008 May 2008 June 2008 July 2008 August 2008 September 2008 October 2008 November 2008 December 2008 February 2009 March 2009 April 2009 May 2009 July 2009 August 2009 September 2009
ČERVENÁ BARVA PRESS NEWSLETTER
Gloria Mindock, Editor Issue No. 49 November, 2009
---
INDEX
Welcome to the November, 2009 Červená Barva Press Newsletter
My trip to Italy.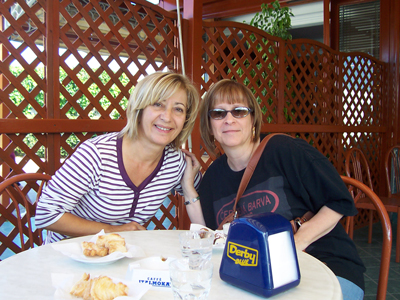 I am back from Italy and had such a wonderful two weeks there. I was staying in Pozzuli, Napoli, and right outside of Rome with my friend Lana. We have been friends for 30 years. It was so nice to spend time with her and meet some of her friends.
All my 5 flights were fine. Many of you know that I'm not a good flyer because I have trouble with my ears when flying. I set off all the security alarms except for when I left Boston. I had to empty out my purse once because it looked suspicious. I didn't mind and thought it was funny. Hey, they are doing their jobs. I'd rather be safe than sorry.
When the plane descended into Napoli, it seemed to rock back and forth a bit. The landing was so rough on the runway, but I was just happy to be on the ground. Lana lived in Pozzuli. The house she rented was really nice with a beautiful back courtyard. Only one car could fit on the winding road up the hill so she had to beep her car horn or flash the headlights at night so if someone was coming from the other way, they would know it. That night, I had the best thin crust pizza and met her friend Sally.
Lana was busy getting things settled for her move back to the US. The packers came. It took them two days to get all of her things ready for shipping. We packed up some things she wanted to fly back with in her car and headed for Hotel Montespina in Napoli. It was a great place to stay. Very pretty. I took her dog Scooter for a walk many times there. I met more of her friends and one of the hotel clerks, Domingo, who knew Lana and her friend Sandy.
I spent time on the Navy base and on the smaller base in Napoli with Lana and took some great pictures for Bill. Bill, was stationed for a few days in Napoli during the Cold War when he was in the Navy on a nuclear submarine. Where he was stationed isn't used anymore. I even had clearance for the Nato base which was interesting. Lana and I went and bought a bunch of Italian Pasta at the base there. I wanted to bring some of the good stuff home with me! Anyway, back to more of my trip.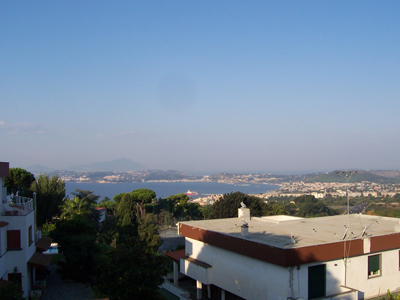 While in Napoli, we went to Christmas Alley and some churches. I could take pictures in one of the churches. Wow! This was unusual. The murals, the richness, and the beauty of what I saw, whew! I went nuts taking pictures! I went into the basement and took a picture of Saint Gennero's Crypt. Turns out they were getting ready to celebrate that saint. Everything was being decorated for it.
One place I will never forget in Napoli is the Chapel of Sansevero. It was so beautiful and the detail of the sculptures were stunning. It was founded at the end of the 16th century. The Veiled Christ was the most beautiful of anything I've seen including the Sistine Chapel. The Veiled Christ actually brought tears to my eyes. It was that gorgeous. Hard to believe it was marble. Also nice to see where Pompeii was, an active volcano, Mt.Vesuvius, and a water duct which we drove under. It came out of nowhere.
The first night in Rome, we ate in an outdoor restaurant. Boy, the pasta was good! Lana brought her dog Scooter. He is such a good dog. In Italy, you can bring your pets to restaurants. That would never happen in the US. Then, the next few days we were tourists. We took a tour bus. Saw the Colosseum, Pantheon, etc…. Lana and I ate lunch and found the Trevi Fountain and threw coins in it. The next day, we went to the Vatican. I was not going to miss seeing the Sistine Chapel. The Vatican Museum was enormous. What they had in the museum was just so unreal. I could not believe I was there. The Sistine Chapel was gorgeous. No words can explain it. I looked for a bust of Pope John XXIII so that I could take a picture for my Mom and Dad. Pope John XXIII was our relative. Didn't notice anything there about him. Oh well… When I saw the Vatican from the outside for the first time, I felt it looked better in pictures and on TV. It was still beautiful but not what I expected. When we crossed the river to get to Vatican City, the statues on the bridge were breathtaking. Of course once being inside the Vatican, well…it was more than I expected. Anyone who goes to Rome must see the museum.
Another thing that struck me as unreal was while in Rome, out of nowhere, you keep seeing ruins. It is so strange in a big city. What wonderful history preserved.
One place we went to, which is my favorite place, is the Amalfi Coast. (An hour outside of Napoli). It was just gorgeous. Being a passenger in the car was difficult for me. Lana drove how they drive in Italy! The roads up the mountain did nothing but twist and turn. I felt sick twice as we were driving upward. The views were well worth it. Just stunning. We stopped in Revello and had lunch and Vino of course on a balcony at a hotel there. Lana and her friends have been there numerous times before. They were closed for lunch due to a private party. Lana told the manager or waiter, not sure, that it would be her last time there and then I said it was my first time in Italy and I heard about it. Well, we had lunch on the balcony overlooking such a gorgeous view. There were no words for it. It was so nice of that manager to treat us like queens! After lunch, we had Cappuccino in the square and noticed a wedding was going to take place. We looked in the church, which was beautiful. I took a picture of 3 little flower girls and the ring bearer. They posed for me proudly and excited. I took so many pictures of the Amalfi Coast. I even thought a few I took would make great book covers. Yes, once in a while my press crept in. Ha-Ha!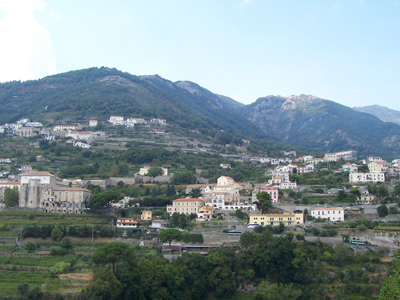 Meeting the friends Lana made there and her fellow workers at two gatherings to bid Lana farewell was really nice. She worked with some great people!
Anyway, this is just a taste of my trip. I will tell you a few things before ending this. The Capuccino and Expresso's were great in Italy. I could never drink them here. Also, the Vino. Whew! Absolutely, the very best! Some of it tasted exactly like what my Grandfather used to make. Lana's pets, Scooter (a rat terrier) and Kiwi (a cute black and white cat) are adorable. They traveled back here with no problem on the planes.
Thanks Lana for the trip of a lifetime. My first trip overseas! You are the best!!!!
Ciao-
Gloria
If you are a Facebook friend of Gloria's, check out photo albums with pictures of Italy.
---
There was no newsletter in October.
---
We have new books in The Lost Bookshelf. Check them out. If you haven't checked the bookstore out lately, come browse. Maybe you'll find a book to order. www.thelostbookshelf.com
The author's who have books on consignment would love some sales!
---
Every October and April, Cervena Barva Press has a fund-raiser. We did not do this in October.
Please help the press out with a donation or order a Cervena Barva Press book.
---
We have one interview this month focusing on youth.
---
In September we released 3 chapbooks. They are:
In October, we released a chapbook and a full-length poetry book:
Look for new full-lengths this month by Pamela Laskin, Michael Nash and Timothy Gager.
New chapbook publications due out this month are by Judson Hamilton, William Delman, Eric Greinke, and John Elsberg.
---
The new issue of ILR is online. Check it out at: http://www.ilrmagazine.net/en.php
---
Cervena barva Press will now be publishing book reviews in the newsletter. This won't happen every month. Not every book I receive will be reviewed. I am happy to have some reviewers on board.
---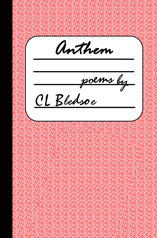 In the new issue of The Pedestal Magazine, there is a review of
Anthem by Cl Bledsoe (Cervena Barva Press, 2009).
To read this review and the new issue: http://www.thepedestalmagazine.com:80/
---
Grolier Poetry Bookstore is sponsoring a reading by our author Jana Moravkova Kiely. Here is the information on the reading. We hope to see you there!
Grolier Poetry Bookstore Presents
Agnes of Bohemia and the Velvet Revolution of 1989
Thursday, November 5th
7:00 Adams House
Lower Common Room, Harvard University
26 Plympton Street
Cambridge, MA
(Parking Broadway Garage, Harvard Square)
Dr. Jana Moravkova Kiely presents her recently published translation of JAROMIR HOREC's poetic cycle Anezka Ceska/Agnes of Bohemia (Cervena Barva Press, 2009)
The discussion of the historic events in Prague 20 years ago will include Professor Maria Nemcova Banerjee's comments on BOHUMIL HRABAL's contemporaneous reflections in his letters to his American friend April Gifford, a graduate student in Slavic Literatures at Stanford University.
---
Thank you to:
Susan Tepper for arranging the reading at KGB for Cervena Barva Press. Thanks to the readers Doug Holder, Pamela Laskin, Martin Golan, and Susan Tepper. We had a great audience!
Michael Ansara and to all the organizers of the Massachusetts Poetry Festival. I had a book table at the event. Also, thanks to Harris Gardner and Tapestry of Voices, I was one of the readers in his event. A huge thanks to Jack Scully, who sat at the book fair all day with me.
Thanks to Zachary Bos who organized a book fair at Boston University. Cervena Barva Press had a book table there.
---
Cervena Barva Press will have a book table at the Somerville Writers Festival on November 14th from 11:00AM to 4:30PM. All our books and chapbooks will be discounted for this festival so come check us out at the Center for Arts at the Armory, 191 Highland Avenue, Somerville, MA
There are many other presses who will be at the book fair including Off the Grid Press, Adastra Press, Ibbetson, Wilderness House and the list goes on…
In the evening, come to the Somerville News Writers Festival, 7:00PM. You can buy tickets at the door or at 617/718-2191. Hosted by Timothy Gager with musical guests, The Swaggerin' Growlers.
This is year seven of the festival. Readers are: Rick Moody, Frank Bidart, Margot Livesey, John Buffalo Mailer, Steve Almond, Lise Haines, Kim Chinquee, Sam Cornish, Richard Hoffman, Tino Villanueva, Tam Lin Neville, and Doug Holder.
---
My interview by Flavia Cosma and Luis Raul Calvo in the new issue of Generacion Abierta is out.
I am so excited about it. It was translated into Spanish by Flavia Cosma, who has been so supportive of my work. It was so nice to see it. I am grateful to them both for letting my voice and views be heard in Argentina!!!!

---
Gravestones (La´pidas)
Author: Antonio Gamoneda
Translated by: Donald Wellman
ISBN: 978-1-60801-002-8
Price: $18.95
Date: October, 2009
"One should be glad for Gamoneda's belated recognition and simply shrug one's shoulders over the timing, since that seems to be the lot of great poets. One should concentrate on a poetry that 'travels from the visible to the invisible' and vice versa. A poetry not prone to expletives, resentment, nor the exploitation of personal grievances. A poetry that can deal with, in the words of Eduardo Milán, 'the intimacy of exclusion' objectively yet passionately, language transparent and yet complex. Translator Donald Wellman's sensitivity to these nuances and complexities serves these poems well."
-José Kozer
To order: Distributed to the trade by National Book Network 1-800-462-6420
unopress@uno.edu
(Jim Anton will be reviewing this book for Cervena Barva Press book reviews section).
---
DEER & Other Stories is a luminous debut fiction collection that burns darkly. The deer that populate these 11 stories, whether real deer or imagined, made of skin and blood and bone, used as plastic lawn ornaments, even a wire stage prop, pad in and out of the character's lives as mirror-images reflecting all the beauty, splendor and fear both species engender.

In The Grass Eye a boy is sent to live at his grandparents' crumbling Italian villa after his mother has a breakdown, where he meets a German boy he suspects of being a Nazi.
Within You Without You tells the story of a woman who had once been part of an entourage that traveled to India with the Beatles.
A psychiatrist in Help, battling his obsession with a former patient, mythologizes her into strange incarnations.
On leave from Vietnam, a soldier in Remember Hardy is tormented by visions of deer starving over the Long Island winter.
Praise for Deer & Other Stories ~
"Susan Tepper, who has had jobs as an actress, tour guide, flight attendant, singer and rescue worker, has written a collection of short stories as quirky as her life so far. "Deer & Other Stories" seems to be autobiographical… and the Deer in the title appears as a kind of leitmotif… suddenly darting into your path, to haunt the story."
-Saul Friedman, NEWSDAY
"The stories in DEER are terrific, many remind me of Hemingway's "In Our Time": the woods, the war, the indirection…"
-Robert Viscusi, Astoria (American Book Award)
"In her debut story collection DEER, Susan Tepper takes us into the forest of her imagination, shining a light on a pack of off-kilter characters caught in unusual and compelling circumstances. Tepper is one of the most original voices in fiction I've heard in quite a while…"
-Jamie Cat Callan, The Writer's Toolbox and French Women Don't Sleep Alone
"Tepper notices more detail at breakfast than most of us do all day, and her stories brim with surprise thanks to her characters' immersion in what it means to live."
-Mark Wisniewski, Confessions of a Polish Used Car Salesman
Susan Tepper creates brilliant, quirky, unpredictable worlds in her story collection DEER…
-Ellen Litman, The Last Chicken In America
To order: WILDERNESS HOUSE PRESS
www.susantepper.com
AMAZON
Barnes & Noble.com
ISBN 978 0 578 02479 0
---
Harmonica Days (poems) by Kyle Flak
New Sins Press 2008 Editors' Prize
62 pages
ISBN: 978-0-9796956-2-9
$13.00 plus $3.00 postage (domestic)
www.newsinspress.com
"With a winning mixture of Verve and Tenderness, the poems in HARMONICA DAYS, confront the extreme significance of our daily lives."
-Geoffrey Gatza, editor of Blazevox Books
"These poems are phantasmagorical and yet archetypal, childlike and yet reflective, preposterous and yet profound."
-James Penha, author of No Bones to Carry
---
A Charm Bracelet for Cruising by Lylanne Musselman
Winged City Chapbooks (an imprint of New Sins Press)
25 pages
ISBN: 978-0-9796956-8-1
$9.00
To order: www.newsinspress.com
"Here is a voice calling out from the American Midwest to anyone across the globe who has struggled to come to terms with identity….Lylanne Musselman attests to what it is like to love in a world under transformation."
-Andrena Zawinski, poet and features editor of Poetry Magazine
---
Lummox Press is pleased to announce the publication of two new books, Sea Trails by Pris Campbell and the anthology, Down This Crooked Road edited by William Taylor Jr. and RD Armstrong featuring poetry by William Taylor Jr., MK Chavez, Father Luke, Christopher Robin, Miles J. Bell, Hosho McCreesh & Christopher Cunningham. These two books of poetry serve to further the Lummox Press' attempt to explore the broad spectrum of small/underground press poetry in the United States and beyond.
Sea Trails $18 (USA) or $25 (world)
To Order: www.Lummoxpress.com
By Mail: Lummox c/o PO Box 5301, San Pedro, CA 90733 USA
Down This Crooked Road is a collection of poems by some of the underground's most provocative writers. It was assembled by William Taylor Jr. and edited by RD and William.
$18 (USA) or $25 (world)
To Order information: www.Lummoxpress.com
By Mail: Lummox c/o PO Box 5301, San Pedro, CA 90733 USA
---
Swallow by Jendi Reiter
Amsterdam Press
ISBN 10: 0-9822221-5-7
ISBN 13: 978-0-9822221-5-7
34 pages
To order, visit the Amsterdam Press online store or send a check for $8.00 to Amsterdam Press, 6199 Steubenville Road SE, Amsterdam, Ohio 43903.
Winner of the 2008 Flip Kelly Poetry Prize, Jendi Reiter's poetry chapbook Swallow has just been released by Amsterdam Press. Award-winning author and educator Ellaraine Lockie says of this collection, "Jendi Reiter's poems are arrows that plunge dead center into the hearts of feminism, religion, death, the interior of mental health and psychotherapy. Her humor and satire here are as sharply honed as her indignation... This is an intelligent and powerful read that will leave issues bleeding in the minds of readers for a while before they heal."
---
New from Rock Saw Press
The Goldilocks Complex by Teneice Durrant Delgago
Burning the Arson Dictionary by Dan Nowak
http://www.rocksawpress.com/
Visit their blog for ordering information: http://rocksawpress.wordpress.com
---
New from Black Lawrence Press
Tips for Domestic Travelers by Hayden Saunier
To order: http://blacklawrence.com/saunier.html
---
More Fulcra Poems by Richard Kostelanetz
Presa :S: Press
48 pages
$6.00
To order: www.presapress.com
"Kostelanetz challenges our perceptions, ideas of what a poem can offer."
-Irene Koronas, Boston Area Small Press Scene
A mini review by Gloria Mindock
Richard Kostelanetz is on a roll of publications. He never stops! I mean this in the best possible way. Since the mid-1980's, when I started to read the work of Kostelanetz, I was hooked. The risks he took with language, he still takes today. He continues to push the envelope. In his new collection, More Fulcra Poems, published by Presa :S: Press, he continues to play with words and give new meanings to each word and their relationship to one another. Richard is a language poet who definitely leaves his mark. I highly recommend this chapbook.

---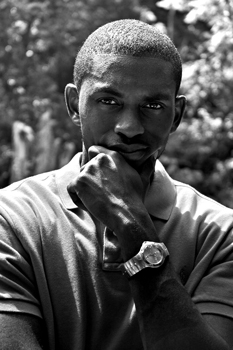 Why did you and James Harrell start the Writers Foundation, LLC?
Creating Writers Foundation was all about inspiration. I've been writing poetry for years and I decided that I wanted to do more. Learn more. We wanted to bring people to together with the intention on educating, uplifting and inspiring them. We all have a voice and we decided to give people a chance for their voice to be heard. There is a quote by Ryunosuke Satoro that says "individually we are one drop. Together we are an ocean." Writers Foundation LLC is that ocean, that place to come to read, relax, and share what's on your mind.
Writers Foundation was created this past spring of 2009. We have started as a poetry company but expanding efforts in our local communities of Baltimore, Washington DC, and Virginia. We want to reach the youth by opening their doors to creativity.
I read that you are from Baltimore. A good friend of mine is from there. I also am publishing a writer from there who has a wonderful poetry voice, very raw but with so much to say. What has been your experience with the Baltimore writing scene?
The Baltimore writing scene is amazingly diverse. Writers in Baltimore write with so much history and passion. At times you are on the edge of your seat waiting for the next line or verse to sway your chain of thought. We have very raw artists that a have a story you may have heard, but not in the manner they have presented it.
Talk about the importance of youth expression.
Youth expression is necessary to promote self growth. Technology has introduced us to social sites and messaging that continually strips the human out of us. Expression is lost because communication is becoming a lost art. If there is no communication, there is no expression, no emotion. We want to challenge youth to express themselves. We want them to communicate to us, with us. Finding an area of interest is the beginning.
You are concentrating on youth in Baltimore, Washington DC, and Virginia; I think it is important to give youth an outlet for their creative expression. Please talk about this.
Creative expression is an art within itself. The youth, as the artist needs a pen or paint brush to create. Giving youth a place to express themselves challenges their skills. Giving them the opportunity to meet others with the same aspirations or dreams builds their faith and confidence.
Do you feel that schools today are out of touch with youth expression in writing?
I believe schools can take youth expression in writing a step further. Breaking the barriers to the interest of students will make a huge difference in today's world. Once the atmosphere has been set and students become excited with utilizing their expressions, then sky's the limit.
How does music fit in with what you are seeing being sent in? Are you told that the words are lyrics to music at times?
Music often sets the tone and is successful in creating a desired mood. Words are often lyrics that will send multiple messages while quenching a thirst within. Some of the poetry sent in to Writers Foundation can be great lyrics to songs.
I have read some wonderful writings from youth from many different cultures. Your website is a place where the younger generation can check out what others are writing, share their own work and grow as a writer. It is an outlet to write about what they want to. I'm sure many can identify with what someone else is writing about. Talk about the response you get from youth to the work they read on your site.
I wrote a poem called "I Did it for Me." This poem talks about an individual who has made several mistakes in life. This person trusted the wrong people and seemed never to know where to go at the fork in the road. In the end, the person decided that they wanted more for themselves; they no longer wanted to be like the rest. I have received numerous responses that say "thank you" or "I know what I must do." You see, certain pieces may touch an individual because they relate to what they read. And youth as well as anyone are looking for something to get them to break the norm and run from a situation that has them trapped.
Talk about your own writing. Who are your influences? Do you have a favorite poem?
I touch only vast variety of topic as well as different forms of poetry. I tend to focus on motivational and emotional writing. My family is my influence as I learn from them to witness and inspire those around me. My father always reminds to do the best in whatever project I embark on and to stand tall because someone is always watching and looking for guidance.
Phenomenal Woman by Maya Angelou has to be one of my favorite poems. She tells a story that is sometimes forgotten in today's culture. Or lost in translation thanks to the media and greed of corporate giants.
What are some future goals you have for the Writers Foundation?
We'd like to one day expand to a publishing company. We would like the opportunity to help people publish their dreams. Any company can publish books but we want to provide education so that people can make well thought out decisions before taking certain steps.
We are looking to have yearly festivals in the future where people can come out and read great books. The youth can come out and meet their favorite poets or authors.

---

---
If you would like to be added to my monthly e-mail newsletter, which gives information on readings, book signings, contests, workshops, and other related topics...
To subscribe to the newsletter send an email to:
newsletter@cervenabarvapress.com with "newsletter" or "subscribe" in the subject line.
To unsubscribe from the newsletter send an email to:
unsubscribenewsletter@cervenabarvapress.com with "unsubscribe" in the subject line.

---
Index | Bookstore | Submissions | Newsletter | Interviews | Readings | Workshops | Fundraising | Contact | Links
---
Copyright © 2005-2009 ČERVENÁ BARVA PRESS - All Rights Reserved