July, 2005 Aug. 2005 Sept. 2005 Oct. 2005 Nov. 2005 Dec. 2005 Jan. 2006 Feb. 2006 Mar. 2006 Apr. 2006 May 2006 June 2006 July 2006 August 2006 September 2006 October 2006 November 2006 December 2006 January 2007 February 2007 March 2007 April 2007 May 2007 June 2007 July 2007 August 2007 September 2007 October 2007 November 2007 December 2007 February 2008 March 2008 April 2008 May 2008 June 2008 July 2008 August 2008 September 2008 October 2008 November 2008 December 2008 February 2009 March 2009 April 2009 May 2009 July 2009 August 2009 September 2009 November 2009 December 2009 January 2010 February 2010 March 2010 April 2010 May 2010 June 2010 July 2010 September 2010 October 2010 November 2010 December 2010 January 2011 February 2011 March 2011 April 2011 May 2011
ČERVENÁ BARVA PRESS NEWSLETTER
Gloria Mindock, Editor Issue No. 67 June, 2011
---
INDEX
Welcome to the June, 2011 Newsletter
Happy Summer!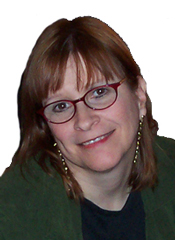 Over the summer, you will be seeing interviews by Luis Benitez. He interviewed some writers from Argentina for Červená Barva Press. I am so excited about this. Besides reading about US writers, it is important to read about other writers in different countries. Luis Benitez is on staff at the Istanbul Literary Review and lives in Buenos Aires. I want to thank him so much for all that he is doing. Soon, you will read my interview about him and his work. In this newsletter, you will find his interview of Alberto Boco.
Červená Barva Press welcomes Ralph Pennel who will be writing book reviews. Not all books we receive will be reviewed.
---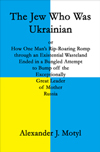 The Jew Who Was Ukrainian by Alexander J. Motyl has been one of our top sellers. It is very exciting! Recently Alexander was interviewed on Ukrainian TV in Toronto. He was there doing a book launch. Here is the interview. If you understand Ukrainian, check it out: http://www.youtube.com/kontaktukrainianTV/#p/u/15/UrKYpUe1WPs
Also a new review just came out by The New Pathway Ukrainian Weekly. Check it out at: http://www.infoukes.com/newpathway/22-2011-Page-7-1.html
Order The Jew Who Was Ukrainian here...
---
We just released 2 new chapbooks. They are:
---
This week, we will be releasing 2 new poetry books. They are:
Letters to Saida by Denis Emorine (France) is at the printers.
The next books we are getting ready for the printers are by authors
Flavia Cosma, George Held, Mike Amado, Michael T. Steffen.
Look for chapbooks soon by Coleen Houlihan, Ansley Moon, and Michael Atwood
---
The poetry and fiction chapbook contest winners will be announced soon. The judge is still reading them.
---
The Červená Barva Press Readings Page is up to date with what we have so far.
Please check the listing to see if your reading is there. If it isn't, send us the information.
All we want is the following information:
Series Name
Place
Date & Time
Address
Readers Names
Admission
Handicapped Accessibility
---
My interns Kate Clavet and Allison Nonko will be continuing with the press for the summer.
This is wonderful for the press. They both do a great job!
---
What May Have Been: Letters of Jackson Pollock & Dori G by Susan Tepper and Gary Percesepe is now available at Powell's, Barnes and Noble, and Amazon besides at The Lost Bookshelf.
It is discounted at Barnes and Noble.
---
Mary Bonina, author of Clear Eye Tea (Cervena Barva Press, 2010) has 2 readings this month. Hope to see you there! Here is the information:
Mary Bonina Readings

Wednesday June 8th 2011: 7:00 - 9:00 P.M.
The Writers' Room of Boston, Inc.
Annual Reading: Mary Bonina, Anne Gray Fischer, Katrin Schuman
@ Liberty Hotel 215 Charles Street
5th Floor, Esplanade Room
Boston, MA
(MBTA Red /line to Charles/MGH)
http://www.marybonina.com
---
Saturday June 18th 2011: 3:00 - 5:00 P. M.
Mary Bonina Signing Clear Eye Tea
(with spontaneous readings & refreshments)
Grolier Poetry Bookshop
6 Plympton Street
Harvard Square, Cambridge
http://www.marybonina.com
---
I would like to thank the Grolier Poetry Bookshop and Ifeanyi Menkiti. If you haven't been in Grolier's for awhile, please go in and check out their books. There are only 2 poetry only bookstores in the country. Grolier's and Open Books in Seattle, WA. Check them out!
Speaking of bookshops, we have new books in The Lost Bookshelf on consignment. Please check them out. Some are listed here for your convenience. Don't forgot to send us your books for consignment. Check out our guidelines at: http://www.thelostbookshelf.com/submitbooks.html
If you want your book to sell, we suggest you lower your retail price. You don't have to but if your book has been out awhile, I would think about it. Also, if you have a website, we ask kindly that you put a link up to the bookstore. You need to let people know that your book is in our bookstore.

---
THE FIRST AND LAST WORD POETRY SERIES
Hosted by: Harris Gardner and Gloria Mindock
THE CENTER FOR THE ARTS AT THE ARMORY
POETRY AT THE CAFÉ
191 HIGHLAND AVENUE
SOMERVILLE, MA
TUESDAY, JUNE 21ST
6:30 PM /ADMISSION: $4.00
READING AND OPEN MIC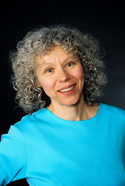 Kathleen Aguero's poetry collections include Investigations: The Mystery of the Girl Sleuth, Daughter Of, The Real Weather, and Thirsty Day. She has also co-edited three volumes of multi-cultural literature for the University of Georgia Press She teaches at Pine Manor College, Chestnut Hill, MA in both the undergraduate and low-residency M.F.A. programs and in Changing Lives through Literature, an alternative sentencing program.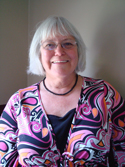 Lainie Senechal is a poet, painter, and environmental science teacher.. She has had over 75 poems published in various publications including Dasoku, The Larcom Review, Spare Change, The Aurorean (featured poet 2002), Ibbetson Street, Wilderness House Literary Review, and the South Boston Literary Gazette, and four anthologies, as well.
She has been the featured poet at many venues throughout New England, most recently at the Boston National Poetry Month Festival. She has a new collection, Vocabulary of Awakening, (Pudding House, 2009) and has co-authored two volumes of poetry: Chalice of Eros with Harris Gardner and Naiad's Lantern with her sisters...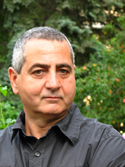 Joseph Torra has lived in Somerville for 30 years. He is a poet, novelist and editor. Novels include Gas Station, Tony Luongo, My Ground, They Say, Call Me Waiter and What's So Funny. Poetry books include Keep Watching the Sky and After the Chinese. He edited and introduced Stephen Jonas, Selected Poems and his book length prose poem journal, Time Being, is forthcoming from Quale Press.
The Center for the Arts is located between Davis Square and Union Square. Parking is located behind the armory at the rear of the building. Arts at the Armory is approximately a 15 minute walk from Davis Square which is on the MTBA Red Line. You can also find us by using either the MBTA RT 88 and RT 90 bus that can be caught either at Lechmere (Green Line) or Davis Square (Red Line). Get off at the Highland Avenue and Lowell Street stop. You can also get to us from Sullivan Square (Orange Line) by using the MBTA RT 90 bus. Get off at the Highland Avenue and Benton Road stop.

---
The Whalen Poem by William Corbett
Hanging Loose Press, 2011
To order: www.hangingloosepress.com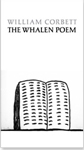 I spent the summer of 2007 reading the galleys of Philip Whalen's Collected Poems. I was in Vermont and had the leisure to read slowly, ten or so pages a day. About halfway through the master's poems I began to write The Whalen Poem. I kept at it until just after Halloween. No book I have written, poetry or prose, has given me the deep pleasure I felt in writing The Whalen Poem.
—William Corbett
William Corbett is a poet and memoirist who lives in Boston's South End and teaches writing at MIT. He edited Just the Thing: Selected Letters of James Schuyler, directs the small press Pressed Wafer, and is on the advisory board of Manhattan's CUE Art Foundation. In 2008 Hanging Loose published his book of poems Opening Day. His most recent book is an essay on the painter Albert York.
---
The Man Who Wrote on Water by Pablo Medina
Hanging Loose Press, 2011
To order: www.hangingloosepress.com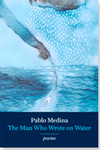 "The boat leaves behind a wake,/the Chinese ideogram for man." Pablo Medina is a brilliant poet. His new book moves, with ease and anguish, from Wittgenstein to Lord Chango. The language is extraordinarily charged. The words themselves undergo desire and take action—"the poem is the lost key/to what was said,//to what was not, the back room/where we made love/before the furniture came." Medina is the master of a taut contemporary lyricism, but he can channel the sources: the gacela, the qasida. The sacrifice of Isaac edges into "Playa Norte," climactic poems aim to resurrect and summon the dead. Wild and playful, The Man Who Wrote On Water is lasting work."
—D. Nurkse
"Pablo Medina's poems belong to the real world even while they move across the borders of dreams and wild imagination. They sustain a tone that's both sophisti­cated and innocent, delivering fresh news of what it feels like to be alive and human. I love these poems for their music and vivid imagery. I love their clarity, whether evoking city or bull pasture or bedroom, or an interior landscape. I love following the poet's surprising thought, as he delves deep into the heart and the mind and the world."
—Joan Larkin
"Each of these graceful, deeply felt and fluent poems contains the burst of an impres­sion produced by a world made primarily of people and ideas; each, via music and image, is given a shape and a language richer than words. Their effect: the universal generously crafted from the particular, again and again, as these poems written on water eddy outward to reach us all."
—Chuck Wachtel
---
Night of Pure Breathing by Gerard Fleming
Hanging Loose Press, 2011
To order: www.hangingloosepress.com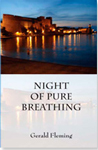 "I've just picked myself up off the floor after reading what I don't think I can really call 'prose poems.' That's too ordinary, too usual, too expected. There is nothing here that is ordinary. And it's not just 'pure breathing' either. It's a cry, a scream, a prayer. This is an amazing collection."
—Shirley Kaufman
"Gerald Fleming has found a tone of voice in Night of Pure Breathing that allows him to write with humor about the long history of our frailties or with passion about the politics of the moment. He has mastered an American language that finds joy in the words we use and fear in the artifacts of our popular culture. His prose poems sing and tell stories, often at the very same time; they are crystal clear, pure, and deeply refreshing."
—Keith Taylor
"These dark fables, written in a language 'born of rage,' furiously peel back the veneer of the world we think we know. Part fairy tale, part dream, these poems explore a region where the ordinary and the fantastic overlap, where a smile can get a job, and where identities are fluid and interchangeable. Many poems are set in exotic locations—Corfu, Bali, Mexico, Ukraine—but they all merge to create a discrete, elemental landscape, a poetic geography where this remarkable collection plays out. In one poem, 'a boy and girl court each other by telling ghost stories.' Gerald Fleming's Night of Pure Breathing is a collection that seduces the reader in just that way. Hold onto your socks; you're in for a ride."
—Gary Young
---
Pinko by Jen Benka
Hanging Loose Press, 2011
To order: www.hangingloosepress.com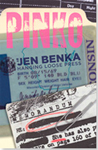 These poems are imperatives, invitations, if not prayers, at least expressions of faith that change is possible.
—Elaine Equi
I'm a huge fan of Benka's Pinko. It's an anti war book, a sweet book, a powerful witnessing one. I'm all for its exact experience.
—Eileen Myles
When do consequences trump protest, when does action checkmate the power of words? Jen Benka takes her cue from Audre Lorde's famous dictum that 'my silence will not protect me.' Into the combine of Pinko, Benka places some of her loveliest writing, to create a fresh, optimistic and instructional book.
—Kevin Killian
---
a world of love and envy: short stories, flash fiction, and poetry by Kathy Handley
Riverhaven Books, 2011
To order: www.RiverhavenBooks.com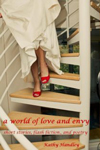 Kathy Handley's readers enter her debut collection a world of love and envy and discover rich and unique pictures of longing and disappointment in broad landscapes from California to Boston to Ireland. The stories span decades. They are raw and real and not an imitation of reality but a portrait of it. A country girl, abused by her husband, learns to tread lightly as she finds refuge in the birch trees and the starkly lit eyes of night creatures. Set in the fifties, a woman's affair with her husband ends as he lights a Chesterfield and abruptly fires her. An unlikely match, a mixed-race man and a spoiled rich girl, bump into each other and quickly learn of similar losses. In the title story, a naïve black girl journeys with her boyfriend to California, experiences the loss of her baby on the way and then him, and then she discovers a symbol of revenge in the form of a red juggling ball.
Rendered in an honest voice, Kathy Handley's style is very detailed and ultra-personal, including tiny little things that might not seem to make a difference but that add to the understanding of the characters and their struggles, in essence tangential but not distracting, instead adding a whole other layer of depth and insight into the human psyche.
---
Birds of Paradise, a novel, by Kathy Handley
Riverhaven Books, 2011
To order: www.RiverhavenBooks.com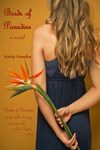 Birds of Paradise is the story of trucker Joe-Mack who picks up a runaway in Vegas and drops him in Hollywood. He gives this boy his phone number in case he ever needs help, and when the call comes, Joe-Mack reaches out to him and becomes embroiled in Freddie's life and the search for Starlet, the homeless girl who desires stardom. The three have in common a search for love and for a place to belong. Set in California's beautiful, yet challenging neighborhoods, the characters, like lost Birds of Paradise, take on risks and maintain thin threads of dignity amidst troubling situations with surprising twists along the way.

---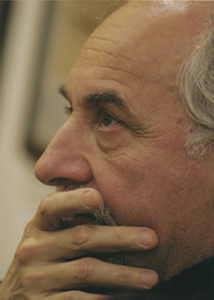 He was born in Buenos Aires, Argentina, on 5th november 1949. Books: "Arcas o Pequeñas Señales" (Buenos Aires, 1986, Libros de Tierra Firme); "Galería De Ecos" (Buenos Aires, 1989, Ediciones Ultimo Reino); "Ausentes con Aviso" (Buenos Aires, 1997, Libros de Tierra Firme); "Cartas para Beb" (Buenos Aires, 2000, Author's Edition) and "Riachuelo" (Buenos Aires, 2008, Ediciones de la Quintana). Awards: First Prize on Primer Concurso Nacional de Poesía "César Domingo Sioli," Premio "Ciudad de Junín," 2005; First Mention on VII Concurso Nacional de Poesía - Tandil 2003, Hons. Mention on IV Concurso Nacional de Poesía "La Luna Que," 2002, First Mention on Premio Provincial de Literatura "Dr. Carlos Auyero," Cámara de Diputados de la Provincia de Buenos Aires, 1999.



"Arcas o Pequeñas
Señales"




"Ausentes con Aviso"




"Cartas para Beb"




"Galería De Ecos"




"Riachuelo"
Please, tell us about your literary career in Argentina.
First of all, I never thought of what is currently called a literary career as I do not believe in this idea and do not care about it. I basically want to read and write, especially poetry.
Though I began to write being very young, I faced my early poetry writings about thirty year ago, publishing my first poetry book in 1986 ("Arcas o Pequeñas Señales" - by Libros de Tierra Firme, Buenos Aires, Arg). Then in 1989, "Galerías de Ecos" by Ultimo Reino. Back then, I began to be invited to public poetry readings at different places in Buenos Aires. Later, in 1997 "Ausentes con Aviso" was published by Libros de Tierra Firme.
I have received some local literary awards and certain recognition though I maintain a low profile about my poetry. In 2008, "Riachuelo" was published, an only one long poem book, in a special edition of 120 numbered and signed copies.
After "Riachuelo," I wrote the book "Cartas para BEB," a book published in only one copy, closed inside a wooden box, as a gift for my first grandson Bruno, for future times, when he can read it.
Between 1998 and 2010, I wrote twelve poetry books which haven`t been published yet ("Perro, de Goya"(1988-99), "Noticias del Tiempo"(2000), "Visitas Inoportunas" 2002-02), "Redes" (2002-03), "Palomas en el Cable de la Luz" (2003-04), "Para un Programa de Disolución" (2005), "Árbol de Oro" (2005-06), "Paisaje Fronterizo" (2007-08), "Golpe de Vista en Paraland" (2008), "Opaca No Es la Noche" (2008-09), "Química Orgánica" (2009-10), and "Estación de Nosotros" (2010).
What are the main themes of your poetry and why?
I am convinced that poetry, a matter of words and its own music, mainly leads us to a kind of knowledge about the world that we can´t get in any other way, a kind of skewness that shows us the world in an special way, not just a point of view but a distortion that brings us deeper and closer to everything we currently called reality.
Then, main themes in my poetry, are basically the way we can look at everything surrounding us, the multiple worlds inside and co-existing together with the so called real world. Not in the sense of magic or fantastic worlds, or parallel existences, but in the multiple aspects currently hidden in this "supposed" real world, aspects that only appear under a certain skew glance and a certain mood that lets the emergency of the poetical word just say something about it that only poetry can say, or better, create.
Also the aspects relating the work with words, its infinite distance to things that words name, and how this "entities" (the words), as the best metaphor of emptiness, as a vacancy, let us find and express different meaning and senses. I think that poetry is an unsisthematic and hazardous access way to a deeper knowledge of the multiple ways in which life and reality is expressed. This multiplicity of appearances can be only named by poetry, or better, be created by it. This is a way to create a world whose existence is also real as there are no differences among all possible worlds. This world is just a result of meanings, senses and silences we use to name it.
What are you writing at this time?
At this time, I have been in the process of writing two books, "QO II" (book of only one long poem) and "Perros Cueteros y otros versos" (book of poems). Also, under revision, a collection of dispersed poems joined under the provisional title of "Cosas que andan sueltas".

---

---
If you would like to be added to my monthly e-mail newsletter, which gives information on readings, book signings, contests, workshops, and other related topics...
To subscribe to the newsletter send an email to:
newsletter@cervenabarvapress.com with "newsletter" or "subscribe" in the subject line.
To unsubscribe from the newsletter send an email to:
unsubscribenewsletter@cervenabarvapress.com with "unsubscribe" in the subject line.

---
Index | Bookstore | Gallery | Submissions | Newsletter | Interviews | Readings | Workshops | Fundraising | Contact | Links
---
Copyright © 2005-2011 ČERVENÁ BARVA PRESS - All Rights Reserved