July, 2005 Aug. 2005 Sept. 2005 Oct. 2005 Nov. 2005 Dec. 2005 Jan. 2006 Feb. 2006 Mar. 2006 Apr. 2006 May 2006 June 2006 July 2006 August 2006 September 2006 October 2006 November 2006 December 2006 January 2007 February 2007 March 2007 April 2007 May 2007 June 2007 July 2007 August 2007 September 2007 October 2007 November 2007 December 2007 February 2008 March 2008 April 2008 May 2008 June 2008 July 2008 August 2008 September 2008 October 2008 November 2008 December 2008 February 2009 March 2009 April 2009 May 2009 July 2009 August 2009 September 2009 November 2009 December 2009 January 2010 February 2010 March 2010 April 2010 May 2010 June 2010 July 2010 September 2010 October 2010 November 2010 December 2010 January 2011 February 2011 March 2011 April 2011 May 2011 June 2011
ČERVENÁ BARVA PRESS NEWSLETTER
Gloria Mindock, Editor Issue No. 68 July, 2011
---
INDEX
Welcome to the July, 2011 Newsletter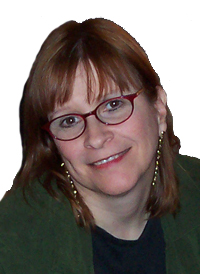 Hi everyone!
In this newsletter, you will read about two writers from Buenos Aires, Argentina interviewed by Luis Benitez, and two book reviews by Ralph Pennel. Thanks so much to both of you for all your work!
---
Alexander J. Motyl's chapbook of a play, "Waiting by Godot," (Červená Barva Press, 2009) was reviewed in NYtheatre.com. Here is the link, check it out: http://www.nytheatre.com/showpage.aspx?s=elep12388
---
In June we released 2 new poetry books. They are:
---
Our two recent books and one chapbook, "The White Cypress" by Judith Skillman, "Counting Blessings," by Morris Berman and "A Palace of Strangers is No City" by Stephen Frech were recently reviewed in the Boston Area Small Press and Poetry Scene. The review of "Counting Blessings" is forthcoming.
Thanks to all these reviewers.
---
I was recently interviewed by Derek Alger for Pif Magazine. I hope you will check it out and write a comment. Go to: http://www.pifmagazine.com/2011/07/11428/ I am so grateful for the interview. Thanks a zillion Derek!
---
The Červená Barva Press poetry and fiction chapbook contest winners have been announced.
The judge was Catherine Sasanov for both categories.
Winners:
In poetry: Alan Elyshevitz for his manuscript "Imaginary Planet"
In fiction: Ateet Tuli for his manuscript "Posture"
Congratulations to the winners!
About Catherine Sasanov:
Catherine Sasanov's latest book of poems, Had Slaves (Sentence Book Award, Firewheel Editions, 2010) was recently named a 2011 Must Read by the Massachusetts Center for the Book. She is also the author of Traditions of Bread and Violence (Four Way Books), All the Blood Tethers (Northeastern University Press), and the libretto for Las Horas de Belén: A Book of Hours, a bi-national (U.S.-Mexico), bilingual theater collaboration commissioned by Mabou Mines. More on the poet can be found at www.catherinesasanov.com.
---
Come join us at...
THE FIRST AND LAST WORD POETRY SERIES
Hosted by: Harris Gardner and Gloria Mindock
THE CENTER FOR THE ARTS AT THE ARMORY
POETRY AT THE CAFÉ
191 HIGHLAND AVENUE
SOMERVILLE, MA
TUESDAY, JULY 19TH
6:30 PM /ADMISSION: $4.00
READING AND OPEN MIC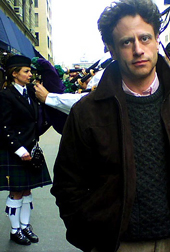 Photo: Vanessa Barnard
Ben Mazer's collections of poems include Poems (The Pen & Anvil Press, 2010), January 2008 (Dark Sky Books, 2010), and White Cities (Barbara Matteau Editions, 1995). He is the editor of Selected Poems of Frederick Goddard Tuckerman (Harvard University Press, 2010), and Landis Everson's Everything Preserved: Poems 1955-2005 (Graywolf Press, 2006, winner of the Emily Dickinson Award from the Poetry Foundation).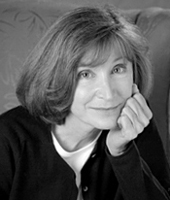 Ellen Steinbaum is the author of two poetry collections, Afterwords and Container Gardening. Her work has been nominated for a Pushcart Prize and included in Garrison Keillor's new anthology, Good Poems, American Places. She is the also author of a one-person play CenterPiece, which she has performed. A former literary columnist for The Boston Globe, she now writes a blog, "Reading and Writing and the Occasional Recipe," which can be found at her web site, ellensteinbaum.com.
The Center for the Arts is located between Davis Square and Union Square. Parking is located behind the armory at the rear of the building. Arts at the Armory is approximately a 15 minute walk from Davis Square which is on the MTBA Red Line. You can also find us by using either the MBTA RT 88 and RT 90 bus that can be caught either at Lechmere (Green Line) or Davis Square (Red Line). Get off at the Highland Avenue and Lowell Street stop. You can also get to us from Sullivan Square (Orange Line) by using the MBTA RT 90 bus. Get off at the Highland Avenue and Benton Road stop.

---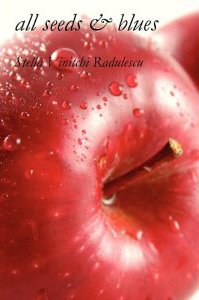 all seeds & blues by Stella Vinitchi Radulescu
CW Books, 2011
ISBN: 9781936370313
Pages: 83
$18.00
www.readcwbooks.com
Order at:
Amazon or Barnes & Noble
"Radulescu is skeptical, but unrelenting, in her pursuit of mystery. In her unrelentingness, she reminds me of the 17th century Metaphysical poets, while stylistically, she is clearly a descendent of the Surrealists and Modernists. She has melded disparate traditions seamlessly in her poetry, and the precise mixture of elements in her work is perhaps unique in American poetry, and our poetry is richer for it."
—Luke Hankins, Asheville Poetry Review
Stella Vinitchi Radulescu, Ph.D. in French Language & Literature, is the author of several collections of poetry published in the United States, Romania and France, including My Dream Has Red Fingers (2000), Last Call (2005), Diving With the Whales (2008), and Insomnia in Flowers (2008). A recent nominee for the Pushcart Prize, she is the winner of two International Poetry Prizes, awarded for her books published in France, Terre Interrompue (2007) and Un cri dans la neige (Editions du Cygne, Paris, 2009). She has had poems in Seneca Review, Pleiades, Karamu, Louisville Review, Rhino, Laurel Review, California Quarterly, Visions, among other magazines, as well as in a variety of poetry reviews in France, Belgium, Quebec and Romania.
---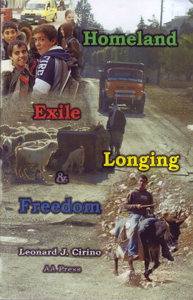 Homeland, Exile, Freedom by Leonard Cirino
AA Press, 2009, 2010, 2011
$13.00, 68 pages
To order:
AAPress
Lassen Manor, Apt. 606
205 No Mesa Street
Susanville, CA 96130-4251
Both these books mentioned in the Raves section are amazing books of poetry. I hope you will order these books from the presses that published them. It is important to buy from independent presses so they can thrive and especially presses that publish quality work.
Thanks-
Gloria

---
Seasons' Light : Contemporary Poetry and Images by Nova Scotians
Review by Ralph Pennel
Seasons' Light : Contemporary Poetry and Images by Nova Scotians, is an appealing confluence of art and verse, nature and culture, voice and heart. The works housed in this collection are as varied and peopled with diversity as the territory from which they were rendered. Each piece, both art and verse, works to bring to bear, if only momentarily, some breath of this maritime province for the reader.
Anne Hart's vision for the text, a way to give voice to spirit of the land and its inhabitants, reveals itself from the very first piece, a woodcut print by artist Ed Porter, titled "Song of Morning." Not only does Porter's print pull the reader forward gently into the work that follows, as if we ourselves were actually first facing the morning, but it simultaneously hearkens us back to the image on the cover-a photo detail of dew dipped grasses at water's edge—and demands that we ruminate over this feeling with each page turn. And it does so without failing to the easy trappings of nostalgia.
Hart, herself a resident to Cape Breton and Halifax, and principle editor at A. Hart Press, publisher of Seasons' Light, does not leave us for want of explanation of her intent. One only need peruse the titles of the book to gain a sense of the wholeness of her vision: "Wintry Morning," "Live Art," "Seeking Now," "Maritime Seasons," "On the Coast at Sandwich Point," "March Thaw," "Suspended Wonder."
Though at times the work in Seasons' Light may read a little too accessibly, there are many pieces that pull us back to task with their careful craft. Barbara Harsanyi's "Maritime Seasons," is a thoughtful lament, and captures well, through vivid imagery and strong, singular word choice, the breadth and depth of the change we ourselves feel (if we are honest) with the change of every season. The first section (of nine), which is of summer, speaks imminently to this dialogue:
Spilt on the quiet mirror of a lake
Reflecting dark green fir
With flaming maple.
Red and golden flames dance
Over a deep and secret brown
Of old leaves and moss
That guard memories of cow lilies (p. 37)
Words such as "dark" "deep" "secret" and "guard" beside "quiet" "red" "golden" and "lilies" capture well the contradictions of nature's solemnity against the constant tremors of winter's cold hand even in the height of summer, and of our own preoccupations with idylls past. The moment Harsanyi captures is both solitary in its charges and ubiquitous. It is hers and Nova Scotia's. It is Nova Scotia's and it is ours.
Joanne Light's, "On the Coast at Sandwich Point," also gives us reason to pause. It is an outward gaze focused in, in unapologetic reflection. Light's poem works ably to sum up the collective experience of both the land and its people with short, staccato lines that hit us, at times, as heavy as the ocean breaking on the shore:
matter is worn
rounded by wave,
it still resists
its looser form-
the final mist.
Like a fighter's broad fist,
its gnarled granite knuckles
knead the waves,
not knowing
water's need is absolute. (p.71)
The work of this collection insists the reader attend to Hart's vision, and, without brining our attention to it, both gives us to and culls us from reminiscing Frost's New England. Seasons' Light is a singular voice hewn from many. A plural world hewn from one.
http://www.ahartstudio.com/seasonslight.html
---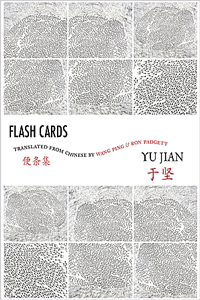 Simon Patton, freelance literary translator and teacher of Chinese language and translation, writes in his introduction to Yu Jian's book of poems Flash Cards—translated by Ron Padgett and Wang Ping—that, "Poetry, when it works, reminds us our thoughts are not our own" (p. xii). Though this is true of any poetry, it is especially poignant with regards to works in translation, where the weight of cultural influences, both divergent and convergent, is brought to bear in the choice of the words themselves. It is even more significant with regards to the work of contemporary Chinese poetry, which aims to illuminate the poetry of the everyday. Yu Jian is no exception. In Yu Jian's poems, the significance of this phenomenon is revealed to us with startling, even prosaic, objectivity and honesty that simultaneously captures the details of the world around him and gives us entrance to that world.
The title of Yu Jian's work, Flash Cards, speaks to this phenomenon, this revelation of shared experiences, with the same simplicity that is exemplary of Jian's poetry. Flash cards are two sided. One side holds the question to which we seek the answer. The other side holds that answer. This is the model of nearly every work in translation—the original piece on one page, the translation on the next. And, indeed, in Flash Cards, we are being tested. On the one hand, we are being tested by Jian to eschew the desire to elevate the significance of the word and the world in his poems. And on the other, as Jian himself said, we are being asked "to see eternity—to see everything—in a teacup or candy wrapper," to see eternity in a stone without attributing edifice.
The strength of Jian's work is in his unwavering commitment to this difficult balance of strict aesthetic and withdrawal from attributing meaning. It is "this poverty of meaning in [which] he is forced to confront the object directly in all its dangerous particularity (Patton xii):
Peeling an apple at dusk
she cuts a slice and hands it to me
I take it
from her hand wet with the juice (p. 123)
It is impossible not to feel, in this short piece, this observation of one short moment, a greater, universal tension, though Jian has only recorded the event with strictest objectivity. We are at once reminded of, and must give ourselves permission to disabuse ourselves being reminded of, the work of William Carlos Williams. It is in Jian's dedication, as it was with Williams, to record the event, to capture the "thingness" of that which he is both observer and participant that the revelatory experience is given rise: taint the image with more illusory language and the tension inherent in the action is lost.
Jian's poetry, however, is not without perspective, and much of his work is born from his own experiences, both personally and politically, and often simultaneously: Morning in the park / Thousands of retired women are exercising / They've given birth their children are grown / scattered across the wilderness of life / The dishes have been washed / With leisure time they want to do something for themselves / In the winter sunlight / a thousand mothers are dancing / One of them gave birth to me / Mother I call out / They all turn their heads (p. 151). The poem, this "flash" of light upon the influences of Jian's work, informs the reader of the well intentioned influence of Maos' "optimism" and the range and breadth of the effects of that influence. Even the right of "birth" is stripped of its individuated significance: all births are one, all motherhoods are one, and the desire to connect is unachievable at the personal level. However, recognizing what he/his culture has lost gives the experience back to him. It is the acknowledgment of absence and the acknowledgment of the presence of his absence in everything that informs Jian's work and his artistic choices, and ultimately allows the reader entrance into Jian's world.
Ping's and Padgett's attention to Jian's avoidance of attribution is as much an act of devotion as the work itself. Their hands are invisible, a detail for which Jian would undoubtedly applaud. The voice in the book is unified. Ping and Padgett truly see the "eternity" in Jian's poems and have successfully failed to influence or elevate the work other than to give it presence "in all its dangerous particularity."

---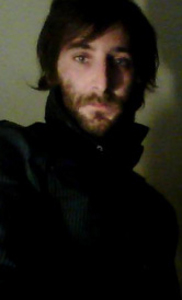 Juan Arabia was born in Buenos Aires, 1983. He studied Social Sciences at the University of Buenos Aires and painting with Master Ricardo Garabito. He has published short stories, essays and poems in various magazines and anthologies, both at home and abroad. He is founder and director of the Literary Magazine Megafon, which was published in both virtual and printed in the city of Buenos Aires until 2009. His first collection of poems, entitled Songs of Golgotha, has had the privilege of being prolonged by one of the great poets of Argentina: Luis Benitez. He currently heads the magazine Buenosairespoetry (www.buenosairespoetry.com)
The Argentinian press El Fin de la Noche will publish this year your essay about the life and work of the American writer John Fante. Why you chose this author and not another?
John Fante changed my life. It was summer, two years ago, when I found "Road to Angeles" (his first book) in a bookstore of Corrientes Avenue, in Buenos Aires. I grabbed the book and I saw: "A young man that working of dishwasher, faces the world by reading of Schopenhauer and Nietzsche." But, I wanted (like always I do) to see the face of the author, too. Surprisingly -as it was not usual- I spotted a face that I never imagined: his defiant and hateful eyes moved me. There was not a disproportionate face, but I remember the size of him ears: were enormous. I bought the book and returned to my house. I remember as if it were today, the impact that produced their first pages. Two pages were enough to enter in a new world. I was no longer the mere boy of summer, like the verse of Dylan Thomas: I could not lift the sea. But John Fante could lift the sea for me.
Arturo Bandini (his alter ego) could fighting with everything and everyone. However, and knowing the distance, I found in the pages of John with my own feelings. This was not something original or new in my life, of course, I felt this identification with authors like Salinger, Dylan Thomas, Rimbaud or Verlaine. But in the literature of John I felt something more special or familiar.
I read all his work in the same summer. Some time later, I began writing about his work, as if it was something of my life. Do not feel like I've written about others. I wrote just about me.
Can you briefly summarize your essay on Fante?
The essay on Fante consists of five chapters. The names of the chapters -to introduce the reader- are: "The Big Canyon," "Road to daydreams," "Between fog and dust," "The oldest grapes," and "West of the Italian-American working-class culture." The work is not a biography -as we understand genre- it´s an interpretative essay on his work. Chesterton said that the Stevenson´s heart could only be found in Treasure Island. And John´s novels are based on his own life, on his experience: he only wrote about he knew.
If we read John´s work, side to side, we find several topics: the problem of chilhood and growth, family relationships, the passage of an Italian culture to an American culture, and others, of course. But these topics can summarize in just one topic, that is, being just one (if we make a tour diachronic and synchronic in the course of his work). And the book´s purpose is to respond to link each of these elements, and give an explanation.
To perform such a task, of course, one should and can use certain tools. In this book, take on a important significance not only historians of American literature as Walter Allen, Cesare Pavese and Emory Elliot. Also thinkers as diverse as Marx, Ribot or Deleuze, literary and cultural critics like Bloom, Eagleton and Raymond Williams. And, of course, American clasics writers such as Emerson, Twain or Fitzgerald.
We know that your book contains a interview that you made to the son of the great American writer, Dan Fante, who also is a writer. How was that experience?
I wrote to Dan Fante, obviously thinking it would be almost inaccessible to reach him. But a very pleasant surprise, he answered my mail two hours later. He wished me luck with the biography of his father, and offered to answer some questions about it. The answer really touched me. That night I felt that literature had ceased to exist, to become reality. John Fante, Dan Fante ... they existed, were people like me. That was one of the happiest days of my life. Of course, I did Not have a prepared interview…
That same night, and the next morning, I began to think of questions to ask Dan. It was a great responsibility: I had just one chance to access certain knowledge and experiences. I believe that the questions are useful to support the book. And the answers, of course, are included as an epilogue in the essay. Dan Fante is a very generous man. I´m forever grateful.
You run an online magazine called BuenosAiresPoetry (www.buenosairespoetry.com). What are the proposals of your magazine?
In Argentina, specifically in Buenos Aires, the place of poetry is more than devalued. The material conditions and political, have an eye toward another side. This is not the time to say what they are looking around, probably because they can not see (to clarify the comment, here both the "Radical," "Peronism" and "Military dictatorships" systematically eliminated the anarchist and socialist movements with the promulgated "Residence Act" in 1902).
The few magazines and publishers that exist here have been politicized, in the liberal or commercial sense. What he means is that what little remains on the edge, the true poetry or real poets, are falling day after day. But, in a surprising way, many friends and colleagues have received much attention and respect from outside, especially from the United States. But also other countries such as Spain, Colombia and Mexico. In such circumstances, the best that I could do is begin a project with the eye open throughout all America and Europe. It is not about close a door: only open another.
Thus, Buenosairespoetry.com, born as a bridge to bring poetry to other countries, and also to capture poets from other countries and bring them here.
Thanks to the journal, have come to our country important authors like Neil Leadbater or Mervyn Linford. And also, great poets have been exported: like Luis Benítez, Alberto Boco, and many others. But not only published poems. Also non-fiction texts, academics and politicians. From Cultural Studies we know that poetry is not a space alien to the Economic, Political and social. Thus, we believe it is good for Argentine readers can become familiar with Raymond Williams. In the same way that American or European readers can become familiar with texts like "The Insurrection Trotskyste" of César Vallejo.
It is not, in short a submission about another culture (American o Europe). Indeed, the idea is to share poetry (in many languages and material circumstances of reception).

---
Pablo Dema was born in General Cabrera, Province of Córdoba, Argentina, in 1979. Books: Fotos (2005); Si nada permanece (2007); De piedra o de fuego (2009) and Hoteles (2010).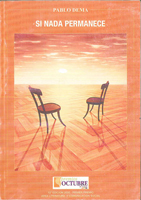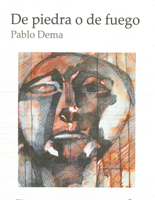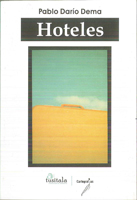 How did your writing develop, from your first book published to the last one?
I've always had trouble thinking about my writing in terms of finished and closed pieces or books. It's more like a desire, an impulse and a need to write about something that at first is rather vague and undefined. In this context I've always felt that it is wise to find an objective correlative of something that's imprecise in subjective terms: intuition, feelings, sensations, experiences. Writing is visualizing, clarifying and communicating things that draw my attention and require me to focus on. Writing translates and makes attainable something that I, a feeling I have inside, that calls and commands. So I don't think about a book, and then another and then the next, generally it's not like that. What happens is that the stories I go writing about in certain periods have a sort of family air about them and, perhaps, linked themes that allow me to group them into a book, always under a single encompassing title. This has been my rule up till now: a group of stories under a single title. Once there is a set and there is the possibility of publication, I try to find the connections between the pieces in the set; I even try to promote associations among the readers through the title choice in order to give it unity. In Fotos (2005), photography runs through the book in a number of ways, be this either through the recreation of the context in which Che Guevara's corpse was photographed in Bolivia or through a man's thoughts regarding a lover who has left him.
The second book of stories I published got its title from a poem by José Emilio Pacheco: "How to tackle the shadow that harms us and digs at us/ if nothing remains / if everything is given to us/ as a tribute or duality to dust?" This fragment works like an epigraph of one of the stories, but I chose the phrase If nothing remains (2007) (Si nada permanece - 2007) as the title of the book. The decision was based on the fact that the story which I assigned the epigraph to is the one that best represents the book, that carries the most weight and best expresses the overall climate of what I do and have done up till now. The expression "if nothing remains" is abridged, it is a conditional that lacks the proposition that gives it meaning. But it is so devastatingly powerful and evocative! If nothing remains, then….what to do, how to live, why, if there already is an awareness of the irretrievable loss of everything! That sounds terrible, pathetic and unbearable. Of course my stories do not actually express this, but I believe that the characters presuppose this sense of unease. And this is where the question of need in relation to writing emerges. Because in fact it does not seem likely that today in Argentina we can progress by continuing to fall back on the types of topics that, from Dostoyevsky to Sartre or Camus, have had such significant developments. However, this still continues to interest me, just as I cannot dismiss the concrete fact that we always act as if we know what we are doing and where we are going when this, in fact, is not so at all, at least not for me. So I decided to explore these issues even at the risk of creating literature that has little chance of being read. If we address what is written by the majority of modern day writers in my country, there is no room for this outdated existentialism. Nonetheless, I cannot go against my more entrenched esthetic convictions, I cannot join the current fad leaving aside what, as a reader I have experienced as esthetically superior. I think about Joyce's "The dead;" about As I Lay Dying by Faulkner; "For Esmé - with Love and Squalor" by J.D.Salinger. These texts, and many others, have taught me that literature can go a long way in revealing things about human behavior and destiny. So, I believe we can try to reexamine the lessons of these masters, exploring those routes when there is a genuine interest in doing so.
After Si nada permanece / If nothing remains I published a novel: De piedra o de fuego (2009) - Of stone or fire. This time I worked from a real event, a bank robbery that took place in my home town in 1987. However, while the story is linked to this event, it does not differ much from the subjects and issues addressed in my previous stories. Only that here the everyday dramas of the characters are outsized, underlined by the imminence of an abrupt and unexplainable disruption: the murder, in cold blood, of the employees of the bank. There are three books that loom in the background of this short novel, one is Capote's, obviously, another is the extraordinary Operación Masacre- Operation Slaughter by Rodolfo Walsh, and the third is Plata quemada- Burnt Money by Ricardo Puiglia. By taking elements from the three texts mentioned above, in this novel I wanted to emphasize the speechlessness resulting from the insanity of the violence that, quite abruptly, shattered lives and left traces that will last for decades. The contrast between the fleetingness of the event and the endurance of its consequences is what I try to emphasize. The question of "why?" which will hover for ever because there is no sense, no reason and no logic in certain human actions.
Finally, another series of stories, Hotels, came out in 2010. Unity is achieved here through a common story setting which is a transitory one, that underlines the strangeness that in itself implies being alive and works as a metaphor of fleetingness. Today we are in this room, tomorrow in another, we move, we get lost, we disappear… but others come after us and so on. I find it hard to objectify and describe evolution in what I have done. I really don't perceive it, at least not yet. I always feel that after a book is published I have acquired more skills and that the following one will be easier, but in fact that is not so. Each new text is a challenge that I never know if I'll be able to cope with. I have missed out on many things; I have refused many projects for lack of the tools for overcoming certain obstacles.
What are the main themes of your narratives and why have you chosen them?
As is well-known, literary genres encode certain subjects and issues. Science fiction, for example, explores future possibilities of life: under what conditions and regimes would it be likely for us or for something to exist. However, these speculations about the future are our current dilemmas, those imaginary worlds are relevant in as much as they are meaningful to us now. The same could be said of the genres that explore the past, they are also meaningful in as much as they say something about the present. The outstanding Argentine writer Juan José Saer has said that literary fiction is speculative anthropology, a form of imaginative writing that uses innumerable techniques to reveal something about ourselves. So, aside from the genres and the techniques, the literature that matters, i.e. that which is not predetermined by strict commercial formats, matters because it tells us something about ourselves. It's not what it says like in a lesson as in self-help books (in fact writers make fun of this type of text, Angelica Gorodischer does this in Como Triunfar en la vida - How to be successful in life, or Lorrie More in Self-help) but instead it probes, as deeply as possible and unfolding all the literary resources available to us, how extraordinarily complex it is to face one's own life with dignity. This "issue" and the role that I assign to literature could give the impression that I conceive it as a monotonous exercise. However, this is not so. This literary role attempts to capture the fact that literature, while it has become autonomous in a relatively recent historical moment it is an inherent trait of any human community. So, while there is someone around there will be literature, and literature will remain in constant evolution whilst humanity still endures. There is a paper by Paul de Man entitled "El devenir de la poesía - The evolution of poetry." It is a text regarding Mallarmé where he explains that there is no likelihood of escaping historicity, and that this particular poet (accused of avoiding the issues of his time) is the most fully aware of his time since his work is proof of evolution, of a breakthrough, a step that his contemporaries could not take.
In trying to narrow down this thing about my writing themes, you could say (it might be an impression) that there is a paradox that reemerges constantly: we can't live alone but we can't live with others. Or, to put it another way, what I do is ask myself if this thing we call human relations or bonds is possible, if it is possible to understand others, can we live without viewing others as competitors, as threats, as enemies. Unfortunately, it seems that this is not likely; we live in such a way that any relationship encompasses a hostile core, not because you or I are particularly bad, but because our settings assign these roles. In my stories there is a man sitting with his father in a hospital corridor, two brothers leaving a jail where they went to visit their father. I simply focus in on them and wonder: are they together? Can they understand each other? Is that what we call a relationship? I put them into action and look for answers to these questions.
I am aware that by addressing these issues the role of sentimentalist fits me perfectly, the accusation of appealing to what we call the "below the belt" impact, since I am very keen on causing any kind of commotion, emotional turmoil. Rather like what Aristotle demanded of good tragedies, no commotion, no impact, nothing that is transmitted is long lasting. I get the impression that this type of literature is of little interest today to a qualified reader or critic, however I cannot find a suitable argument that upholds this negative value judgment. Nobody really knows why this should be unacceptable or be less valuable than any other esthetic decision. For every position on the role of art, the same number of eminent professors and critics with totally opposing opinions can be quoted. A university professor and current friend used to quote a phrase from a philosopher that said: "Philosophy looks for truths and finds opinions." The same can be said for Esthetics and the Literary Theory. Harold Bloom assigns one role to literature, Fredric Jameson a different one, H.R. Jauss yet a third. This is also a subject of my writings: What is the role of literature? Or why is it felt nowadays that when literature addresses "serious" issues it is uninteresting? Or for how much longer can we address these issues? Or is it that there is a limited number of issues that reemerge time and again in the history of literature?
What authors have influenced your writing and how?
I find this question very interesting, not so much because of the answer I can give but rather because of what it implies. And what it implies is that a subject "A" imagines that in his/her texts (in the form, the issues, procedures, etc) there are traces of works of other highly prominent authors. What happens is that the reference to these prominent authors is later very hard to prove in "A's" work. How many Borges influenced writers in Argentina while they have not become authors of the stature of Borges, they have at least become writers in a more general sense (if the expression fits) of the word. I think that there is much a writer does not know or controls in terms of his/her own process. And also that there is an abyss between the initial intent, a writer's supposed benchmark and the outcomes.
In my case, when I have to render this influence fiction I privilege the authors I have read in the only language I master (to a certain point). I couldn't say that I have been influenced by a Check writer even though I have devoutly read Kafka (a translation) and that he is among my favorite authors. For me, aside from having ideas or sensations or feelings to express, language is paramount, finding the words to explore those initial uncertainties. And those words are in my mother tongue, Spanish in its Rio de la Plata variant. Only an Argentine writer is capable of talking about my world with the richness and the hues that I have experienced. Reading a Spanish writer compels me to use a dictionary and leads to strangeness. I enjoy it, of course, but as when one enters into a new language and a new world. So, if there is anything like influence, like a trend I feel I should follow in order to say what I have to say, that would be Argentine literature, which is of course fiction rendered by literary critique, but it is the one that works more effectively for my imagination. When reading my books I would like readers to find elements that would lead to associations with a series called Argentine literature and therein I have (today, I don't know tomorrow)favorite authors or writers that I feel close to for differing reasons. Authors whose works I reread every now and again and that make me realize that something happens to me when I read them and that it's something on those lines that I would like to generate in my readers. These authors are very different from each other, but for different reasons they are among the select group in my personal system; these are Antonio Di Benedetto, Juan José Saer, Rodolfo Walsh, Sara Gallardo, Sergio Chejfec, Alan Pauls. Last year I went back to the works of Macedonio Fernández, a very difficult-to-read author that I had addressed unsuccessfully ten years earlier. Now I believe he is an unavoidable author of Argentine tradition. I underline this word, tradition, which is the word Borges used in an essay which is key to my thinking regarding literature: "The Argentine writer and tradition."
In that piece Borges asks who should be the benchmarks of an Argentine writer like him, and he gives a brilliant and very liberating answer: the entire Western culture. While not having the weight of long tradition, we can take over and play unconcernedly with everything made in the West. That statement allows him to justify his work and his literary likes; today, almost a century later, things have changed considerably. The challenge today is to imagine a further step in that path opened up by Echeverría, Sarmiento and José Hernández in the XIX Century, that path that Borges and so many others continued in the XX Century. How to go about writing, taking into account the openness typical of the Argentine culture but without ignoring the weight of its own referents, a new chapter of Argentine literature that is in turn relevant to Western culture. This is clearly not a personal ambition; it is I believe a way to express the biggest challenge faced by several thousand authors who write in my country today.

---

---
If you would like to be added to my monthly e-mail newsletter, which gives information on readings, book signings, contests, workshops, and other related topics...
To subscribe to the newsletter send an email to:
newsletter@cervenabarvapress.com with "newsletter" or "subscribe" in the subject line.
To unsubscribe from the newsletter send an email to:
unsubscribenewsletter@cervenabarvapress.com with "unsubscribe" in the subject line.

---
Index | Bookstore | Gallery | Submissions | Newsletter | Interviews | Readings | Workshops | Fundraising | Contact | Links
---
Copyright © 2005-2011 ČERVENÁ BARVA PRESS - All Rights Reserved