July, 2005 Aug. 2005 Sept. 2005 Oct. 2005 Nov. 2005 Dec. 2005 Jan. 2006 Feb. 2006 Mar. 2006 Apr. 2006 May 2006 June 2006 July 2006 August 2006 September 2006 October 2006 November 2006 December 2006 January 2007 February 2007 March 2007 April 2007 May 2007 June 2007 July 2007 August 2007 September 2007 October 2007 November 2007 December 2007 February 2008 March 2008 April 2008 May 2008 June 2008 July 2008 August 2008 September 2008 October 2008 November 2008 December 2008 February 2009 March 2009 April 2009 May 2009 July 2009 August 2009 September 2009 November 2009 December 2009 January 2010 February 2010 March 2010 April 2010 May 2010 June 2010 July 2010 September 2010 October 2010 November 2010 December 2010 January 2011 February 2011 March 2011 April 2011 May 2011 June 2011 July 2011 September 2011 October 2011 December 2011 February 2012 April 2012 June 2012 July 2012 August 2012 October 2012
ČERVENÁ BARVA PRESS NEWSLETTER
Gloria Mindock, Editor Issue No. 78 November, 2012
---
INDEX
Welcome to the November Newsletter
Hi everyone! This newsletter is later than usual. Bill and I have been busy getting books done and some ready for authors to proof. Time flew by so fast this month!
We are happy to announce that we
just published our 100th book!!!! Wow!
Since 2006, when we first started publishing books, we have now reached this milestone. It is exciting! I am so happy to share with you that our 100th book is a translation. Here is the information about it: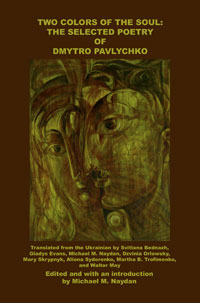 Two Colors of the Soul: The Selected Poetry of Dmytro Pavlychko
Edited and with an introduction by Michael M. Naydan
Cover Art: "Two" by Olha Fedoruk
Translated from the Ukrainian by Svitlana Bednazh, Gladys Evans, Michael M. Naydan, Dzvinia Orlowsky, Mary Skrypnyk, Aliona Sydorenko, Martha B. Trofimenko, and Walter May.
Dmytro Pavlychko has been an editor, translator, literary critic, film scriptwriter, ambassador, and pro-democracy political figure. He was born in 1929 in a rural village close to the Carpathian Mountains. In 1944-5 he was imprisoned at the age of 15 by the Soviets on fabricated charges for alleged activities on behalf of the Ukrainian Insurgent Army. He has published twenty collections of poetry, as well as several books of poetry translations and literary criticism. Many of his poems have been set to music and turned into songs, with ones such as "Two Colors" becoming national classics known by Ukrainians virtually everywhere. In 1977 Pavlychko received the Shevchenko Prize, the most prestigious literary award in Ukraine. Pavlychko served as ambassador to Slovakia from 1995-1998 and later to Poland from 1999-2002. He was elected a member of the Ukrainian parliament in 2005. He has received the designation of Hero of Ukraine from the Ukrainian government as well as honorary doctorates from Lviv National University and Warsaw University.
He continues to reside in the capital city of Kyiv and remains active in public life. Two Colors of the Soul: The Selected Poetry of Dmytro Pavlychko is his first book of poetry translated and published into English. From the Introduction: DMYTRO PAVLYCHKO: POET AND STATESMAN by Michael M. Naydan
---
In the tradition of poet-statesmen Neruda and Seferis, Pavlychko writes about his twin passions, love and history. Courageous, direct, and plain-spoken, he has long deserved a place on the international literary stage and Michael Naydan's skillfully edited selections should confirm it.
—Askold Melnyczuk, award-winning novelist, author and editor
$17.00 | ISBN: 978-0-9883713-0-9 | 90 Pages

Order Two Colors of the Soul: The Selected Poetry of Dmytro Pavlychko here...
---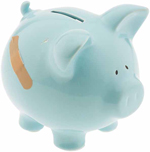 For this month, our fund-raiser, continues. If you haven't donated to the press, I really hope you will do so. We really need the funds! It is expensive doing all that we do and we want to continue to survive. Any amount is greatly appreciated because it all adds up. To those who already donated, thank you so much!!! You should have received my thank you note. Červená Barva Press is one of the most active presses in the country and we publish many, many books.
Donate here...
---
Besides publishing Dmytro Pavlychko's book this month, we just sent "On Paths Known to No One" by Flavia Cosma to the printers. We are in the process of finalzing a chapbook length book, "Except For that" by Rachel Goldstein which should go to the printers by next week.
---
Červená Barva Press also has just released a new chapbook by the 2011 fiction contest winner, Ateet Tuli called Posture.
The contest was judged by Catherine Sasanov.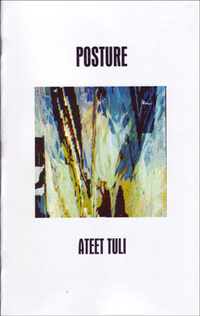 Posture by Ateet Tuli
Winner of the 2011 Červená Barva Press Fiction Contest
Judge: Catherine Sasanov
Ateet Tuli lives and works in New York City.
Cover art by Ateet Tuli.
---
Fortune Teller
Perfume bomb whose silk surface protects a silver subcutaneous and is surrounded by parchment, you draw me close with evocations of mother preparing Dal for the week. The remembered architecture of you below cinnamon, against cardamom, below lime draws me so close I overlook your anger, which makes me cry.
You are capable of destruction, of warping a weft of garlic and chilies. I could cool you, put you in the fridge till you cannot overwhelm me. I could heat you, sweat you till natural sugar caramelizes and you can tell me nothing. I could hurt you also, dear onion. A mutual respect actualized as we grasp each other.
Pulled from a womb of dirt, you also have roots in ancient Asia. In eating you, I eat my relatives; their ashes fed your ancestry where they were spread. The dance of eating and burning you within my own burning body fertilizes the future, when in turn I will feed your children.
I dissect you, your rings akin to those of a tree, until I reach and consume your center. Its delicate youth lingers on my breath and is a flashlight for my tongue.
$7.00 | ISBN: 978-0-9883713-3-0 | 22 Pages
---
The poetry contest winner of 2011, Imaginary Planet by Alan Elyshevitz, chapbook proof will be done soon and sent to him.
November is almost over and in December, proofs will be sent to Pamela L. Laskin, Franklin Reeve, and Rodica Draghinescu. "My Life With Blondie" by Jiri Klobouk will be sent to the printers. I will also be working on Michael T. Steffen's book to get that released in January. As you can see, this is a ton of work. I don't have a staff like some other presses. I also have had no interns this past fall to help. I am not complaining but this is a ton of work to get books out and it is so exciting! I will not be working on anything past this until January! I will update you in January, what books I am working on then. Right now, I need to concentrate on these.
---
If you live in the Boston area, I highly recommend an exhibit to go to. Irene Koronas and I and saw it on Saturday. It is called, "In. Death. Lamented" at the MA Historical Society,
1154 Bolyston St., Boston, MA.
It will be showing through January 31st, 2013.
It is of mourning jewelry. The exhibit is rituals observed around death. It "tells the story of a culture's changing sensibility around death and grief." What I found really fascinating was the jewelry worn at President Lincoln's funeral and President George Washington's. For the last two centuries, rings, brooches, slides, pendants and other funeral jewelry were worn. Some of the jewelry had the deceased hair in them, and some, paper skeletons inside a stone. It was just amazing to see so I highly recommend this! This may sound morbid to some of you but it really wasn't. When I got home, I wrote two new poems after seeing this!
---
Cervena Barva Press Author News
The issue of The Green Door (Belgium) is out featuring all Červená Barva Press authors. I would like to thank publisher Martin Burke for giving me the whole issue to present the poetry of some of the authors I published and will be publishing! I am so grateful to Martin. He has been so supportive of me and the press. Please check out the issue at: http://issuu.com/delphicghentbooks/docs/issue_12
---
On Tuesday, November 27th, the premiere of Mary Bonina's poetry in collaboration with composer Paul Sayed, "Grace in the Wind" will be performed at the Edward M. Pickman Hall at the Longy School of Music of Bard College at 8:00PM. The artistry of soprano Caitlin McCarville, cellist James Rosamilia, and pianist Danny Padgett, will be heard. The event is free. You also will hear other work by Longy composers.
---
AWP 2013 News
Červená Barva Press will be at table P11 at the AWP bookfair in Boston, March 6-9th, 2013. All our chapbooks and books will be discounted through the whole event so come check us out! We also will have a limited amount of freebies!!!! On Saturday, the general public will be allowed to attend the bookfair but none of the conference.
The Červená Barva Press reading will take place on Saturday, March 9th from 4:30 p.m. to 5:45 PM / In room 209,
Hynes Convention Center
Readers: Lucille Lang Day, Andrey Gritsman, John Minczeski, and Susan Tepper.
We are so happy to be a part of this conference and to be giving a reading.
The panel I am on called "The Look of the Book" is on Saturday, March 9th from 12:00PM
to 1:15 PM / Room 305,
Hynes Convention Center
The panel: Anne Coray, Lucille Lang Day, Doug Holder, Gloria Mindock
I hope to see you at these events.
Thanks to Anne Coray for asking me to participate in this.
---
Interviews have been sporadic lately but in 2013, you will see some changes in this.

---
Raves (I only Rave about books I love!) The book of fiction, Ice Cream Headache by Jeffrey Miller takes place in my hometown of Oglesby, Illinois. How cool is that!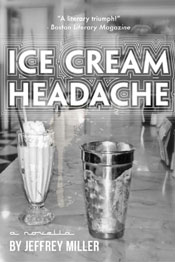 Ice Cream Headache by Jeffrey Miller (Fiction)
"Amid the turbulent and tragic year of America in 1968, the lives of five people in a small Midwestern town, who are caught up in their own personal turmoil, become inextricably interwoven forever by the events which transpire one spring day."
To order from Amazon:
http://www.amazon.com/Ice-Cream-Headache-Jeffrey-Miller/dp/1480116777/ref=sr_1_3?s=books&ie=UTF8&qid=1353254634&sr=1-3&keywords=Jeffrey+Miller
---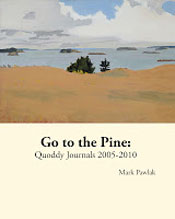 Go to the Pine: Quoddy Journals 2005-2010 by Mark Pawlak
Bootstap Press, 2012
"…With his eye for the changing light, his ear for cadences of wave slap and foghorn, this is his unsentimental homage to a piece of the Maine that's at once achingly beautiful and worn by struggle. He gives us the flowers and birds, name by name; but he doesn't turn away from the rusting draggers, the gun shops and the tired motels. If you've ever been there, this book will feel like an album you page in winter, impatient for the season to come around. If you're new to the place, you could have no better guide.
-Marie Harris, author of Your sun, Manny: A Prose Poem Memoir
ISBN 13: 978- 0-9821600-5-3
$15.00
Poetry, 48 pages
To order: http://www.bootstrapproductions.org/mark-pawlak-go-to-the-pine-quoddy-journals-2005-2010
---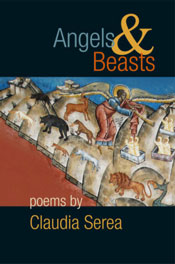 Angels & Beasts by Claudia Serea (Poetry)
"In this largely autobiographical collection of 74 short prose poems, the poet presents her life in three sections. "Angels & Beasts" recalls her early years under the regime of Nicolae Ceasescu, a world of secret terror in which the child interweaves reality and malevolent creatures from Romanian folklore. "The Little Book of Answers" covers the years between the Romanian Revolution (1989) and Serea's emigration to America in 1995. Finally, "The Bank Teller's Name is Jesus" involves the immigrant's impressions of her new home, always colored by the past she carries with her. Serea's masterful use of brevity, surrealism, irony, and black humor allow her to express -and the reader to confront-unspeakable horrors. She is a survivor, but a survivor with wide-open eyes, determined to move forward holding the darkness and light together."
To order from Amazon:
http://www.amazon.com/Angels-Beasts-Claudia-Serea/dp/1927496004/ref=sr_1_2?s=books&ie=UTF8&qid=1353254467&sr=1-2&keywords=claudia+serea
---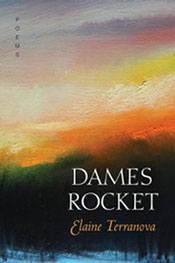 Dames Rocket by Elaine Terranova (Poetry)
"The poems within Dames Rocket investigate transition and transformation from many perspectives ranging from sleeping to waking, from youth to maturity, from experience to art."
To order from Amazon:
http://www.amazon.com/Dames-Rocket-Elaine-Terranova/dp/0966917790/ref=sr_1_1?s=books&ie=UTF8&qid=1353254842&sr=1-1&keywords=Elaine+Terranova
---
Next month, look for my Raves section for New Europe Writers, Quale Press and many more!

---

---
If you would like to be added to my monthly e-mail newsletter, which gives information on readings, book signings, contests, workshops, and other related topics...
To subscribe to the newsletter send an email to:
newsletter@cervenabarvapress.com with "newsletter" or "subscribe" in the subject line.
To unsubscribe from the newsletter send an email to:
unsubscribenewsletter@cervenabarvapress.com with "unsubscribe" in the subject line.

---
Index | Bookstore | Image Gallery | Submissions | Newsletter | Readings | Interviews | Book Reviews | Workshops | Fundraising | Contact | Links
---
Copyright © 2005-2012 ČERVENÁ BARVA PRESS - All Rights Reserved