July, 2005 Aug. 2005 Sept. 2005 Oct. 2005 Nov. 2005 Dec. 2005 Jan. 2006 Feb. 2006 Mar. 2006 Apr. 2006 May 2006 June 2006 July 2006 August 2006 September 2006 October 2006 November 2006 December 2006 January 2007 February 2007 March 2007 April 2007 May 2007 June 2007 July 2007 August 2007 September 2007 October 2007 November 2007 December 2007 February 2008 March 2008 April 2008 May 2008 June 2008 July 2008 August 2008 September 2008 October 2008 November 2008 December 2008 February 2009 March 2009 April 2009 May 2009 July 2009 August 2009 September 2009 November 2009 December 2009 January 2010 February 2010 March 2010 April 2010 May 2010 June 2010 July 2010 September 2010 October 2010 November 2010 December 2010 January 2011 February 2011 March 2011 April 2011 May 2011 June 2011 July 2011 September 2011 October 2011 December 2011 February 2012 April 2012 June 2012 July 2012 August 2012 October 2012 November 2012 February 2013 May 2013 July 2013 August 2013 October 2013 November 2013 April 2014 July 2014 October 2014
ČERVENÁ BARVA PRESS NEWSLETTER
Gloria Mindock, Editor Issue No. 88 March, 2015
---
INDEX
Welcome to the March 2015 Cervena Barva Press Newsletter!
Hi Everyone! We had no newsletter for November, December, January or February.
Many things have happened in the last four months so I will catch you up on everything...
---
In Memoriam
Rachel Goldstein passed away recently from ALS. This is such a sad loss. Bill and I send our thoughts and prayers to her family and friends.
I was honored to publish Rachel's book, "Except For That." When her book came out, I remember how excited she was. It was so special to see. Rachel was so kind-hearted and sweet. When I met her for the first time I liked her right away.
I wish I would have gotten to know her better but I do know one thing, the world has lost an incredible person. Rest in Peace Rachel and know you will be missed and your writing will live on.
Here is a link to Rachel's Obituary: http://www.legacy.com/obituaries/bostonglobe/obituary.aspx?pid=173896355
---
Edward Cates passed away last March. I found this out about a month ago. He lived in Somerville for many years. He was a great writer, published a magazine for years, worked in the social services for awhile and was very supportive of so many writers. Ed always made me laugh. He knew about my love for The Beatles and was always updating me on articles and Paul McCartney's new work. He got a kick out of my excitement over The Beatles.
Ed had a difficult life at times and when he moved to NH, I lost contact with him. I will miss Ed and the many talks and laughs we had. Ed had a heart of gold. Rest in Peace dear Ed.
Here is a link to Ed's Obituary: http://www.legacy.com/obituaries/unionleader/obituary.aspx?pid=170138425
---
Since November, publications by the press include:
We are very happy about these new books and hope you will check them out!
---
2014 Titles by Cervena Barva Press
some words suicidal by Stella Vinitchi Radulescu
Jews by Sami Shalom Chetrit
Poetry With Legs, An anthology of Sin by J. Edwin Whitelaw and Friends
Victory over the Sun /The First Futurist Opera by Aleksei Kruchenykh Translated by Larissa Shmailo, Edited and with an introduction by Eugene Ostashevsky
Les cahiers de Val-David Festival Notebooks Los cuadernos de Val-David 2009-2014 Anthologie brève by Flavia Cosma (Editor)
What Wakes Us Poems by E.K. Mortenson
Fugitive Hope by Bruce Lader
Let's Go Back To The Mainland by Grzegorz Wróblewski Translated from the Polish by Agnieszka Pokojska
Diet of Nails by Charles S. Kraszewski
Inclusions by Joanna Kurowska
A Sharp Double-Edged Luxury Object by Rodica Draghincescu Translated from Romanian by Adam J. Sorkin with Antuza Genescu
Partner, Orchard, Day Moon by Michael Todd Steffen
How to be Another by Susan Lewis
2014 Chapbooks by Cervena Barva Press
The Afterimages Poems by David P. Miller
Midway Through Life's Journey 24 poems by Michael Estabrook
Herding by Anne Harding Woodworth
The Art of Waving by Tim Suermondt
Check them out at: www.thelostbookshelf.com
---
MARK YOUR CALENDAR
Yipppppeeee!!!! Cervena Barva Press will be celebrating 10 years on April 16th at 7:00PM. It is so exciting to celebrate all the years we've been publishing books and running a bookstore. Please join us for this celebration at the Cervena Barva Press Studio, B8 at the Arts for the Armory, 191 Highland Avenue, Somerville, MA.
I ask all past and future authors to RSVP if they can join us and read a poem/fiction from their book(s) that we published. I know writers from out of state and from different parts of the world can't join us. The press has worked very hard at what it does so we would love to see you!
This event is open to the public so we hope friends of Cervena Barva Press will show up to celebrate too. So many of you have read in our reading series over the years when we were at the Pierre Menard Gallery and the Cervena Barva Press Studio so we hope to see you!
I ask authors to RSVP by March 27th but sooner would be best. I need to plan the order and other things.
The press was founded in April, 2005. That year we published 21 poetry postcards by various writers that were solicited. In 2006, we published 4 chapbooks and since 2007, we published approximately 83 chapbooks, 55 full-length books and 7 e-books which are free to read on our website. Currently, we are behind schedule but will have 14 books released this year.
We will be caught up by 2016 and there will be some exciting changes to the press next year. It will be great to be caught up and we can't thank our authors enough for their patience.
As an editor and publisher, I have learned so much over the years and the changes I make next year, will result in the press never being behind schedule ever again!
---
Author News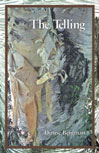 Congratulations to Denise Bergman! Her book, "The Telling," published by Cervena Barva Press in 2014, is one of the 16 finalists for the Julie Suk Award by Jacar Press. $500 Award to the Best Poetry Book published by an independent press in 2014.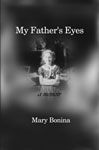 Congratulations to Mary Bonina, whose memoir, "My Father's Eyes" made bestseller under non-fiction from Small Press Distribution/ October-December, 2014. The memoir came in at number 18 on their list. I am extremely happy for her. It was such an honor to publish this book.

Larissa Shmailo's translation of Victory over the Sun is prominently featured in Phoebe Taplin's great article on the enduring appeal of the Russian avant-garde in "Russia Beyond the Headlines."
Click on the images to order!
---
Victory Over The Sun (Cervena Barva Press, 2014) celebrated on March 11th at:
CORNELIA STREET CAFÉ
March 11, Wednesday 6-7:45 pm
Intercultural Poetry
Hosted by Andrey Gritsman
www.andreygritsman.com
Russian Poetry: Futurism and Silver Age in English Translations:
1. David Lehman, Translations of Vladimir Mayakovsky and new original poems http://www.poetryfoundation.org/bio/david-lehman
2. Ilya Bernstein, New book of translations of Osip Mandelstam
http://www.mgraphics-publishing.com/…/194022…/194022018.html
3. Larissa Shmailo, new program:
Readings of poems inspired by Victory over the Sun, The First Futurist Opera by Aleksei Kruchenych translated by Larissa Shmailo by
Alex Cigale
Elizabeth Hodges
Andrey Gritsman
Irina Mashinski
Misha Semenov
Bob Holman
A staged reading of scenes from Shmailo's translation of Victory over the Sun (Cervena Barva Press). During both parts: Original music composed by Finnish composer Jukka-Pekka Kervinen based on Mikhail Matiushin's partially lost score for the original 1913 production.

---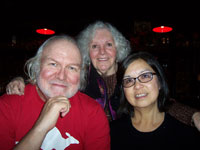 Cervena Barva Press welcomes Pui Ying Wong and Tim Suermondt as book reviewers for the press. They join Irene Koronas who has been a reviewer for Cervena Barva Press for years. Thank you to my reviewers and also those who have guest interviewed over the years.
---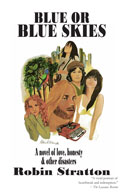 BLUE OR BLUE SKIES by Robin Stratton
"Blue or Blue Skies" is a novel set in late 1970's Boston when the aura of the turbulent, fascinating 1960's was still strong in the air. The characters are put through the twists and turns of living that we can all relate to and have come to expect from our novels-all of it done with a fine skill.
But what I find most attractive are the questions Stratton has her characters pose above the everyday: What exactly is success, especially in an artistic sense? Is being 'successful" but not doing what you desire really success? Is doing what you desire a success even if it's not "successful" in the wider world? And what obligations to we have to ourselves, friends and loved ones? Seeing how these questions define, compel, lift up and break the hearts of the characters makes for an interesting read, and makes one think. Robin Stratton has delivered the emotional and literary goods.
Tim Suermondt, Cervena Barva Press Book Reviewer
---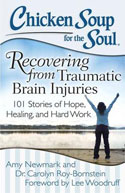 Recovering from Traumatic Brain Injuries
is a new title released by Chicken Soup for the Soul Publishing.
Like all books in the series, this is a self-help book. The book contains 101 stories or testimonials written by sufferers of traumatic brain injuries or their caretakers. The target readers, obviously, are those whose lives have been upended by TBI. But even as a general interest reader I learned quite a few facts about this problem.
I learned that causes for TBI are varied. From war, as in the case of Bob Woodruff, the ABC News anchorman, injured by a roadside bombing while reporting from Iraq, as his wife Lee Woodruff details in the introduction; to traffic accidents or falls, from random everyday activities like riding a bike, playing hockey, roughhousing. Sometimes, impairment from TBI is not visible to outsiders. Shawn Marie Mann, the mother who bumped her head was told that she had a mild concussion. Her problem was not being able to recognize faces in a crowd, including her own daughter's.
Perhaps due to the self-help nature of the book, some stories seem formulaic at times. But there are many more stories that inspire. An example is Janine Osburn's touching recollection of her seventeen year old son Jared, badly injured in a car crash. After coming out of the coma he said one thing he would like to do is fishing. Jared's father would soon embark on these fishing trips with him. Before the accident Jared used to keep a detail fishing log, something he could no longer do because of his injury. Now filling in the log book became a family project and gave the family solace.
The value of a self-help book is that it provides company and offers encouragement while introducing us to people brave in their attempts to deal with this tragedy. The book also succeeds in giving the message that, no matter how difficult your problems are, there is consolation in knowing you are not alone.
Newmark, Amy and Dr. Carolyn Roy-Bornstein, eds. (2014). Chicken Soup for the Soul: Recovering from Traumatic Brain Injuries. CT: Chicken Soup for the Soul Publishing.
Pui Ying Wong, Cervena Barva Press Book Reviewer
---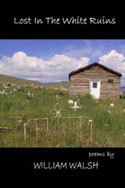 LOST IN THE WHITE RUINS
poems by William Walsh
William Walsh sure knows how to channel his inner James Dickey and his inner Richard Hugo: there's hunting. coaching, waitresses and diners, cars, and very small towns like "Climax, Dinosaur or Hygiene" that are sliding away and may soon be forgotten-all this and more within shouting distance of a Publix or Winn Dixie. And there's sex, though often of a fantasy variety-of course fantasy has its own realism. Here's a well done example from the poem "Feeling Like I'm in a William Holden Movie":
…and there she is
in my cream-colored oxford
button-down shirt, legs
curled up to her chest
on my leather chair, sexy
in her flowered underwear,
sipping a cup of herbal tea,
her brown hair bouncing
off her shoulders, green eyes
of cat-glow purring. "What now,
Pussycat?"…and I think,
Ann-Margret, and I wonder, too,
"Now what?"-but know
her cotton panties
are just minutes from circling
her left ankle…
This description is worth the price of admission.
But the poems are not all of the 'grit, pizza, bowling balls and a cup of machoism' school. Walsh can be moving and most wise, even when he's in the throes of a pop culture that many people will recognize and enjoy-I know I did. He writes well about the wilderness-his poem "Spoon River in Uganda" is aces. And here's the ending of the beautiful "Homage: For My Father:
The days will continue and coffee pots will perk
in silence as old ladies stand alone in their kitchens
cooking casseroles and making Jello with oranges
for today and forever more each bright star
born deep in the universe will have darkness
trailing behind like a boy trying to catch up
to his father on a crowded city sidewalk.
The poems are true to their narratives and sprinkled with sure-handed lyrical images, and not to be forgotten-a wicket humor at times:
It's simply amazing
how some people
are frightened
by a 12-gauge
sense of humor.
(Blackbird)
A city boy, I'm nonetheless taking a copy of "Lost in The White Ruins" with me when I decide to go fishing, or skating on a lake. Hope all of you will do the same.
Tim Suermondt, Cervena Barva Press book Reviewer
---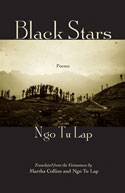 Black Stars Poems by Ngo Tu Lap
Translated by Martha Collins and Ngo Tu Lap
Milkweed Editions
Minneapolis, Minnesota
www.milkweed.org
ISBN: 978-1-57131-459-8
110 Pages
$16.00
Sometimes old memories and the ephemeral present don't collide; rather they embrace in a rhythmic dance through a dream-like planetarium where these celestial bodies both repulse and attract. This phenomenon manifests itself elegantly in Black Stars, poems by Ngo Tu Lap as translated from the Vietnamese by Martha Collins in collaboration with the author.
Lap's words evoke the Vietnam conflict and his childhood in that country gently and in a circuitous but insistent way. His memories seem to emerge from a rich Manichean darkness, take on the shine of life and then submerge to invisibility again. At times the metaphoric landscapes become the only tangible reality, absorbing not only sadness and suffering, but the persona's self.
Early on in the collection the poem entitled Women from the 1960s (1) conjures up remembered images of childhood, both basic and affecting. A bit of background: Lap was born in 1962 and lived in a town sixty miles from Hanoi. The poet says,
The first women I ever saw
Were huge and dark, with warm breasts
And tired eyes like sad stars
While I played with a snail
In a bomb shelter flooded with rain
The women disappeared without a sound
Thirty years later I still see them
Millions of breasts cut from suffering bodies
Fallen to earth like young coconuts
Full of milk even in the grave
In Lap's poem Darkness he develops a textured geography redolent of sweat and filled with life. The wording (read lively translation) drips wonderfully and sensually onto the page. Darkness, as used by Lap, delivers freedom of memory and imagination and acts as a life giving prod to continue toward whatever end we seek. Here's the heart of the piece,
Though ravens flock and thieves prowl
Though wicked intrigues hover above me
Though droning insects sadden my heart
I still choose you, darkness, as my companion
With you, the snails of childhood crawl out again
Eyes, both strange and familiar, close together-
Like heat suffused with the odor of sweat
Darkness quietly honors my faithful smile
Lap appends invisible heavenly pulsars to his own body and gives them substance in his title poem Black Stars. The circularity of the self and its subjective infinity appear and reappear from childhood memories of war time. Lap creates a tension between present and past. They orbit and, quite often, inform one another. The poet's field of view expands exponentially,
There, in the village, a rooster is crowing
In the scent of burning rice-fields, dew is sparling
Over there is my mother
There, my country
On guns and plows, millions of diligent stars
Are flying in silence
Black stars, black stars
One life might have drifted away
But one has returned
In many of these pieces I've noticed a continuous rising and falling motion as if to offset life's vertigo and develop direction. Tears, coconuts, rain, friends, leaves, years and hair succumb to gravity, while wind, blood, stars and the road rise to the heavens. This lyrical motion mimics breathing and gives the collection its magical momentum. Lap's poem Viet Blood opens with this versified rush,
Sometimes it rises excited on lips
As red as the sun of Vietnam
Sometimes it flows silently
Like mud, dark in veins
While I travel this vast land, these long rivers
Clouds spread white mist through the border sky
My sweat flows into deep chasms…
And later in the same poem, Lap's flow of words fall again,
It didn't choose me, I didn't choose it
Viet blood
Is like life, love, death
Sometimes hardening into resin
Green leaves keep flowing down the hill
Where my friend has fallen
Lap employs a "well" metaphor to get at the nature of mortality in the poem entitled Empty Well. Everything collapses into non-existence and silence and the silence is deafening. Yet this well cannot be quenched. Is it circular? Does it give up its dead? The poet seems to meditate on this conundrum,
Like eyes in a decomposing skull
Black wells
Look into the earth
Black wells filled with silence
Beneath the acacia tree
Cai flowers withered long ago
Onion stalks have yellowed
Cannas have gone wild
Rainwater keeps falling
Lap delves into war's horror in his poem Praise for the Dead not with squeamishness but with distance. His response to vulture-like demons feasting on dead carcasses is one of thoughtful sadness. War's glory and nobility rots in the frozen past, along with unfinished dreams and squandered potential. Lap handles his remembered and imagined goblins with not a little irony. He concludes the piece this way,
I used to be very sad
And afraid
Of their sharp white teeth
Their drunken eyes gleaming like mercury
Their frozen kisses sharp as bamboo knives
I used to be very sad
But who knows, maybe I'm lucky
Thank you, stinking corpse:
Because of your nobility
I now have fewer friends
Lap's poems flower into movingly phrased English in this not-to-be-missed collection. Martha Collins and Milkweed Editions deserve much praise for this inspired poetic collaboration.
Dennis Daly, Cervena Barva Press Guest Reviewer This review also appeared in The Boston Area Small Press & Poetry Scene.

---
So I have to ask and I'm sure you get this a lot but where did you get the name for your literary website, Digging Through the Fat?
Thirteen years ago, I quit my job as a database administrator and wrote a short story. I wrote a bad short story loaded with melodrama and cliches. I failed on my first attempt at writing fiction. I didn't quit-never could pass up on a challenge- but I took a few steps back. Went back to college, took a couple of writing workshops, met other people interested in writing, and I stopped relying on assumptions.
The thing is we presume to make sense of the world. It's easier to surmise than to confront our fears and insecurities. We assume that this person with a MFA from Columbia University must be an intellectual and this Latina woman must have lived a rough life and this woman with curly hair must be wild and unpredictable. We speculate and load up our lives with superfluous details, with fat. My earlier attempts at writing were loaded with fat. Then I stripped the writing down, and something emerged, something worthwhile.
Our world is bloated with distractions. Meaning has become a malleable commodity. But, I'm a romantic at heart and believe Art is the exception. The website's name, Digging Through the Fat ripping out the heart, is a call for action. What I want from literature and art in general is truth, beauty, and humanity, but artists have to dig through the fat in order to get to these ideals.
Does it get competitive when selecting which pieces to publish on the site?
Quite competitive. In our guidelines we say we are not persnickety about form and we mean it. But we do have word limits. Our first year, the word limit was 300, this year it was 1,200. Writers complained about these limits, but I like rules. I enjoy subverting them.
Fortunately, we've attracted poets and writers who are as subversive as I am. Unfortunately, we only have a limited amount of spots to feature new works. Although, we continue to experiment with word counts, I don't foresee changing the current format of publishing one piece per week. I like showcasing one writer/poet at a time and nurturing an audience for that person.
How do you think your literature has evolved from the beginning?
I don't know if I'm meant to answer this question. I write but I don't analyze what I write. Once something is documented and shared, it's no longer yours. I also live in the moment, in the story I'm writing today. I never think of what I wrote yesterday.
But to extend your question a bit, what I can say is that writing has helped me evolve as a human. I'm not a talker or a nurturer. I'm quite sensitive and analytical. I tend to retreat inside my head, which I consider a weakness in my character. Ironically, writing, which is a solitary act, shoves me out the door and into the fire. It's been my social salvation.
I used to believe that if I locked myself in a room, I would do great things. I don't believe that any more. What I need are people and intimacy. I need to live in the world, work, and experience the heartbreak and joy of life.
One of your earliest poems"A Good Man Deserves a Good Woman" was inspired by Bukowski, is any of your other work inspired by him or anyone else?
I wasn't so much inspired by Bukowski, as pissed off by him. "A Good Man Deserves a Good Woman" is my response to Bukowski's poem" quiet clean girls in gingham dresses." I hate the despondency in his work, and yet I'm like the narrator in his poem who says, "...don't ever bring a whore around,...I'll fall in love with her..." I'm attracted to Bukowski's candor and his rapacious need to lay his cards on the table. Bukowski is a polarizing literary figure - the exact things he explores in his work: alcoholism, sexism, and emotional sadism (to name a few -isms) - are what scholars despise about his work. I think you need a few Bukowski's along with a few Lorca's. You can't have one without the other - our literary landscape would be too barren without them.
I have many writers and poets who inspire me but I'm always careful not to mimic what I admire in their works. This is the one poem where I mimic in the hopes of changing the Bukowski narrative from despondency to hope. Of course my form of hope is elusive because life happens whether you belong to it or not. And that's the thing about Bukowski that I love and hate, there's a redemptive layer missing in his work and he's quite unapologetic about leaving it out.
What is your favorite medium of literature to write through? (magazines, the website, books, etc.)
My experience with book publcation is only in anthologized works, so I've yet to experience a sole book project.
I was an adult with the internet became accessible and have a special affinity for websites and online literary journals. Perhaps it's the democratization of literature that I find most attractive.
The greatest historical tragedy to me is the stratification of education and the social marginalization of the human imagination. The belief that we have to control society, make sure that there is upper, middle, and lower class system because without these categories of people we can not advance as a society, to me, is preposterous. There is a natural stratification that occurs, but for governments, corporations, and institutions to claim that they are not systematically forcing this stratification is a lie. The internet is key in exposing this unfair system.
There's a liberation movement at play, which is dependent on the internet, and it will continue to grow and come to odds with the social systems in place. I'm a humble writer and editor, and a willing participant in this struggle.
Do you have any last comments or thoughts to add?
This is our second year of publishing new works from writers and poets at Digging Through the Fat. We will be publishing 26 short stories from February through August 2015. During our next reading period, which begins May 1st through July 15th, we will exclusively accept flash fiction and poetry submissions. We will publish flash fiction and poetry from September through December.
In January 2016, we will announce an Editor's Choice. We are also working on a print edition of Digging Through the Fat, which we hope to debut during AWP 2016.
Thank you so much for these wonderful questions!
I hear you have a new book that was just released, congratulations! What makes "Red" IV different from the first rendition that was published a couple years before?
(Not sure how to answer this one. "Red" is a micro-fiction not a book. It's collected in a book published by tNY Press (formerly the NewerYork). It hasn't changed since it's first publication on the tNY website.)

---

---
If you would like to be added to my monthly e-mail newsletter, which gives information on readings, book signings, contests, workshops, and other related topics...
To subscribe to the newsletter send an email to:
newsletter@cervenabarvapress.com with "newsletter" or "subscribe" in the subject line.
To unsubscribe from the newsletter send an email to:
unsubscribenewsletter@cervenabarvapress.com with "unsubscribe" in the subject line.

---
Index | Bookstore | Our Staff | Image Gallery | Submissions | Newsletter | Readings | Interviews | Book Reviews | Workshops | Fundraising | Contact | Links
---
Copyright © 2005-2014 ČERVENÁ BARVA PRESS - All Rights Reserved